World Team Trophy 2012
Tokyo, Japan
July 5, 2012
By Atsuko Kuryu
Photos © M. Sawa

The second World Team Trophy, originally scheduled for 2011 but postponed due to the big earthquake, finally took place from April 19, 2012 to April 22, 2012 in Tokyo, Japan. Forty-eight skaters from six countries gathered at Yoyogi National Gymnasium. The opening ceremony began in the afternoon Thursday in a festive atmosphere. Most skaters seemed relaxed and ready to enjoy the last big international event of this season.
Ice Dance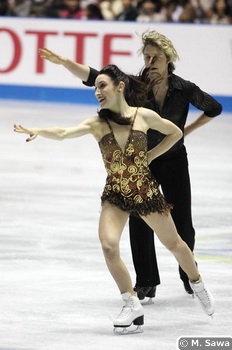 Meryl Davis and Charlie White (USA) definitely went to win. Performing two outstanding programs, they grabbed the ice dance title. In the Short Dance, they showed a powerful and energetic performance, wowing the crowd; however, the climax was not yet to come. Their Free Dance the day after was totally awesome. Their program of Die Fledermaus Overture, which featured fast twizzles and amazing lifts, was a "performance of a lifetime," Charlie later claimed. I felt like I witnessed something very special as did the audience. There was a huge standing ovation in the arena after the performance. "Coming in today, I think I felt a little bit different because we were really disappointed with second at Worlds. Even though we were really happy with how we skated, the silver isn't what we were looking for. We felt pressure to prove ourselves here and we did that," Meryl said. Charlie added, "It's not Worlds or the Olympics, but I still feel like we wanted to do the program justice in our last performance of the season. I'm really proud of how we skated."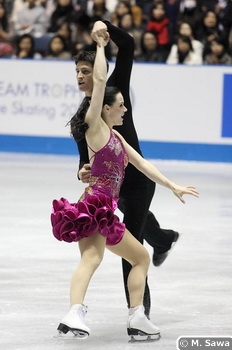 Tessa Virtue and Scott Moir (Canada) seemed a little bit off of their peak in this event. Their performance was very graceful and intricate as usual and their twizzles were worth watching, but the essence they showed during the season was missing. Even though they topped Davis/White with the base value, they couldn't pile up as many GOE and PCS points as Davis/White did, so ended up 5.60 points behind in 2nd. Virtue said, regarding their result, "It is a little surprising, but that is figure skating." She explained their next plan. "We head right from Tokyo to Halifax to start the Canadian tour of Stars on Ice which will last for a month. Then we have two weeks off and then we go back to Canton to do new programs for next year."
Nathalie Pechalat and Fabian Bourzat (France) were outstanding with their unique and entertaining characters, which was loved by the crowds in the venue. They seemed to attack during their performance and did very well minus Fabian stumbling on twizzles. Their base value was not weak as compared to the top two couples, but they couldn't collect as many GOE and PCS points and remained in 3rd. Pechalat, the captain of French team, was pleased with the bond of the team. She said, "I am happy to finish the season this way." On their team support: "It was a nice surprise to see our teammates dressed up as mummies. We said they are going to do a pyramid, but dressing up like that was a surprise. It felt like there were seven of us on the ice. This is gre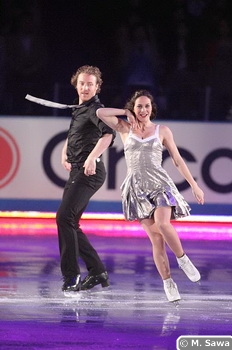 at team, the best team."
Anna Cappellini and Luca Lanotte also did very well and recieved applause from the audience, especially in free dance. Their story telling performance was really heart-warming and lovely and they finished 4th, 5.83 points behind Pechalat/Bourzat.
Elena Ilinykh and Nikita Katsapov showed a gorgeous and speedy Short Dance and dramatic Free Dance. Elena Ilinykh/Nikita Katsapov finished 5th. Elena revealed that they were not good in shape. She said, "It was hard to skate here after the World Championships and we didn't really prepare much for this competition. Plus we had the time change and were a little sleepy. We skated more like in an exhibition". On the contrary, Nikita mentioned more positive, "Today it wasn't our goal to outdo ourselves. It wasn't our best skate today, but we are still pleased that it is the end of the season"
Cathy and Chris Reed made it through despite Chris's injury and finished in 6th place. The Reeds' performance was solid but a little bit slow. Their free skate"Nessun Dorma" had an exotic taste. I wonder why they have chosen this style. If I am not mistaken, it was an Italian Opera and it looked Egyptian or Indian. Truth be told, I found it a little attractive.
Pairs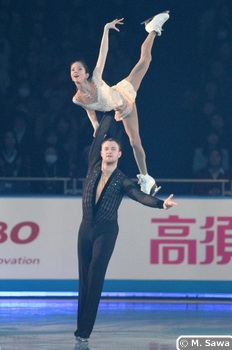 There was an upset in the Pairs event. Vera Bazarova and Yuri Larionov of Russia skated two solid programs and won the event, while Meagan Duhamel and Eric Radford from Canada skated a strong free to finish in 2nd. The World bronze medalists, Narumi Takahashi and Mervin Tran, led in the short program, but had a sloppy free skate and sank to 4th in FS but remained in 3rd place overall.
Bazarova/Larionov skated a dramatic and beautiful performance to the well-known music Tosca and Doctor Zhivago, but made several mistakes both in Short Program (SP) and Freeskate (FS). Their fabulous throw twists and divine lifts, however, amazed the crowds. Bazarova was happy with their performance. She said, "I went out thinking that this is the very last time that we perform this program and I wanted to give the very best."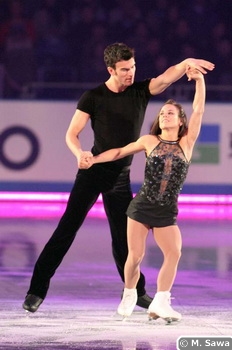 Duhamel/Radford made two big mistakes in SP. Duhamel fell on her triple Lutz and Radford badly fell at the beginning of the death spiral. They bounced back in the FS. Despite of Duhamel's bad triple toe loop landing, they collected level 4s and earned 118.35, which was enough for 2nd place and contributed to Team Canada's bronze medal.
Takahashi/Tran's elegant performance to Imagine led them to the top in the SP. Takahashi stumbled on the opening triple Salchow, but it was their only mistake. They couldn't keep the lead in the FS because both skaters had problems on their jumps. Their FS score was 112.64, some six points behind Bazarova/Larionov. "Last time we were just attending this event, but this time actually we are able to leading the charge for the team. That is a very good feeling", Tran said after their performance..
The happiest pair skaters in free skate were Cady Denney and John Coughlin of the US. Their free skate was the only Pairs performance to receive no negative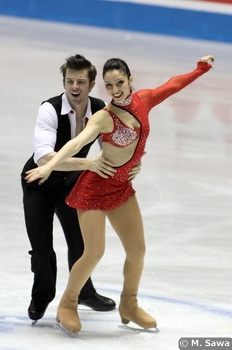 GOEs from any of the nine judges. Their performance was technically strong and attractive. They received a big round of applause from the audience. Their second mark was not as high and they remained in 4th with 175.98 points overall.
Italian pair skaters Stefania Berton and Ondrej Hotarek skated an attractive program to Harlem Nocturne, Demasiado Corazon in the SP, for which the audience gave a cheering clap from the middle of their performance. I felt like I was watching a movie. Their FS Adagio in G minor for Organ and Strings was beautiful even though they made several mistakes.
Daria Popova and Bruno Massot's score was far behind their season best at 139.98 points, which was scored at the 2012 European Championships. Their short program was enjoyable and included a high throw twist as the opening move. More speed was what they needed, I suppose.
Men's Singles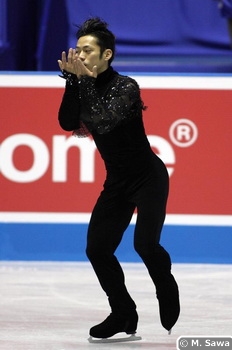 Daisuke Takahashi dominated men's event here at WTT12. He skated two gorgeous programs to gain 276.72 points overall and recorded the world's highest total score. The runner up was Patrick Chan from Canada. He also showed his strong power, but even he couldn't come close to Takahashi. Pleasing the crowd, Brian Joubert from France was in 4th place in both the SP and FS and finished in 3rd. His teammate, Florent Amodio, danced through two programs and amazed the audience and ranked 4th. Jeremy Abbott finished a disappointing 5th, the same for Kozuka's 6th place result.
Takahashi's short program to "In the Garden Souls" was riveting with easy and beautiful jumps and great footwork, though his free skate was far more fabulous. He under-rotated his second 3t in combination and had a bit of a slow spin, but the crowd did not care about such minor things. He set the fire among the audience that was driven crazy by his performance. In the K&C, all the skaters, even from other countries, applauded him for his incredible performance. The past three seasons after his surgery, he has been regaining more and more technical strength. It is interesting that the stronger he has become technically, the deeper and quieter his artistic expressions have become. True, he is still really energetic and passionate, but somehow he tries not to show off that part of his performance. I highly admire him because not only is he an excellent skater, he also does not stay on the same stage he was before and always tries to challenge himself with something more. "It was the last program of the season. I was able to skate really well. I was very happy," he said. In regards to the question about his high score, he answered, "I am very happy about the points, but the quad still is not good enough yet. I need to work on it going into the next season. But I know what I am aiming for and this will build up my confidence."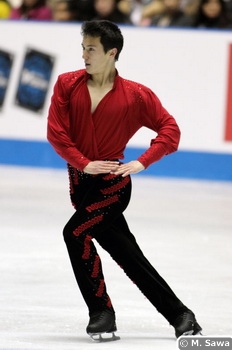 Patrick isn't clearly in top condition. All three quads were completed improperly with stepping out of the jump or falling. He also popped, fell and stepped out of his axels. Maybe the axel was the one which he was worst at among all jumps. Still, watching his skate was nothing but the best for all the figure skating fans. He seemed to be gliding on a different ice than the other competitors. Even though he somehow looked like he was lacking in spirit, his performance was worth watching. His total score of 260.46 was not bad; still, he was well behind Takahashi—more than fifteen points. He said about his second placement, "You got to win some, you got to lose some. I treat each competition as an individual competition; not trying to keep my streak going as long as I can."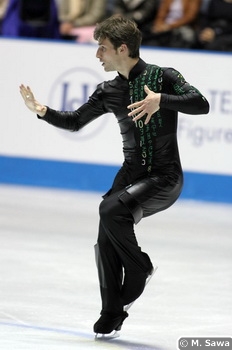 Brian Joubert landed two quads in this event, which means he had landed four quads including two combinations since Worlds. From this fact, I believe that indicates a true top-league comeback. His SP excited the audience into clapping during most of his performance. He also included the everyone in the venue into his performance. He certainly recaptured his charisma or at least he had it at the time. He said he was satisfied what he had done. "Overall I felt good in this competition and this confirms my feeling of having a good comeback."
Florent Amodio's performance was entertaining and appealing to the audience in terms of how a dancer he was on the ice. In his free skate, he landed huge quadruple Salchow and beautiful triple Axel-triple toe combination in a row, and it seemed indicate that it would be a terrific performance. Unfortunately he popped his second 3A to a 2A and couldn't make the third jump in combination; however, his step sequence really enchanted the audience. "I lost a lot of conditioning after the World Championships," he revealed and "I am very happy with the last performance of the season."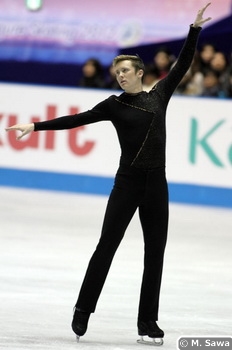 Jeremy Abbott's routines to "Bei Mir Bist du Schoen" and "Swing Kids" were so brilliant that the crowds gave him a standing ovation. His performance always catches people's hearts when it goes well like in his short program. However, he couldn't carry it over to long program. He fell on the opening quad toe and popped other jumps. Even though he received a high second mark, his technical score of 64.45 was too low to remain in 3rd place, which he was in after the short. He said he did enjoy his time there and in regards to next season, "I'm happy that my season is over and ready to move on and be five times stronger next year."
Apparently the men's single skaters of Team America couldn't show their usual level in Tokyo. Adam Rippon didn't attempt any quads; still he had troubles with his jumps. He is a beautiful skater and has graceful movement. At WTT12, I have to say his performance was not too exciting. He was 7th overall. He said that he enjoyed this event and said "Overall, I hope I did enough to help my team win or medal at this World Team Trophy. I'm having a blast here. I love this format."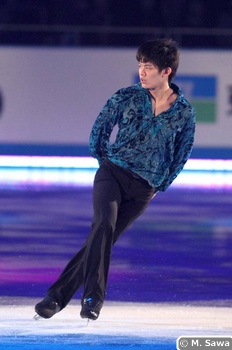 After a fabulous short program, Jeremy Abbott of the US performed a mediocre FS performance. He finished in 5th, while his teammate, Adam Rippon, skated two off-peak performances. American male skaters obviously didn't reach their usual level of performance.
Japan's Takahiko Kozuka was another skater who couldn't reach his potential. He somehow lost concentration and maybe that's why he didn't receive higher PCS which he usually deserves. He was in a disappointing 8th after the SP, but bounced back a little in the free skate to 5th and in 6th overall. Later, he reflected on his performance and said, "I am not totally happy with today's performance, but I think I learned something from this season. In the end I learned something and I am pretty happy to finish like this."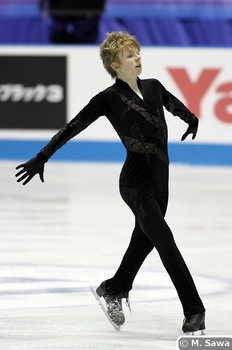 Kevin Reynolds nailed four quads-three different types in total. Two of the four were marked as under-rotated. He showed quite a good performance, but was not rewarded with a high components score, so in total, he was only 8th. As I watched him attempting the four quads, somehow I wished he would have gained more points, especially for the "Chrono Trigger" because it suited him very well. Poor jumping bean!
Italian Samuel Contesti was 9th. His performance was very entertaining, but with several failed jumps, he didn't earn more than 210.00 overall. Although he was 11th, his teammate Paolo Bacchini showed wonderful musicality and expressiveness through his performance of "Pinocchio" and "Barber of Seville".
Russia's young talents that showed up among a galaxy of star skaters fought bravely. Zhan Bush, 19, courageously attempted two quads, which were not successful and finished 10th. Maxim Kovtum, 17, showed his potential as an expressive skater, and sat 12th.
Ladies' Singles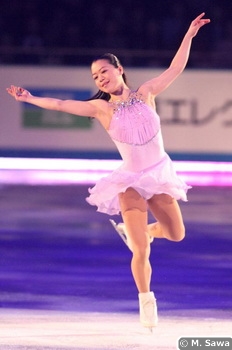 Japan's Akiko Suzuki beat Carolina Kostner of Italy in the free skate and prevented the US from the consequent victory. She was 2nd in the free skate, but Carolina had troubles on her jumps to drop to 2nd overall. Ashley Wagner's strong free skate, despite minor mistakes, sent her the top to finish 3rd overall.
The two youngest skaters, Adelina Sotnikova from Russia and Gracie Gold from the US, had good showings and sat 4th and 5th respectively. Kanako Murakami from Japan finished a disappointing 8th in the free skate, and finished in 6th. The World 2012 bronze medalist Alena Leonova seemed to lack spirit and finished 7th.
Suzuki performed her "Hungarian Rhapsody" routine almost perfectly and received a large standing ovation to land in 2nd by a margin of less than 2 points. She surpassed Kostner technically but couldn't beat her in the PCS. In the free program "Die Fledermaus Overture" she looked perfect in the first half but popped her two later jumps. She mimed an apology in the K&C, however, her spirit she showed in her performance was joyful enough to make the audience happy. Suzuki said, "I am very happy for team Japan. I moved up to first place, but my performance wasn't so good, so I 'm a little bit surprised. The audience was so amazing; they really pushed me forward".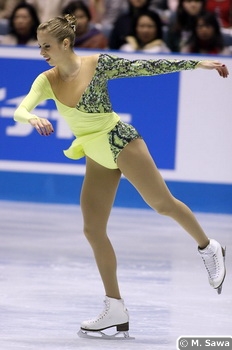 I couldn't find any words to praise Kostner's short program to "Allegretto". She created her own artistic world on the ice. Adding to three flawless jumps including a 3t-3t, she performed fast and beautiful spins as well as intricate footwork. Unfortunately, the free skate didn't go as well. In her free routine, "No. 23 in A major for Piano and Orchestra", she had a series of poorly completed jumps. However, her outstanding artistry helped her remain second overall.
With a graceful and strong free routine to "The Black Swan", Wagner bounced back to 3rd from her disappointing 5th place after the short program. Although it was not perfect like her performance at the Four Continents Championships, she regained the power of the program, which somehow had been lost at Worlds. "That performance was just the way I wanted to end my 'Black Swan' program," the champion of Four Continents mentioned, "And for the end of the season and the last program, it's a great way to wrap everything up."
The debut of Gracie Gold at the Senior International level left good and bad feelings for Gold. She delivered a solid short program to a piece from the Nutcracker and surpassed her teammate Wagner, but was a little bit sloppy in her free skate to a piece by Ennio Morricone's and finished in 5th place. Still, her technically strong performance left an imprint on Japanese fans.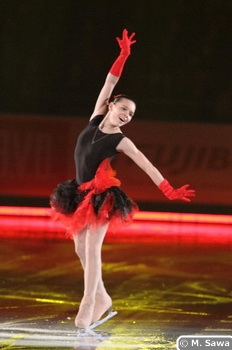 Adelina Sotnikova skated energetically in her short program to the famous "Bolero," but fell on her triple flip and under-rotated the second triple toe of the opening 3t-3t. She was only 6th, but her strong free skate to "Liebestraum" pushed her up to 4th place overall. Her only failure was popping her opening triple Lutz into single. She earned a level 4 for all of her three spins, which were fast and beautiful. I could watch them all day long.
Her teammate Elena Leonova appeared to have a lapse in concentration. She had mediocre performances, messed up her jumps and lacked energy, which left her 7th place. She was still suffering from a bad cold since the World Championships.
Kanako Murakami was 6th overall. She delivered an almost perfect short program to "Violin Muse," which was graceful and at the same time very fast. She couldn't keep this excellent condition through the free skate and had trouble with all her jumps except the triple flip.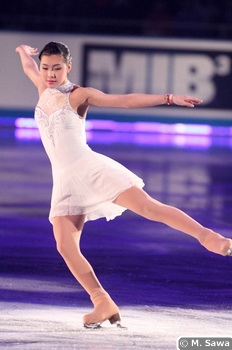 Another skater from Italy, Valentina Marchei, entertained the crowd with her playful short program as well as in her free program, despite a few mistakes on jumps.
France's Yretha Silete gave a wonderful short program but fell four times in the free program which left her in 11th place. In reverse, Mae Berenice Meite who seemed to strain with tension lacked power in the short program, but in free skate, she let it go and had a brilliant performance. Even her bright pink dress for her FS looked gorgeous and matched her well.
The Canadian ladies' performances were contrary to one another. Amelie Lacoste appeared to be in good shape and delivered nice programs both in SP and FS, while Cynthia Phaneuf, who is usually a very attractive skater, struggled through the event.
General Overview
The World Team Trophy of 2012 concluded with great success. Most skaters were pleased with the Japanese fans and their supportive cheering style. It was fun for the fans to see competitors cheering for one another.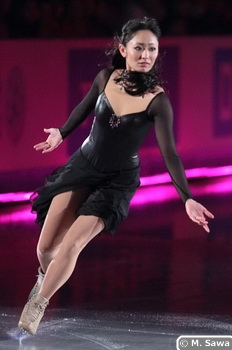 That said, some skaters said that it was tough to get ready for the competition just two weeks after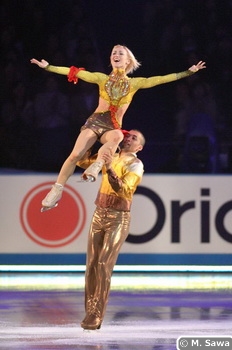 the World Championships and watching teammates in the K&C was exhausting. A few countries didn't seem to enjoy sitting in K&C to cheer on teammates.
Naturally, the character of this event will settle each time. The carnival atmosphere enveloped this event and was a great feeling to share at the end of the season. Nevertheless, this is a figure skating competition and the top ranked skaters' best performances themselves were the heart and essence of it. If it were not for earnestness, we would see the end of the World Team Trophy soon.
We will have the first Olympic team competition in Sochi in two years. Of course it will be completely different because the pressure for the medal from each country or federation will be much bigger. Once the fans experience real serious team battle, they might change their opinion of this event. However, let's wait and see how the World Team Trophy goes in Tokyo next year.
From the press conference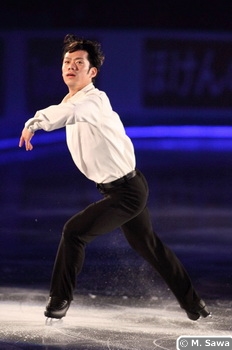 Takahashi's comment was very humble as he usually is. "I don't know if I was able to fulfill the role as captain for my team," he said and added, "It was a lot of fun and I enjoyed competing like this."
"Team USA, second place. Obviously, we were going for first and trying to repeat, but I'm proud of how we all skated. We showed a lot of fight and character. It is a difficult competition and we showed grit and supported each other. Moving forward, we're going to be going for first next year," U.S. Team captain Charlie White of the 2009 winning team commented.
Canadian captain Scott White said, "For team Canada, it was a little bit of an up and down week. We kind of came in and had some ok skates from some of our top athletes and then it was also nice to see some people with less experience to have great performances." He shared his prospect for the Olympic Games. "It is a different feeling to know it's going to be at the Olympic Games. Hopefully we can catch up and try to challenge the Americans and the Japanese in the Olympics, but we have some work to do in order to be in that league."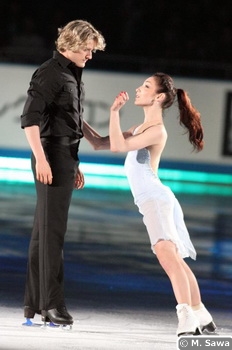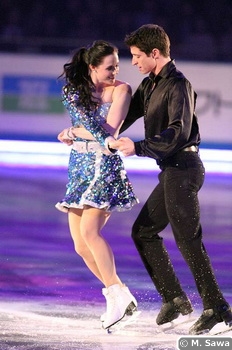 When asked if they could learn from this experience for the team competition in Olympics:
Charlie answered, "The set up will be different. I can't imagine we will be in booths while others are skating, but rather focusing on our programs because of the importance of the Olympics." He added, "We learned that we should take the opportunity to hold each other up as a team. You can take some of the energy you would use all toward yourself and send some of it to your teammates. We are in it together. It's different from a typical competition. Just being able to support your teammates and let them know you will do everything you can for them out on the ice and hope they will do the same for you."
"You have to skate clean!" Scott said. "I think we learned it can be extreme how the momentum swings, but at the same time, it is important to get as many points as you can because dropping one spot can make a huge difference, especially if you are swapping places with one of the teams you are battling for a medal."
Takahashi answered, "I completely agree with Scott about being clean. The individual ability gives the whole team power. Throughout the competition I felt I was not alone and the team was there for us. That's very encouraging and it helped to take the pressure off."