Music on Ice 2013
(Bellinzona, Switzerland)
Febuary 8, 2013
By Anna Bertoloni
Photos © Anna Bertoloni
Special thanks to Reut Golinsky
Third edition of a show that is already becoming a tradition not to be missed - "Music on Ice 2013", staged on January 5th and 6th at Bellinzona Sporting Center, in the charming alpine location of the City of Castles.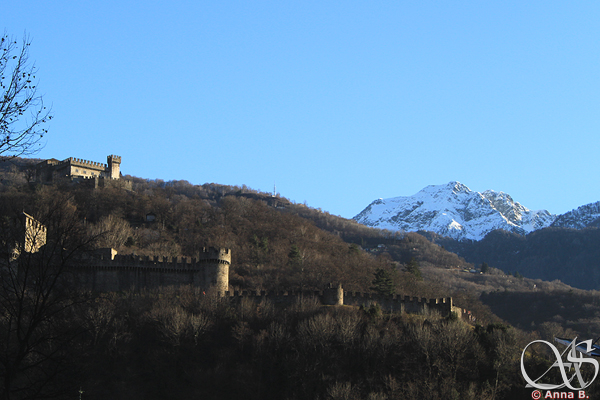 The ingenious creativity of Laurent Tobel Entertainment gives life to another unique show. This year, the original concept of the first two editions is moved even further: the 2013 edition breaks, once and for all, the classical logic of a figure skating gala, and drags the viewer into a story. There is no room in Music on Ice for the typical performance of the champion, skating his program and exiting the scene immediately after. In this show music is a constant that ties each exhibition to the previous and the subsequent ones. There are interludes, mime, theatrical scenes in which sport leaves room for interpretation. Every member of the cast cooperates with the others, taking part in group sketches before or after the exhibitions of other skaters.
"Also, many of the songs have been chosen in relation to the story and to the scenery," explains Laurent Carsana, the Music on Ice media manager.
And even a certain figure skating object changes its face to become something alive, part of the plot masterfully constructed by the artistic director Laurent Tobel.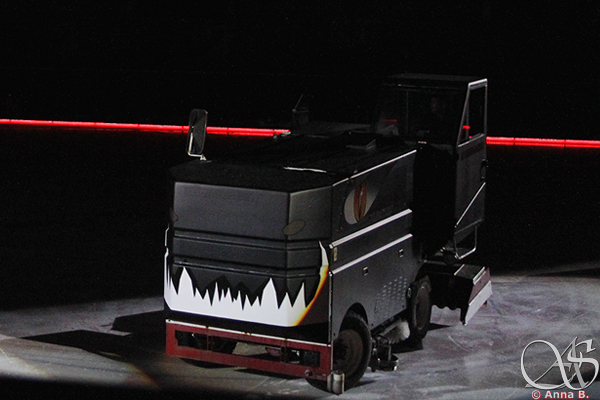 The ice resurfacing machine, for example, changes into something completely unexpected: renamed from Zamboni to Fuffy, the Infernal Dog.

Music on Ice 2013 starts in an apparently perfect world,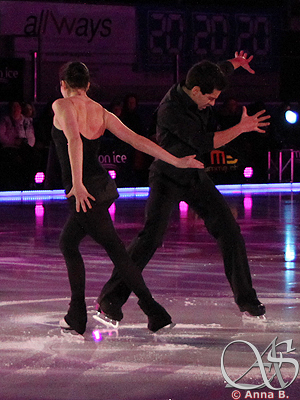 where children (interpreted by the young skaters of the Club Pattinaggio Bellinzona) are playing and snow fighting.

A young couple in love, Anna Cappellini and Luca Lanotte, walks hand in hand, happily dancing on the song That's Amore.
But their romance is bound to end soon: incomprehension will take the place of love, turning their white costumes into black, their joyful music into a sad tango (Oblivion).

The entrance of a thief (Laurent Tobel), who steals their engagement ring, cracks the balance of the couple. He brings evil into the story in the shape of a surprising Lucifer (Maurizio Margaglio, who plays the spotlight-chaser role. His voice narrates all what happens, helping to lead the audience inside this story).

To the notes of a rousing Highway to Hell, Jozef Sabovcik thrills the crowd with his impressive backflips. He comes to guide our thief in a journey through hell and the creatures that inhabit it... with the help of a very unusual means of transport.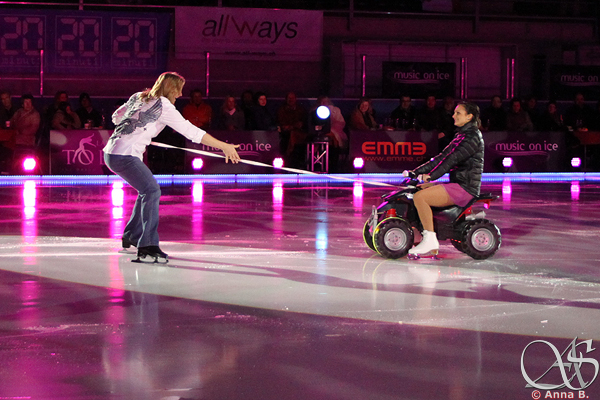 First, we meet an ethereal Sarah Meier, who bewitches the audience with her elegant Chopin Etude Op25 No5. She just lost herself entering through the hell door left open, while she was distracted reading Dante's Inferno. But she will be saved by love, in the second part of the show, where she looks like an angel in her light, winged Cosmic Love costume.

Samuel Contesti expresses his great showman potential with two hilarious characters: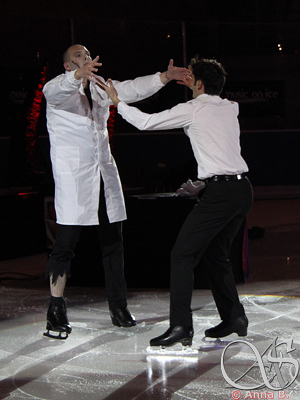 it's almost impossible not to laugh out loud, looking at his atypical Count Dracula who faints at the sight of blood, or tries to bite the public while Lucifer/Margaglio warns him not to bother them.
Will he follow or not the Devil's orders?
This is as exhilarating as his Dr.Frankenstein, who tries to bring our thief back to life. Two funny roles, and an unforgettable duet with Laurent Tobel as "the Creature", the both of them dancing together on the theme of Puttin' on the Ritz.

Extremely loud applause, then, for the exhibitions of Fiona Zaldua and Dmitri Sukhanov, here "Guardians of Hell". They strongly impress the crowd with their perfect acrobatic skating to the music of Angels and Demons, performing stunning lifts with their usual ease.

And again, Laura Lepisto, the "Princess of the North", who tries to seduce Lucifer with her tempting moves. She plays with him - just to disappear immediately after, like a light and evanescent dream.

There's a standing ovation for the Olympic champions Marina Anissina and Gwendal Peizerat, passionate gypsies in the first part with their impetuous Flamenco. Then, they will be able to escape from hell, in their delicate interpretation of Con te partirò.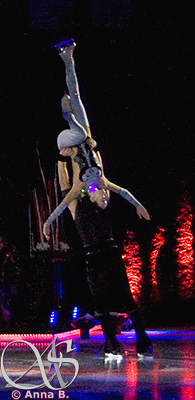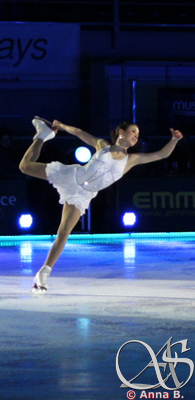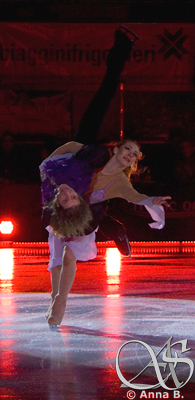 And finally, Stéphane Lambiel showing all the dramatic potential of his terrific My Body is a Cage: looking like a damned soul trapped inside a broken body, whose innovative gestures of contemporary dance perfectly express the pain. A soul that seems to find a way to freedom, just to be called again from Lucifer and his Guardians who drag him away as a marionette, deeper and deeper into perdition.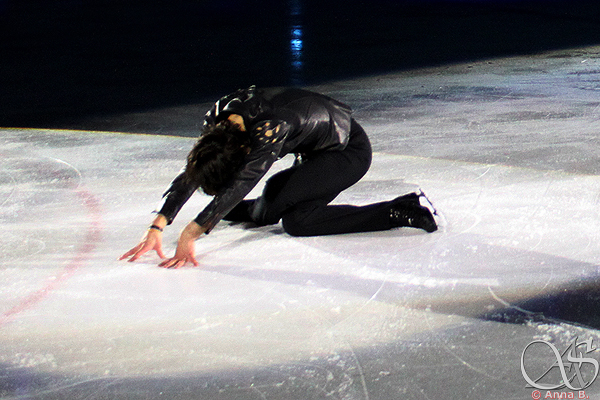 A melancholic beginning also for his second performance (Puttin' on the Ritz), before exploding with a thrilling step sequence that finally "brings joy to the world" (and to the audience, completely enraptured by his art).

As soon as the story goes on, all the programs become brighter: a raising of breathtaking choreographies, comedy and tragedy, stunts and "coup de théatre". Down to perdition first, up to salvation later.
Until the thief will be offered the opportunity to change his choices and rewrite, in this way, the story.

"There are skaters who are fantastically suited to this kind of entertainment" explains Laurent. "Tobel is one of them: he has always been one of the few skaters in the world able to create comic transitions. He is able to interpret these ambiguous roles, mainly based on mime and facial expressions. He is just perfect for this kind of character".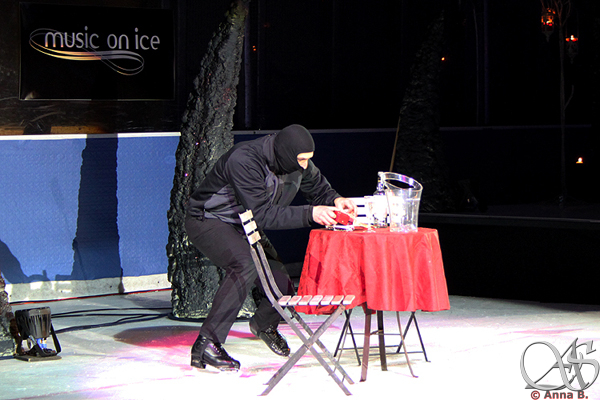 If you ask the skaters what is the feeling they get, performing in Bellinzona, the answer they always give is: it's a family. "It's always a joy for them to join us," continues Laurent, "Jozef, for example, is here for the third year, and he comes from United States. He is always looking forward to returning. For Anissina and Peizerat, on the contrary, it's the first time here. They are incredible, they reperesent the history of figure skating.. It's amazing to have them at 'Music on Ice'".

Also for Anna Cappellini and Luca Lanotte this is the first time in Bellinzona. I ask Laurent how they are living this experience: "They are quite excited," he replies. "To change perspective completely... maybe it sounds strange, but this can be easier for an 'old' skater than for a young one. You have to ask them to be completely open. And this is not immediate at all".
A challenge that Anna and Luca are ready to accept, as I can see. And having a look at the practices before the show, I particularly enjoy looking at them, while Maurizio Margaglio suggests to Luca Lanotte some moves for his character, a frightened lover looking for his lost ring.

The uniqueness of Music on Ice is actually this: to be able to combine the skills of all these champions in order to create something special. "That's why 'Music on Ice' is not just a show with Stéphane Lambiel, Sarah Meier..." ends Laurent. "It is a show interpreted by Stéphane Lambiel, Sarah Meier and the others. All the skaters are bewitched, dragged by Tobel into this magic."
And so are we.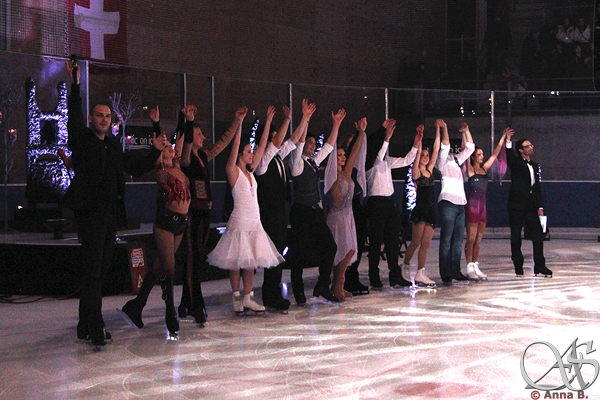 On January 5th 2013, Music on Ice celebrates its first sold out: 1860 seats out of stocks on the tribunes, not to mention the lucky people who can enjoy the show from the VIP tables, directly on the ice - an unmatched proximity to the scene that I'm sure they won't easily forget.

Music on Ice 2014 has already been announced, at the end of the show, by an enthusiastic Maurizio Margaglio. In the meantime, and for everyone who didn't have the chance to see the show live, we will be able to enjoy a TV broadcast and a DVD soon (more information will be published on the official site or official Facebook ).
Make sure you don't miss them!