Evan Lysacek: "If you love what you're doing you've already succeeded"
June 22, 2014
By Reut Golinsky
Photo © Reut Golinsky, U.S. Embassy in Astana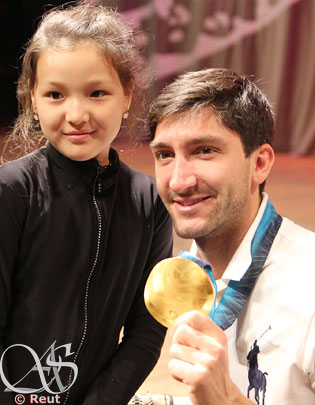 The most decorated U.S. male skater of the past decade and an official Sports Envoy for U.S. Department of State, Evan Lysacek had a few meetings organized for him during his visit in Kazakhstan. The Olympic champion of Vancouver made a speaking appearance in Almaty and held a master class and a Q&A session in Astana.

"Evan was here for Denis Ten's show. And as a part of U.S. Olympic Committee, when Olympians are going to be somewhere and have a little bit of extra time they hold these types of events, offering their time to the local community," explains U.S. Cultural Attaché Katherine Kaetzer-Hodson. "So his manager reached out to the State Department to see if we would be able to put a program for him. And we thought that it was a great idea to bring him together with kids. The Children's Palace was nice enough and welcomed us to their ice. Kids from Astana, from the Children's Palace and the other skating groups here, got to come and have a master class with Evan Lysacek! How many kids get an opportunity to skate with an Olympic gold medalist like that?"
Ms. Kaetzer-Hodson herself is not a figure skating fan but she saw Evan before, at the Olympic Games in 2006: "I saw him skate live in Turin, and so now to meet him in person was a lot of fun."
Young skaters of Astana got an hour on the ice with the Olympic champion and afterwards they've got the opportunity to get his autograph and ask him any question they want. From the simple ones like "Where do you train?" (asked in English! probably the main purpose of the question) or the personal ones like "Are you married?" (asked by a little girl who was around 5 years old) to the more complicated ones about his training routine and preparations for the competitions.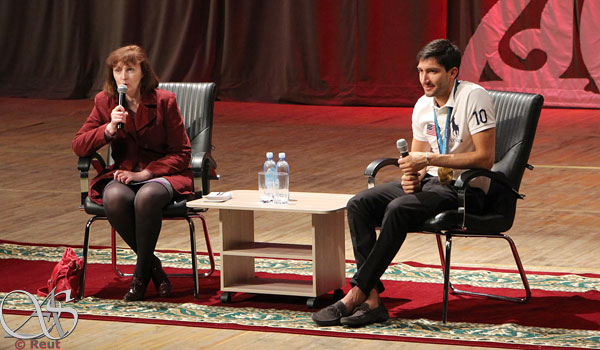 Evan was very professional in his answers; you could see that it wasn't the first time he holds such meeting. He also was very honest, warm and attentive.
"I spent my entire life skating, really, from morning till night. I am always doing something related to training whether it's running or off ice conditioning, stretching, or training on the ice which will be three sessions a day, each one around an hour and a half. My whole day is revolving around training," Evan revealed the secret of his success, raising a wave of applause and exclamations of awe. "I was never very natural with movements because my arms are so long, and my hands are big, and my feet are big, and my legs are long and I'm skinny. I always looked a little bit awkward on the ice. So it took a lot of time for me to feel comfortable with the movement, I worked a lot on choreography, posture, body lines."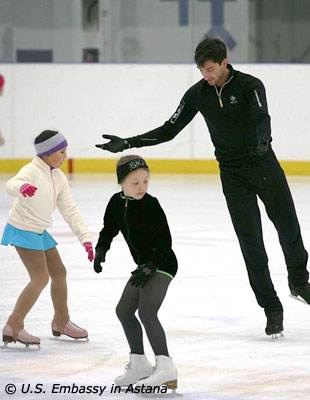 What did you feel when you performed for the first time?
I don't remember exactly what I was feeling during my very first performance but I remember that I really liked winning a lot.
Who was your biggest rival?
I had different rivals at different periods of my career. I think maybe my strongest rival was when I was in novice men, sort of middle-level skating. His name was Parker Pennington (Pennington won U.S. national titles on four levels - junior (2001), novice (1998), intermediate (1996), and juvenile (1995), and silver medals at the 2006 Nebelhorn Trophy and 2007 Finlandia Trophy - ed). He doesn't skate anymore but back then he would beat me once and then I would beat him once, and then he would beat me once and I would beat him once. And we went like that for four or five years.
How many competitions overall did you have in your life?
Hundreds of them. I don't know how many exactly, but a lot. (sounds of shock and appreciation from the young audience)
Were you ever nervous before the competition? If yes how did you manage to control this?
I've always got nervous but I looked at it as a good sign - that competing and the challenge would really mean something. And I always dealt with nerves just by training more; the better prepared I was the less nervous I felt.
Do you remember your performance at the Games-2010?
I remember a lot of it, yeah. I did it thousands and thousands of times at practice and so when I hear the music my body just naturally does the movements that I did.
Are you training now as hard as you did before?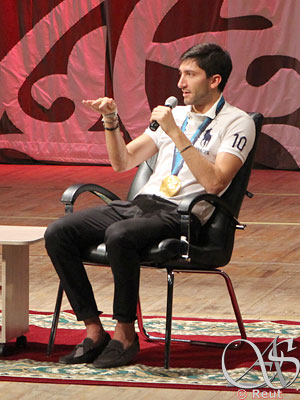 I had an injury for the last ten months, so for about five months of it I was off the ice and then I was going through the rehabilitation trying to get my strength back and feel better after this injury. So now I'm just getting back to the full training.
What is your favourite jump?
My favourite jump I think is the Lutz jump. I like to go backward; I don't have to see it coming then. (smiles)
How old were you when you succeeded with your first double jump?
I think I was almost ten years old, maybe nine and a half.
And triple?
With my first triple I was twelve years old.
Will you come again to Kazakhstan?
I hope so, I liked it a lot. I'm training in the U.S. with Denis Ten, we train at the same rink so I heard a lot about Kazakhstan from him and this is my first visit. But hopefully he'll continue to promote skating here and I'll come back.
"I would love for this to happen next year," says U.S. Cultural Attaché at the conclusion of the event. "It's a great opportunity for all the kids; it's a great opportunity for everyone in the community to come and see somebody who is an Olympic medallist, that's something that only happens a few times in one's life. We're glad to make it happen, and we'd love to make it happen again. It's a pleasure to have Evan here."
She also hopes to see the show next year, because this time she missed it: "By the time we got to the website for tickets it was completely sold out! If it is next year, I'd love to go. I heard it was a great show."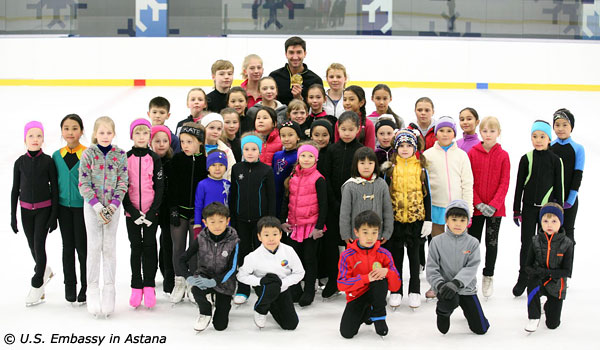 When asked to give an advice to Kazakhstani youth Evan Lysacek answers: "The most important is to love what you're doing. I could see today a lot of you were really enjoying just being on the ice, and I was always that same way. There are challenges and obstacles with any job, any goal, any sport but if you really love what you're doing then it's easier to get through them all. Ultimately, if you love what you're doing then you've already succeeded."
It's a great advice which hopefully will help them to continue on their road in figure skating. And in life too.