Hyoen-Basara, the once in a lifetime experience
for figure skating fans!
August 12, 2017
By Atsuko Kuryu
Photos © 2017 Hyoen all rights reserved*
* Photos were only licensed for a year

Japanese figure skating discovered a great partner in the Kabuki performing arts to produce the most spectacular show ever. At Hyoen - Basara, this perfect collaboration thrilled the crowds at the Yoyogi First Gymnasium in Tokyo.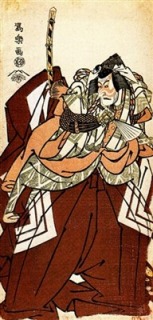 Kabuki is a Japanese traditional theatrical performance, which dates back several hundred years, and is still popular today. Some of you may have encountered it through the many overseas performances. Its characteristics include inflated movements and make-up, peacockish costumes and very original artistic style, singing and dancing. It has been named a UNESCO intangible Cultural Heritage. You may know it better as an Ukiyo-e art form, than by its performances.
Several young Kabuki actors, like Somegoro Ichikawa, Emiya Ichikawa and Kikaku Nakamura, along with other major actors, participated in this performance. Great skaters, such as Daisuke Takahashi, Shizuka Arakawa, Nobunari Oda, Mai Asada and Kanako Murakami also joined in this drama of fantasy. It began with the Goddess Ina's (Shizuka) beautiful projection mapping. The gods of myth summoned the famous Kabuki characters to a fight between good and evil. The good god Niniginomikoto (Nobunari), the great grandfather of the first Emperor of Japan, Jimmu, fell in love with Konohanasakuyahime (Mai) and ignored Iwanagahime (Emiya) at the arranged marriage meeting, which Sarutahiko (Kikaku) and his wife Amenouzumenomikoto (Kanako) hosted. Iwanagahime became so furious with him that she turned into a bad god and called upon Niki-Danjo (Somegoro), the most evil villain in Kabuki, to let him take Niniginomikoto and Konohanasakuyahime prisoners. Sarutahiko countered by recruiting Yoshitsune (Daisuke), the most popular hero in Kabuki, as his ally. That's how the story begun, and it then went on with many fights, triumphs and defeats. In the end the good conquered the evil and all the actors and skaters, including those on the evil side, appeared on the stage for the grandiose denouement. Other performing skaters were: Akiko Suzuki (Shizuka-gozen, Yoshitsune's wife), Jun Oshima, Seiichi Suzuki, Shuta Ebina, and Akio Sasaki, all as Sarutahiko's helpers.
The performance was just fantastic and so exciting. I attended the very first show and maybe it was the reason why I felt a bit ambivalent during the first act. It was like actors and skaters couldn't quite make full use of the Kabuki characteristics. The actors moved slightly timidly because of the slippery ice, and the skaters were not used to the over the top Kabuki movement. However, this was all swept away at the very beginning of the second act. The group number was very beautiful, and soon after, four smaller platforms were prepared for the Kabuki actors to move freely. Their classical Japanese dance, the wonderful posturing and traditional Kabuki costume, and involving the audience, shone on the ice. After their performance the four squares were pieced together, and a man in a mask entertained with a Japanese style dance that was wonderfully expressive. There was a bit of hip-hop in his Kabuki movement and to our surprise he turned out to be Daisuke Takahashi! He is absolutely as great a dancer on the floor as he is on the ice. He definitely moved all the people in the venue with his dance. From this moment, the show moved into a long climax without any breaks to breathe. And true to Kabuki tradition, the audience was involved all the way, even in the play on the ice.
It is a bit frustrating to report on something this fascinating, and yet not fully being able to put words on it to enough persuade you of the show's grandeur. I can't completely explain how amazingly and charmingly Daisuke acted his part on the ice, or how beautiful Shizuka was as a goddess, or how noble Nobu and Mai looked in their roles, or how sweet, but in painful agony, Akiko danced for her husband in the story. All the skaters performed their roles excellently and took on the parts of Kabuki actors very well. And the Kabuki actors moved very freely on the ice, with or without skates. Emiya used to be a hockey player, consequently his skating was satisfactory. However, Somegoro, Kikaku and some others compared favorably to Emiya while skating.
Adding to the excellent performances of the skaters and actors, other factors such as lighting, music, direction and choreography should be mentioned. And the projection mapping was very effective in producing a "you-are here" feeling, so you were really involved in what you were experiencing. But instead of going on about how stunning Hyoen was, I will make my point by mentioning my colleague. She went to see the first show with me, with a press pass, but then bought tickets so she could watch the other shows as well.
I regret to say that there, very unfortunately, was an issue of portrait rights of the Kabuki actors, so overseas internet media was not allowed to take pictures. The officials instead lent us some pictures, but I'm afraid it's not enough to portray this glorious show. If your interest has been sparked and you want to learn more about, please google "hyoen" for pictures and videos.
I've heard the show has plans to tour abroad, but there are no specifics yet. But let me say this: you must go if you have the chance, because it will be the best spectacle you have never seen!