The NHK Trophy day 1: Heated battles and veterans in the top
November 11, 2017
By Atsuko Kuryu
Photos © Keiko Kasai

The 4th event in the Grand Prix series, the NHK Trophy, started November 10 in Osaka, Japan. This competition is a showdown between the 8 pairs, 10 ice dance couples, 12 ladies and 11 men gathered there. Unfortunately, favorite Yuzuru Hanyu fell at the landing of a quad Lutz during practice the day before the event, and injured the ligaments of his right foot. Consequently he had to announce his withdrawal from this event just an hour before it started.
Pair's short program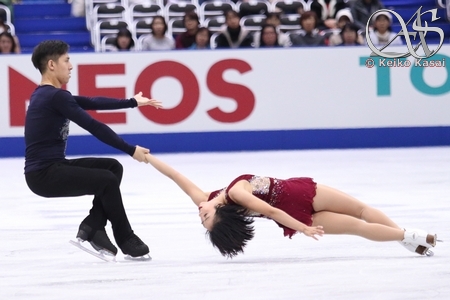 The Chinese pair Weinjing Sui/ Cong Han won the short program followed by two Russian pairs: Ksenia Stolbova/ Fedor Klimov and Kristina Astakhova/ Alexei Rogonov.
Wenjing and Cong received 79.43 points for an almost flawless program where none of the judges gave them -GOEs. Cong said later in the press conference that it was tough for them to work through it because they were unable to relax during their performance. They now aim to be more relaxed and show a better side of themselves in the free skating.
Ksenia and Fedor looked calm and solid. Their lift included a few original positions and the throw twist was very high. They said they were almost satisfied with their performance, but regretted that their points for some elements were not as high as they had expected. Their score, 75.05 points, was lower than they had aimed for.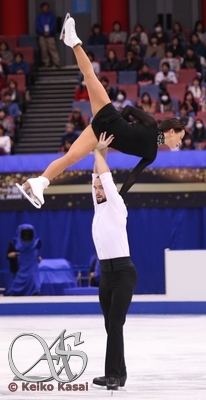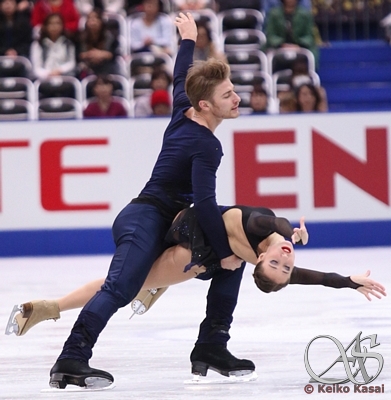 The other Russian pair, Kristina and Alexei, nailed a beautiful side by side triple Salchow and a very impressive step sequences. This put them in third place with 70.47 points. Kristina said this was only their third performance of their short program in international competitions this season, and their points are getting better and better, so they were very much satisfied. Married couple Alexa Scimeca Knierim/ Chris Knierim of the USA was as beautiful and romantic as ever and earned 65.86 points and a fourth place.
Miriam Ziegler/ Severin Kiefer, an upcoming pair from Austria, provided a vivacious performance featuring a joyful step sequence. Miriam and Severin got 62.61 points for their Sunshine on Leith program and placed fifth.
Ladies' Short Program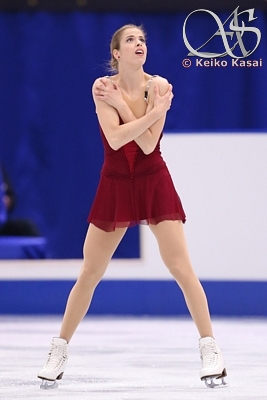 The most heated battle of this day was found among the ladies, especially after Carolina Kostner of Italy, who placed second with 74.57 points for her beautiful Ne me quitte pas, sung by Celine Dion.
As soon as we had enjoyed her breathtaking performance, we saw a big close-up of Mirai Nagasu's face on the big screen. This face was full of fight and she looked very much like Bellona, a Goddess of War (but she skated to Chopin). She landed all the jumps including a triple Axel and delivered a very powerful program. But because of some -GOE for her under-rotated jumps and two footed triple Axel landing (fully rotated though), she couldn't get the higher points she and most of the audience had expected. When her score was announced there was some booing.
Like Mirai, Rika Hongo showed a very strong and impressive performance to Carmina Burana, but got under-rotation and an edge call and lost some points there.
After her the heat in the venue rose and reached a climax as Japan's national champion Satoko Miyahara appeared on the ice after a 10 month break. She injured her hip just before the 2017 World Championships, but was now back on the ice. She had good speed, but under-rotated the triple Lutz and popped the triple toe into a double. In spite of these mistakes, the audience was very happy and excited about her comeback.
Rika, Mirai and Satoko finished fourth, fifth and sixth with scores of 65.83, 65.17, and 65.05 points respectively.
The Russian queen, Evgenia Medevedeva, placed first, but with a relatively low score for her: 79.99. She seemed a bit slower than her usual self; still everything was executed perfectly. She said she was generally satisfied with her performance today, but she could have skated better.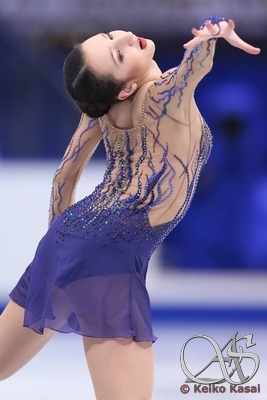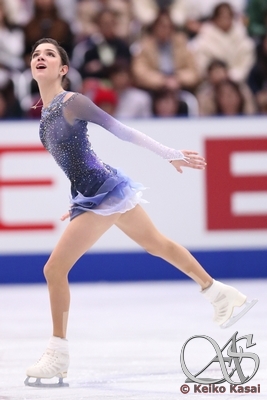 Surprisingly in third place was another Russian, Polina Tsurskaya. She skated very well to Game of Thrones music and landed solid jumps. She said she was very happy with her debut performance as a senior.
Men's short program
What results! One of the veteran skaters, Russian Sergei Voronov, won the short program with a very consistent performance where he landed a gorgeous quad toe - triple toe combination and a fantastic triple Axel. He skated to Adios Nonino and got 90.06 points. One of the reporters asked him how he felt about the results; that veterans like he and Bychenko came first and second. He answered that he could continue in this sport and keep his level up because he liked the sport so much. His love for figure skating keeps him challenged and he felt very happy about it.
Alexei Bychenko of Israel answered the same question, and said that experience of success, and ongoing dreams can motivate people, so he keeps skating. During his short program, all the jumps looked effortless and he piled up solid elements to place second with 85.52 points. He said he was almost satisfied with his performance, except for some shaky points.
>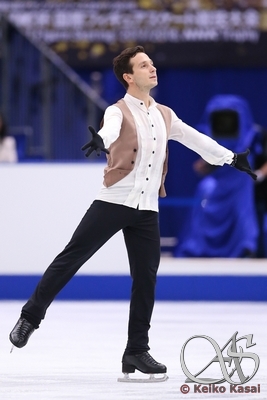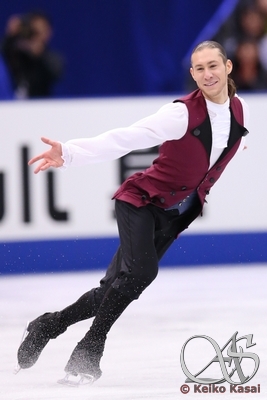 America's entertainer, Jason Brown, finished third, but with a very narrow margin of 0.16. His score was 86.36 because he stepped out of his triple Axel and doubled a planned triple. As usual though, his performance gave us something you can't explain by the score alone. Jason was dazzling on the ice to The Room Where It Happens (from the movie Hamilton). When asked why he chose this music, he said he wanted to show something that would represents his country in his short program and this music was very American. He also wanted something fun and enjoyable. It was very clear he embodies this concept fully. In the press conference, all three men mentioned Yuzuru and his injury, and said they were very sorry for his withdrawal and wished him a speedy recovery.
The second American, Adam Rippon, finished fourth after a solid performance. He earned 84.95 points while Keegan Messing from Canada displayed wonderful skating skills and finished fifth with 80.13 points.
Let me also mention the very impressive debuts of two young Japanese skaters, Kazuki Tomono and Hiroaki Sato. Both of them landed a quad and a triple Axel in their short programs. Kazuki moved very well to the quick tempo of the Zigeunerweisen (Gypsy Airs) while Hiroaki nicely expressed the mesmerizing world of Cirque Du Soleil.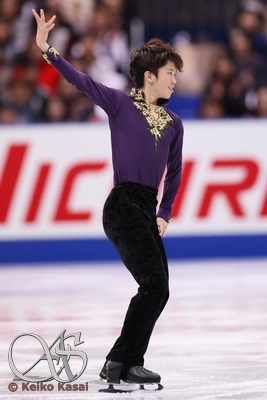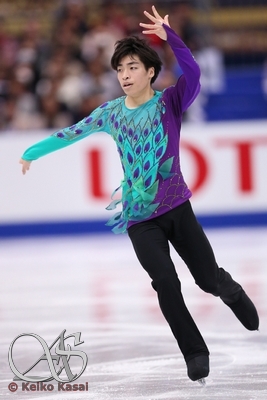 The first day of the NHK Trophy came to an end. I could easily hear the sighs of disappointment from all over Japan, and even from overseas because of the withdrawal of Yuzuru, but the event must go on. Tomorrow will be the short dance and free skating of three categories, and I'm sure it will be both interesting and exciting!
Check out more photos of day 1 here!