The NHK Trophy, day 2: Samba, Turandot, Anna Karenina and veterans medaling
November 12, 2017
By Atsuko Kuryu
Photos © Keiko Kasai

Short Dance
In Japan, couple categories like Ice Dance and Pairs are not as popular as singles, and when the short dance started the venue was only half full. Misato Komatsubara / Timothy Koleto, a recently married couple and one of only a handful Japanese ice dancers, presented a beautiful performance to earn 53.83.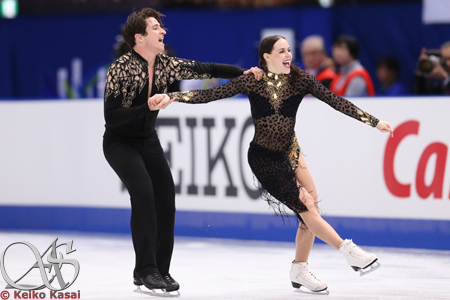 Even though the points were not so high, it was very good and showed what we can expect in the future. One of their coaches is Barbara Fusar Poli, so there is definitely potential here. But the clear winners of the short dance were Tessa Virtue / Scott Moir, who delivered a fast and polished program. They had chosen Samba, Rhumba and Cha cha, and it seemed like they didn't dance to the music, the music rather followed their dance and all their movements were outstanding. Scott stumbled on the last set of twizzles, but nothing affected the results; the Canadians are in a comfortable lead with 80.92 points. Madison Hubbell / Zachary Donohue showcased a rich variation of movements to become second with 76.31. Especially their fast twizzles impressed the audience. Italian couple Anna Cappellini / Luca Lanotte's program was very playful and enjoyable. The music was funny and lovely (Cha cha and Samba) and the crowd felt their joy. Anna later commented on the score (75.87), and how they lost some points unintendedly, but that it was nice to find their weak points this early in the season.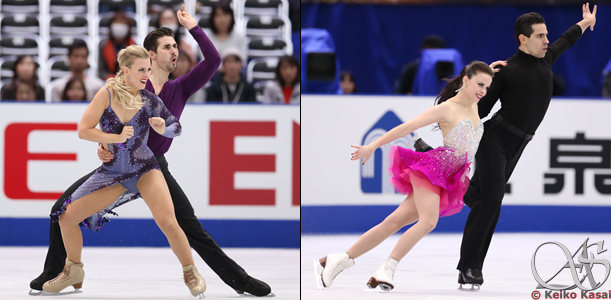 Victoria Sinitsina / Nikita Katsalapov were very light but powerful and were ranked fourth with 72.49 points. Five couples then lined up with 60 plus some points: Penny Coomes / Nicholas Buckland, 65.64, Laurence Fournier Beaudry / Nikolaj Sorensen, 65.34, Alexandra Nazarova / Maxim Nikitin, 63.33, Marie-Jade Lauriault / Romain Le Gac, 62.79 and Kana Muramoto / Chris Reed, 61.82. Going into the free dance this makes it very interesting.
Pairs Free Skating
The podium remained the same as after the short program.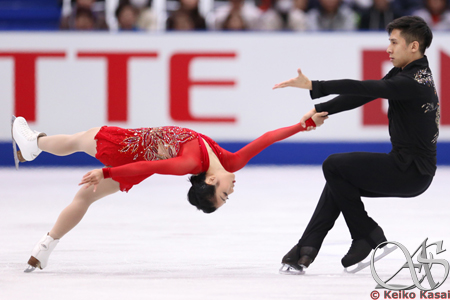 Wenjing Sui / Cong Han won the title with an overwhelming performance and an overall score of 234.58. All the elements were executed with perfection and the climax came at the end with two stunning lifts that followed the music (Turandot) in an amazing way. As soon as their program ended, the audience rose for applause. The score for the free program alone was 155.10, a season's best. Ksenia Stolbova / Fedor Klimov were also amazing. Their Carmen program was dramatic yet graceful. Ksenia landed every throw jump with flow and all the lifts were beautiful. Unfortunately their planned combination jumps became a solo jump, but they still got 147.69 points, their season's best. The overall score was 222.74 which earned them silver. Kristina Astakhova / Alexei Rogonov also delivered a very nice performance to La La Land. They only doubled the triple Salchow, but for the rest they had good harmony with the music. Their efforts payed 133.17 points with an overall score of 203.64. Alexa Scimeca Knierim / Chris Knierim finished just off the podium; however they were very solid and presented the romance in the famous movie Ghost well.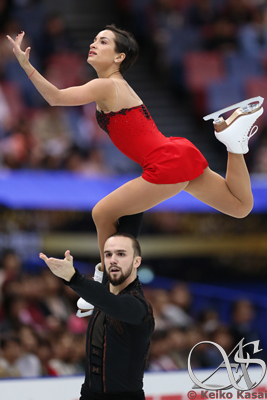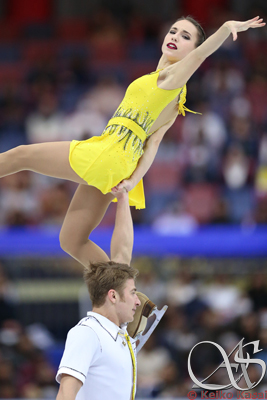 Ladies Free Skating
Again there were intensive battles among the top ladies.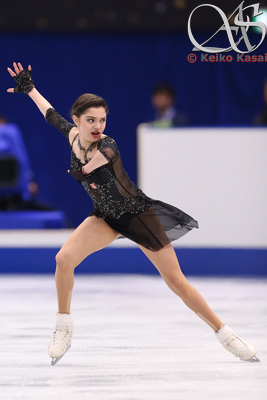 Evgenia Medvedeva won the title, but to our surprise she had two less than perfect jumps. After falling on the opening triple flip she stepped out of the triple Lutz, but then pulled herself together and what remained of her Anna Karenina program was flawless. She scored 144.40 and easily won with 224.39 overall. Carolina Kostner fell on a triple Salchow, but thanks to her high PCS and good score from the short program she stayed second and won silver. We had to admire her beautiful and effortless jumping and highly artistic performance to L'apres-midi d'un faun which only Carolina could express so well. However, today's winner for best performance should go to Polina Tsurskaya because she really delivered and she was perfect! She left nothing on the table and got 140.15 for her free program and 210.19 overall. Well done and a bronze medal to Polina, who is only 16 years old and a fresh baked senior. Mirai Nagasu placed fourth because of her two footed and under-rotated triple Axel, but other than that all the jumps were fully rotated and got +GOE. Her program Miss Saigon was a well balanced mix of dynamism and grace. Satoko Miyahara proved she is still the queen of Japan's ladies even after her injury break. She stayed in fifth, which was the best ranking among the Japanese ladies. But Rika Hongo's powerful and strong performance should not be overlooked. We only wish she will be able to fully rotate her jumps. Alena Leonova left an unforgettable impression on the Japanese fans. Her wonderful and flawless performance to Tune Mari Entriyaan Bollywood Selection was cheerful and ethnic.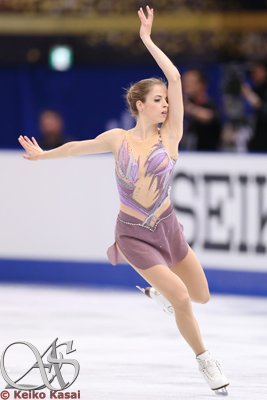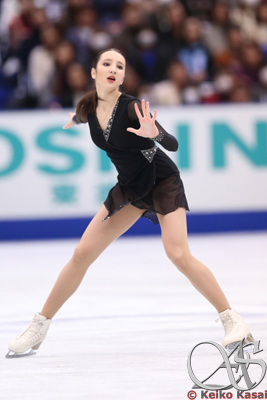 Men Free Skating
It was amazing that three veteran skaters got on the podium, as Adam Rippon put it.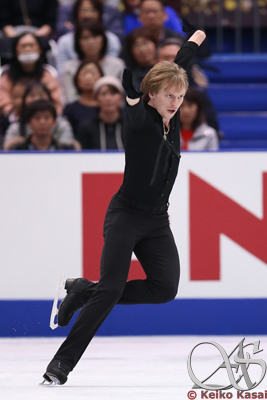 He didn't forget to remind us that he was the youngest as Alexei Bychenko announced Adam's 28th birthday. Both medaled, but it was Sergei Voronov who dominated the men and won the title with a fabulous performance to well known skating music Sarabande. He got 181.56 points and an overall score of 271.12. He went through the flawless program with full power, but seemed so exhausted afterwards that the audience laughed warmly in consideration of his age (30). We felt his determination and were very much impressed. He said he was satisfied with today's performance and also with winning the gold. He was tired but filled with a sense of exaltation. Adam Rippon was very happy too because 10 months ago he had a broken leg and was in bed, now he was on the podium. After he had delivered his very good short program earning 84.95, the margin between him and Alexei was just 0.57. He landed a quad Lutz (under-rotated) and 7 triples including two Axels nicely. He said he was satisfied with his performance. He got 177.96 points and finished second. Alexei Bychenko presented a decent performance but some minor mistakes put his silver medal at risk. He recently changed his free program from Bolero to Pagliacci and it could be a very good move because he looked much more relaxed now than at Japan Open. He got 166.55 points, his season's best and got bronze for his overall score of 252.07. He admitted he had some weak elements, but thought it was good to know them now, early in the season. Jason Brown excluded the quad jumps and tried to pile up GOE points instead, but unfortunately he fell on two triple Axels, which are normally his biggest weapon, and slipped down to forth.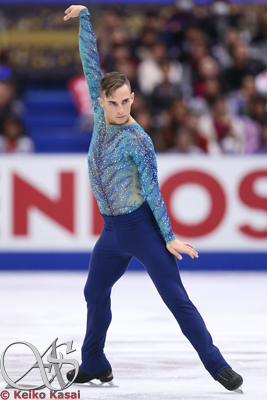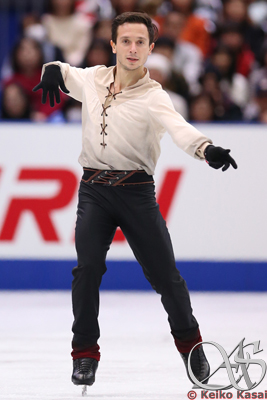 In the evening, before the men started, the seats were almost filled with enthusiastic fans in spite of Yuzuru's absence. At the press conference most skaters talked about how fun it is to skate in Japan because of the nice Japanese fans. As a Japanese writer I am proud of this; all skaters are welcome here and warmly cheered on.
Tomorrow is the last competition of this whole event, the free dance. It will be good and I'll be back!