An Evening with Scott Hamilton and Friends
December 24, 2017
By Tina Tyan
Photos © Debi Oreste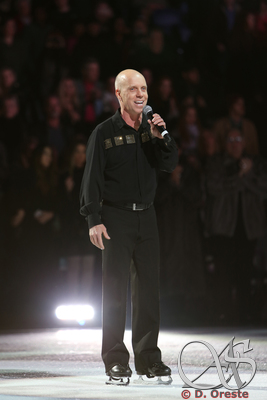 On a chilly November evening, an incredible array of Nashville music stars and champions of the figure skating world came together with an enthusiastic and supportive audience to celebrate life and to "turn cancer upside down." "An Evening with Scott Hamilton and Friends" was a live concert, a figure skating show, and most importantly, a fundraiser for the Scott Hamilton CARES Foundation in Scott Hamilton's hometown of Nashville. It was a joyful evening, led with humor and warmth by Scott's good friend, Grammy winner and cancer survivor Sheryl Crow.
From the start, the show had a different feel from the typical figure skating show, feeling more like a concert that happened to have skating in it. Scott Hamilton came out with a microphone to greet the audience, talk about the cause, thank us all for supporting it, and joke about it being a special occasion since he doesn't often take to the ice in figure skates and spandex anymore. Sheryl Crow then took over in her low key, humorous, casual manner, making it feel as if we were at one of her concerts where she just happened to invite a whole bunch of music friends and skaters to perform alongside her. She stayed on stage the entire time with the band, singing solo, duets, or backing up the other singers on the guitar. She bantered with the guests, introduced the skaters, and generally kept the whole show flowing and moving along.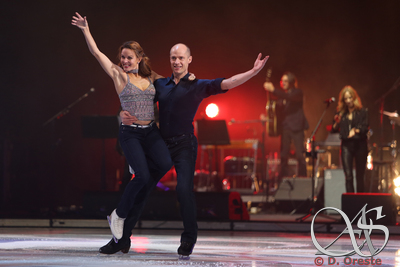 The show opened with the whole cast skating to Sheryl Crow singing "Best of Times". Alissa Czisny, Jeffrey Buttle, and Steven Cousins kicked things off, dancing together on the ice. This flowed into the two ice dance teams, Kim Navarro & Brent Bommentre and Sinead Kerr-Marshall & John Kerr, each doing a lift down the ice. Kimmie Meissner and Kiira Korpi took to the ice next, skating gracefully in counterpoint until they were joined by Jeremy Abbott, Michael Weiss and Ryan Bradley bringing a goofy energy and simultaneous backflips. Not to mention, shaved heads. If Ryan Bradley had shaven his head, it would have been three simultaneous bald backflips...and if Scott Hamilton and Kurt Browning had joined them (as former backflippers), that would have been five simultaneous bald backflips. Missed opportunities... Backflips completed, Meryl Davis made her intro onto the ice, accompanied by John Kerr. Then Kurt Browning entered in a blaze of fast footwork down the rink. Finally, Katia Gordeeva took her solo turn around the ice before the entire group came together. The number ended with most of the skaters paired off (Kiira Korpi and Jeremy Abbott, Meryl Davis and Michael Weiss, Katia Gordeeva and Kurt Browning, Kimmie Meissner and Ryan Bradley, and of course the two ice dance teams).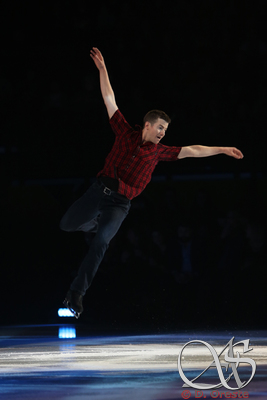 As the skaters left the ice, Sheryl Crow introduced her good friend Darius Rucker, whom she said she had known for years, teased him about wearing spandex for the show (one of several callbacks to Scott's joke about spandex), and without much further ado, kicked off the first solo number of the evening. Clad in a red plaid shirt, Jeff Buttle took to the ice to skate to Darius performing "Alright" with Sheryl Crow backing him up. Jeff brought a joyful energy and a lot of fast spins to the laid back number, and got things going on a great note.
The next musical guest was Cassadee Pope, who seemed mutually excited to sing "Wasting All These Tears" with Sheryl Crow, as Alissa Czisny skated on the ice. Alissa gave a beautifully heartfelt performance to this angsty song about heartbreak. She showed off her lovely long spiral and interpreted the music beautifully.
Sheryl was happy to introduce the next guest, Charles Esten, star of the show Nashville, joking that she knew him well enough to call him "Chip". Charles talked a bit about it being Nashville's final season, and thanking the city of Nashville for supporting them. They then welcomed Cassadee Pope back out to sing "You're Where I Belong" with him. Joining them on the ice was Steven Cousins, whose style hasn't changed much over the years. He emoted on the ice to the plaintive song.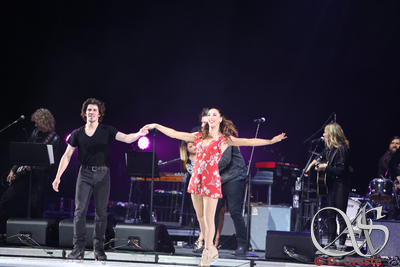 Cassadee went backstage again, even though she was about to sing her third song in a row, so that Sheryl Crow could introduce Chris Young. Then it was time for Chris and Cassadee to duet on "Think of You" as John Kerr strutted onto the ice. He was soon joined by Sinead Kerr-Marshall.
Their interpretation of the music may have suited the energy of the song a bit more than the lyrics, but it was a lot of fun to watch. They pulled out all the stops with their characteristic gender bending lifts and handstand lift, as well as some low to the ice hydroblading. The singers seemed quite impressed with Sinead lifting John as well!
Next on the ice was the lovely Kiira Korpi, skating to Bart Millard (lead singer of Mercy Me) singing "Even If", with Sheryl Crow backing him up. She was a bright, joyful presence on the ice, spinning and gliding her way through the changes in tempo and pace, beautifully embodying the passion of the song.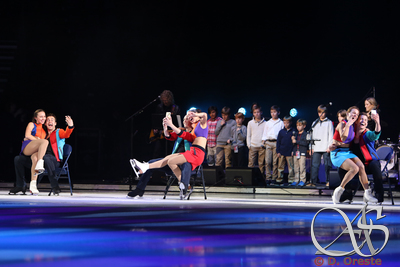 The evening wasn't just a collection of solo pieces with beautiful music, though. There was even a group number or two. Sheryl Crow introduced the following song explaining that she'd originally performed with "The Five Bucks", including her kids and Scott Hamilton's son, but now they'd expanded to "The Ten Bucks" (bringing on five additional boys). The idea behind the song was how sometimes parents pay so much attention to their phones, their kids just want them to pay attention to them and just go roller skate. So of course the number opened with Jeffrey Buttle, Jeremy Abbott, and Ryan Bradley sitting in chairs, completely absorbed in their phones, while Katia Gordeeva, Alissa Czisny and Kimmie Meissner tried to get their attention. This led to some cute choreography as the boys wouldn't tear their gazes away from the phone and the girls skated around them and spun them around. Eventually, of course, they got the boys to get up and skate with them, leading to some fun, upbeat dancing, until it culminated in each boy using the phone to take pictures of the girls, and then each pair happily taking selfies back in their chairs.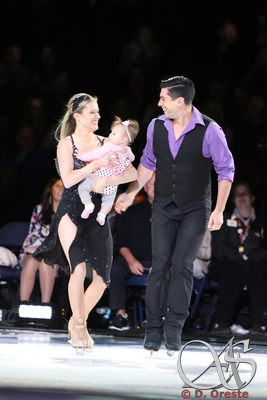 After that fun interlude, the next program took a turn for the poignant, with Darius Rucker performing "It Won't Be Like This For Long" as Kim Navarro & Brent Bommentre skated. The song is about how quickly time goes by when you have a kid, and how each phase flies by. Since Kim Navarro only recently had a baby daughter, it was clear that the song meant something to her. Kim and Brent's skating was beautiful, with some lovely lifts and dancing, but the most special part was Kim bringing her daughter out on the ice with her. Brent's face-splitting grin as he looked at the little girl, and Kim's pride and love were great to see. Amusingly, as they left the ice, Sheryl Crow joked "you must give that baby to me, Kim. Right now!" and Kim's first reaction was to clutch the baby closer before her brain caught up with her motherly instinct and laughed.
Peggy Fleming made her one appearance of the evening, talking about how her struggle to win Olympic gold and her struggle to fight breast cancer were similar. She then spoke about "The Overcomers", a group of young skaters who had raised funds for Scott Hamilton CARES (40k?). All of the skaters who had raised funds got to skate in this large group number to Cassadee Pope singing "Stand" (with Sheryl Crow singing backup, of course). It was fun to see this large group of skaters with a variety of skill levels come together to get their little highlight moments, lift each other up, and skate together so well.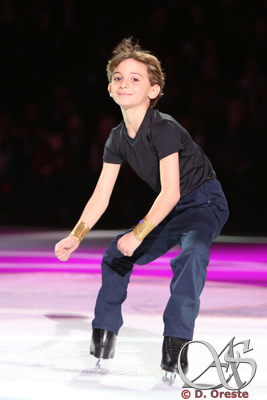 At the conclusion of "Stand", most of the skaters left the ice, leaving behind five skaters. These were apparently the top five fundraisers, who got to dance and get solo breakout moments to Sheryl Crow performing "If It Makes You Happy." As each skater completed their solo bit, he or she left the ice until finally it was just Sheryl and her band performing the rest of the song. There was a pause here where I was fully expecting intermission to happen (based on the breakdown of songs in the program), but instead, Sheryl just moved right along, introducing the legendary guitarist and songwriter Steve Cropper, and bringing a visibly excited Bart Millard back out to sing with him. It seemed this show really was to be like a concert, with no intermission at all.
Kimmie Meissner was the skater who got to perform to "In the Midnight Hour" with Bart Millard and Steve Cropper. She seemed happy to let her hair down and show off her flirtatious side, playing with audience members a bit. She also landed some beautifully solid jumps.
The next performance was a group number of sorts to "Soak Up the Sun." Evidently, Charlie White can only be replaced by not one, not two, but three other men. Meryl Davis started out skating charmingly alone, but was soon joined by John Kerr for an extended bit of dancing. The two made a lovely pair, but were soon joined by Brent Bommentre, not to replace John, but to add on to the group. The three skated together for a while and eventually were joined by Steven Cousins, who joined just in time to help lift Meryl over their heads. The song wound down with the four skating together, and then Meryl taking a turn with each guy. The whole program had a light, easy vibe.
While most of the programs for this show were one-offs, created especially for the show with songs by the musical guests, one of the skaters had actually performed a program to one of the musical guests before. A decade ago, Michael Weiss skated to "I Can Only Imagine" by Mercy Me so of course, with Bart Millard as a guest, there was no other song he could do. The look was a bit different, given that Michael has shaved off all of his hair, but the passion was the same. It must have been pretty awesome for Michael to be able to perform this with Bart Millard singing live, and he skated it beautifully.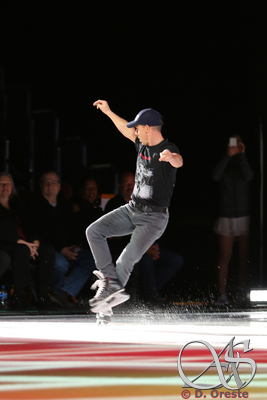 Mercy Me is a Christian band, so Sheryl Crow had some fun teasing Chris Young for being a "heathen" who had to follow a song about walking with Jesus with one about taking a shot of Patron and drinking tequila. He had an able partner in performing "Aw Naw", though, in Kurt Browning who took the ice in hockey skates. The pairing of song and skater worked well as Kurt showed off just why he is so good. Any fan of Kurt's has seen him skate in hockey skates before, and we know he's really good at it. But it's still fun to see how he incorporates aspects of figure skating (double Axels, spread eagles, great footwork) while taking advantage of the differences in the hockey blade (gliding on the toes and heels, spectacular ice sprays with hockey stops). He's just a master of the blade, regardless of which kind of blade. He also had fun inviting Alissa Czisny out on the ice with him so he could try to impress her (she strolled away to hang out by Chris) and skate around her at various points in the song.
From a fun, down home romp in a bar with hockey skates to an easy breezy "Sitting on the Dock of the Bay". Sheryl Crow brought out Steve Cropper, who had originally written the song 50 years ago with Otis Redding, and Darius Rucker to sing it. They were joined by a cool, summery looking Katia Gordeeva in sunglasses, hanging out on a chair on the ice. The song lends itself well to a fun, flowing interpretation, and Katia seemed to have a lot of fun out on the ice, eventually jumping on stage to dance with Darius Rucker.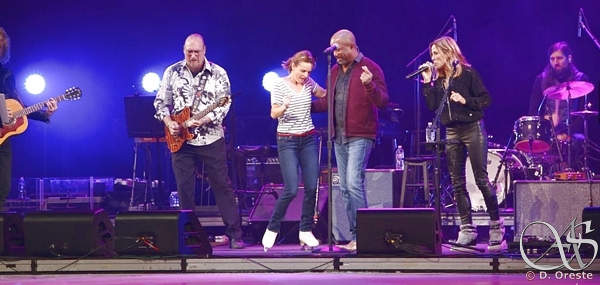 It was time for another shaven head skater with a backflip to take the ice. No, not Michael Weiss. Or Kurt Browning. Or Scott Hamilton. It was Jeremy Abbott, skating to "This" by Darius Rucker. The song was quite upbeat and rocking, and Jeremy seemed to have fun while adding his own flair to it. Not to mention that backflip!
Charles Esten seemed quite thrilled to come back out to sing "Soul Man" with Steve Cropper, putting on a pair of Blues Brothers-esque shades. And Ryan Bradley seemed quite happy to perform to the classic song, bringing his trademark charm and twinkle (as well as a backflip of his own). This was a really fun song to end the solos on. It's hard not to dance to!
The finale, to "I Shall Believe" by Sheryl Crow, was much slower but very fitting to the theme of the show. It opened with Kim Navarro and Brent Bommentre doing a beautiful lift around the ice, and eventually being joined by Alissa Czisny and Kiira Korpi. They did some beautiful side by side spins and skating in counterpoint. They transitioned fluidly to four of the men (Jeff Buttle, Jeremy Abbott, Steven Cousins, and Michael Weiss) skating together and in solo bits down the ice, interspersed with Sinead Kerr-Marshall and John Kerr. Kimmie Meissner then got a solo bit down the ice before being rejoined by the rest of the skaters. Kurt Browning and Katia Gordeeva initially just joined the rest of the group unobtrusively, while Meryl Davis got a bit of a solo spotlight, but then first Kurt, with a spread eagle, and then Katia broke out to do their solo highlights. Katia did a lovely layback in the center of the ice while Kurt did a spread eagle around her, and then the two skated together a bit.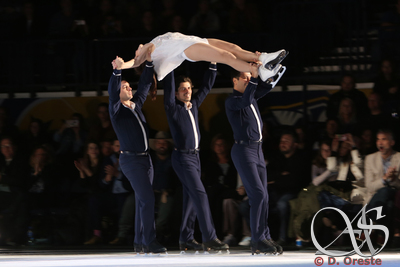 Meryl Davis got another lift from Steven Cousins, John Kerr, and Brent Bommentre before welcoming the top Overcomers fundraiser Olivia Kaloyannides. The two held hands and did Ina Bauers in a circle, before Olivia broke out to do a little highlighted spinning of her own. The whole group finally came together to do the kick line bow, and wave to the crowd.
Scott Hamilton then came back out on the ice with a microphone to thank everybody. He spoke about the evening and the cause, thanked the audience, and then went along saying something nice about each individual skater in the cast before hopping on stage to hug his "wife's best friend" Sheryl Crow and thank the musical guests. Then the singers all started performing "Hold On (I'm Coming)" while the skaters took to the middle of the ice for another final bow (very similar to the end of Stars on Ice shows). After the bow, the skaters whipped around the ice multiple times to slap hands with the on ice audience members. After like the third time around, Kurt Browning broke out and seemed to be gearing up to do a 2-Axel which he finally went and landed beautifully after a few almost-starts. As everyone milled around the ice, clapping, dancing, or greeting each other and audience members, Kurt grabbed Scott for an extended hug. Eventually, the skaters left the ice, the musicians did a final bow, and the evening was over.
All in all, it was a wonderful evening of skating and live music in a bit of a different format to benefit a great cause. It was nice to see Scott out on the ice again, if only to talk to the audience. Sheryl Crow was a lively and warm host, and the skaters and musicians all put out stellar performances.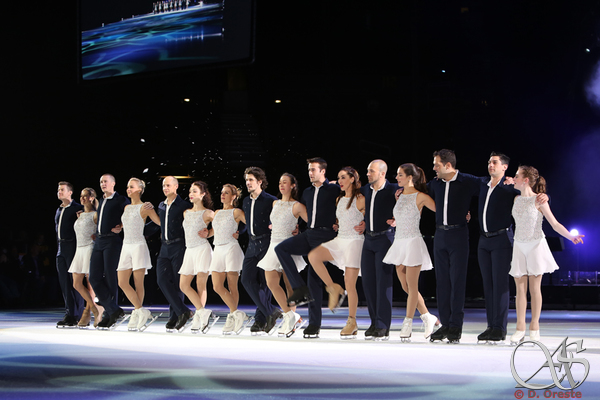 Check out more of Debi's photos of this evening here!