Skate America 2017 Day 1: Lake Placid - A Destination Event
November 25, 2017
By Suzanne Herrmann
Photos © Suzanne Herrmann

One thing I have noticed and enjoyed about Skate America in Lake Placid is the skating-knowledgeable crowd that would only travel there on American Thanksgiving weekend for the pure enjoyment of skating. The crowd has been responsive and supportive to everyone!
Pairs short program
In addition to being here for Absolute Skating to cover the event, I am also an adult skater myself, and in that role I am partaking in an exhibition comprised of about 150 skaters of all ages, mostly from the US.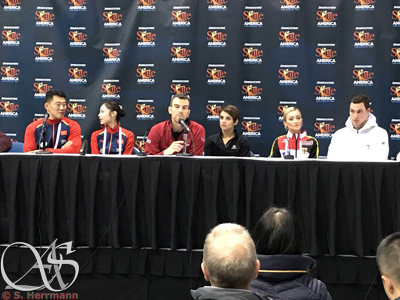 We are the opening number for the gala. Due to a change in competition time, I was unable to see the first group for the pairs short. Their practice went well with all but Kirsten Moore-Towers and Michael Marinaro showing up in their competition attire.
The second group came out strong with high twists and solid throws with only a fall by German Bruno Massot, which no doubt kept them from reaching second place, just over a point higher. Spicy and confident Bruno and Aljona Savchenko were sharp and hit their music highlights with passion.
The Russians, Natalia Zabiiako and Alexander Enbert, finishing the short in fourth, were a lovely source of long lines and gentle skating. I could get lost in watching their pure technique. Xiao Yu and Han Zhang, from China, displayed what the Chinese are so well known for with high flying elements. Canadians Meagan Duhamel and Eric Radford presented a very calm demeanor as they took the ice. They always look to be very methodical in their skating and at ease in their element, and performed well enough to secure first by less than two points.
Men short program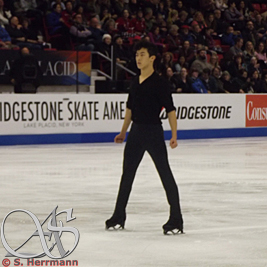 The men brought the house down. Absolutely unbelievable is American Nathan Chen. He had a nick in his blade Rafael Arutunian tried to stone a bit on warmup and caused him to have to change his triple Axel entry - so he was happy to stand up on that one - but the quads. It is absolutely amazing to see with what ease he lands them with. He's blurry he rotates so quickly! His quad Lutz was the best I've seen him do: absolutely silent landing in combo with a triple toe, and received +2GOE. He makes them look effortless. I wonder how hard these really are for him!
He finished a whopping 15 points higher than second place finisher, American Adam Rippon, who also had a fantastic skate. His jumps were solid, but what stands out most to me are his spins. He has many unique positions including a phenomenal layback that would rival any of the ladies. He actually said he took out a step preceding to ensure he could spin for as long as possible. It has been a pleasure to see him develop over the past number of years that I believe he said included 20 something Grand Prix assignments. He is a mature skater emulating the confidence needed to vie for the top spots!
Sergei Voronov from Russia sits in third place by less than two points. He is recently being touted as the oldest man to have won a Grand Prix medal and is showing that it isn't a fluke! He came out strong and showed once again that age does not have to be the predictor for top contenders. It is exciting to see the seasoned skaters skating so well.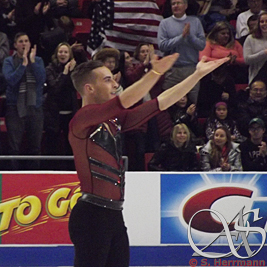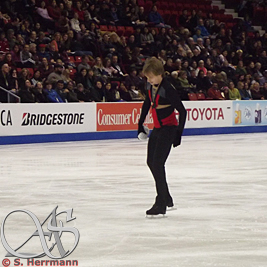 Chinese Han Yan is a breath of fresh air. He currently sits in fourth only by a couple of points. He utilizes every moment, every beat of music and truly feels the music. A "skater's skater", his movements draw the audience into his world. Special shoutout to Daniel Samohin and Roman Sadovsky for gorgeous use of the ice, and with fine tuning of jumps they could become greater contenders.
Stay tuned for the Pairs and Men's finals and the Ladies and Dance debut!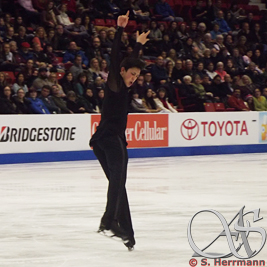 Don't miss our social media updates (containing text updates and fun pics) on Twitter and Facebook.