Skate America 2017 Day 3
November 28, 2017
By Suzanne Herrmann
Photos © Suzanne Herrmann

Marathon Day for the Medallists
The one thing that is tough for the skaters is a day that includes a long program directly followed by an exhibition, but they certainly didn't show their fatigue!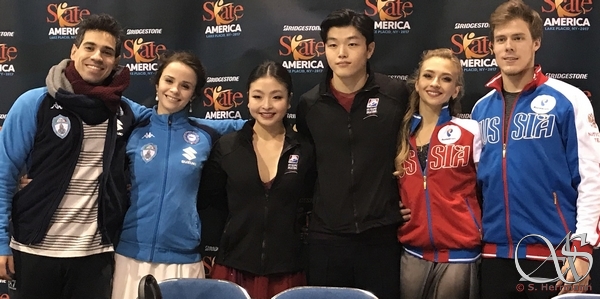 One thing I enjoyed seeing throughout the Free Dance were the creative rotational lifts—to a non-skater, it may appear as though the men are spinning in one place while flipping the women around in the air. Kana Muramoto & Chris Reed, representing Japan, have a really neat one. Chinese Shiyue Wang and Xinyu Liu had neat lifts, lift entries and pairs spin. Rachel & Michael Parsons, from the US, skated a beautiful program that included a lunge within their twizzles. I will forever be captivated by the difficult entries the ice dancers come up with!! Americans Maia and Alex Shibutani average 20 rotations in each twizzle set and they include hops into two of their sections. It's amazing!
Piper Gillis and Paul Porier, representing Canada, had one of my favorite dances of the evening to the theme from Perry Mason. They were technically difficult and a lot of fun! I encourage anyone who hasn't seen it yet to watch their Free Dance! One thing I noticed about Russians Victoria Sinitsina and Nikita Katsalapov is the level of speed they skate with in their program. They flow well and exhibit beautiful lines. They finished overall with the bronze medal. Finishing in second with the silver medal were Italians Anna Cappellini and Luca Lanotte, who appeared to be more pleased with their Free Dance performance. They are a lovely couple on the ice and it has been a pleasure to see their development over the past several years. I attended Skate America the last time it was in Lake Placid in 2009. I told Anna & Luca we affectionately referred to them as Little Italy at the time. They laughed. Crowd favorites, finishing with the gold medal, were Maia and Alex Shibutani by approximately 13 points. The arena was not completely full, but could rival the noise in any large venue. They amaze me with their quickness, exactness and overall amazing technique. They play to the crowd no matter what music they skate to and are genuinely kind people.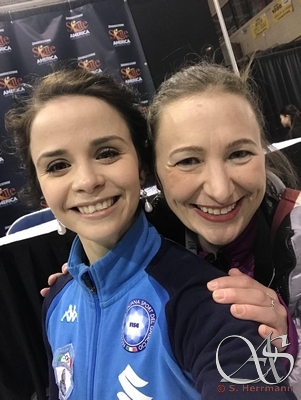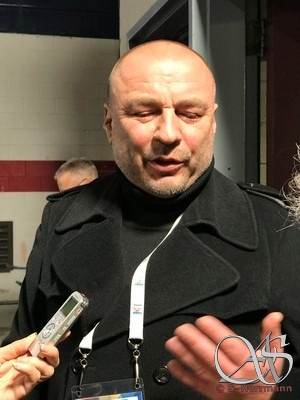 After the event in the mixed zone, I heard someone ask Alexander Zhulin if he thought the Canadians would win the Olympics. He said, "I don't know. It's competition!" I wouldn't count Maia and Alex out. They are performing on an upward trajectory, aiming to peak at the Olympics!
Ladies Free
I can honestly say I have never been to an event ridden with so many withdrawals and injuries. Ashley Wagner, as most are now aware, withdrew in the middle of her long program citing an ankle infection. I saw her skate up to Rafael Arturian (I was sitting very close by) and she wiggled her foot in her skate and I believe said, "I can't do it." You could see the anguish in her face in making that decision as she was fighting for a spot for the Grand Prix Final, but I support her decision in that there is no sense on chancing injury and unnecessarily pushing herself through a program in that much pain in an Olympic year. In her recent Instagram post, she explained that the padding that was in her skate slipped and made it near impossible to continue in that level of pain.
The ladies really did bring it on. Although Alena Leonova, from Russia, did not place among the top skaters and looked unsure of her scores, she skated phenomenally and was so happy with her performance, she double fist pumped in the air right after completing her program. I was very happy for her and enjoyed that she was all smiles! Polina Tsurskaya, also from Russia, is a beautiful skater with beautiful lines. I thoroughly enjoyed her skating—she is a skater's skater—and look forward to seeing more of her in the future. She finished in 4th by about 9 points, rounding out a great first season on the Senior Grand Prix Circuit. A surprise finish in 3rd place with the bronze medal was Bradie Tennell from the United States in her Grand Prix debut and only 10 points off the lead. She is a lovely skater and I also look forward to seeing how her skating develops in the future. Fun Fact: Her choreographer, Scott Brown, choreographed the group number I participated in for the Gala.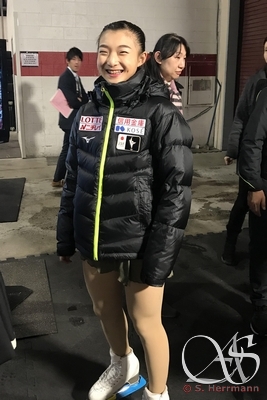 Also in her debut Senior Grand Prix season and finishing second with the silver medal was Japanese Kaori Sakamoto. She is always full of smiles! Gold medalist, also from Japan was Satoko Miyahara. I had made my way to the mixed zone for an update on Ashley and was watching her on the screen in that area and could hear the crowd roaring for her. Yet another thing I love about the crowds that come to Lake Placid. They are supportive of EVERYONE and pull for EVERYONE. They cheer to encourage as much as they do for superb elements. Many of us watching are or were skaters and I think we sometimes "skate in their shoes" and react a bit differently than the average crowd.
Fun Fact: new to Senior Grand Prix, both Polina and Kaori are substitutes for the Grand Prix Final!
Watching an event like this in Lake Placid makes me feel like I'm watching with 5,000 of my closest friends.
Fun fact: Select stores in Lake Placid were giving out trading cards of the athletes with the challenge of collecting a card for every athlete in the competition. Adam Rippon went to the hat store, Where'd You Get That Hat to introduce himself. I apparently missed him and Ashley by 15 minutes. Where'd You Get That Hat was giving out Adam's card. They ran out so quickly that they took the extras from a nearby restaurant also giving them out!
Exhibition report and a little extra coming up tomorrow!
Don't miss our social media updates (containing text updates and fun pics) on Twitter and Facebook.