Olympic Games 2018 Insider Reviews: David Richardson shares his thoughts on the Ladies competition
February 24, 2018
By David Richardson
Photos © Mireille Geurts, Keiko Kasai, Oxana Shkrebtienko (LMDJ), Tina Tyan
*Photos not taken at the Olympics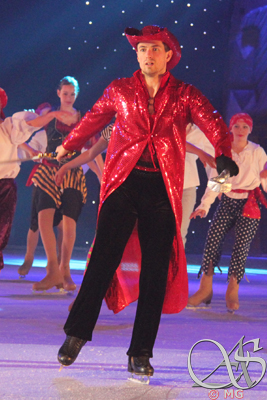 Hello again, it's David Richardson here reporting on the Ladies singles event.
After what has been an already awe inspiring two weeks of the Olympic Games, the ladies event had a lot to live up to. The veteran Aljona Savchenko and partner Bruno Massot claimed the Gold medal in the pairs event showing that perseverance, dedication and determination do get rewarded. Yuzuru Hanyu retained his Olympic title for Japans medal haul, with stiff competition from a phenomenal Nathan Chen performance... we won't talk about the short program ;) In the ice-dance Gold went to Tessa Virtue and Scott Moir as the Canadians narrowly beat the French team of Papadakis and Cizeron, in a huge battle. Was the ladies event going to go to script with the Russian athletes dominating, or did the Olympic spirit have some surprises in store...?!
Well, the answer is both.
The Russian ladies surpassed the rest of the field with ease, giving a fantastic showing of top - flight, precise, athlete engineering. Alina Zagivtova (OAR) was leading Evgenia Medvedeva (OAR) after the short program by a mere 1.31 points, which meant the free program was going to a be a nail biting finale. I watched Zagitova produce the most exquisite performance, showing maturity beyond her 15 years. She captivated the audience with her energetic classical style, showcasing exactly why she is European champion. All of her elements were given plus GoEs (although her opening triple lutz was not of good quality in my opinion). A phenomenal routine!!
A few minutes later I witnessed yet another spell bounding performance from Evgenia. She gave us her trademark story-telling choreography, which oozed commitment, elegance, style and sincerity, flawless in every sense of the word. When she finished her routine I sat at home thankful that I wasn't on the judging panel because I couldn't pick between the two of them, both worthy winners in my opinion. It turns out the judges couldn't decide either, with both teenagers being awarded 156.65, which meant Evgenia took 1 st place in the free skate (higher PCS) but the silver medal overall. Both girls should be extremely proud of themselves, 4 years ago in Sochi no-one even knew who they were and now they will be talked about for many years to come and hopefully grace us with more stunning skating in the future. Incidentally, earlier in the Games I spoke about Alina placing all of her jumping passes in the second half of the program to gain extra rewards from the judges, Evgenia only had 5/7 jump passes in the second half, had she of had them all placed to give the bonus points she may be Olympic champion...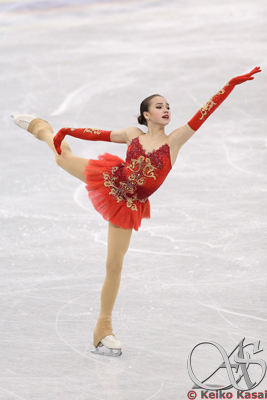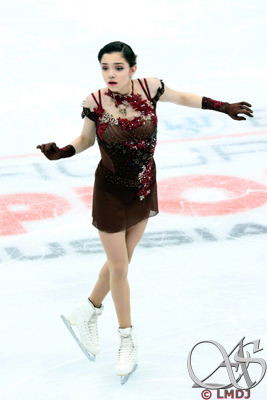 The bronze medal went to Kaetlyn Osmond of Canada, who chose the exact right moment to produce a PB performance. Matching the Russians on her base value technical score meant she kept her hands firmly on a well-deserved bronze medal. Over the past few seasons Kaetlyn has been pushing the Russians all the way and it was great to see her get rewarded. She has such flair, strength, flow and charisma when she performs and she bought her A-game at the right moment.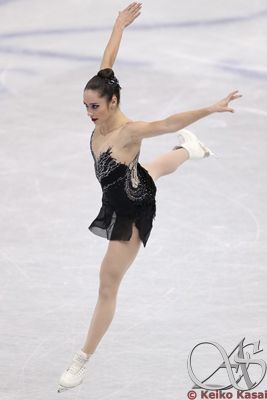 As I look a little further down the field of ladies it's exciting to see where the next few years will take us. The obvious point out for me is Mirai Nagasu (USA), who I'm sure will only get stronger and more consistent with her triple axel, which in turn will propel her forward in the world rankings.
My second lady of the future is Kazakhstan's Elizabeth Tursynbaeva. Whilst she was not at her best this week I enjoy watching her skate. She has a lot of potential with good style, beautiful artistry and a soft elegant lilt to her stance. I'm sure her coach, Brian Orser, will have an eye on an Olympic medal for her in 2022.
Lastly, but certainly not least, I think we can expect great things from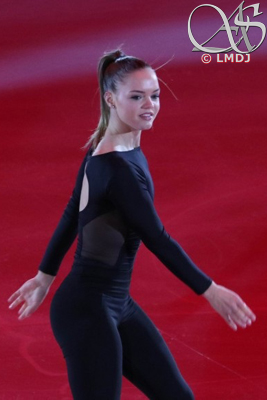 Loena Hendrickx (BEL). Bursting on to the senior stage just last season and finishing inside the top 10 at Europeans championships twice she has already cemented herself amongst the contenders for coming seasons. An injury earlier this season may have hampered her preparations for the Olympics but you would never have known. A constantly brave and gutsy performer, Loena has all the trademarks to reach the pinnacle. Once she has her grips firmly on triple-triple combinations I'm sure we will see her face on a few podiums around the globe!
As always the Olympics has been a fantastic viewing spectacle, one that I thoroughly enjoyed. I can't wait to see how the sport develops over the following few seasons, but for now I'm happy to look forward to the World championships next month in Milan, Italy.
Check out our other Insider Reviews:
David Richardson's review of the Teams - Men and Ladies
David Richardson's review of the Teams - Pairs
Federica Testa's review of the Teams - Dance
Jenna McCorkell & Kevin Van Der Perren review on the Pairs
John Kerr's review on the Men
Stefano Caruso's review on the Ice Dance
Don't miss our social media updates (containing text updates and fun pics) on Twitter and Facebook.