Olympic Games 2018 Insider Reviews: Teams Ice Dance through Federica Testa's eyes
February 13, 2018
By Federica Testa
Photos © Federica Testa, Keiko Kasai, Oxana Shkrebtienko (LMDJ)

*Photos not taken at the Olympics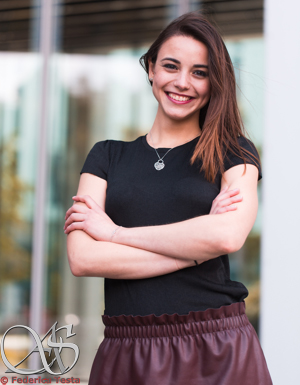 Hello! My name is Federica Testa. I'm a 24 years old Italian, but I represented Slovakia in figure skating. I skated with Lukáš Csölley until 2016 and together we participated in several European and World Championships. After the World Championships in Boston in 2016 I decided to retire from figure skating and focus on my academic career. I am currently finishing my Master's in Marketing at Bocconi University in Milan, but I still skate in shows. I also work for Sky TV as a figure skating commentator for the Olympic Games. I love this job; it's a different and exciting way to be a part of PeyongChang 2018 and to follow and support the sport I love.
I want to tell you about the Dance Team Event, since I was an ice dancer during my competitive career.
I really think we saw some good stuff out there! Both the SD and the FD have been really good, with the top teams performing their best. In the first part of the event the younger skaters also showed us grit and cool elements and programs. Outside of the top performances, I really liked the Latin dance of Kavita Lorenz / Joti Polizoakis. They put so much energy into it - well done guys! Nevertheless, my favorite competition was the Free Dance, because the couples really showed their different personalities and their potential in the programs they performed.
I think we can already say that the upcoming Dance Event will give us strong emotions. We missed the big match between Tessa Virtue / Scott Moir and Gabriella Papadakis / Guillaume Cizeron in the Team Event,
since the French couple decided to skip this competition and focus on the individual event. On the other hand, Virtue / Moir decided to skate and fight with Team Canada for the gold medal (we have to say that the French had less opportunities to get a high result).
Tessa and Scott gave two amazing performances; they really put all they had for the team, skating with great energy and passion. As expected, they ended up leading both the SD and the FD. Their programs were technically the most complicated; they really add features to every single element, making it more interesting but harder to complete (even if they don't show it). Their no-touch step sequence is the symbol of that: clean edges but crazy body and arms movements... super cool!
The Shibutanis placed second in both the SD and the FD. I was so happy to see them performing as they did. After some tough competitions we can finally say that they are back! Maia and Alex skated two quality programs and they finally look confident and calm on the ice.
Ekaterina Bobrova / Dmitri Soloviev placed third in both segments, skating both programs well. Personally, I don't love their SD; I think they express themselves best with other kinds of rhythms. But their Free Dance was my favorite program of the competition. I love the story behind it and I think their interpretation is outstanding.
Anna Cappellini / Luca Lanotte finished both competitions in 4th place. They are my close friends, since I used to train with them, and because of that I know their strengths and weaknesses very well. I think Latin rhythms are really their specialty. Their SD was really well skated; to me, it was the best program of the night, together with the one by Virtue/Moir. Personally, I saw them in front of the Russians for this part of the competition. Cappellini / Lanotte also performed a beautiful FD, in which we could see all their maturity.
The Japanese couple
Muramoto / Reed followed the top teams. These two skated a great SD, they really caught the Latin spirit. I also liked their free program, which is a tribute to the Japanese culture. A pity for Chris' fall on the circle step sequence at the beginning of the program, but anyway they were able to stay focused and keep going with a good program (and that is not always easy).
A very important aspect in ice dance is the look of the couple and of course the ladies' costumes are a key element in that. Unfortunately, sometimes they don't come out the way you want... Personally, I'm not a fan of Marie-Jade Lauriault / Romain Le Gac's SD costumes (please, Romain, I don't like short sleeves!). But even if I did not love their costumes, I appreciated their short dance a lot! They skated with energy and I think they had the coolest lift of the SD competition.
Tessa Virtue conquered another gold medal in my eyes, as she was the best dressed. I am just in love with their FD costumes. I love the high neck and the deep neckline on the back. I think that the see-through effect of the material and the needlework of the stones make this costume really unique. It fits perfectly with the music and with Tessa's body curves. I also liked their SD costume, but I preferred the previous version. Because of that the prize for the best SD dress goes to Kana Muramoto.
Figure skating dresses are beautiful but sometimes they can be tricky. During the SD event we saw Yura Min's costume open up in the middle of her program. She was lucky enough not to lose it and kept going anyway. By the way, I think the cut of this dress is really beautiful, maybe a bit too Spanish with the roses.
In conclusion, I think we can be really satisfied with this "preview" of the Olympic Dance competition. All the couples really seem in great shape and willing to perform at their fullest. I can't wait to see what is going to happen and discover who is going to win the gold medal battle between the French and the Canadians. And the fight for the 3rd spot is going to be pretty crowded, with more than 5 teams that could aspire to reach that goal. I think this is really a competition "not written yet". I can't wait to see how it is going to end! I wish good luck to all the skaters, give your best!
Check out our other Insider Reviews:
David Richardson's review of the Teams - Men and Ladies
David Richardson's review of the Teams - Pairs
Federica Testa's review of the Teams - Dance
Jenna McCorkell & Kevin Van Der Perren review on the Pairs
John Kerr's review on the Men
Don't miss our social media updates (containing text updates and fun pics) on Twitter and Facebook.