Young talent and top stars at Dreams On Ice 2018
September 24, 2018
By Atsuko Kuryu
Photos © Keiko Kasai

"We are here!", young Japanese skaters exclaimed in excitement to be part of this great event. The annual Dreams On Ice show happened at the KOSE Shinyokohama Skating Center the first weekend of July. Unfortunately, neither top skaters Yuzuru Hanyu, Shoma Uno and Satoko Miyahara, nor top pair Miu Suzaki/ Ryuichi Kihara joined this year's edition. However, we still enjoyed great skating by champions as well as performances by some very talented young skater's. Let me share just how enjoyable this show was and introduce the many youngsters, some of whom you might already know.
Act I
The show opened with all the participants, including the Jingu Ice Messengers, being introduced and presenting something, usually a jump. Then all the skaters lined up covering the whole ice to perform some sort of dance, which ended with everyone posing in the middle of the ice. Very cool!

Hanna Yoshida, age 13 and the National novice champion, took the ice next. She just became the youngest lady to land a triple Axel in competition! Wearing a bright red cheerleading outfit, she moved on the ice with boundless energy. She looked so cheerful that the audience smiled too and seemed very happy with her performance.
The men's National novice champion, Kao Miura, showed a very serious Romeo and Juliet program, which is his new free program. He had wonderful speed and moved very fluidly. The step sequences at the end of the program were very impressive, and I believe we can expect much of this rookie junior in the up-coming season and in the future.
Nana Araki, who struck the international stage like a meteor last season, could finally join this event of Japanese elite skaters, as a member. She was the bronze medalist at Junior nationals, and then went on to win the Challenge Cup. She performed to music from Hairspray and sure lifted the crowd.
Another bronze medalist from Junior nationals, Tatsuya Tsuboi, showed off his free program for this new season. He commented that he wants to include the triple Axel this season, but he landed three double Axels here. I guess one or two of them will be switched to a triple when the competitions start. He moved gracefully on the ice to Dvořák's From the New World. His skating skills and flow were just amazing.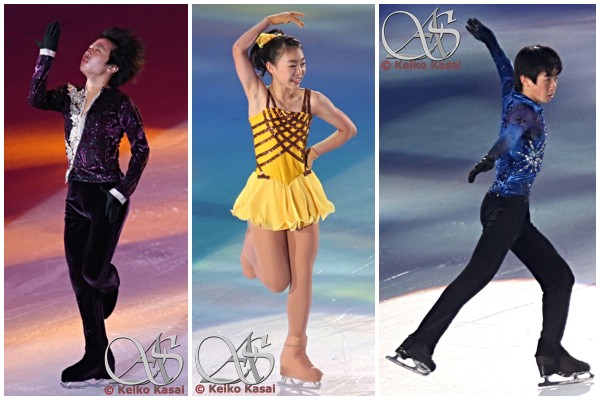 Junior national champion pair, Riku Miura/Shoya Ichihashi, succeeded in convincing the audience that they are more mature than last season, by choosing black costumes and a dramatic version of the old blues, Cry Me a River. Although they fell at the side-by-side spin and their step sequences were incomplete, they were still very entertaining.
Yuhana Yokoi, 6th at Junior Worlds, chose the very famous Phantom of the Opera, and she skated to this music very well! She moved with ease to both up-tempo and slower beats. Unfortunately she fell on her last two jumps, but it seems to be a very promising program, especially as she said her goal is to make it to the Junior Grand Prix Final.
One of the skaters who impressed me the most that day was Sena Miyake, the runner-up at Junior nationals. He already has very good skating skills, although his previous program didn't do it justice. But Tchaikovsky's Violin Concert, which many legendary skaters have performed to, suited him very well. He has an elegant and pleasant style; his jumps were light and effortless and he used his body fully during the step sequences. And he was in good harmony with the music.
Beautiful ice dancers Misato Komatsubara and Tim Koleto chose their music from the Japanese blockbuster movie, Kimi no Nawa (What is your name). They expressed the essence of the wonderful romance across time and space. Their stationary lift was very beautiful and matched the music well.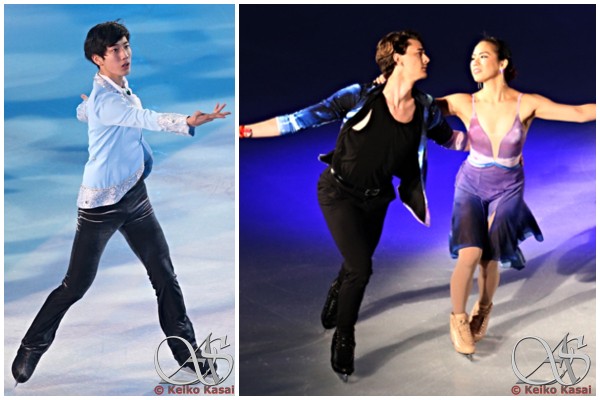 Mako Yamashita, the Junior Worlds bronze medalist, is now challenging the quad Salchow. She had chosen to skate to Nocturne although she is very dynamic, maybe a bit too dynamic for the music. But she is very powerful and technically strong; her jumps are big and solid and she moved on the ice without any hesitation. Technically just amazing!
To our surprise, Mitsuki Sumoto had chosen Tosca for his new short program. Some were concerned he might not be able to express this great music enough, but don't worry, he was! I agree he wasn't very passionate, but he has found a way to perform his own Tosca. He moved very smoothly and had good speed. His well-defined movements were very fresh and graceful. So many people will enjoy his Tosca and it will be a highly appreciated program throughout the new season, I just know it!
The champions of Synchronized skating nationals, the Jingu Ice Messengers, surprise me every year with their eye-opening progress. They appeared on the ice in green and orange costumes with a jungle reference which was natural because their program was Tarzan. They were very enthusiastic and dynamic. Maybe they lacked the synchro-part sometimes, yet the speedy movements were perfect for the powerful Tarzan music.
Act 2
Takahito Mura, who lead Japanese figure skating for so long, decided to retire after last season. His final performance as an eligible skater in Dreams On Ice was very inspiring. When he competed his style was kind of bold, while here he was soft and elegant. Of course, his expression was still as emotional as ever. So this new and a bit different style gave us great expectation for his new life as a professional show skater.
Mai Mihara presented her new short program It's Magic choreographed by David Wilson, who said he had saved this music until he found the right skater for it. So Mai said she tried as much as she could to become the kind of lady David had imagined for this romantic piece. Being asked how she pictured the woman, she said it was not so concrete, but she imagined an elegant European woman. Did she look like one? Well, she was surely feminine in her dark pink dress, and she looked more mature than before, still she was as angelic as always.
Rika Kihara, the Junior national champion, who landed the first triple Axel ever by a junior lady skater, performed to A beautiful storm, which she selected by herself. She has appeared in many shows during this off-season and showed good performance. And here she was even more graceful and natural to the music. Her jumps were somewhat off, but her smooth skating skills were amazing. As she gets used to the music and grows into a more emotional presentation, this will be the perfect program for her.
Lots of people outside of Japan got to know Kazuki Tomono for the first time at Worlds earlier this year. As I have stated in Absolute Skating reports before, he was very famous among Japanese figure skating fans even as very young. And now his ability has caught up with his fame. His new short program New Cinema Paradise, choreographed by Misha Ge, suits him very well. It was so fitting for his age, too, like a boy growing into a young man, feeling the pain and sorrow of growth, and the joy and bitterness of love at the same time. Kazuki said he has felt a kind of affinity with Misha's performances, so at Worlds he asked him to choreograph his new short program. Many people who have watched the program appreciate it very much, so Kazuki was satisfied.

Wakaba Higuchi, the reigning World silver medalist, performed her Michael Jackson medley exhibition program. She danced all through it to this catchy music. She is powerful, energetic and absolutely confident, and we enjoyed her performance immensely.
Kana Muramoto / Chris Reed placed 11th at last Worlds, which was the best rank of Japanese ice dancers ever. They wore black costumes and looked very chic and grown up, especially amidst all the youngsters. Their performance to Hi-Lo was very energetic, and enhanced by the strong vocals of Bishop Briggs. The audience was mesmerized. Kana and Chris keep getting better every year, and with lots of ice dancers retiring, this just might become their season. [Sad news since the show: in mid August Kana and Chris announced that they will part ways.]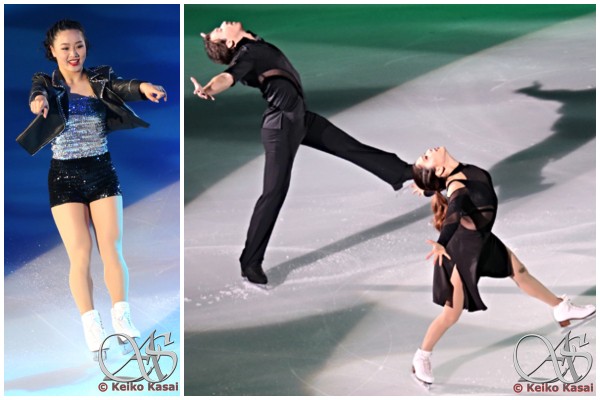 Keiji Tanaka's choice for his free program was the William Tell Overture. It's a good choice for him because he has very good steps and the music added excitement to his gorgeous step sequence at the end of the program. His movements were polished and skating skills are excellent. Once his jump issues are solved, this program can take him to the top of the international stage.
After all the skaters had performed, Kaori Sakamoto appeared on the ice. She expressed being quite nervous since this was the very first time she got to close a show. But she said later that her performance was very satisfying. At the beginning of her new The Piano free program, she used her deep edges effectively and connected well with the crowd in the venue. She landed all her jumps cleanly and covered the rink with wonderful speed. Her program was choreographed by Benoit Richaud, as was last season's free program Amelie. Benoit's choreography was very successful last season and she hoped it will be this season as well.
Guest skaters
Adding to these wonderful young Japanese skaters, there were fantastic guest champion skaters as well. How about reigning Olympic ice dance champions Tessa Virtue /Scott Moir, Olympic and World pair champions Aliona Savchenko / Bruno Massot, Olympic silver medalist Evgenia Medvedeva, World gold medalist Nathan Chen and young quad jumper Anna Shcherbakova! Anna performed first of the guest skaters and she was splendid! Her jumps were rotated very quickly and her spins are well centered. Her speed and beautiful movement were just awesome.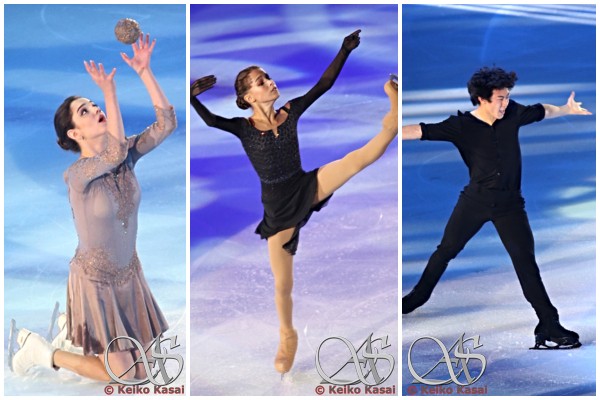 But I must say I was truly enchanted by Nathan's Nemesis. He was stunning! The way he keeps his legs stretched makes all of his moves beautiful. His position and height of the butterfly entering the spin was outstanding. And being a true showman he seemed to enjoy the audience's cheering and interacting with them. He probably enjoys every moment on the ice, which made the audience very excited and happy.
Aliona /Bruno were so elegant in their Olympic winning program, La Terre Vue du Ciel. They performed breathtakingly beautiful throughout, and with great confidence.
And Tessa and Scott, what champions they are! They have a strong presence and people were excited only to have them on the ice. They moved comfortably, powerfully, passionately, and still elegantly to Tango Roxanne. The whole crowd was involved in their performance and when they finished, the audience stood up and clapped (and clapped and clapped.)
The Dreams on Ice shows finished in excitement and satisfaction, probably for both skaters and audience. It's a very good idea giving the young skaters this opportunity, not only to perform in a big venue with a big audience, but also to be able to watch world top level performances by champions. I hope this experience gives the young ones strength and self-confidence and that all the Japanese skaters will stay healthy and successful this season.