The 2017/2018 Japan Junior National Championships
January 2, 2018
By Atsuko Kuryu
Photos © Keiko Kasai

The competition was held November 24 - 26. Unfortunately one of the favorites, Koshiro Shimada, withdrew because of injury. There were 28 men, 30 ladies, 5 ice dance teams (Risako Nonaka/ Yudai Suzuki also withdrew) and 2 pairs gathered at the ALSOK Gumma Arena in Maebashi, Japan, where we watched many talented youngsters and enjoyed this very exciting junior event.
Pairs
Riku Miura/ Shoya Ichihashi won their third consecutive title with 124.72 points overall. They participated in 2 Junior Grand Prix events (Riga and Gdansk) this season and placed 10th at both. They have improved at every competition; but unfortunately looked a little off in their free program and made some mistakes,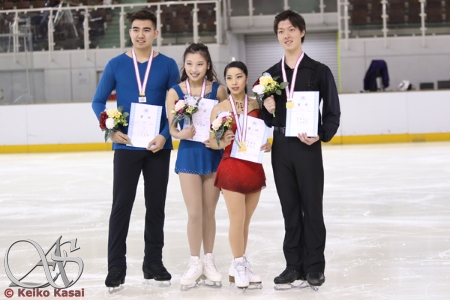 like Shoya didn't catch Riku so well in the double twist; the planned combination turned into a solo triple toe and Riku fell on the landing of a throw jump. Still, they comfortably had enough points to win.
Marin Ono/ Kurtis Kazuki Schreiber on the other hand had 2 good performances to score 112.90. This was their debut at Nationals since they just paired up this past spring. Their performance, including a triple twist and throw triple jumps, was much better than most people had expected. Both of them already had experience as pair skaters, and are now working on bettering their partnership. We are excited to watch how they'll develop until the next competition.
Quotes Riku: "When we were in Canada we learned about pair skaters' mental attitudes, that we must trust and respect each other. By learning this important part, we are gradually able to skate and feel each other. We recognize that our level as pair skaters is not good enough yet, so we will work even harder before the next competition." Shoya: "I didn't quite recover from my mistake on the opening twist. We were in very good shape so I wasn't worried about our performance. It was a mental issue. I very was frustrated, and I could feel my partner's frustration as well, which made me even more unsettled. Through this performance [the free program], I learned I need to be much stronger and this feeling will be my motivation for practicing harder."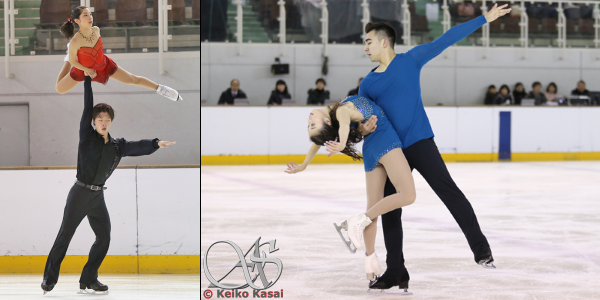 Ice Dance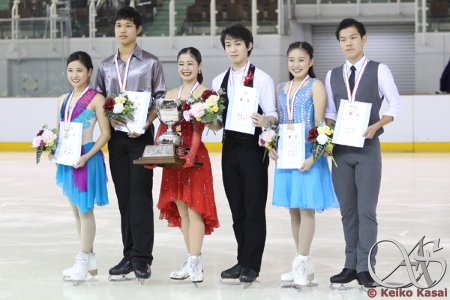 Haruno Yajima/ Daiki Shimazaki skated two solid performances, scored 110.77 overall and won the gold. They did very well compared to their performance at Eastern Sectionals. They have improved a lot from last year; every element is getting better and so is their PCS. They seemed a little rough in the short dance, but in their free skate they skated beautifully to Moon River and enchanted the audience. Kiria Hirayama/ Kenta Higashi came in second with 94.90 points. They were third after the short dance, but because of their clean free dance where they received 4 level 4s for elements, they climbed to second overall. Ayumi Takanami/ Yosimitu Ikeda placed third with 94.66 points, only 0.24 behind Kiria/ Kenta. Ayumi/ Yosimitu had a wonderful short dance, but didn't do as well in the free, although they did get level 4 for their straight-line lift. And their joyful skating style was much appreciated; the crowd loved their steps and cheered while clapping along. The Kashino siblings, Mai and Yuhi, just moved up from novice level and placed fourth. Their classic style and skating skills were remarkable. We'll keep an eye on this team and follow their development. Mirei Oda/ Ryouto Yamauchi need a bit more time to compete as juniors but they showed off several wonderful moves.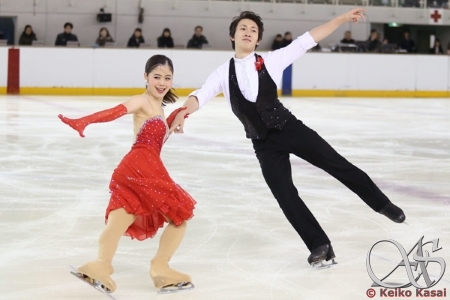 Especially Mirei's positions in the rotational lift were very beautiful.
Quotes Haruno: "I think our free dance was ok, we didn't have any big mistakes. I can't say we skated as well as in practice though. I would really like to skate in the competition as we do in practice, so we must practice more and during practice we must skate as in competition. I felt the crowd supported us by clapping along to our step sequence and/or cheer us on during our performance." Daiki: "I don't think our free skate was perfect, but it was better than at Eastern Sectionals. We have very good communication and practicing together is fun. We are great friends so we may show that harmony during our performance. We work 4 hours a day, 6 days a week. I feel like the audience is our company, they share the moment and pump up our energy during our performance."
Men
Five skaters challenged the triple Axel while only one attempted a quad. Mitsuki Sumoto delivered two strong programs with an overall score of 198.19 and won the men's title. His "Singing in the Rain" short program was fun to watch and harmonized well with the music, while the free program, "Le Misérables", was very cool, although a bit held back. Regarded as the title favorite probably put some pressure on him... He also had the Junior Grand Prix Finals and the Senior Nationals coming up, and we wished him all the best.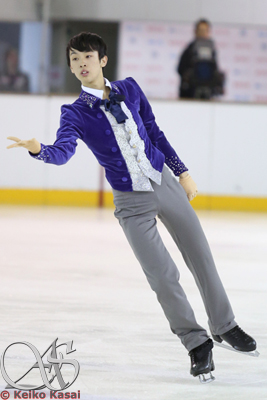 Sena Miyake was the runner-up with 189.17 points. Many Japanese figure skating fans have waited for this day when Sena got on the podium. He has been very strong since he became novice champion in 2014, and much is expected of him now. He included a triple Axel, but what we enjoyed even more was his body expressiveness and moving on the ice very smoothly. If he continues to deliver performance like this, he will soon be one of the top international junior skaters. He competed in the Junior Grand Prix event in Salzburg and placed 8th. Sena was followed by Tatsuya Tsuboi, just 0.02 points behind. Tatsuya competed at the Junior Grand Prix events in Minsk and Egna (and placed 5th in both events), and now made the podium for the first time at his third Junior Nationals. He seems very free on the ice and always gives the audience the impression that he really enjoys performing. He nailed all of his jumps with ease and without hesitation. He has clearly improved every year and is really a promising skater, so keep your eyes on him!
If there had been a "most improved skater" award I would have given it to Kazuki Kushida. He didn't make the free skate last year, but finished 4th this time, 0.15 off the podium. Watching his performance, I wondered what caused this dramatic improvement. Kazuki nailed both programs with consistent jumps, well-centered spins and a fantastic step sequences in the free skating. Very promising!
Yuto Kishina, who was 7th in the JGP Riga and 5th in Brisbane, struggled with his jumps. He tried the triple Axel three times but popped two of them. He also had two under-rotated jumps and an edge call. Too bad as he has amazing skating skills and uses his body efficiently. After having won the Novice Nationals 4 consecutive times, Shun Sato finally moved up to junior level. He landed triple Axels as a novice, and successfully landed three here. He is already a wonderful skater, but need to polishing his skating skills to be more well-rounded.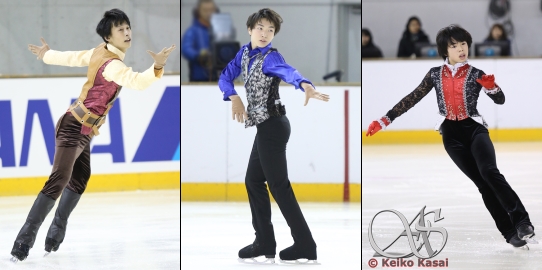 Kazuki Hasegawa placed 7th overall, same as last year. He delivered a brilliant short program, but was unable to keep the energy in the free. Unfortunately we watched the same thing happen last year. Kazuki has amazing skating skills and his personal way to portray the image of the program. In the free skating, "Kojiki", a Japanese mythology, he expressed it very, very well. Taichiro Yamakuma also landed 3 triple Axels cleanly, but had some troubled with other jumps. He finished 8th overall. He is a big skater in every way, not only body wise but also ability. We have been awaiting this growth from boy to man, as we are sure he has too. Another great talent became 9th this time, which was the best rank ever in this event for Shingo Nishiyama. Previously he had not reached the top group in national competitions, except at novice level. Yet, he already has many fans because of his outstanding skating skills and stylish performances. He is now training in the Toronto Cricket Club in Canada with great mentor Brian Orser, so we are just waiting to see what will happen.
One skater I'd like to comment on here is Takeru Kataise, who also stepped up to junior level this year. In his "Adams Family" short program, he brilliantly expressed the atmosphere of this comical/scary story. And he is an absolutely great spinner, remember his name! A special mention also goes to novice skater Kao Miura. He won the Asian Trophy with, for novice level, a high score of 125.13 and already lands a triple Axel, though he has temporarily put it aside because of injury. Kao is well worth remembering as well.
Quotes Kazuki Sumoto (gold): "I was not satisfied with my performance today, however, I think winning this competition is a good steppingstone for the Junior Grand Prix Final.
I was too nervous to move freely, I felt like I could have done much better. I got tired in the latter part of last season (because I pushed myself too hard in the early season), so I aimed to keep my momentum through this season. I want to have my best performances in the rest of this season." (Being asked how he felt about his increasing number of fans:) "I am very happy to have new fans because many people become interested in me and watch me. I don't feel any pressure about that!" Sena Miyake (silver): "I was tense, and my legs lost power before the free. But it was good that I was able to deliver a bold performance in such condition. To be frank, I wanted to win. But silver is not too bad. Before senior nationals I want to build up stamina since I have to skate 30 seconds longer." Tatsuya Tsuboi (bronze): "I am happy with my position, third overall. I had many mistakes last year, but very few this time, maybe because of my way of practicing; I include several triple-triple combinations in my run-through. My strong points are that I don't make so many mistakes in competition, and I care about the quality of my jumps. I'm specially working on skating skills and my immediate goal is to exceed 200 points and include a triple Axel in the program." Kazuki Kushida (4th): "It was the last competition as a junior for me, so I was really motivated; I definitely want to go to Senior Nationals. I am also very happy that, for the first time, I delivered a pretty good free skate." (On being asked how he improved so much in a year:) "I have been working on steps and spins for 3 hours a day because I learned that not only jumps are important, but also to improve other elements. Now I have confidence in my spins and steps and know that even if I fail the jumps, I can earn points on other parts. With this thinking I could go into jumps with confidence and they have become more consistent." Kazuki Hasegawa (7th):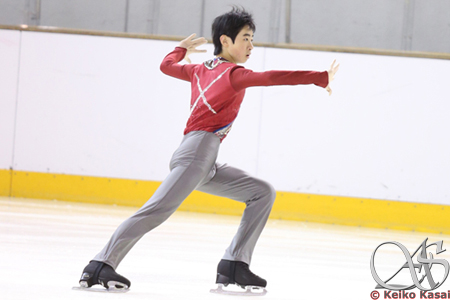 "I so regret repeating the same mistake as last year. I did well in the short program but skated awfully in the free, I was just too tired to stay concentrated. I need to train my physical and mental strengths. I would also like to add a triple Axel to my program. I want to express Kojiki's world fully by understanding the story more deeply. To build my physical strength and increase stamina, I will do off-ice training like running and/or workouts. I am considering working with a special trainer if possible." Taichiro Yamakuma (8th): "I was happy about landing 3 triple Axels but the score is not as good as I expected. I have competed in Junior Nationals 7 times now and this time I felt the most confident, so I'm very disappointed. Although many jumps failed, I appreciate that I could land triple Axels cleanly. I am not used to my body yet because it grew so quickly. But I'm getting the feel for it." Shingo Nishiyama (9th): "I went to Toronto because my coach, Yutaka Higuchi, encouraged me to go. He has connections with Brian Orser and introduced me. I went there alone and live there now. Brian praised my skating skills and told me to keep improving that part. My jumps are getting better, and I'm focused on clean landings in competition. Yuzuru [Hanyu, who also trains there] is kind to me and teaches me how to peak." Takeru Kataise (10th): "I was very nervous because it was my first experience getting through Regionals and Sectionals in order to come here. But I was very pleased to receive big cheers from a large audience. I was sorry I couldn't control my nerves. For the rest of the season, I have to heal my injury and then practice hard, especially on maintaining speed before take-offs.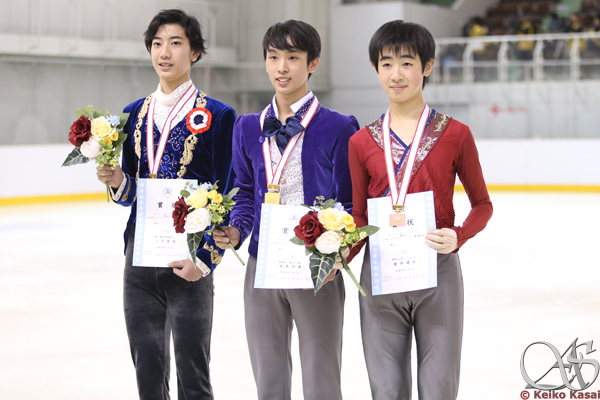 Ladies
Mako Yamasita skated last and collected 65.13 points to win the short program. But in the free skating, Rika Kihira delivered all she had including a triple Axel-triple toe-triple toe combination and won the title with an overall score of 193.46 points. Her free program was so overwhelming that the audience rose to applaud as soon as her last spin was finished, and the buzz of excitement in the venue kept going for a while. She landed 2 triple Axels in her free. The opening combination and solo triple Axel were the highlights of her program.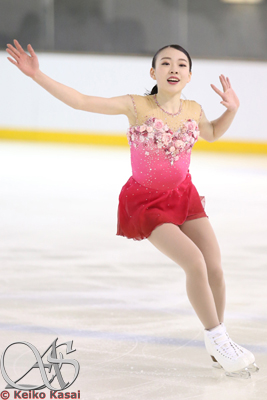 Adding to her solid jumps, she also nailed her very beautiful step sequences. She earned 135.57 points which was a personal best. Mako also skated amazingly. She is very vivacious and looked confident. Her jumps were amazingly big. Having won the short program, she aimed for winning this event. She delivered two strong performances, but lost to Rika, only 3.43 point behind. Mako settled for silver with 190.03. Both coincidentally doubled their planned triple loops as their only mistakes.
In a surprising third was Nana Araki, who didn't compete at Junior Nationals last year. This season she has done 2 JGP events. Nana was kind of the dark horse this year. She suddenly appeared in the JGP circuit and achieved nice results (4th in Egna, 2nd in Minsk), and she did very well in this event as well. Her short program to well-known skating music "Bei Mir Bistu Shein" was speedy and solid. Though she was 4th in the free skate with an edge call and an under-rotation, her performance was enjoyable.
Yuhana Yokoi bounced back from a disappointing 7th in the short program to 3rd in the free, and finished 4th overall. Both of her programs were very impressive. In "The Lion King" short, nicely choreographed by Akiko Suzuki, Yuhana expressed the exotic music very well and in the "Burlesque" free she showed a dynamic performance to the music with vocals. She excluded the triple Axel and aimed for safety and a flawless performance. Her total score was 172.97.
Rinka Watanabe is the reigning champion of Eastern Sectionals, but she ranked 5th here. She chose "The Jungle Book" for her short program where she expressed the atmosphere of the African savanna well. In her "Nutcracker" free program she kept up the rhythm of the piano beautifully and performed without holding back. She is now training in 8 different rinks in Canada along with her coach Megumu Seki. Rinka explained that she has been able to have the most substantial practice ever since she went to Canada. We can expect big things from her at Senior Nationals.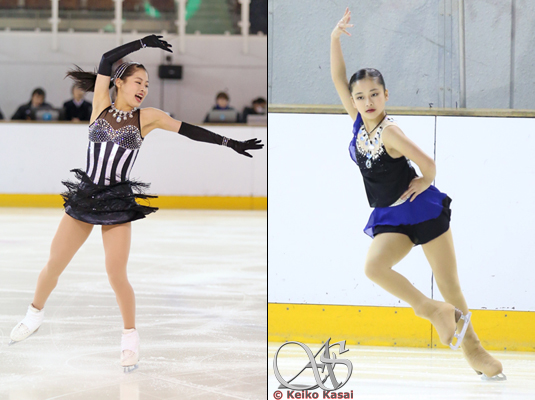 Tomoe Kawabata has not made the free skate in the last 2 years, but rocked her brilliant "Swan Lake" scoring 61.49 points. She was the second starter of the short program and stayed in the lead until Nana Araki, the 4th from the last, beat her by 61.51. Tomoe attempted a triple Lutz-triple loop in the free,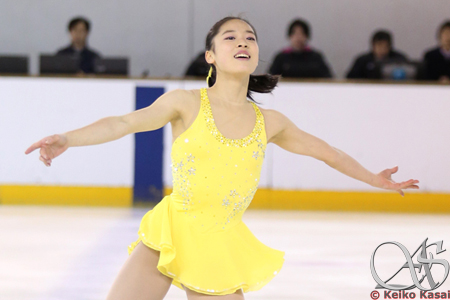 but unfortunately fell. She made some other mistakes too which made her 6th in the free skate and overall. In her "La La Land" program she managed a very good balance of joy and grace.
For many figure skating fans, Riko Takino's result must have been very disappointing. She competed in 2 JGP events and finished 4th and 3rd, but 2 falls in the free skating left her out from the top. She bravely challenged a triple Axel and fell, but with full rotation. She has good speed and fantastic expressiveness. The novice champion, Hanna Yoshida became 8th with an overall score of 158.04. She was just adorable and skated vivaciously. Saya Suzuki, who was 4th last year and won the Bavarian Open, junior level, in February, had 2 exciting performances. She landed her jumps very smoothly but missed a few things along the way and ranked 9th overall.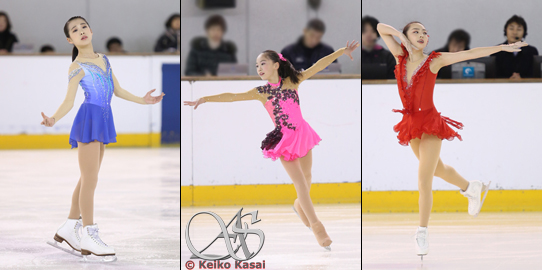 Wakana Naganawa did her first Junior Nationals as a junior and finished 10th with an adorable performance. Akari Matsubara, who was 7th in the JGP Baltic Cup, downgraded her attempted triple flip and was not able to make the combination in the short program. So, to everyone's surprise, she was 20th and had to skate in the first group in the free skating. She was brilliant there and got 103.23, which placed her 12th overall.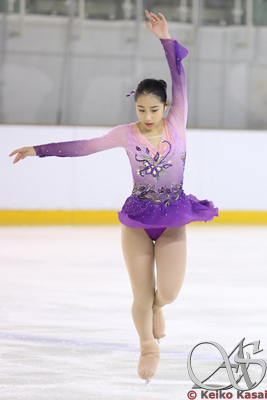 We hope we'll be able to enjoy that strong performance again the rest of the season. Akari Matsuoka, who competed in 2 JPG events as well and finished 7th and 4th there, fell on the combination in the short program and had some other problems in both programs. She is a really gorgeous spinner and usually has better jumps, this just wasn't her event. Yuna Aoki was back from her injury and delivered elegant and classy performances. Sadly she had 2 falls and other problems and will not be going to Senior Nationals.
Quotes Rika Kihira (gold): "I am very happy to win! I went for the opening triple Axel-triple toe-triple toe combination without thinking; I only knew I wouldn't win if I didn't overtake all 5 skaters above me. At Junior Worlds last season I went completely blank, so here I had decided to stay calm and I finally managed to do that. Now I will enjoy this happy feeling for about 3 seconds and then turn my attention to the next event. In the future, I'd like to make my triple Axel more solid and up my expressiveness." Mako Yamasita (silver): "I'm unhappy about the triple loop, but I'll do my best not to do the same thing in the next competition. I think jumps are the most important elements in my performance. I'd like to be known for aggressive jumps, not for elegant expressions. And for the relationship between music and performance: I don't want to follow the music but be followed by the music when I skate. Of course, I am conscious of the music but if the jumps are bad expression will not make up for it."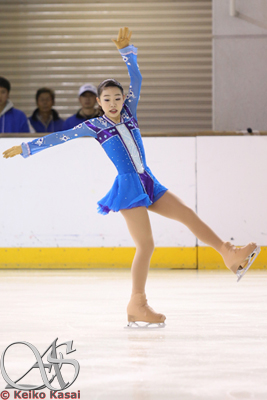 Nana Araki (bronze): "I am very satisfied with being on the podium and being able to deliver 2 clean programs." When asked why she was so strong mentally, she answered she had repeated clean programs several times this season and that gave her confidence. She was very satisfied to be on the podium in this national event and wants to keep preparing for the Senior Nationals and skate more clean programs leading to Junior Worlds. "I was given 2 JGP assignments and I have been able to learn how to use my body and expression from the excellent foreign skaters. It has helped me a lot." Tomoe Kawabata(6th): "I am pleased with my results, especially the short program which was better than I had expected. But I should have focused more on the free. I feel bad about my free skate because I had worked so hard on it. I will practice very hard for Senior Nationals, especially the free skating, and do my best so I can truly enjoy being there. I don't have any goals for the future but want to step up by grabbing one chance after another as they come along." Yuna Aoki (17th): "My free was a disappointment. I was stressed after the short program and tried to switch my feelings from the failed short, but it didn't work, I just hurried into the jumps. Le Miserable is in its second year and I think I have improved the expression part. Frankly I really wanted to skate and sing along, but I couldn't afford it today. Right now I don't have any goals, but I still have several competitions coming up in the rest of the season. I'd like to do my best and get excited about the next season there."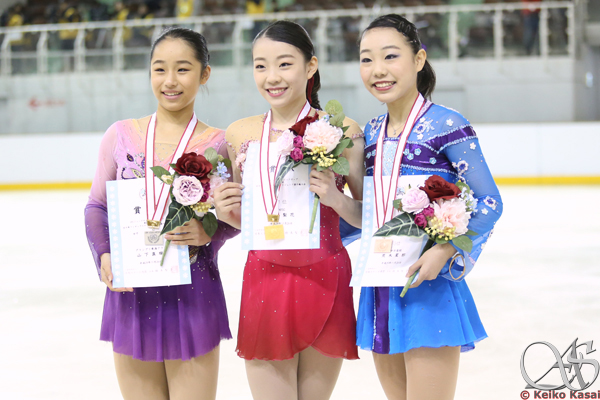 This is an Olympic season and the big O is less than 2 months away. Even though most of the junior skaters gathered here have very little to do with it this time, there was a special atmosphere in this competition. Some skaters mentioned Beijing 2022 or said that it was his/her dream to go the Olympics. Japan has many promising skaters now and many excellent coaches as well, so these youngsters' dream just might come true someday. They might have a brilliant future ahead, including Olympic gold. We wish them all to remain healthy and to find joy in their skating.
As the result of this event, the top 6 men and ladies and one pair got tickets to Senior Nationals. They are: Men: Mitsuki Sumoto, Sena Miyake, Tatsuya Tsuboi, Kazuki Kushida, Yuto Kishina, Shun Sato Ladies: Rika Kihira, Mako Yamasita, Nana Araki, Yuhana Yokoi, Rinka Watanabe, Tomoe Kawabata Pairs: Riku Miura/ Shoya Ichihashi