Stars on Ice Canada 2018
June 4, 2018
By Tina Tyan
Photos © Tina Tyan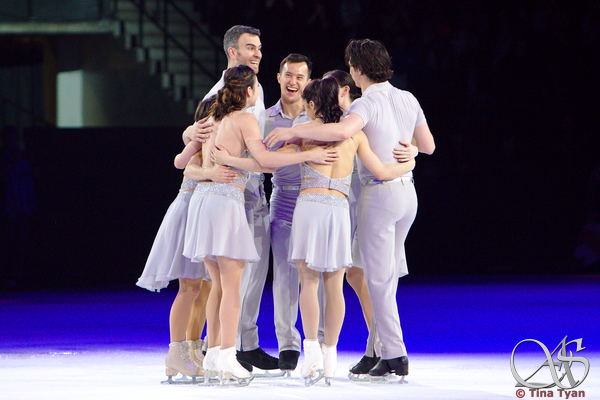 There's something special about a Stars on Ice show in an Olympic year. The skaters are freshly off the triumphs or disappointments of Olympic competition, and are ready to just relax and entertain. The general public is more aware and interested in the sport than usual. When the Stars on Ice tour kicked off in Canada, I started hearing of sold out crowds and people declaring it the "best show in years." I have to confess, I was skeptical. This was also the first tour in its 28-year-history without Kurt Browning, who has been an integral part of the cast since the beginning. Sure, there were a lot of great - really great - skaters in the Canadian cast, but could it be that good? Short answer? Yes. Absolutely and completely.
One of the motivating factors for me to take the trip to Toronto and Hamilton to see Stars on Ice, was that the tour features every member of the gold medal winning Canadian team, many of whom have announced their retirements from competition. I figured it would be a special show, and that the audiences would be enthusiastic, but I had no idea. The energy level of the crowd, especially in Toronto, was mind-blowing and eardrum-shattering. In recent years, the arenas haven't even bothered trying to sell the upper levels, and the lower bowl was rarely sold out. This year, it was amazing to look around the arena and see faces everywhere, all the way to the top, all the way around the arena, and to see the sea of cellphone flashlights waving. The Canadian crowds came out in force, despite windstorms and long lines, to show their love for their skaters.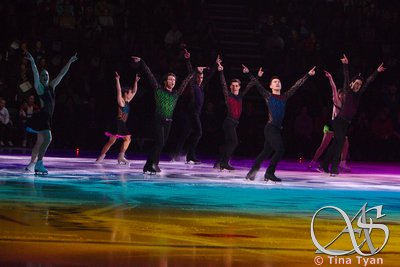 In return, the skaters gave them a truly wonderful show. With a few exceptions, the cast are all touring veterans who are amazing performers and really know how to connect with the audience. Jeff Buttle was at the top of his game, choreographically, with the group numbers, starting with the opening number to Raise Your Glass by Pink. Just having the opening beats of the song pulse through the arena as pink lights flashed around the audience was enough to get the blood pumping, and then kicking things off with Tessa Virtue really got things going. She was soon joined by Gabrielle Daleman and Kaetlyn Osmond, and then Scott Moir, who looked tickled pink to be skating with these three amazing women. As more skaters joined and got their spotlight moments, the excitement built and built. At the part where the lyrics go "So if you're too school for cool, and you're treated like a fool," the skaters squatted in a circle around Javier Fernandez who stood looking a little awkward at first, and then adorably started wiggling and dancing to his own beat to "We can always, we can always, party on our own." During retakes in Hamilton, where they film for TV and thus reshoot any mistakes made, Scott Moir teased that Javier was the one guy who was "not quite Canadian," so they made him dance "all by himself.*quot; But just as the audience embraced Javi as an honorary Canadian, the cast incorporated Javi right into the group after his standalone moment as they skated in unison down the ice. It was a great way to start off the night, both for the upbeat "get this party started" nature of the song, and for the underlying theme of inclusiveness and self-acceptance that would also play out in a different form in the finale.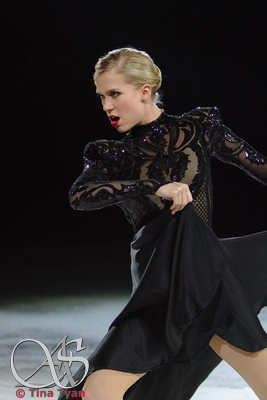 Gabrielle Daleman got the first solo of the evening, skating a charming program to Save the Last Dance For Me by Michael Buble. Compared to the rest of the cast, Gabby could work a bit on loosening up enough so that she looks relaxed and responsive to the crowd, but that will come with time and experience. She's got flair and style, and seemed to really be enjoying herself out there.
The intensity level ratcheted up as Kaitlyn Weaver appeared out of the darkness, using the low lighting and images on the screens to great effect to completely change the mood in the arena. There is no denying the commitment when Kaitlyn and Andrew Poje skate. They absolutely attacked Applause by Lady Gaga, performing an intriguing blend of styles that somehow fused traditional aspects of tango and paso doble with dance club elements. They managed to convey both fierce intensity and a sense of absolute fun and joy in their skating.
Elvis Stojko brought things to a more subdued level of intensity with a somberly dramatic skate to Through the Ghost by Shinedown. This was a more introspective, melancholy program with an edge that suited Elvis' style. He may be the elder statesman of the group these days, but his jumps were solid as ever, and he still has an incredibly fast, centered scratch spin.
The first ensemble of the evening was the all-female group number to Dream by Priscilla Ahn. It opened with Meagan Duhamel and Gabby Daleman skating in beautifully contemplative counterpoint across the ice from each other. This transitioned to Kaitlyn Weaver and Tessa Virtue skating side by side in unison before being joined by the other two and Kaetlyn Osmond to skate gorgeously together. After skating and spinning in unison, Kaetlyn got a lovely breakout to skate by herself as the others watched, culminating a beautiful spiral down the ice before rejoining the group. The music, simple and plaintive, speaks of having a dream "that I could fly", and the five women brought that dream to life.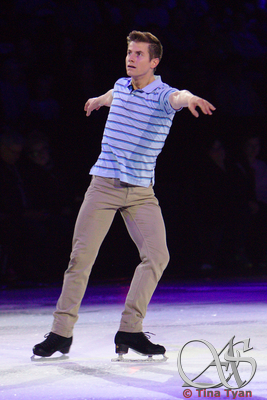 This spirit of gorgeous longing continued into Jeffrey Buttle's program, to For Forever from Dear Evan Hansen. The song tells a beautiful story of friendship, or the dream of a friendship (the story is more complex, if you know the musical). Jeff's skating and choreography were a wonderful match to the music, as he brought to life the soaring joy and wistfulness, the building excitement, the crash to earth, the love, and then the wistfulness at the end. I'm not sure Jeff intended the audience to laugh with his choreography interpreting the fall described in the music, but to his credit, he stayed in character and kept going, and brought us all back into it.
One thing that made this year's show feel more special and like shows of old, was that Jeff included a few transition numbers that aren't even listed in the program, utilizing combinations of skaters that don't always skate together. The first of these featured Tessa Virtue, Kaitlyn Weaver, and Andrew Poje, with Andrew taking turns skating with Tessa and Kaitlyn. He and Tessa make a quite gorgeous, matched pair. The three also created interesting patterns on the ice, skating backwards on weaving intersecting paths in a group of three. This almost felt like a full group number of its own, and it's almost odd it wasn't listed in the program.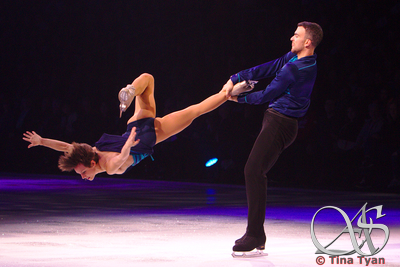 Meagan Duhamel and Eric Radford picked a great song for themselves in Sign of The Times by Harry Styles. There's a mood and tension to it that's hard to describe, but that they did a great job evoking. The deliberate pace and slow build worked well with their incredible strength, as they held lifts and moves longer than you'd expect, and then transitioned straight into the next incredible move without releasing the first, just as the song doesn't really release the tension at any point until the end. It's also interesting to see the difference in style between them and the ice dance couples - Eric, in particular, can look dramatic and tense with far more subtle facial expressions, just in how he holds his body.
Javier Fernandez lightened things up with a thoroughly charming, jazzy skate to I Love Paris by Henri Rene and his Orchestra. Someone compared the style of this program to Brian Orser in his younger days, and I could definitely see that, but Javier brought his own charisma and charm. He was light on his feet, engaging, and fun.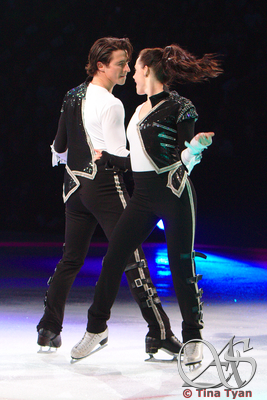 The crowd had been cheering effusively and enthusiastically all evening, but the moment Tessa Virtue and Scott Moir appeared dancing on the video screens, it was clear who the majority of them were there for. It was actually fairly clever how they used the video screens to have Tessa dancing on two of them and Scott on the other two, giving the illusion that they were everywhere, before the lights came up on the actual Tessa and Scott on the ice. Dressed in costumes clearly inspired by Michael Jackson, they put on a fun, fast, funky performance to Jackson's You Rock My World. Their absolute unison and precision, and the way they work off each other so very well while each independently being a superb dancer and entertainer is just amazing. Each of them alone is a mesmerizing performer - together, they are just magic.
I have to confess an absolute bias upfront. Lovers in a Dangerous Time by the Barenaked Ladies is one of my absolute favorite songs of theirs. So I was inclined to love Patrick Chan's program from the moment the first few notes came on. Dressed in a Toronto Maple Leafs jersey in Toronto, and a more generic Canada hockey jersey in Hamilton, Patrick totally delivered. He was a joy to watch - joyful, relaxed, feeling the music, and connecting with the audience. It was lovely to watch his beautiful sweeping edges and to see his smile.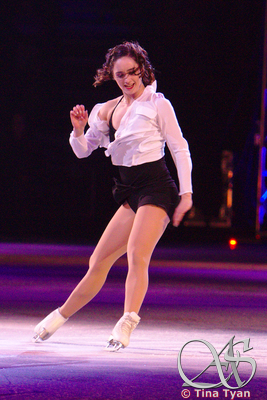 The video screens came on to show Elvis Stojko on a couch, introducing himself as World Champion Elvis Stojko, and then going on to introduce World champion Jeff Buttle. Jeff quickly sat next to Elvis and introduced World Champion Tessa Virtue, who introduced World Champion Scott Moir (as they kept scooting down the couch to make room). Scott introduced World Champion Patrick Chan, who introduced World Champion Javier Fernandez, who introduced "beautiful World Champion Meagan Duhamel", who introduced World Champion Eric Radford (at this point, Elvis was perched on the end table next to the couch, almost off frame). Eric said they were very proud to introduce the newest member of the club, World Champion, Kaetlyn Osmond.
The lights came up on Kaetlyn, wearing a loose white shirt over a short black dress, skating to Lost by Anouk. There's something special about Kaetlyn's skating. The song was slow and melancholy, and Kaetlyn seemed to really connect to it, feeling and expressing every emotion through her facial expressions and body language. She really evoked the mood gorgeously and believably, and skated beautifully. She may be the newest member of the Canadian World Champion club, but she is a more than worthy member who held her own next to the seasoned performers in the cast.
Act I closed with the traditional "guys' number," featuring all seven men in the cast, skating to Feel It Still by Portugal the Man. This was a wonderfully fun number, with the guys clearly just having a great time skating together to a fun upbeat number. In Hamilton, we got the absolute joy of being able to watch the number twice since Eric Radford tripped and went flying into the on-ice section during the performance, so they reshot the entire thing in retakes. This was just a great, energetic way to send the audience into intermission, excited to see what the second act would hold.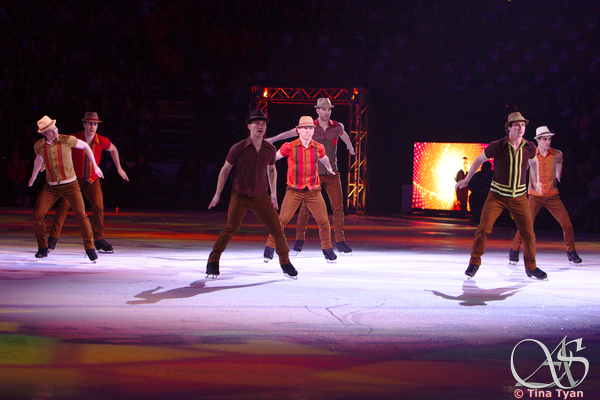 Act II was preceded by a short program from some local skaters - four young women in Toronto, and a young man in Hamilton. It's nice to give local skaters a chance to skate in front of such a large audience, but it would probably have been more respectful of them if they weren't skating under slightly dimmed house lights while Lindt chocolate was being handed out. I suspect many weren't paying much attention to them, though they did do a nice job with their short time on the ice.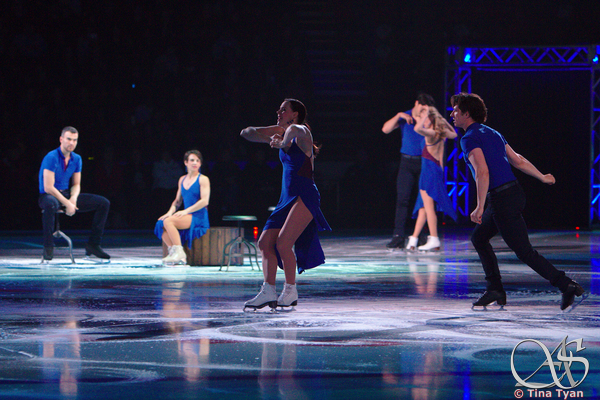 Act II kicked off with a group number featuring the two dance teams and the pairs team, skating to Shape of You by Ed Sheeran. The number was loosely structured around the concept of the three couples hanging out in a club, beginning with the three guys coming together for a drink, before hooking up with their respective ladies. There was a lot of fun sexy dancing, at times with all three couples on the ice at the same time, and at times with each couple going out for an extended spotlight bit while the other two either danced in place or sat on the stools of the "club." At one point, the three guys sat on the stools around the central table/bench, while the girls took a turn with each of them, before returning to their actual partners. This number was a nice showcase for the dance and pairs elements of figure skating, and a fun way to ease back into the show.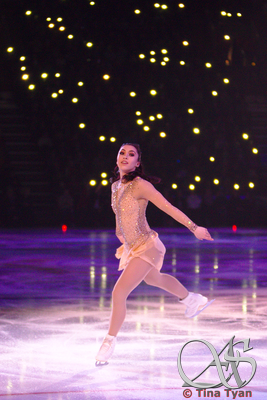 While her first number was more of an easy swinging piece, Gabrielle Daleman's second number was a much more passionate and emotional skate to I Have Nothing by Whitney Houston. Gabby threw herself into the performance, and was boosted by the supportive audience waving their cellphone flashlights in the air, providing a starry backdrop to the number. My guess is that this was led by people who had heard about it happening in Montreal, rather than being a spontaneous show of support, but it's definitely becoming a continuing motif in all the shows now.
It was time for another three skater interlude, this time featuring Meagan Duhamel, Eric Radford, and Patrick Chan. While Patrick didn't get to skate with Meagan himself, there was an intricate bit in the middle where the three kept their hands linked even as Eric lifted Meagan and turned her, or as they skated around and under each others' arms. In the end, Eric and Patrick lifted Meagan overhead, as they skated off the ice. I'm not entirely sure what the logic is behind these these numbers featuring an established pair and a third skater, but it was nice to get to see some of these skaters more, working together in more unusual ways.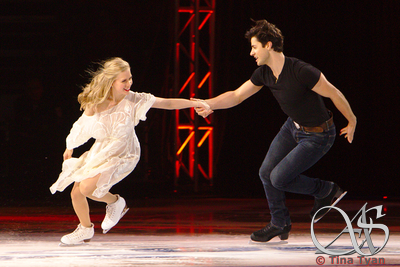 Kaitlyn Weaver and Andrew Poje took the ice to the bluesy country song Tennessee Whisky. The style suited them well, romantic and sensual without passionate intensity, smooth and laconic, and just utterly comfortable with each other and the audience. They came together and skated apart in perfect time with the music, weaving a lovely spell. This program was a nice counterpoint to their almost exaggeratedly intense Lady Gaga program, and a great addition to the evening.
Speaking of completely changing styles between programs, whereas Jeffrey Buttle's first program was a lyrical, poignant and hopeful tribute to friendship from a musical, his second program, to Gotta Get Through This by Daniel Bedingfield, was angsty and dark with crisper movements and a driving beat. It opened with him sitting on a bench with his head between his hands, then wearily pulling his jacket the rest of the way on, which set the mood right off. One thing I find amusing but also love about Jeff Buttle is that while for the most part, he has the facial expressions and body language matching the mood of the music, sometimes it just seems like he can't help but smile, and that big grin breaks through anyway. Also, on a side note, there was a certain irony to the repeated lyrics "I just gotta get through this" when Jeff had to retake part of the program in Hamilton. All those side notes aside though, Jeff put on a great performance. His creative talent is evident in his choreography for the show and for himself, but in my opinion, his skating has only gotten stronger over the years, as well.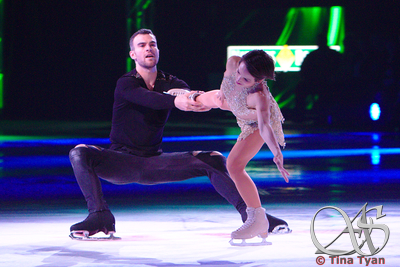 Meagan Duhamel and Eric Radford consistently make me gasp as they take something I think I know and then keep going until it's something else. I love their transitions into tricks, and from trick to trick, like how they will go from a lift to a long hold to a headbanger, because why would Eric ever need to actually put Meagan down? But they also did some things in their program to Be Mine by Ofenbach that I don't think I've ever seen before, like a throw jump into a jump by Meagan and then a side by side jump with Eric in quick succession. Yet this program felt like more than just a collection of really cool tricks. The musical style lent itself to a more rigid, precise style of movement that was almost stiff at times, but in a deliberate, interpretative way that really worked for me.
It was time for another interlude between programs, but this time, instead of a well-choreographed trio, we got Jeff Buttle and Scott Moir armed with microphones and a GoPro, looking for the most enthusiastic audience members to give a signed T-shirt to. They skated all around, encouraging the audience to show off their best dance moves while Scott filmed them for all to see on the corner screens. This certainly served to get the audience pumped up, though it wasn't really necessary after Meagan and Eric's great program, but it was a fun way to show some appreciation for the audience.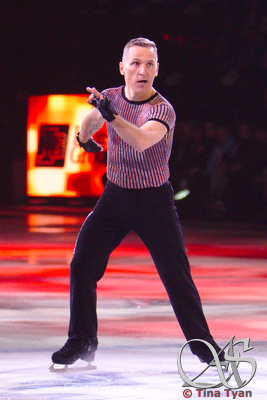 Elvis Stojko took the ice next to skate to an utterly quintessential Elvis Stojko exhibition program. It had basically every element I associate with an Elvis show program. The music was by Nickelback, a fast rock number called Someone That You're With. Elvis skated around with a big grin, singing along, pointing into the audience, holding his arms out for cheers, showing off some quick footwork and jumps, air guitaring along, kissing an audience member and doing his patented spinning around on his hands and knees. The audience completely ate it up. I personally have a pet peeve about many of these elements, and much preferred his first number, but there is no denying his charisma or the love that the audience have for him.
The next number completely changed the mood in the arena as one by one, the members of the gold medal winning Canadian Olympic Team took the ice to the strains of Fields of Gold. Patrick Chan was first, skating soulfully and contemplatively before going to stand in a pool of yellow light at center ice as Kaetlyn Osmond and Gabby Daleman took the ice. After some beautiful spirals and skating down the ice, they each stood behind Patrick, offset to form a triangle, in their own pools of yellow.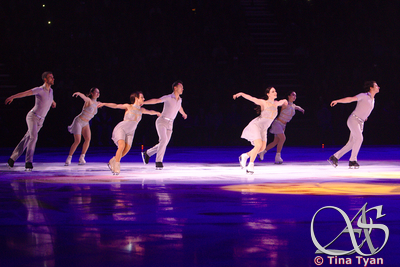 They were followed by Meagan and Eric, who did a death spiral before standing in their own beam of yellow light, and then Tessa and Scott. They all then moved beautifully in unison as a group before coming to rest in five bright spotlights that formed the shape of the Olympic rings. It was interesting that the number as soft and lyrical rather than triumphant, and seemed fortuitous that they had just the right number of team members to form the Olympic rings. This was a lovely little tribute to Team Canada, who came together in a big group hug at the end after bowing.
From Team Canada to the one member of the cast who was not Canadian, Javier Fernandez more than proved that he deserved his spot on tour with his next number Promise by Pablo Alboran. This was a gorgeously introspective number that really showed off Javier's body control and interpretative ability. A friend said that the program had a movement style that really reminded her of Kurt Browning, which says something about Javier's versatility, given that his first program reminded her of Brian Orser. Javier's skating was heartfelt and beautiful, and I'd love to watch this program over and over again.
Speaking of versatility, Kaetlyn Osmond demonstrated hers with a charmingly flirty number to Too Darn Hot by Ella Fitzgerald. While usually it's the guys who wear the hats and do the hat tricks, Kaetlyn showed off some hat skills of her own in this number. Her ease and comfort in front of the audience was evident, as was her polish and beautiful skating skills. This was a fun program to watch.
My only complaint about Patrick Chan's second program, Hallelujah by Jeff Buckley, is that it was lit way too dark. This is a complaint as a photographer but I also heard that people farther up in the stands actually had trouble seeing him from time to time. Otherwise, this was an absolutely gorgeous program that really showcased Patrick's beautiful edges, clean lines, and connection to the music.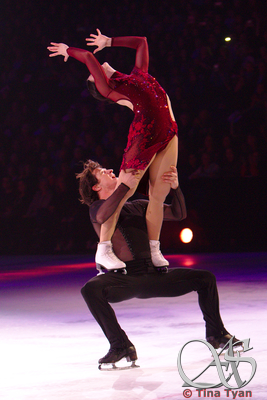 The audience was already primed from a video showcasing Tessa Virtue and Scott Moir's partnership through the years, so when the spotlights came up briefly on the couple for the opening part of their Moulin Rouge Medley, they basically went out of their minds. The cheering felt like it was going to blow the roof off, it was so intense and crazy. The opening to this program only serves to enhance this effect, as the lights come up, Tessa and Scott do a few intense gestures, then the lights drop, and then the lights come up again as they face a different direction, drop, and finally the lights come up for good the third time and the program kicks off. Each time the lights came up, the audience got louder. So by the time the program really got going, everyone was insanely pumped for this famous, Olympic-winning performance. And Tessa and Scott took that energy and channeled it right into their performance and back out at us again. There have been many skating programs to Moulin Rouge and yet Tessa and Scott still manage to make it seem fresh and to completely own it. It's amazing how they can combine passion and seeming utter abandon with precision and unison that doesn't seem rehearsed, just a natural part of their connection with each other. An absolutely astonishing program.
In my opinion, the music for the finale of the 2018 show, You Will Be Found from Dear Evan Hansen, is an absolutely perfect and incredibly touching choice to tie the evening together. Starting from Patrick Chan skating alone to "Have you ever felt like nobody was there? Have you ever felt forgotten in the middle of nowhere?", and then having Jeff Buttle, Elvis Stojko, and Javier Fernandez join to "Well, let that lonely feeling wash away...'Cause when you don't feel strong enough to stand, you can reach, reach out your hand.&quot And then as the music builds for "When you need a friend to carry you," to have Andrew Poje come out and lift Kaitlyn Weaver up, and then more and more skaters join to "You will be found," it left a lump in my throat.
They even found a clever way to deal with the more musical-specific element of this song. In Dear Evan Hansen, the song is a speech Evan Hansen gives, which goes viral online, and there are verbal parts where members of the community start talking about how much the message meant to them, and it builds and builds until it's just an overlapping cacophony of people talking simultaneously thanking Evan or talking about what it means to them. Out of context, of course, this wouldn't make any sense at all, so they cleverly instead reached out to the skating community to gather video messages of what the Olympics meant to them, and edited these videos together to achieve the same effect of first individual voices but then more and more voices overlapping until the arena is just filled with images and voices of fans. And then, the cast, which up until then had all been dressed in black, come out together in all white, and skate joyously in unison together to the repeated "You will be found," and "You are not alone." It's an incredible representation of the building of community and support that the Olympics engenders, and is probably one of the best finales I've seen in years of Stars on Ice.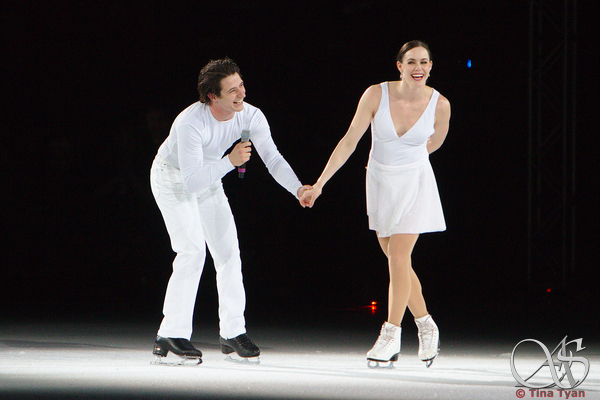 The show doesn't precisely end there, since there's always a fun upbeat song (Move Your Body) for the skaters to dance along to, and then break off to shake hands with the on-ice audience members, before coming back together to do their bows. This featured some additional group choreography as well as a fun roll call to highlight each individual skater, and put everybody in a happy dancing mood before sending them back to their normal lives. In Hamilton, there was the additional fun of retakes, where several of the skaters who had made mistakes on jumps or other moves got to do them over so the TV broadcast could look flawless. One or more of the skaters always has to take the microphone to keep the audience entertained until costume changes and music setups can happen, so we had the fun of having Scott Moir and Tessa Virtue on the microphones. At one point, a fan called out "get married!" and a laughing Tessa started to get down on one knee, to the cheers and whoops of the crowd. Eventually, each skater got out there and did their job, and then the audience was treated to a full reskate of the Feel It Still boys' group number. Just as this was a great way to end Act I, it was a wonderful way to end the evening as a whole, capping off an overall amazing night of skating, and yes, one of the best Stars on Ice shows in recent memory.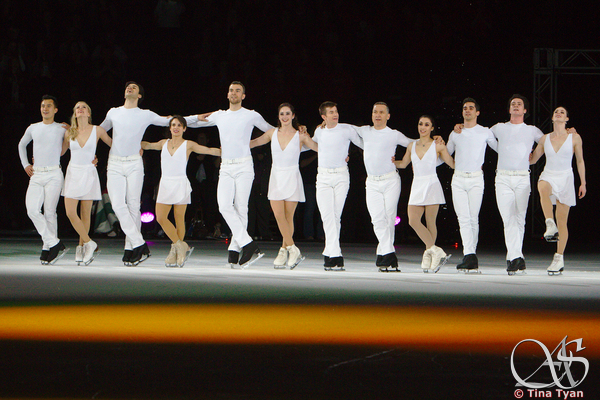 Also check out the photo album here!