Visit to the Gates of the Sun*
March 16, 2023
By Reut Golinsky
Photo © Reut Golinsky
*Champéry is a part of the cross-border ski area named Les Portes du Soleil which translates from French as "The Gates of the Sun."
As a rule, skating journalists and fans get to see only the shiny top of the figure skating life's iceberg. Official practices, six minutes warmups, performances - good or bad - small interactions in the K&C or in the mixed zone. But the full picture is obviously more complex and layered. Designer coats, tailored suits and bedazzling skating costumes are taken out from the wardrobe for just a handful of days a year. Most of the time it's warm fleece jackets, puffy coats and worn-out sweatpants (comfy, but not quite presentable on photos, to tell the truth). There is not much glamour in this life, oftentimes filled with frustration, tears, pain and always with a lot of hard work, scrupulous, slow, and not spectacular. Yet, it's also continuously illuminated with sparks of inspiration, light-hearted moments, exciting challenges, and little victories at the end of each practice. That's why getting an opportunity to follow the day-to-day of the Skating School of Switzerland was such an exciting and insightful experience.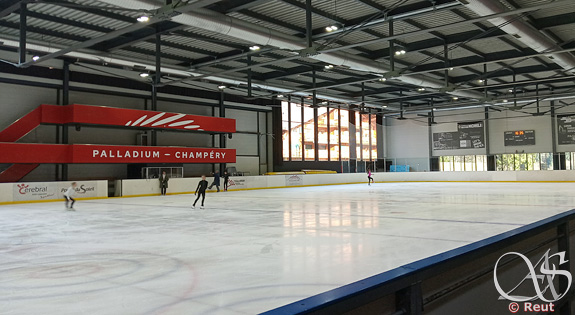 Two more weeks and two more events to go, the end of this season can't come soon enough. Despite the smiles which every now and then light the room - and I chose to focus on such moments in the gallery below - coaches are visibly tired. This season they had way too many competitions, big and small, international and domestic, for such a small team. And then there is all the daily work. Every student requires an individual approach, has his own weak spots to work on, and asks for personal exercises as homework. You must be attentive: some have health issues or strong character or skating parents with opinions. You need to know how to divide your attention: some students are active, they will grab as much as you can give and ask for more, others are too shy to reach out or would "disappear" near the boards, out of sight, because they're not feeling like working today. Some come from traumatic experiences and need time to heal first, some just need a hug or a joke.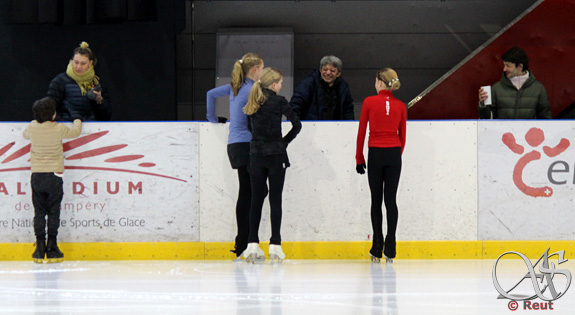 Some come from a completely different mentality and would say "yes" even if they actually mean "no" - Koshiro Shimada has some amusing stories to share about that.
Some don't speak the language. The coaching team is multilingual: English, French, Italian, and German are casually intertwined during the sessions. But sometimes it's not enough and a little bit of Russian is required - for Ukrainian skater Liubov Zholobova, LubĂĄchka as coaches call her. She is improving, especially with her English, they say, but apparently you can manage quite a lot with just "molodets" (way to go), "davai" (let's do it) and a smile.
Liuba's is a classical "kindness of the strangers" story that would warm your heart. Living in the parking lot and hiding from bombs for the first eight days of the war, the family was compelled to leave Kyiv. Fortunately, through a family friend, they received an invitation to come to Champéry, where they were given support by both the local community and the 3S team.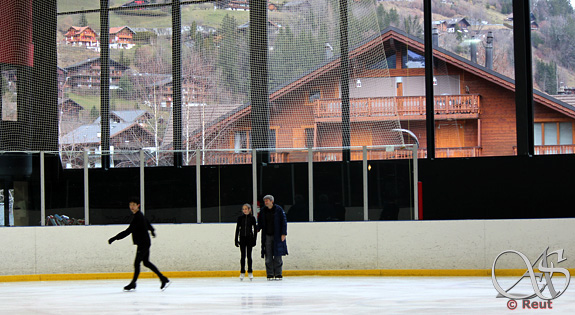 "From hell we got to heaven," her mom recalls. "We couldn't even dream about something like that happening, it was a miracle. Skating was Liuba's choice. We didn't see many prospects for her in the sport, but everything was held together by her immense passion and hard work. And now it's as if the wings have grown behind her back, there is a hope, a feeling that everything has happened for a reason. During this year she experienced so much and learned so much new, all thanks to Christopher and Stéphane.
Stéphane is an amazing human being, coach, artist. And people around him are equally incredible, as like attracts like. I completely trust him and his team, she simply can't not progress with them. They made my child so happy! When she comes from practices, her face radiates with joy. Angelo (Dolfini) and Giulia (Isceri), Koshiro and Deniss also help a lot, it really is a family. They all are such warm people with big hearts."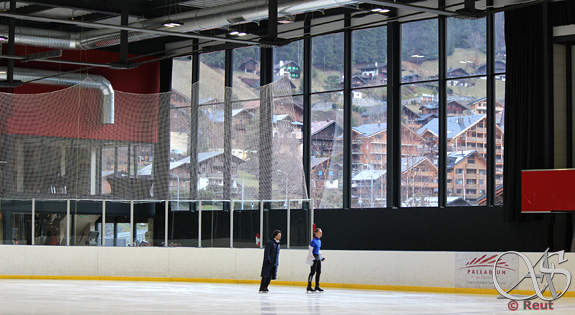 "During my time here I learned so much, I learn every day, during every practice. But the most significant lesson I have learned this year is that nothing is impossible. If there is a wish and you work hard, coaches here will guide you to fix your mistakes and will always support you. And eventually everything will fall into place!" Liubov adds.
The practice session doesn't work, your student is struggling, and fighting but nothing comes out of it. Maybe it's better - and definitely more productive - to take him aside for a talk. What should you say at moments like that? How to motivate and excite again? Or maybe you switch to something else completely and try with him pairs. Or put the music on and propose to improvise together - "now jump while pretending to play a musical instrument."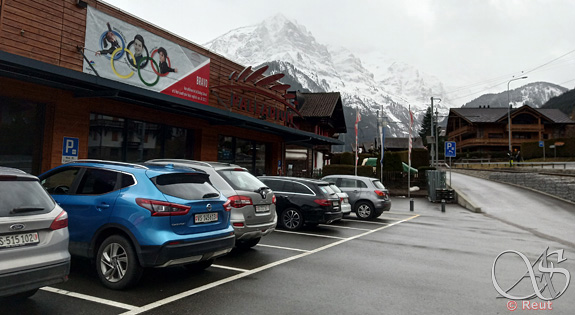 What if you yourself are not having the best day? "I don't feel inspired," Stéphane shares one gloomy early morning. There is a tricky part to be choreographed, it should be light but engaging, follow every note of an elaborate melodic theme but not be over complicated to give the skater some rest at this point of the program. What do you do when you don't feel inspired? You embark on a task (same goes for the journalists, by the way). And then it comes. At the end of the session Stéphane is shining: the bit came out even better than he expected.
Koshiro Shimada - because it was his new "Dance Macabre" free skate for which the inspiration was required - is excited, too: "I already feel this program is going to be amazing, very complicated though. It will be a tough challenge, but when you want to improve, you need to choose the more difficult path. I feel that [with this program] Stéph is providing me with an opportunity to grow, so I have to do it and I really wish to do it justice."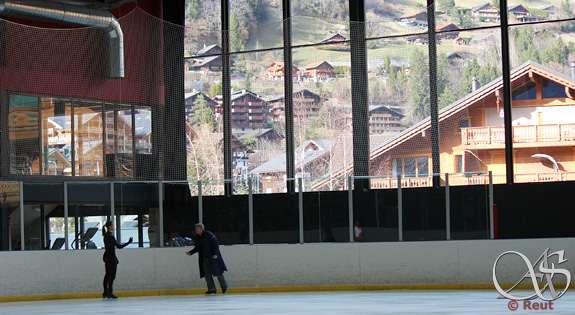 One skating mom has a request: she wants her daughter to have a program like "that Japanese skater at the Vancouver Games", link with the video attached. Lo and behold, the skater is Akiko Suzuki, the program is her short from season 2010/11 and the music is "Firedance" from "Riverdance" by Bill Whelan. Sixteen years to the day since I saw "Poeta", and here I am standing near the boards and watching Stéphane choreographing flamenco-style step sequence. I should probably send that mom a box of chocolates to thank for this unexpected and precious gift, a closure I didn't know I needed.
Among the highlights of my visit was also an off-ice training for the little ones conducted by Deniss Vasiljevs. It couldn't be more different from what we saw from Stéphane during the ISU "Keep Training" videos, because it was done... in complete silence! Somewhat like a mindfulness moving meditation practice. Even more surprisingly, kids readily complied (except for some giggles here and there).
In addition to the physical off-ice training, there is also a "journaling" session where students - of all ages, even the youngest ones - learn to keep the training log and to write down their goals, analysing their progress and next steps towards them.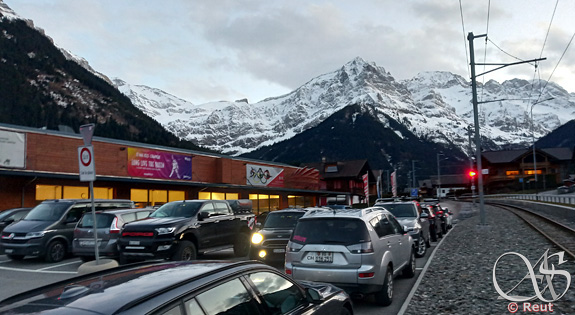 Just like the weather during my stay in Champéry, not everything is always sunny. Sometimes it's rainy, misty, and not clear where to go, fog veils the whole picture and for a moment you forget that you're surrounded by so much beauty. But eventually the sun always comes out, it's at the gates.
Thanks to Christopher Trevisan for making this visit possible and to the coaching team of the Skating School for their warm welcome (and endless supply of chocolates and coffee).
Good luck to Koshiro Shimada and Liubov Zholobova at the Coupe du Printemps this weekend and to Shoma Uno and Deniss Vasiljevs at Worlds next week.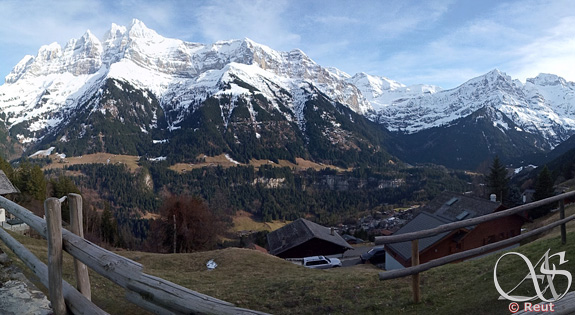 Enjoy this photo gallery which illustrates the stories in the text, full album to be published during the off season.