The Proximus Stars on Ice shows:
An inside look
Text © Mireille Geurts & Magdalena Osborne
Photos © EMJO

Watch the little amateur movies of 8-16 seconden, by right clicking on the pictogram and select "save target as" (1 - 1.30 mb per movie).


The Stars on Ice Antwerp shows were wonderful and entertaining to watch and all in attendance had a good time. Putting together a show of this size is a lot of work and it was very interesting to see how all the pieces came together.
Most of the skaters arrived in Antwerp on Wednesday and so did we. It was a cloudy and rainy day and hardly inviting for sightseeing. Not that anyone had time anyway; that's not why we came and we'll simply have to do Antwerp some other time.
| | |
| --- | --- |
| There were plenty of rooms in the hotel so we don't know why right after our check-in, there was a knock on our door and Miki Ando and her mother wanted to come in and share it with us! The poor porter made some calls to try to sort it out and in the meantime we had a nice chat with Miki. She's a smiling delight but was very tired after the long trip from Japan and wasn't planning on going to the late practice. | |
The hotel was nice and comfortable, although charging € 5 for using the computer for 15 minutes hardly qualifies as service.
The Sportspaleis, the arena where the shows were to be held, was busy with other things so the skaters were bussed to a practice rink in the outskirts of Antwerp. The ice there was ok, but Stefan had told us the arena was cold, very cold even, so we bundled up. It's nice to be prepared, thanks Stefan! The lighting was also poor. There was no shortage of lamps but they were all turned off and only when asked were they turned on, some of them that is, like every other lamp in every other row. One could easily get the impression there was a major energy crisis going on causing this reluctance to supply the skaters with more light.
| | |
| --- | --- |
| | Most of Thursday we watched the practice and chorographer Lea Ann Miller working hard at putting the group numbers together. When enjoying a show very little thought goes to the endless hours of planning and practicing to make everything fit together just right. Lea Ann had only two days to teach everyone their parts and did a fantastic job. She has a lot of authority on the ice and when she spoke everyone listened and obeyed. |
Earlier that morning, before the group numbers were rehearsed, there was some time for the skaters to go through their own numbers and we got a first look at the swordfight in Margarita's and Povila's wonderful Pirates number. We knew right from the start we would love this.
Since Kevin had to train for his next Grand prix competition the following week, he used one of the other rinks in the surroundings of Antwerp for practice in the morning and came in around 1 o'clock.
The opening and finale would both be set to very upbeat, rocky music. The skaters really had to be on the ball to get all the steps and their short solo segments down and it's fair to say that some were struggling more than others to learn their parts...

But to spend an entire day in practice also meant a lot of waiting. Some of the skaters helped each other with steps and moves; others goofed around chasing and teasing each other.
And it can't be all work, there has to be some play too. Takeshi for instance, was teasing Miki a lot; it looked like big brother-kid sister stuff. At one point, he picked up some snow from the ground and came after her; she already saw this coming and tried to hide thinking he would throw it on her. But instead he pressed the snowball in her already freezing hand (she was wearing a blanket during the wait, because she was so cold). But we didn't have to feel sorry for her; the next day she took revenge.
In the Sportpaleis on Friday


Stefan seemed to think the cones on the ice were meant to be used as megaphone and Kevin tried out some, let's say rather original moves...
While Ilia usually looked very serious on the ice, he could be a joker as well. While rehearsing the closing number where he was supposed to skate around every girl (they were forming a circle) and do some moves with them, Ekaterina was standing in a dance pose, expecting him to dance with her, he very suddenly poked her in the tummy, making everyone crack up.
Luckily there was also some time for them to sit down to relax and rest and grab a bite to eat in the cafeteria.
During this break we got another treat, namely watching Barbara Fusar-Poli walk in with husband and baby. Baby Giorgia was the cutest little thing and mom didn't look so bad either...
On the ice she was quickly brought up to speed on what she had missed so far, mostly by the other girls. Although it's a good thing she didn't believe all the disco moves Margarita tried to teach her...
| | |
| --- | --- |
| To our surprise a large group of children were allowed to skate on the speed track outside the boards. They were a bit noisy but still fairly well behaved, but we could tell their presence was not what the show organizers had in mind and the children's stay was cut short. | |
The James Bond medley was put together from different Bond themes like "For your eyes only", "From Russia with love" and "Live and let die". This was an absolute brilliant group number and it had skaters coming and going all the time and the guys took turns portraying 007 himself. Kevin and Takeshi were chasing each other around Miki and Katia entered being carried by Povilas and Maurizio. And Ilia appearing in "From Russia with love" as the only Bond dressed in white (we first got to see it during the dress rehearsal) had to be a success. The girls were all wearing hot pink dresses with silver belts, but during the first show Barbara's belt came undone and disrupted their skating so Maurio simply tore it off and tossed it aside.
The very end was funny, the girls rounded up the guys by pushing them into the middle to finally hold them in with a rope. But Povilas and Stefan jokingly broke out and some of the girls managed to trap themselves during practice as they ended up on the wrong side of the rope.
After a few runs through everyone had their part down and those of us watching knew this would be a treat to see in the shows, so it was a bit disappointing when the rope ended up not being used in the shows after all.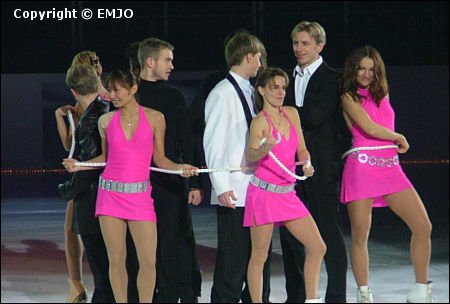 At the end of Thursday's practice, before everyone had to run off to costume fittings, some skaters were trying out some individual moves. Barbara and Maurizo skated around, talking a lot and tried some lifts. It was doubtful if Barbara's 'flapping' hands helped much when Maurizio held her arms though (and no, they didn't fly).
But there was still no sign of Katarina Witt, or of Andrei Griazev, and we were beginning to worry. We had been told he would arrive the next morning, but the group numbers seemed to exclude him...
Go to Part 2