The creating of a skating show -
meet Lea Ann Miller
Text © Magdalena Osborne
Photos © EMJO

Watch the little amateur movies of 8-16 seconden, by right clicking on the pictogram and select "save target as" (1 - 1.30 mb per movie).
| | |
| --- | --- |
| | Watching hours of practice for the Antwerp Stars on Ice shows, one can only marvel at the patience, dedication and hard work of the choreographer. Lea Ann Miller may only stand barely 5 feet tall, but no one questions her authority on the ice. She has full control, not only of the skaters and their moves, but also of the lights, music and costumes. Without her the show would not go on. |

Catching her for an interview was no easy task. I wait in her backstage "office" at the Sportspaleis, and soon realize she's a very wanted woman.
Several people come in and ask for her and I watch Katarina Witt leave right before I enter.
Since the first show will start in less than two hours, the whole backstage area is in an uproar and Lea Ann surely has better things to do than to talk with me. But we had an appointment and she honors it, although a tad late. Her "office" is small and lacks most of the comforts of home. There's a couch and a desk with a laptop and a pile of CDs. Her skates are on the floor, silently reminding me of her own history as a top figure skater.
She and pairs partner Bill Fauver medaled at the US Nationals 1981-84, placed 10th at the 1984 Olympics in Sarajevo and skated in the likes of the John Curry Company and the acclaimed Torvill and Dean World tour, and then did four seasons with the US Stars on Ice tour. From skater she moved on to become the Associate Director and Choreographer for Stars on Ice, a position she kept for a dozen or so years. She has choreographed, and still does, individual programs for both eligible and professional skaters of all disciplines as well as directed shows and TV specials, not least for Steve Disson of Disson Skating, which is a division of the IMG. Her list of merits is indeed impressive and can easily be made very long. But all the hard work and knack for perfection took their toll at the beginning of last year as Lea Ann suffered strokes and spent a week in the hospital. She bounced back with the help of friends and sheer determination, but has a different outlook on life now and has stopped taking the world upon her shoulders.
It's a petite person with huge charisma and a friendly smile who greets me and freely shares her thoughts on the SOI shows. She apologizes for being late.
"You know, I've had two days to put things together and it's always a zoo!"
With all the people running around outside in the hallway, I have to agree and due to the lack of time we have to get right down to business and I ask how she does it, what all does she have to think about when putting a show together?
"Well, these shows are for Proximus. They are the sponsor, it's their idea and they pay the money, so I'm hired by them to give them what they think their clients want. In this case they asked for fast, upbeat music, and an opening and closing that was fun, so I had to keep that in mind. They also asked for one number with production value, like SOI in America.
So I started thinking; what can I do in 2 days? I looked at the cast and what costumes I could borrow... those things have to be considered! Then of course, I thought of Katarina, she's the big star, and the Bond piece we did for her show "Enjoy the Stars" in America came to mind, this we could do!
So that's where I started but every show is different. It's always a challenge and my one wish is that I could do a show a month throughout the year instead of everything at once."
What is the recipe for a "has-to-be-done-in-2-days" show?
"In this business you have to be very flexible. From the beginning I didn't know that Nicole (Bobek) and Oksana (Baiul) would be arriving late, so in my original script I had them included in all the steps and numbers and it wasn't until a couple of days before I got here that I was told they wouldn't come until the day of the show. So I had to change everything and then of course Katarina got injured so I had to change everything again, and Andrei wasn't coming... The good thing is that I've been doing this for so long, I can solve it quickly, but the bad thing is the frustration. You put so much work into it before hand and then, well, conditions change so you throw it away and start over!"
The Antwerp SOI cast is a wonderful mix of eligible and professional skaters, how does that work for you?
| | |
| --- | --- |
| | "Skating in shows like these is such a great learning tool for the young, eligible skaters. They're not as experienced and maybe shy and I can't expect them to do the same things as the professionals, but still, what they're getting out of it is worth it to me, and my joy comes from watching them. But sure I'm thankful that I have the solid pros that can help me since I don't have time to teach everyone every single step. In shows like these I consider myself more of a director than a choreographer, I tell them where to do what; you stand here and you do this etc. |
I don't have time to create a new lift or many steps, but that's ok, they're all great skaters and I just have to do my best to make each one look good.

The eligible skaters do an important job today in competitions, they're on the edge and that's exciting to people. Of course Ilia could compete today and still be in the top but as you get older you can't do triple Axels anymore, so in a show with a mixed cast you get the professionalism that balances out the young kids and the young kids with all their jumps and tricks help the pros, so between them we get there somehow!"
The Sportspaleis is a great arena but there's a problem with the ice. How are the skaters taking it?
"I was telling Katarina, do you realize they're pushing the truck? I really should write a book about all the funny incidents... One time in the intermission in an American show the Zamboni started smoking and broke down! I'll just hold my breath here that it'll hold together. But even with the Zamboni the ice is not good. The skaters are being very patient but it's hard for them to skate on this ice. But they're doing a great job and by show time I'm convinced they'll all do the best they can."
With Katarina not being able to skate, Maria Butyrskaya was brought in at a moment's notice.
"Yes, it was the sponsor's idea. We have a long show and I didn't really feel it necessary to bring in a replacement for Katarina, but for the sponsors it's important to be able to say they did their best and brought in someone else. So I didn't have a big say in that."

How do you feel now, an hour before the show starts?
"Oh my, let's just get it started! I'm ok really; I can't tell you what's going to happen. I used to be so mad at myself if there was a mistake or something happened, but I can't control everything so if someone forgets to go out on cue or the announcer isn't there or the light breaks... what can I do? On the big tours they can work out all the problems and make it perfect, but we only have a few days, so I try to be a little easier on myself and just go in and do it. There will be some mistakes tonight, you know there will be, but I feel pretty good about this show considering all the obstacles we've had. And there are always obstacles, different kinds, but they're always there."

She's suddenly called out on an emergency and our talk is over. I take a seat and watch the show and afterwards we run into each other again and she's rushed but smiling. She did an excellent job and the show is great. Not perfect, but great and the audience is very enthusiastic. The IMG is cheering as well and Proximus will sponsor the shows again next year; this must be considered a big success! So when all is said and done, how does she feel?
"I'm pretty darn happy!"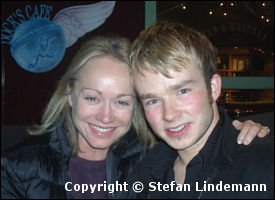 Hear Lea Ann give Kevin and Ruben some instructions