Miki Ando – A Star on Ice

Text © Magdalena Osborne
Photos © EMJO & Joy
She was the first lady to land a quad in competition and has quickly climbed the ladder to the big league. This great promise for the future was just crowned Japanese champion and is considered a major contender for the 2006 Olympic podium.

Miki Ando was born in Aichi, Japan, and started skating at the age of 9, much later than most top skaters. But she was a quick study and it only took her a couple of years to master triple jumps. Now her arsenal of jumps includes the triple Axel and quads salchow, toeloop and loop.
The quad salchow she landed in the Junior Grand Prix Final in 2002 earned her a spot in the "Guinness Book of World records" as well as on the International Figure Skating magazine's list of "25 Most Influential Names in Figure Skating 2002/2003". And her competitive record is impressive. Last season she won the Junior Grand Prix Final, Junior Worlds and placed 4th at the World Championships in Dortmund, Germany. So far this season she made it to the Grand Prix Final for seniors and won her second consecutive Japanese champion title, and she is on the Japanese team for the World Championships.
Miki just turned 17 and is coached in Nagoya by Nobuo Sato, the mother of Yuka Sato. Her favorite jumps right now are Lutz and salchow and in addition to skating she lifts weights and does some basic training to increase strength and stamina.
Besides competing, Miki has performed in shows in Japan, but in November she came to Antwerp, Belgium, as part of the Stars on Ice cast. There she skated with fellow countryman Takeshi Honda as well as with professional skaters and Olympic gold medallists like Ilia Kulik, Katia Gordeeva and Oksana Bauil. She received the invitation to skate in the show already during the summer and decided to accept although she had some qualms.
"The fall is so busy with competitions and I didn't want to take on too much. But I need to learn how to perform more entertaining and fun, and skating in Stars on Ice together with all those great people was too good to pass up. And I already knew Stefan (Lindemann) and Takeshi (Honda)".
She performed 2 solo numbers in the shows, her short program "Heart of the sun" and the exhibition number "Hey Mickey". She also participated in the opening, finale and the James Bond medley. No instructions on the group numbers were received before hand and the practice sessions with choreographer Lea Ann Miller were intense but fun.
Lea Ann had also choreographed Miki's competitive programs and remarked:
"This is one of Miki's first shows, but she's just smiling all through practice, she loves it! Ok, so she's not as good as Katia or some other professionals yet, and we don't expect that, but this is such a great experience for her and it's a joy to watch her!"
And a beaming Miki agreed.
"I really didn't like shows that much before", she confessed. "Sure I get nervous out there but skating in shows is fun and now I like it as much as competitions!"

Since Miki's English is limited it wasn't so easy to talk to her. But her bright smile and sparkling eyes often said more than words and she resorted to hands and feet a lot, like when explaining about her gold blades.
"Gold is for winners. It was in my heart to win Junior Worlds in 2004 so I got gold blades to prepare for winning. And I did!"
Most of the communicating was done through her agent; Hiromi Motohashi of the IMG. Any rumor that Miki will move to the US and train with an American coach is dismissed by herself and the agent.
"There are always rumors", said Ms. Motohashi, "and that's all this is! Miki will keep training in Japan."
And she has a lot of training ahead. She aims high and plans to put 100% into reaching her goal; to claim the gold in Torino in 2006.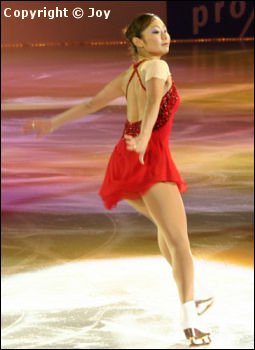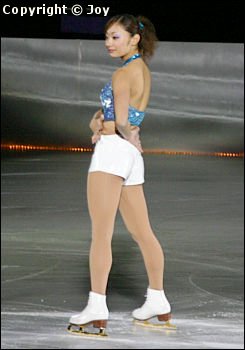 Copyright © 2004 - 2023, Absolute Skating
All rights reserved.