Impressions of Stars On Ice 2005
Part 1
Text by EMJO and Susanna
Photos © EMJO

This year's Stars On Ice show, "Imagination", has been reviewed several times on various boards. Some have loved it while others have not, and we were both very excited to finally be able to form our own opinion. Being from Europe we're not exactly spoiled with opportunities to watch skating shows, and maybe that affected our attitude, but we felt we were in for a real treat.
The trip from Sweden to Portland was a long one. We teamed up with some American friends and the drive to Maine was smooth. We watched a practice session and were stunned by the pairs' throw jumps, Elena Berezhnaya was amazing! The pairs seemed to have some sort of mini-jump competition going on and it was very funny to watch.
Many skaters, besides the pairs, were there as well. Anton Sikharulidze and Alexei Yagudin were wearing shorts. Ok, Portland was warmer than where we came from, but stillÂ…Maybe it was something Russian. Katia Gordeeva really used the practice time to perfect her programs, and we got to see both. We didn't mind one bit since she's so graceful and beautiful. While she worked, others used the time to goof, use the computer or chat on the phone. Well, to be honest, Katia did some goofing too and threw a paper plane at someone. Practice was a joy to watch!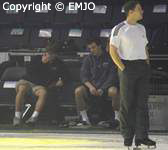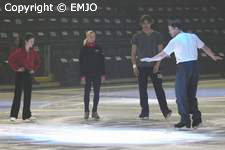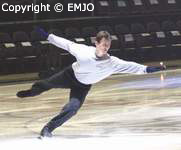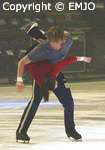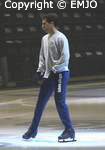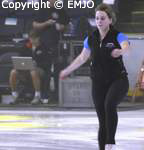 The Cumberland County Civic Center is a small arena, seating only about 6500 people, which makes it cozy and personal. There are no bad seats anywhere since no seats are that far from the ice. We estimated the arena to be about 80% full the night of the show. Armed with cameras we took our seats on the 6th row, center ice. Our expectations were high and we were not let down.
Trying to focus a lens on skaters moving around on the ice is a little like trying to shoot good pictures during a tennis match, back and forth, back and forthÂ… It was no piece of cake, but we sure had fun trying!
Scott Hamilton came in and suddenly the whole audience got on their feet and greeted him with a standing ovation. Scott is an amazing guy and it was good to see him.

Later in a transition number, Jamie the fortune teller accused him of not having a front row ticket, so he pulled it out and showed her!
This was the second and third year we've seen the SOI show. Every year has been fantastic in its own way, but this was the best. Why? Well, the theme says something about it. It sure took a lot of imagination to dream up all the colorful costumes and the fabulous lighting.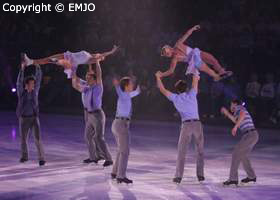 The music was varied to suit every taste, and so were the performances. Each program was different but all were top notch! Once the show started we couldn't understand any of the criticism we'd read, everything was so professional and entertaining. Last year our favorite act was Anton and Elena doing "Let me fall". This year it was harder to pick a favorite since everything was so good, but we've chosen to comment on some of the most impressive moments.
| | |
| --- | --- |
| | Alexei's "Passion" definitely belongs in the "impressive moments" category. Not only was his high-above-the-ice acrobatics breathtaking, but we forgot to breathe while he skated as well. Filip Stiller, a Swedish skater and commentator for Eurosport, has often pointed out how Alexei is a rare performer who possesses every quality in skating and is the best male figure skater ever. He's right and we need no convincing, but we'll have to tell him about Alexei's above the ice qualities as well. |
We also loved both of Anton and Elena's numbers. In Michael Bolton's "If I could" they showed how well they follow each other and the music. We heard they choreographed it themselves. They would be sorely missed in Canada, but anyone with the opportunity should go and see them on the Ilia Averbukh tour in Russia.
| | |
| --- | --- |
| The second program, "Dance Mix" was funny and really got the audience going. Anton almost managed splits and some lucky man got Elena on his lap. We're hoping to get Anton in our laps next year. He's so funny and has a rubber face that is just incredible! Someone else with a rubber face is Jamie. How about a transition number with the two of them together? | |
| | |
| --- | --- |
| | Jamie and David are always wonderful. Their program set to Queen's "Who wants to live forever" was elegant and serious, and not as upbeat and funny as we were used to seeing from them. But it suited them well and we sat back and enjoyed. |
The big surprise was Steven Cousins. He has no European or World titles, but it was easy to see why he was invited to the tour. We wanted to give him a medal for being a fantastic performer, not only in the group numbers but also in his cold spot "Come back to bed". It was cool and macho and he came in shirtless. Shirtless male skaters are usually a hit with the female part of the audience. When the shirt finally came on it had "Loverboy" written on the back. We had to wonder if he knewÂ…
Katya needed no introduction. She's a professional to the fingertips; we already saw that last year and in the Antwerp shows. The flirty "Heartburn" suited her very well. She has the elegance to pull off any classical number, but also the charisma to be a credible flirter. Come back to the show again, Katia!
| | |
| --- | --- |
| | Kyoko and John are American favorites and started the show off in the best possible way. Their lifts and throw jumps are first class and the audience went wild. Kyoko also participated in several of the transition numbers changing from one dress to another with the speed of lightning. How do you do that, girl? |
| | |
| --- | --- |
| It must be added that the transitions numbers were very inventive and connected the whole show in an excellent way. The many special effects also added to the entertainment value of the show. Right before the intermission it started raining and John and Kyoko both got royally soaked while the others stayed dry under red umbrellas. All the umbrellas came together and Kyoko was lifted up and was suddenly wearing a gold dress! This ended Act 1 and we could hardly wait for Act 2 to start. | |
| | |
| --- | --- |
| | Olympic champion Sarah Hughes skated to "Mr. Blue sky" accompanied by all the men wearing red bowler hats and umbrellas, looking like British gentlemen. It was a very charming number with great choreography. Usually so many skaters on the ice make it hard to see what all is going on, but this program wasn't hard to follow. But this show should be seen many times. We felt we missed a lot of details and were happy we'd have another look in Halifax. |
| | |
| --- | --- |
| A big question was: how did Sarah get in the box? It consisted of 3 parts and was put together before our eyes. Maybe we'll never know, but it was sure a good trick. | |
Todd Eldredge is a veteran who also skated in several transition numbers. Who will ever forget the singing flee?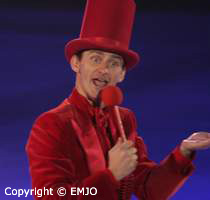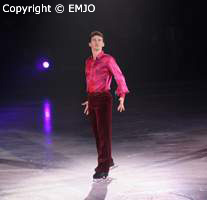 He skated a typical Todd-program, elegant and with spins to die for, but also to a very upbeat rock n' roll number. It was fun to see him do something besides the usual, both programs were great.
| | |
| --- | --- |
| | The last cold spot of the show went to Mr. Perfect Body Yagudin. He made the most out of "Shout" both in skating and audience interaction. The ladies in a special section of the on-ice seats were holding their breath in anticipation, who would get this charming skater on their lap? Hopefully no one lost any sleep over it since Sarah Hughes stole this special moment along with a Japanese lady in a beautiful kimono. It was after all the last of the US shows, and a few pranks were to be expected. |
The Finale simply wasn't allowed to end! The music was almost hauntingly beautiful and the skaters flowed across the ice in all directions and formations. Towards the end it started snowing on the skaters in their silver costumes and it was unforgettably beautiful.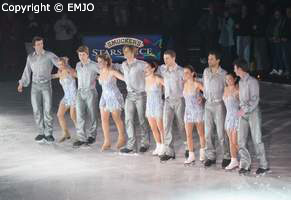 We all agreed we have to see the show again next year. It will be the 20th anniversary of the show and although no details are available yet, we're sure it'll be every bit as spectacular as this year.
We waved goodbye to our American friends and got on our way to Halifax to continue the figure skating adventure. The cast would change somewhat and we had to wonder;
* Who would come out of the box?
* Who would change dresses 3 times?
* And who would skate with the guys to "Mr. Blue sky?"