Alexei Yagudin - The brightest star
Part 1
Interview by EMJO and Susanna
Article by Magdalena Osborne
Photos © EMJO
| | |
| --- | --- |
| | Smucker's "Stars on Ice" is the largest figure skating tour in North America. It features mainly World and Olympic medalists, and most skaters can only dream about ever being part of this grand production. Alexei Yagudin used to dream of skating with the big shots, but with 3 European and 4 World titles, not to mention the Olympic gold, he's now one of the hottest skaters in the business, and has been part of the tour for the last few years. |
The glamorous part of touring is seen by thousands almost every night as the show travels to yet another city, 72 in all. But for the skaters, life on the road is also tiring and demanding. There's little time off as the show tours the US and Canada from January to the beginning of May.
"Skating is my job, I get paid and this is what I can do the best. Being on a tour is not easy, but I love this sport and I just love being on the ice.
When I skated in shows as an amateur, I kept thinking about the shows as being like the Worlds exhibition. Now we want people to remember us and we skate not just in the major cities, but smaller ones as well. It's a job and we do it!"
That they do, and they do it well. The theme for this year's show is "Imagination" and it's been called the best ever by many. Alexei agrees.

"It is a great show! The group-numbers are shorter and the music faster. There are very good transitions and all the skaters have really good solo numbers. Every single aspect of the show is good so that's what makes it great!"
His own numbers are certainly interesting. In the much talked about "Passion", he soares high above the ice leaving the audience breathless. He has the strength and skills to pull it off, but why an aerial act in a skating show?
"I can't do the same things over and over; I have to do something different every year, so this is only for now. And the silk equipment isn't mine anyway; we only rented it for the tour. It's going to be hard to find good numbers for next year because I think I have really good ones now. In a few years maybe I'll find something else as good, but it has to be different and not look the same."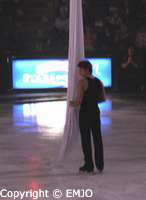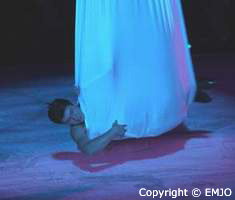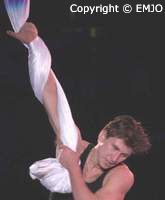 With diversity being the name of the game, the second number set to Otis Day's "Shout" is a perfect choice and a total contrast to "Passion". But is it even better than last year's success "Ain't That A Shame"?
"Definitely! Last year the music was given to me, but this time I didn't like others to pick the music for me, I wanted to choose it myself, and I did. It's also a much better number; it looks more like a real number than what I had last year."
Fans may or may not agree. The hot Russian playing a rockstar is a hit with them any day, and in whatever version, and he always sets off loud screaming and cheering among the audience.

Like last year, former ice-dancing ace and Olympic champion, Christopher Dean is behind the choreography for the group routines in the show.
In his coaching work, Alexei has also fiddled some with choreographing, both for himself and others. Is he happy with the routines in the show?
"It's hard to put it together because we all have different opinions and want different things. I personally wouldn't do one of the group numbers in the show. I chose my two solo numbers and for the rest I am told what to do. Whatever we do, there will always be someone who likes or doesn't like it."
The one thing in the show criticized and discussed the most this year, has been the participation of 2002 Olympian Sarah Hughes, and whether her standard of skating fits in with the rest of the cast. (Sarah took a long break from skating to be a fulltime college student.)
"It's not for me to judge her and her skating. She's a great person, one of the best people on the US tour. If there was a problem the show producers and people who hired her will have to talk to her. I just really enjoyed being on the tour with her."
| | |
| --- | --- |
| | Next year marks the 20th anniversary of "Stars on Ice", which started back in 1986 by Scott Hamilton, and skating fans can expect something extraordinary. Alexei has a contract for another year and will be part of the celebrating. |
"We don't know anything about the theme yet, so it's too soon to plan new programs. But I might use "Moon over Bourbon Street" next year on the tour because I really like it, and I haven't used it that much, but right now I can't say for sure. I have enjoyed the two numbers Alexander Zuhlin did for me, and we might work together again. He called me last spring and said he had some good music he'd like me to try. I didn't have time then, but in the fall I called him back and asked if he was still thinking about that and he said why not, so I drove there. We're not really that far away from each other, and in three days we did the numbers. I'm a person who does everything at the last minute anyway. Last year all my programs were made in August and September, so right now I have a long time to decide."
After the last US show in Portland, Maine, the tour headed to Canada. Some of the cast went along, others not. The Canadian producers took their sweet time to renew contracts; and lost some of the skaters on the way, as they got other offers.
"Well, figure skating in general is not in such good shape right now and it took a long time for some of us to get new contracts, the tour was trying to figure out the budget. I know they wanted to get the Chinese pair (Shen and Zhao) but he is injured. And it's sad that Anton isn't here cause I think he and Elena are one of the greatest pairs. If I hadn't been signed I would have gone to Russia. I only have a one year contract now, so I don't know about next year."
On tour weekdays or weekends, and even holidays, all look pretty much the same, as do birthdays. Alexei turned 25 on March 18th and had some cake backstage with the rest of the cast, but as far as celebrating...

"I did a show. (In Dayton, Ohio.) There wasn't much celebrating because we had 3 shows in a row, but I got some gifts from fans."
The multitalented skater always has a lot going, and a couple of years ago, coaching was added to his wide range of activities. He traveled to several competitions with junior skater Andrei Griazev, as well as helped his coach Tatiana Tarasova at the rink in Simsbury, Connecticut. Andrei has since stepped up into the senior ranks, and has competed at major events like the Europeans and Worlds.
"If I'll be in Simsbury this summer, I'll help everyone, including Andrei.
What he needs the most right now is confidence. I don't know my schedule for the fall yet, but if there's a competition for him and I'm free that week, I'll go with him."
Simsbury is an exciting place in the summer because so many skaters from all around the world go there to train.
"This summer it will be Johnny Weir, Timothy Goebel, Shizuka Arakawa, Anette Dytrt, Andrei, maybe Brian... pretty much the same people as last year."
Alexei has also been approached about doing seminars this summer, but avoids any detailed future talk. Nor does he have much to say about the issue with the French Federation wanting to terminate his help, but the collaboration with Brian Joubert will continue.

"I'm talking to Brian, not every day but we're discussing plans and I'm planning on working with him, either in Simsbury or in France, at this point I don't know. But I haven't talked with Brian's coach, I guess she doesn't speak much English... but I'm sure it'll be fine. And I'm still learning French!"