Alexei Yagudin - The brightest star
Part 2
Interview by EMJO and Susanna
Article by Magdalena Osborne
Photos © EMJO
In the fall of 2003, Alexei gave up his very successful eligible career because of a hip injury, and took the step into the pro world. It was a hard transition at the time, but things have changed.
| | |
| --- | --- |
| "Honestly, if last year I was still thinking about competing, I'm not anymore. Now I just enjoy the tour and enjoy being a professional athlete. It's like I have forgotten what it's like to win eligible competitions. Instead I'm thinking about getting good show programs for next season. I have moved on and I'm really glad I passed the period in my life when I was still thinking a lot about competing. It was upsetting at the time and I wanted to go back, but now I'm glad I didn't. I don't really miss it; I only miss seeing my friends." | |
He doesn't have to miss all of them. He gets around meeting people and doing shows all over, and last September he was invited to skate in the Artur Dmitriev show in St. Petersburg. It was a very special opportunity since he hadn't skated in Russia after the Olympics, and he wasn't sure what to expect.
"I was really scared because I hadn't been there in such a long time and I didn't know how people would react, but it was really, really good. It was unbelievable even! I had hoped that was going to happen, I know how Russian people enjoy their own skaters. If I'm invited, I'll go back there and skate again. The Infinity Ice Opera will play this fall and I'm in it. The music was written especially for it, but all I got so far was my own piece."
European fans would love some good news about his participation in more European shows, but any inquiries about that, or any upcoming shows (Japan, SOI Europe) were left without a definite answer. Not even the Disson shows this fall were confirmed.
"I asked them not to confirm me yet, because I don't know what my plans will be for the fall."
Rather than risking more "I don't know" answers, the questioning went on to something he was much more keen on discussing; the World championships in Moscow.
"I saw a lot, but not all of it. I did watch all of the ladies events!"
(Alexei, we expected nothing less!)
| | |
| --- | --- |
| | "The men were pretty bad, but the ones who fell the least were in the top. I think the Code of Points is a good system. It's not perfect yet, but in general I think it helps move figure skating forward. To be able to medal you have to be a more complete skater and put high scoring elements in your program. Not all skaters can do that." |
The men's competition landed two skaters on the podium who don't have quads, and some people grumbled.
"I think medaling without a quad is fine, if everything else is good. Some skaters have quads but mess up simple things like triple jumps or spins."
The new judging system calls for a technical specialist, could he consider being one?
"Sure, why not? It's not on my priority list, but yeah, I'd go for it!"
There was no Russian man in the top, and Alexei's opinion of the future for Russian skating is clear:
"In about a year, I believe Russia's skating reign will be over. There aren't really any more ice dancers or girls or men (ready to take over the medals yet). Even the top pairs will soon all be Chinese. Russian skating will no longer dominate and it's sad, but it's also about time Piseev took responsibility for what he's done to the sport in Russia."
During the fall Alexei skated in a couple of pro-competitions, where the judging differs from eligible events. Is it better or worse?
"It's not fair for me to judge the judges. My job is to skate. Last season I was third in a pro competition (Word Team Challenge). This year I won the men's in "Ice Wars" and "World Team Challenge", so I just skate, I don't have to think about the judges."
Next season is another Olympic year and after the men's event someone else will be the reigning champion. How will that feel?
"My (reigning) time has already gone and I'm happy with what I do now. I'll forever be Olympic Champion; no one can take that away from me. I keep my medal in a box in Tatiana's basement, but I hardly ever look at it. We're all moving on and there will be another Olympic champion and another dog and another pair of shoes, life goes on! But I will be at the Olympics because we'll have a 3 week break from the tour."
Memories from the big win were shrugged off as old news that didn't need to be discussed, and Salt Lake City has not been a frequently visited city.
"I think we did a show there about a year after the Olympics, but I haven't been there since."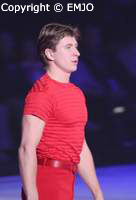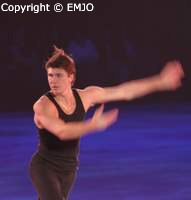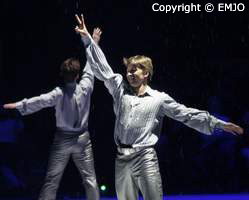 Besides the competing, touring, coaching and choreographing, Alexei has also found time to dictate his life's story so far. The book "Overcome" was published in Japan last December, and has been doing well. The smile on his face confirmed how pleased he is.
"Yeah, everything is great, it's selling well. I just love the book; it has so many great photos. I didn't dare hope it would turn out so well."
The Japanese readers are impressed, and there are plans to release the book in Russia as well. But many non Japanese or Russian speaking fans are hoping the book will be published in English.
"It looks like it might come out in Canada before Russia, but I really can't say."
Japan is almost becoming a second home to Alexei as he's done several shows a year there in the last while. The US "Stars on Ice" tour even went there to do two shows last January, and included some of the Japanese top skaters in the cast. Alexei had promoted his book at a special reception and got to spend New Years in Japan, which was a very different experience.
"It was interesting because the Japanese don't really celebrate like we do. They have a dinner and the next morning they go to churches to pray and I had rehearsals the next day so it was hard to relax. In Russia we start celebrating the American Christmas on Dec 25th and then the Russian New Years and then the old New Years and then Russian Christmas. We keep celebrating for weeks!"
He spends a lot of time on the road, and when he's home in Connecticut he's "homeless", storing all his belongings in Tatiana's basement. He'd bought some property and had plans to build a nice house to live in, but doesn't appear devastated that it fell through.

"The state wanted to buy the land. I'm happy I bought that property cause I'll make a lot of money selling it. I'm interested in real estate and I have a lot of property. But I don't think I'm going to stay in Simsbury forever, but if I'm there this summer I'll rent something."
Focus also fell on some of his other belongings, like the two Mercedes and his dog Lawrence.
"I only have one car now and it's sitting in the garage. I gave the other away as a gift."
He gave away the convertible??? The interviewer was shocked but Alexei smiled.
"No, no, it was the SUV. And my mom and grandma, they just love the dog and they can't live without him, so most likely he'll stay in Russia."
He wouldn't disclose much about the summer, but some weddings are coming up.
"Todd (Eldredge) will be married in June so I might go to that. And my mother...well, they don't have a date yet, they'll move it to later, they don't want to rush."
The topic of fishing also made him smile, but when asked if he'd be able to find any time for it during the summer, the answer was "When?" Still, he talked about his biggest catch.
"I caught a Sturgeon in Vancouver once and it was so big we couldn't hold it. (Showed with hands how big it was, well over a meter!) I have pictures! But we had to let it go..."
| | | |
| --- | --- | --- |
| | | The interview came to an end as the show in Halifax was only hours away. But before parting we had to know something, something that amuses Alexei and seems to keep some fans awake at night. The last three summers fans were shocked either by the butchering of the star's hair, or by the absence of scissors, like last summer. What kind of hair surprise is planned for this summer? |
"I'm a really moody person and Anton and I were thinking of shaving our heads after the tour. But I was going to Canada and it would be impossible to skate here with a shaved head, but if he'd gone too we would have shaved our heads after the Canadian tour. You never know what I'm going to do!"
That's the truth for sure! Alexei is always on the go and constantly exploring new possibilities. He will surely find new ways to make headlines and continue to mesmerize audiences everywhere, as well as making an even deeper mark in the history of figure skating.