The many dimensions of an International Ice Gala in Italy
by Mireille Geurts & Helga Dobor
Photos © Olivier Brajon et al
| | |
| --- | --- |
| | When Tony Moffa and Romain Gazave agreed to organize an ice show in Lecco on December 26th, both guys were facing an enormous task. Arranging a show in less than 1,5 months is hard enough, but to hold it on the day after Christmas, or Boxing day as the English call it, seemed impossible. But impossible is not a word that exists in either Romain's nor Tony's dictionary. |
Who are these two guys anyway? Romain Gazave* is a French skater who also plays the piano, or a pianist who also skates, take your pick. Upon turning professional, he developed his own unique act featured in "Hot Ice!", as well as in many other shows. He had already collaborated a few times with his colleague and friend, Tony Moffa. Tony is Italian and a former skater who now owns his own event organizing company "Show-Case". Galas like the Castello Sforzesco, Milan, the Festival of Boscochiesanuova, Catania and more are already part of the company credentials. So as soon as Tony was approached about arranging this ice gala, he contacted his friend Romain, with whom he had already worked, and asked him to help out.
| | |
| --- | --- |
| Romain Gazave | Tony Moffa |
They started the hard work, knowing it would be a difficult, but rewarding mission. Figure skating is a passion for both and nothing could be more up their alley. Luckily both guys have many contacts in the business and even with all the obstacles they faced, they managed to get everything arranged in time and even come up with an awesome cast. Combining the best in figure skating as well as the best in show acts, a concept was soon formed.
Lecco is a beautiful tourist town, approximately an hour's drive from Milan in Northern Italy. The Ice Gala will be held in the Palataurus arena.
What will make this Gala special and worth attending? Romain explains:
"To me the cast is near perfect, because it's a good mix of different things and features some of the best people in their field… That is not only great for the audience, but also for the performers themselves. They are able to meet and learn from each other." A lot of the programs will be on music of movies or musicals, but also popsongs aren't shunned. So expect a diversity of exiting and breathtaking acts!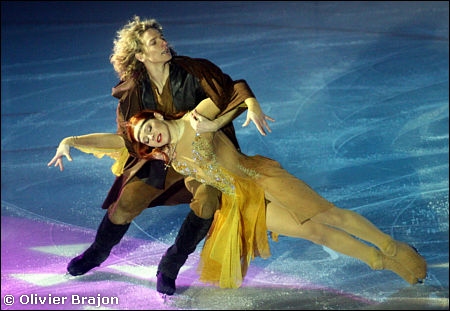 The biggest stars are the French ice dancers Marina Anissina and Gwendal Peizerat. This legendary ice dance team from France has won everything, including Olympic gold in Salt Lake City. They are known for very interesting and different lifts.
Even though Gwendal's initial reaction was: "On Christmas day? You must be joking??!!" But they agreed to come and it wasn't just because of (the friendship with) Romain and Tony. Gwendal and Marina love the Italian audience, and at this gala they will not only perform a brand new exhibition program, but also dust off an old one from their eligible days.
| | |
| --- | --- |
| Stanick Jeannette | Laurent Tobel |
The show will feature two male skaters with a lot of personality. Stanick Jeannette is a two time bronze medalist at Europeans, and a real artist who always displays very entertaining exhibition programs. Laurent Tobel will offer a great comedy act, but is also an amazing skater to watch live. He has real presence on the ice and is a good technical skater. Both will perform awesome acts, portraying a famous movie character….
The audience will also enjoy Ania Rechnio*, who was once an aerobics national champion as well as placing 5th at the World skating championship back in her eligible days. Now a professional, she will be performing to a Britney Spears song, skating with a ribbon (like used in rhythmic gymnastics) which is a very good transition to the flying acts.

For these acts two of the best people in their business were contracted. Jen Jennsen will perform twice, an unique and powerful aerial/acrobatic combination suspended in the air and using a cube.
Yuliya Popova will use a silk in the flying act opening the second part of the gala on the music "Seasons Change" from the award wining Show "ECLIPSE"; the show that will feature her again from June to November 2006.

The gala is in Italy, so Italian skaters couldn't be missed. Junior skater Stephania BERTONE as well as the artistically very interesting Valentina Marchei will give acte de presence. As 2004 Italian champion, worldscompetitor as well as a performer in many galas and shows all over Europe, she is very much looking forward to be skating in a show in her own homecountry.
Another dance team has been added to the cast; Nathalie Pechalat and Fabian Bourzat of France. Romain is personally a fan of them, and on his request, they will perform their exhibition number using chairs on the ice. And maybe even their version of "Cats" - in full make-up. Or will they show the audience their new freedance? Let this be a surprise!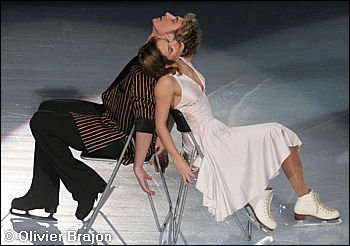 The gala will have a group opening and closing number, although there is only one day to put it together since the performers won't be arriving until the evening of the 25th or even the morning of the 26th. But the experienced Romain has already worked hard on the choreography and music, and has visions of how it is supposed to look. There will be a classic opening, so more time will be focused on the sophisticated Finale. You will be kept in suspense a little longer about this, but the eerie and energetic music can be described as 'Cirque du Soleil meets the 5th Element'.
With such an amazing cast and concept, who wouldn't want to go and enjoy this show?
For tickets or information call 0341 423359, mail info@palataurus.it or visit www.palataurus.it
The people bringing you this show love their sport or profession, and all are willing to put aside their own Christmas plans to perform. Could there be greater dedication?
And speaking of dedication, with his amazing piano skating act, why will Romain himself not perform in the show? "Because if I were performing, I wouldn't be able to take care of the others or work as much to organize the show!"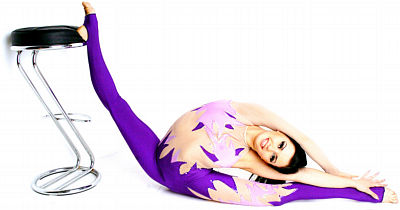 Yuliya Popova, photo
by 'StarStudios'
* Romain and Ania will be performing for the well known
"Hot ice! show"
in 2006 from March to November.