The Creating of "Infinity"
A chat with Anna Solovieva, singer and composer
By Vera Alexandrova
Photos © EMJO


The crew at Absolute Skating is happy to congratulate you on the long-awaited first performance of the Infinity ice-opera!
The genre "ice-opera" is anything but common. What is the story behind your idea?
| | |
| --- | --- |
| The story of "Infinity" started four and a half years ago, when my co-writer, Mikhail Krylov, (the man behind the libretto and the lyrics) and I decided to write an opera. Until then we had mostly worked on songs, yet one always wants more - something new! About that time a good friend of mine, who works with air transport services, told me that some skaters from St. Petersburg – Alexei Yagudin, Alexei Urmanov, Maria Petrova and Alexei Tikhonov - are clients of his company. At that point the names didn't mean anything to us; we didn't care about figure skating and didn't follow the results. But soon some competition, the Grand-Prix in St. Petersburg if I remember correctly, was shown on TV. We watched it quite by chance (yes, there's nothing accidental!). I wasn't aware that figure skating could be so inspiring; it's real art! It's dancing, but the ice gives more freedom to express feelings, and to portray character and image. | |
We decided to make a video clip of a song called "February snowstorm" and soon the idea transformed to a desire to make an ice-opera, which we then started to write. The genre is contemporary opera. The "ice" part means it's written not only for singers, but for skaters as well. This is what sets it apart. If I had written an opera for a stage, both the music and the transitions would've been different. To perform on ice requires more dynamics and contrasts than on a theatre stage. And by the way, the song I mentioned, "February Snowstorm", was shown on ice. Elena Sokolova, World Silver Medallist, choreographed a program to it.
How did you manage Alexei Yagudin's participation?
| | |
| --- | --- |
| | When it came time to consider skaters for the cast, I started watching tapes from competitions and exhibitions. Alexei Yagudin's skating didn't just impress me, it made me realized that he has God's gift, he skates inspiringly in a way no school can teach. Such gift is a wonder. We started to meet people from the figure skating world, but when they learned we wanted to invite Yagudin, most of them said it was impossible. He would not agree because he was the Star, he had a very busy schedule etc. |
Still we decided to talk to him. And he was the first skater committed to be in the opera, and he has supported us through all the 4 years! Whatever obstacles we encountered, he never turned his back on us, he was always on our side. I consider this first performance our joint victory! He's a great person and man of his word, and we are grateful to him for staying with us.
What was the starting point of the project, the music or the lyrics?
The work on this opera was unusual in that the story and the music were written simultaneously. Mikhail Krylov and I would meet, have coffee and let our imagination run free; we imagined what we wanted to see and hear. Mikhail suggested using the 4 elements as the main characters, so I wrote some music and showed it to him. He then wrote the lyrics and the story and presented it to me. That's how we created "Infinity". Of course there were a few changes in the story later on, but nothing major.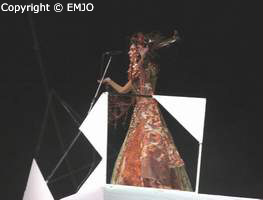 Now the opera needed staging; it's a performance that requires script and direction. And, of course, the most important part was the ice choreography made by Igor Bobrin. He's one of the most intelligent and amazing people I've ever met. A year and a half ago, Mikhail and I learned that Igor's "Theatre of Miniatures on Ice" was coming to St. Petersburg. We approached him after the press conference and gave him the libretto and a CD with a few arias, so that he and Natalia Bestimjanova could listen to them. That was the beginning of our collaboration. Later we met again in St. Petersburg, and it turned out we had mutual friends. Step by step the work progressed. Igor Bobrin is a genius as a skater, actor and choreographer, which is such a rare combination. Most people are good at just one thing, but he has an abundance of talent. Natalia Bestimjanova is the brightest star. Andrej Bukin is a real personification of the Knight, the Warrior. I always knew they were great, but when I saw them on ice my impressions were even stronger. When I watch them skate I cry or laugh, I feel nervous or happy. Their skating evokes my emotions. And they are beloved, not only in the theatre, but by the whole production group, because they love, appreciate and care for the people they work with.
| | |
| --- | --- |
| Now, let me tell you about an interesting moment with Bobrin. He, himself chose the part of the materialized Fear, he liked it a lot. He choreographed the part, but the director asked him to redo the arrangement because the first version was too ironic, and the scenario required something frightening. This resulted in a small conflict between Igor Bobrin and Vladimir Popov (the director). Bobrin preferred the old version and Popov the new one. It was decided just during the first show which version would be played. It was Bobrin's. | |
Alexei Yagudin appears to be the biggest star of today's show. Are there any other figure skaters you would like to invite?
I am happy to work with Igor Bobrin, Natalia Bestimianova, Alexei Yagudin, Elena Vasyukova, Valery Medvedev, Vlada Kovalenko, and with everyone from Igor Bobrin's "Theatre of Miniatures on Ice", they have the right attitude there. It's hopeless to try to bring eligible and professionals together. It's not an exhibition show but a theatrical production that requires numerous rehearsals and thus a lot of time. Though, if we could, we would invite the skaters we wanted to work with back when we started – Maria Petrova and Alexei Tikhonov, Alexei Urmanov, Elena Sokolova, Anjelika Krylova and Oleg Ovsyannikov, Alexander Abt… We'd have enough roles for everyone!
Go to the photo album.