Skating in Sweden - Up close with Lina Johansson
Part 1
Text by Magdalena Osborne
Photos © EMJO

The European Championships are over and Lina Johansson, who made her debut there, and her coach Ela Magnusson are back in their hometown of Malmö, Sweden. It's been a long week and although she's not at all happy with her performances, 17th place is not bad for a first timer. With her wonderful speed and spins many agree she has the potential to become a major contender.
| | |
| --- | --- |
| | Elzbieta Magnusson, more commonly known as Ela, has been Lina's coach since the beginning. Figure skating is her life and her bubbly personality shines through in everything she says. Her own background in skating started in her native Poland where she skated as a single. At one point she placed second in the Polish Nationals, but gave up skating to pursue her studies in Middle Eastern history and even spent a few years in Irak where she had no possibility to skate. |
But upon returning to Poland the urge to lace up the skates once again was hard to resist, and she accepted an invitation to be part of the "Holiday on Ice" tour. She skated with them for a few years and toured with, among others, Salome Brunner, Nicky Slater and Norbert Schramm. When the tour went to Sweden, one of the crewmembers at the arena, a Swedish electrician, made eyes at Ela. They married and settled in Malmö where she started as an assistant coach in the local figure skating club. After a couple of years she was head coach and 6-year old Lina became one of her students.
What is your background in coaching?
I got some coaching training in Poland, and when I got married and moved to Sweden I had some additional training here. And the ISU sponsors some of the Swedish skaters, Lina is one of them, so I have received some further training. I've also had some training on the Code of Points even if I've learned most of that myself.
How many students do you have altogether?
Currently I coach about 45 children and youth; there are 10-12 in each group. The younger ones almost all have siblings skating too. I coach full-time, but since there is no ice here during the summer I'm like any other teacher, it's mostly seasonal work.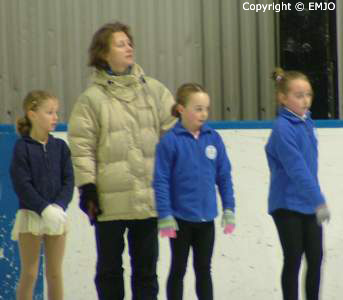 What happens to the club when you go off to competitions with Lina?
The club has another coach so it works out fine. Both of us are on the ice with the kids during practice and when I'm gone to competitions he does it alone.
Do your own children skate?
My daughter does, she practices every day and loves it. My son plays hockey, and my poor husband does neither. He'll never forgive his parents for not getting him started in skating!
What is the rink situation like for the club?
Well, since about a year back we do almost all of our training at the practice rink by the main arena. Once a week we have to train at a rink in a different part of town and every once in a blue moon we get to use the main rink. Malmö could use another rink for sure... There are plans to build a new arena for "The Redhawks" (the Malmö based hockey team) and it would be great for us. What we really need is a rink that's open all year around. After May there's no ice we can use anywhere in the city.
Is it expensive to skate in Sweden?
Our elite students pay a little over € 100 per month for training, which is nothing compared to the US, or even Finland.
What do you remember from Lina's early skating days?
She was a charming child, totally fearless and very fit and flexible. She wanted to learn and was like a sponge and soaked everything right in. When she was about 10 years old she started to stand out, and that's when I realized what she could become.
What is her greatest strength as a skater?
She's so strong and she has a gift from God in her legs!
You have coached Lina for 10 years, how do you keep her motivated?
She has a competitive spirit, but I try to always listen to her and never forget that she's an individual with emotions and opinions. But she's fairly easy to deal with, we don't always agree on things, but we get along fine.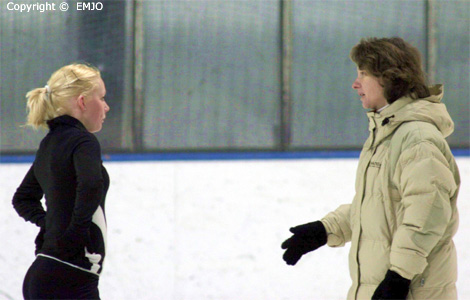 Lina is competing as a senior at major competitions now, is she getting more ice time?
She usually gets what she needs, but for the rest of the students it's not as easy. There is an increased interest in skating and I'm sure her success has something to do with it. It's great that the sport is becoming more popular, but many kids underestimate the amount of work required to become as good as Lina. They think they can do it at home on the couch... But right now the club can't even take on all the kids who want to start skating and that is most unfortunate.
What are Lina's programs this year?
The short program is "Romeo and Juliet". At first we didn't plan on a new short program, but between the new time limit and the Code of Points, there were so many changes we though we might as well. I liked the music and asked Lina to listen to it. I know it's been used by many skaters before, and it's a little sad, but everyone does it differently.
The long program is to "Otonal" by Raul Di Blasio. It's been used by many also, but it's one of my favorites and has been for years so I ordered the CD from the US. Sometimes I give Lina a lot of music to listen to, but she told me this one made her heart ache because it was so beautiful, so we went ahead with it. There's so much music I like but I never tell her which one I prefer, I let her choose.
How involved are you in the choreography?
Well, Hanna Gradevik, our club choreographer, has worked with Lina for years and knows her inside and out when it comes to moves. And I knew Salome Brunner since we skated in the "Holiday on Ice" shows together. Salome came here and made some changes to the program and then we've met again and she's made some more changes. Lina has had problems with a sore foot during the fall and wasn't really up to training with Viktor in Russia early in the season, so we went to Salome in Switzerland instead. And it's been a successful collaboration; Salome and Lina go well together. Lina usually skates to slow music in a classical way, but Salome put some very different things together for her. It paid off well at Skate Canada; Lina's technical points came close to those of Kostner and Sebestyen. But the artistic part fell behind so we've been working on that. But I don't do so much on the choreography part. I place the jumps and make suggestions on changes here and there until we're all happy. And we try to be a little different from everyone else.
How is the Cope of Points working for Lina?
One has to be aware of it all the time, but sometimes it's still a mystery. I must admit I didn't understand some of the judging at Skate Canada, I thought more attention would be paid to edges.
What was Skate Canada like?
It was a truly amazing, Lina wrote so many autographs and there were about 5000 people watching the practice sessions! She didn't do as well as she wanted to, but it was a good experience.
And Lina is now the Swedish senior champion!
Yes, finally. I've been negotiating with the Swedish Figure Skating Association about the rules for a long time, but they wouldn't budge. Look at Miki Ando, she competed as a senior long ago, yet Lina wasn't allowed to. Why can't the rules be the same everywhere?
Do you get nervous when she skates?
Oh yes! I try to keep still, but I can't. I watch closely and once I got eye contact with her, and then she fell! I'll never do that again...
What happened at Europeans?
It was a nightmare! The practice sessions didn't work out well and Lina was very unhappy, Viktor (Kudriavtsev) was even trying to calm her down. Her foot was acting up again and she just wasn't herself and we'll try to put it all behind us as fast as we can and move on. All athletes have down-periods and it can only get better from here. We'll skip the Nordics and go to Moscow again as soon as we can arrange it, and concentrate on preparing for Worlds. It serves as a qualifier for the Olympics; she has to make the final.
Do you watch her competitors?
Yes, definitely! I keep a very close eye on them!
What did you work on the most before Europeans?
The consistency of the jumps. Since Lina couldn't jump so much earlier in the season because of the foot injury, she lost a lot. Her foot is still not well.
Why do you think there are so many good lady skaters from Finland?
Finland has had many good ladies for a long time and that makes it easier for the new ones coming in. There's also more of an East European mentality there. I feel Susanna Pöykiö should have won Europeans.
Which coach do you admire the most?
Viktor Kudriavtsev. When Lina trains in Moscow, I go with her. I'm familiar with the routines there and I speak Russian. I hated having to learn it as a child, but now it comes in handy.
What is your experience bringing skates on airplanes?
Until this season we never had any problems, we were always able to sweet-talk the cabin crew into allowing the skates as carry-on luggage. But by the time we went to Oberstdorf a plane had been blown up in Russia and now it's flat no. So far we've been all right with the skates but we always bring a spare pair just in case. But the hockey stick I bought for my son while in Canada disappeared and was never recovered.