Salomé Brunner – Queen of grace
Part I
Text by Magdalena Osborne
Photos © EMJO
Millions saw her in the Kiss and Cry on their TV screens, as the winning score for Stéphane Lambiel unfolded after his freeskate. He was then crowned the men's World Champion in Moscow, surrounded and supported by his coach, Peter Grütter, and his long time friend and mentor, choreographer Salomé Brunner. Never boisterous or flamboyant, but rather a silent but solid support, she prefers to stay in the background, out of the limelight. She doesn't give a shy impression, but one of deep humility, natural grace and kindness.
And if the saying "Life begins at 40" holds any truth, she has just begun living. Still, she has already accomplished so much, and like any coach/choreographer, she has her own skating story to tell.
"I was born in Zürich, Switzerland. I'm the youngest of 3 girls, and my Mother brought all of us to the rink. I liked it right away so much I wanted to skate several times a day! I started as a single, but soon I pair skated as well. We became the Swiss novice champions, which wasn't so difficult (since there wasn't much competition). I also made Swiss junior champion as a single, and I skated singles and pairs at the same time for a few years; I even competed as both in some competitions. In 1970 I started ballet dancing, and through the dancing I realized that I liked ice dance better than pairs, so eventually I switched. I was too tall for my pair's partner anyway, he couldn't lift me well. We tried to make him stronger, but it wasn't working, so the last 5 years of my eligible career, I was an ice dancer. I went to Worlds in Ottawa with my ice-dance partner Markus Merz in 1984."But skating wasn't the only thing that kept her busy. In 1981 she enrolled in a professional dance education in Zürich. It had a classical base, but she also learned other styles like modern dance, flamenco, jazz and tap.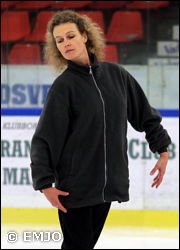 "I danced during the day and skated in the evenings, it was a physically demanding time. I wanted so much to dance, but back then a professional career in dancing wasn't the thing to do. Since I was 15, all I wanted to do was dance and skate, it was my only interest. The school had its own dance company, like a dance theatre, and I was in it. We performed on stage, and we went on tour for 6 months. That's when I got the offer to skate in the Torvill and Dean tour, which was a little bit like Stars on Ice, and we toured big parts of the world. I was on the tour for two years with people like Lea-Anne Miller, Kelly Johnson, who is now a choreographer in Toronto, and John Thomas, they were a Canadian dance team. We had dance and jazz choreographers, and it was such a wonderful experience. But then Christopher Dean broke his hand, and the tour was put on hold. We were told it would continue, but that didn't work out. Some of the cast were experienced enough in show life to look for other skating possibilities, and some of us were inexperienced, like me, and we waited. I waited a long time, and then I could join the Holiday on Ice Company. Some of the others had joined too as we all felt we were not done with our skating yet. I enjoyed the Holiday on Ice tour, it was also a great experience and we traveled all over. I went to Sweden and to the Globen arena in Stockholm when it was still very new. It's still an impressive arena. It was a great time, but it would still be a while before I started choreographing.
| | |
| --- | --- |
| When we were on tour we went to see many performances in our time off, and I had the opportunity to dance in many dance schools. I had a chance to see a lot since we were traveling all the time. We also had a dance class every day, either at a school or in a hotel convention room. During the last year of the tour, I met my husband in Mexico City. After the tour ended that year, I didn't go back to it, and my husband moved to Zürich. Our son, who is 5 years old, skates too, but he's not sure whether he wants to be a hockey player, a figure skater or a musician, like his father." | |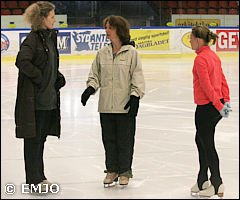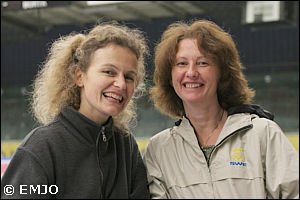 When I met with Salomé she was on a short visit in Malmö, Sweden, to work with Lina Johansson. (At one time Salomé and Ela Magnusson, Lina's coach, were in the Holiday on Ice Company together.) She'd come alone thought, without her son, and when I asked her about him, she smiled.
"Sometimes when I travel he comes too, like usually to Sweden, just not this time. But for the summer training with Stéphane, he is there with me. And when it's not working out, family and friends will take care of him. But maybe now if he gets more serious about skating, it'll be easier to have him along. He will be getting some lessons from Peter this summer."

| | |
| --- | --- |
| It was truly inspiring to watch Salomé working with Lina. She not only explained the moves, but actually showed them on the ice, and it was done with such grace, Lina confessed it made her feel clumsy. Not that I agreed with her, Lina couldn't be clumsy if she tried, but most people would look and feel that way next to Salomé. | |
Time flew and in less than 2 hours, the first minute of Lina's new free program was put together. They continued after our interview, and when Salomé left the next day, the whole program was outlined and Lina could start practicing it on her own. Salomé explained that she likes to visit her skaters if possible.
"When I start putting the program together, I like to have both the skater and the music on the ice, because then the music sounds different to me than when I'm at home listening to it. I usually get the music already cut, but Lina had sent me the whole 6 minutes with some ideas for the jumps and the spiral sequence. I wasn't so thrilled about the music at first, but that happens a lot. Many times my idea of music for a skater is different than theirs, but what the skater wants is important. You can't really oppose the music choice of a skater, because even when they are only 15 – 16 years old, they have many feelings connected to the music. The most important thing to me is that the skater loves the music, because then they can really do something with it. But there are times when the coach will say that this is not working, and then maybe we'll change the music, but usually we can find a way to make it work. There's a solution to most things!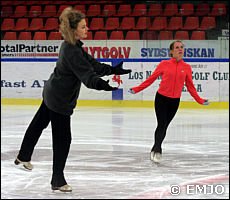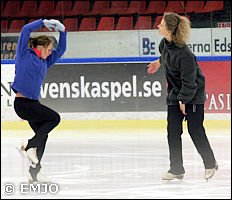 | | |
| --- | --- |
| | For Lina I have this vision to do something cute, funny and a little bit chic. That's what I see for her right now. We did a show program last year and she picked up on that style very easily and I liked it for her. (The program was set to Robbie Williams' Rock DJ.) Now she sent me 2 serious programs, and we'll see if she'll like my suggestion to have one serious and one funny program." |
When asked about preparing programs at home, Salomé cringed a little.
"I actually don't prepare much at home… Whenever I try, it ends up getting changed anyway, and that takes the motivation away. I can have a feeling about the music, and sometimes there will be a part that requires a particular move or step, and that I prepare, but that usually comes later in the work. Then there are parts of the music where no one has any idea of what to do with that moment, and then I need preparation too. It's all a chemical thing between the skater, the choreographer and the music." The chemistry part was easy to pick up on, as was Salomé's ability to emphasize Lina's skating strengths.
| | |
| --- | --- |
| | "Lina has such beautiful soundless stroking, and great extensions. She's very flexible and strong and has classical lines. Those qualities can be used perfectly with the music. And it helps me to have a dance background since Lina is also a very good dancer. |
"This is now the third year we work together. We had a try-out year where I only decorated the programs she already had; she did very well that season. I think this past season was difficult for her, it was the first time she skated as a senior only, she had the injury, and big competition from other skaters. She's also maturing and her body's changing. But she's very young and still has a lot of time and I believe she can go as far as she likes!"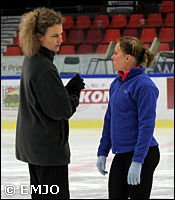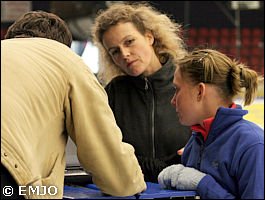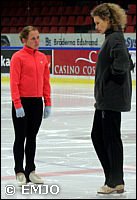 'Cutting the music and listening to the result'
Creating a new program is certainly a lot of hard work for everyone involved. Many skating fans probably don't realize just how much goes into the programs they get to enjoy.
"It takes about 8 - 10 hours to make a 4 minute draft. Sometimes programs change in the process, but not so much with Lina. She takes everything very seriously and wants to be able to do all the steps the way we constructed them. Stéphane is the same way. He never wants to change his programs; he wants to practice them so much that he can do them the way we planned. But there are a lot of skaters who try to adapt the program so it's technically easier for them. Stéphane told me once 'I can only get better if I do things that are hard for me'. That's one way of looking at it…"

Go to Part II