Swinging with SKY
Part I
Text © Mireille Geurts & Deedee
Photos © Joy
| | |
| --- | --- |
| | "Swinging Movies" – This was the title of the 5th annual show of the figure skating club SKY. It was held on April 10th in Tilburg, the Netherlands. SKY organizes this icegala at the end of the skating season with the aim to turn the spotlight on the amazing sport of figure skating, and with special attention on their own members. To spice up the cast they usually invite some national and international guestskaters. |
The preparation for the show started almost a year ago. Many volunteers have been working on themes, costumes, choreography etc, and over the last 26 weeks, all the members of the skating club have been practicing very hard to be able to present their programs to the audience. And this particular Sunday was the day everyone had been waiting for…
Unfortunately the organization had to deal with a sudden crisis as one of the guest skaters, Kevin van der Perren, suddenly canceled his participation only 9 days before the show. Kevin, who trains in Tilburg at times, is usually always present and very much loved by the audience. Thus this was quite a setback. It's very hard to rearrange everything so close to show time, and the organization was happy to find a replacement in Kevin's own training buddy Wim Hermans. When announced to the audience that Kevin was injured and Wim would take his place, the nice people of Tilburg showed their appreciation for Wim with big applause. Wendy de Coster, another Belgian, was also a guest skater. She is a frequent returning star at SKY. Multiple Dutch Champion Karen Venhuizen gave "acte de presence" as did newly crowned bronze debs medallist Jamie van Besouw and the synchronized skating team "Skylight".
Most of the Absolute Skating show reviews are the "Champions on ice"/"Stars on ice" kind of shows, or closing exhibitions from international events. This gala cannot be compared to those, nor are we trying. But we want to describe what this show was all about. It was a club presentation by all of its members, so the participants of the skating club were aged 4 to 18. Of course it was highlighted by the guest skaters and their individual performances, but the average part of the show consisted of groups of children in costumes skating to rehearsed programs. It wasn't 'Stars on ice' by a long shot, these are all kids, and the biggest aim is to have fun. But fun they had and it showed! All the skaters seemed to have the time of their life, and that rubbed off on the audience.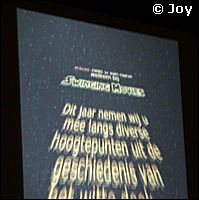 The show started 15 minutes late since there were many handicapped or otherwise less mobile people who had to be helped to the second level, due to problems with the elevator.
As might be obvious the theme of the show was movies. To be precise, movies mostly known for their music. But other music was also used, all fitting the chosen theme.
| | |
| --- | --- |
| It started with a "Star Wars Robot" entering the ice walking/slipping a few meters and pointing at the screen where the film started. As in any good production, there was an introduction and some credits, and then the real show kicked off with the very fitting "New York, New York", skated by lots of girls with hats. It was very nice that all of them got to do some individual moves too, not just the 'basic group steps'. | |
The movies had been divided into themes and each theme got its own section in the show. There were 3 movies and usually 3 corresponding programs. At the beginning of every section a montage of the 3 movies was shown, whereafter the skaters transformed it into an ice presentation.
| | |
| --- | --- |
| | The first theme was "Nostalgia" and Karen Venhuizen skated to "All that Jazz". Being used to Karen's more serious programs, this was quite a nice surprise. She enjoyed herself very much on the ice, which was a pleasure to see considering how hard this season has been for her. We sincerely hope she can keep it up. |
While the music from Laurel and Hardy played, a taxi appeared on the ice, and two men stepped out; guest skaters and comedians Marijn Kooijmans & William Spijkers. Wendy de Coster was supposed to be photographed with one of them while the other took the picture. Well, you guessed it, these guys are comedians and there was lots of falling, even through an aluminum-fabricated mirror and the photo never happened. A fun tidbit, one of them was skating to "friese doorlopers".
The last program of this section was "Singing in the rain". Girls came on the ice dressed in bright colored rainclothes, with umbrellas. One of them was dressed in black and did some individual moves, including a single Axel and a summersault. The others were playing around and even fell simultaneously on their buts (rehearsed!) and rubbing the dirt off, cute!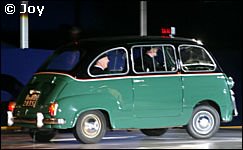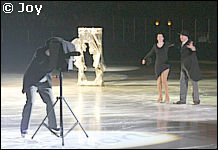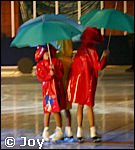 The second theme presented was "Westerns". Of course it had to include 'Once upon a time in the West'. Sky's own Robin Ramakers in a cowboy outfit performed her solo, with lots of spirals and ended up sitting at a crowded table, probably in a saloon, watching the second program; girls doing the CanCan in multicoloured dresses.
The last part of this theme started off with gunshots in several sections of the audience telling us that Cees van Dijk was present, skating to "Rawhide", accompanied by line dancers. Cracking his whip he ordered the skaters and dancers around and shot his gun off one more time at the end. We kept smelling the gunpowder for several programs after.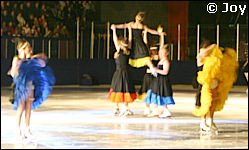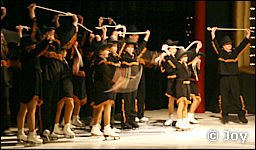 The next theme, "Adventure" was a great treat for skating fans, because of all the memories the music brought us. The Skylight team skated to "Pirates of the Caribbean" and did some very well performed figures. Some justice is done to a synchronized team in a show like this, they were a delight to watch . Halfway through, a bundle of cute little pirates entered the ice. All were dressed up and armed and swash buckled their way across the ice to music from 'Hook'.
The surprise guest Wim Hermans skated to "Gladiator", and the theme ended by several musketeers skating to "Victory" by Bond. Why this suited the movie 'the Man in the Iron Mask' was not clear to us, but it was fun so why whine about it?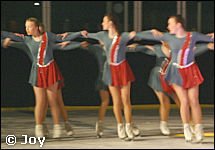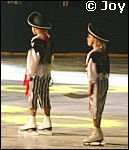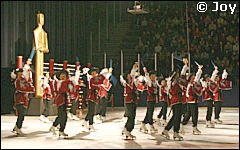 After that adventure it was time for something completely different. The theme being "Kids", many little Looney Tunes appeared on the ice: Tweety, Sylvester and Nana, Elmer, Daffy Duck, Porkey Pig, Taz, Bugs Bunny, Roadrunner, Speedy Gonzales, Yosemite Sam and who knows who else we forgot. Tweety, Sylvester and Nana being the central theme, starting and ending with Tweety being safe in her cage. 'A Bug's Life' can only be portrayed by…. lots of bugs, even a caterpillar! We didn't know bugs were able to wiggle their butts/tails so cute!
Jamie van Besouw, dressed in green, skated to the music from "Shrek", as a start of the "before the break finale". Skating to dance music she showed us she had real spunk in her stepsequences! And she could spin too! Finally Jamie, Shrek himself and his companion Donkey, and all the groups from all the themes appeared on the ice to "Karaoke Party". It was a fun mess!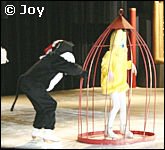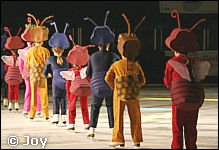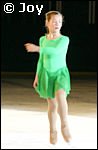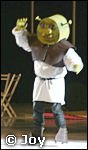 A 25 minutes break was needed to resurface the ice. It was good to learn from the announcer that the elevator mechanic had arrived before the semi-finale.
Go to Part II