Timothy on the line
by Mireille Geurts
Photos © TimothyGoebel.net, Helga Dobor& Dushenka
| | |
| --- | --- |
| | Timothy Goebel became known to the public and people in the figure skating business as the 'quad king'. He was the first American skater to land a quadruple jump in competition, and the first person in the world to land six quads in one competition. He certainly earned his nickname! He's won many medals, nationally and internationally, including the 2002 Olympic bronze, and silver at the 2002 Worlds. Known for his technically jammed programs and awesome pace; his joy while skating and charming personality has opened doors to the future. |
But not everything has gone smooth, and in 2003 disaster struck. Things just weren't working out anymore, he had boot problems and suffered severe injuries due to changes in his anatomical structure. In January 2004 he had to withdraw after the short program at the US Nationals.
"When I withdrew from Nationals, I was suffering from a few different injuries. I was having problems with my landing hip, my back, and also the hamstring on my takeoff leg. This severely limited my training, and was quite painful. It took over 2 months for me to get back to normal, but I haven't had problems since."
The physical conditions were hard to bear, but the situation took a mental toll as well.
"This was a very hard time in my career. There were a lot of rumors going around about why I didn't finish Nationals. People made it seem like I was just making excuses, and that was really hard for me."
Competitively speaking it became the end of his season and other US skaters filled in the gap he left at the international competitions. Meanwhile Timothy kept training, and his perseverance paid off. At the beginning of the 2004-05 season he emerged back onto the scene.
"I started off this season well by winning the Campbell's Classic. I wasn't really nervous going in, because for the first time in a while I felt really healthy, and I was well trained."
| | |
| --- | --- |
| After winning silver at the NHK Trophy, he startled the figure skating world by announcing a coach change. He would leave his longtime coach Frank Carroll, to start training with Audrey Weisinger, the coach of one of his past main rivals, Michael Weiss. Many wondered what he was thinking, and questioned his reasoning. | With his old coach Frank Carrol, at Campbell Internationals 2003 |
"I didn't choose to leave Frank. He announced to me 2 days before NHK that after the competition he would no longer be working with me. I chose Audrey because I had spent some time with her in the summer, and really enjoyed my time with her. And over the years that she did coach Mike, I always had a lot of respect for how she conducted herself."
Right before this year Nationals, the mother of his friend and colleague, Angela Nikodinev, was killed in a car accident. Timothy was there to support her and still managed a remarkable second place.
"The events at Nationals were very stressful, and I don't care to talk about it very much. I was able to skate well because I was well prepared. The results proved to me, and a lot of other people, that I can do my job under the worst of circumstances."
Circumstances have not always been kind to the 24-year old. What is his motive to keep skating, with all the drama and physical hardships?
"The reason I have continued to skate after all of the difficulties I have faced is simple: I don't feel I have yet reached my maximum potential as an athlete."
At the World Championships in Moscow, many were happy to see him again. Opinions were divided between those who were happy to just have him back, and those who hoped he would medal again. Tim seems to join the latter.
"Worlds was a very disappointing competition for me. I was really skating well before I left, and I had the quad Salchow back after a long absence. I was prepared to skate much better than I performed."
Tim finished in 10th place and whether he agrees or not, this is quite an accomplishment. To make a come back is a very hard thing to do, certainly on the competitive scene. The world of sports is a tough one and many skaters were injured. The new judging system, the Code of Points, was also put into full use at international competitions, something all skaters had to adapt to.
"I learned a lot about the Code of Points at Worlds. I will be much better prepared for it this season. As for so many injuries, I still believe it's because of the quads."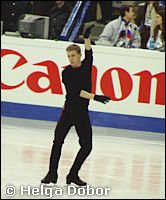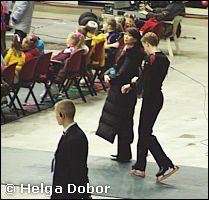 The quad king himself ought to know what he's talking about. But this is a sport and injuries or not, everything is aimed towards the goal; to train and prepare and win medals! Next year will be another Olympic season for figure skaters, the end of a cycle, and the goal so many have worked to reach.
"I won't train any differently for this season than for any other. I have made some changes to my off ice routine, but other than that it's all the same. I really believe that all of the major competitions are equally important, so I prepare the same for all of the." Which isn't saying he has no goals for this season.
"My main goal for the 2005-06 season is to earn a spot on the Olympic team. And after that to make it to the GP final."
With his determination that can very well happen. His fans and the show audience sure didn't forget him, and after Worlds he joined the annual Champions on Ice tour.
"I just recently finished it. The tour is always a lot of fun for me. It's a chance to get to know the people I compete with throughout the season on a more personal level. We all compete with each other a little at practice, but in a fun way. The crowds seemed to receive my "Adagio" program very well."
And Timothy didn't forget about his fans either. He has already announced the music for his new programs on his website, the kind of news every skating fan is waiting for all summer. He worked on these programs with none less than Tatiana Tarasova. She chose the music for him and choreographed the programs.
"This was the first time I have worked with Tatiana Tarasova and her group. I really feel I was able to learn a lot, and I am excited for everyone to see my programs next season. I really felt we connected right away and I think we make a really good team."
The music to the short program is Benny Goodman's "Sing, Sing, Sing", and
the free program is set to "A Night On Bald Mountain" by Modeste Mussorgsky.
He tells more about his Simsbury experience here.

Behind Timothy Goebel the skater, there is also the man. He has survived success, but also hardship and pain. With so many experiences on so many levels, what would be his biggest treasure in life?
"I couldn't pick one treasure as the most important in my life. I have been very blessed. That's not to say my life has been easy, but I count my blessings every day."
A man who recognizes his blessings even during tribulations, what more can you ask for?
A long life and prosperity? An Olympic medal perhaps? Probably so, but any questions about the time after the Olympics didn't get an extended response.
"What will I do after Olympics? Right now I am only focused on making the team."
To conclude this interview, Timothy answered a few quick questions for us:
How would you live without:
Skates? "Pretty hard to skate…" ;-)
Sports? "I would die!"
Music? "I would lose my mind."
Credit cards? "It would be a nightmare."
Computers? "Doable, but hard."
Friends? "Impossible!"
Dreams? "Without dreams we wouldn't live."
Which of the above would be the worst? "Friends and dreams equally- they are the very basis of life."
He also left a message for his fans:
"I would just like to take a moment to thank everyone who has supported me through the years. It hasn't always been easy, but it has been a great journey. Thank you for being a part of it!"
His fans describe him as "incredibly shy" and "quiet but extremely nice", or as "funny" and "a complete sweetheart". He certainly was a sweetheart to us, taking the time to answer our questions and keep us updated on what is going on with his skating in a not usual way – through an online interview. Thank you very much, Tim! We wish you the best in the upcoming competitive season, and hope all your dreams may come true!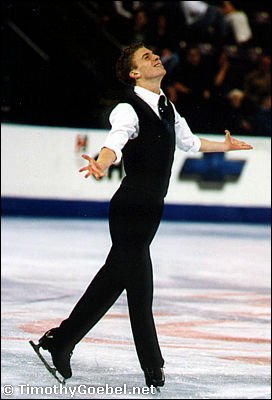 Visit Tim at his excellent website:
timothygoebel.net