Brian Orser – the show must go on (and on)
By: Magdalena Osborne
Photos: @ EMJO, Titia, Joy and Mireille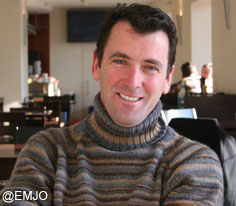 Few people in the history of figure skating have done more for the sport than Brian Orser. After winning the Ontario Games in Thunder Bay at age 12 back in 1974, he embarked on an amazing journey through international competitions, which, among many others, earned him eight Canadian National titles, six Worlds medals including gold in 1987, and two Olympic silvers.
But Brian's story includes much more than competitions and medals. After turning to the professional ranks in 1988, he's continued in the business by coaching and choreographing for skaters, skating with the Stars on Ice and other tours, commentating for CTV, choreographing and producing shows in which he stills skates, and much more. These days he's found at the Toronto Cricket, Skating and Curling Club (TCSCC) where he works with Tracy Wilson. Olympic champion Ilia Kulik taught three seminars there during the summer, all thanks to Brian. This fall much work on several of the Disson shows awaits him, and to the delight of European skating fans, Brian will return to Antwerp in November to choreograph the fourth edition of the Proximus Stars on Ice shows. Last fall was his first time in Belgium, after Lea Ann Miller, who choreographed the show in the past, recommended him for the job.
"Lea Ann was really busy choreographing some shows in North America, and she also worked with one of TV networks on the Grand Prix events and Nationals, so she was just a little overwhelmed. I was flattered that she trusted me to do a good job and put the show together. In the end everything comes together!"
And it did. The Antwerp shows were very successful but getting there took a lot of preparation the audience never saw. The work of putting a show together starts long before the event, and Brian had a clue what was coming.
"Some things are usually the same; I get 2-3 boys, 2-3 girls and a couple of teams to work with. The only direction I got was that part of the show should be "Olympic" and I think I delivered that at the opening. And with it being an Olympic year, I figured most of the eligible kids would be doing their short programs or part of their long."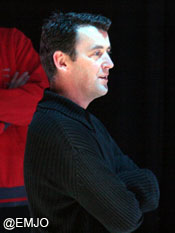 It took a little longer than usual to get the cast signed since the eligible skaters were focused on the Torino games. Brian could easily relate to what they were going through and treated them gently.
"It's tough to break your training routine to go and do a show, when they usually train and stay focused on the next competition. I didn't want them to think 'if I'd had that extra day of practice at home, I could have done better' so I tried to keep rehearsals simple and gave them plenty of time to rest and enough ice time for their own training. I mean, I know, I've been there!"
Indeed he has and watching him coach the cast showed a patient, yet efficient side of him. He's a genuinely nice guy and his skills and experience have earned him the respect and admiration of skaters old and young, and anyone else involved with the sport. But Brian is humble and shrugs off much of his own greatness to instead credit the skaters.
"Sure, some shows are easier than others. The Antwerp one fell right into place because I got a good cast, a cast that was keen to learn, they could stand around and wait for me to figure out where they would go next. But I always second guess myself when I come to these events. I try to get everything done at home, I try to imagine what it'll be like to have the other ten or eleven skaters on the ice with me and where all the traffic is going, so that's always challenging. You try to visualize it but you really don't know until you have the bodies and the cooperation."
He didn't get to choose the cast, nor did they choose him.
"The Antwerp shows are IMG events, and they usually hire their own kind. That's why I work so much; they do a lot of events! And they use skating as a nice little platform to show what kind of shows they can produce; the best quality. I became a client in 1986 and started doing shows a couple of years later, and ever since they've been talking about expanding their skating shows to Europe. I know it's a lot more expensive to put on shows in Europe than in North America, but if they can do it in Antwerp they should be able to do it in more places. What they need are more sponsors."
Proximus has been the main sponsor for the Antwerp shows since they began in 2003. The mobile telecommunications giant left Brian in charge of the show and the music.
"Yes, the only thing Proximus asked me to use was their theme music. It came in the second act during a little demonstration Kevin (van der Perren), Emanuel (Sandhu), Ruben (Blommaert), Susanna (Pöykiö) and I did. They also wanted a little interaction with the audience, so Kevin was out there with a microphone and explained a little about some of the things they would see during the season. Then he asked Emanuel to come out and show a combination spin and Susanna did a spiral sequence and the little guy (Ruben) did a double Axel. Then Kevin talked about something the audience wouldn't see at the Olympics and I went out and did a back flip and then he went out and showed a quad. So this was a fun part and we winged it! And the Proximus music played in the background for all that."
Those of us who were there can certainly testify that it was fun, and Kevin did land the quad and Ruben the double Axel! And although it's been many years since Brian won Worlds, he still knows how to capture an audience with his own skating. His famous back flip* was developed for the ISU tour the top skaters participated in back in the 80s, and he still has it! Recent rumors saying he was retiring from the skating part proved exaggerated and he's still amazing on the ice.
"Well, I don't do all the big tricks like the eligible kids, but I do what I do and I try to do it well. I don't think skating is always about doing a triple Axel and quad toe, but it's beautiful stroking and nice edges. At least that's what I think now; 20 years ago I would have said something different!"
In his competitive years Brian broke his leg three times and to take some pressure off the injured foot he learned some jumps clockwise, an accomplishment many skaters today would envy.
"I can still do an Axel, but not the (double) sal. Each time I broke my leg and then got back on the ice my doctor wouldn't let me do any jumps because of the landing. So I started jumping the other way so I could land on the other foot. It was really good training for me, and if we'd had the Code of Points back then I would have pursued jumping in both directions because you would have gotten some really great points. Imagine doing a jump combination one way and then the other; that would be quite something!"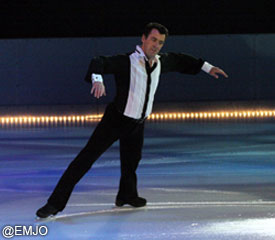 Yes, judges, how would you mark that? But the Code of Points is already old news to Brian, as a choreographer he has to keep track of all the changes, and he's mostly positive to the system.
"They are going through some learning exercises... I like the idea of skaters being challenged and having to learn quality skating, those are the skaters who will reach the top. I also like that the skaters are more concentrated on spins and footwork, and that footwork isn't just toe picks. You need turns and edges in both directions. When I was a kid I always did things in both directions and hoped the judges would see that it's difficult. It probably didn't do me any good with them, but for me it did. What I don't like is that judges aren't accountable for their score anymore. I liked it when some judges got booed; I thought that was pretty fun. That's one downfall, and also there's a little too much risk in trying, for instance, a quad. Some will do a triple flip – triple toe but not try a quad. The person who does try, but say they miss or two-foot it, they don't get credit for the attempt. It's the element of sport that's missing a bit; I think there should be a category for that one risk element, the quad. You're allowed to do eight jump elements, but I think you could do nine if one was a quad. Then the sport would move along and you wouldn't see anyone on the podium without the quad. It's not that difficult to work within the guidelines."
Brian's interest in the new system and in eligible skaters has a special reason:
"I always get the skaters at some point (in shows or for coaching/choreographing)! I'm a fan of a lot of them and whenever I choreograph for an eligible skater I have a list of what they need to do and I try to be creative within the guidelines. I like to watch all the choreographers in the springtime, they're all running around with a piece of paper making sure they get all the check parts, got that? Yes, check... If they have a triple Axel after the halfway mark, they look at their clock and their paper, it's funny!"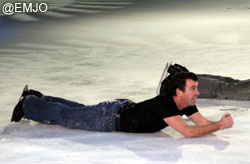 Over the years Brian has worked with a lot of people, but throughout his eligible career he only had one coach, Doug Leigh, while Uschi Keszler provided a lot of his choreography. Special bonds formed and they are still there.
"Doug and Uschi, gee, they are family, really! I have so much respect for both of them. With Doug, I recently watched some old competitions of mine and the kiss and cry area. The great thing about Doug is that he's a great motivator, he's a brilliant coach! I think almost anyone can teach skating, but it takes a special person to be able to push the right buttons and motivate a person to compete at a high level and pull out the best in them. I pop into that school (the Mariposa) quite often because I have a cottage not far from Barrie. I think Doug too is trying to wean himself out of skating, but it would be a shame if he left without having an Olympic champion. I finished second twice, I'm not a champion, it's hard but that's life.
I haven't seen Uschi for a while, but I always enjoy working with her. Every once in a while I'll be at a training session when she's there. She's great for this new system because she really teaches people how to skate, to get acceleration and effortless flow. I'm sure she loves this new system and skating needs to leave the frustrations of Salt Lake City behind. The sport needs some good skating and some household names. In the last few Olympics, especially in the women's event, they come in, they win and they leave. We need a Michelle Kwan or someone who people recognize and who fans watch for and then they see other good skating with it. A bit of a rivalry would be nice."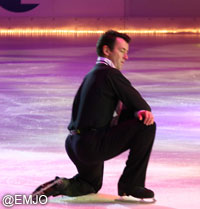 Rivalry is one phenomena Brian is very familiar with. Back in the 80ies one of the biggest rivalries in skating history went on between him and Brian Boitano. It all culminated in the Calgary Olympics in 1988 in what became known as the "battle of the Brians". Both were brilliant technicians as well as artists and they took turns winning the big titles. It was a bit like Yagudin versus Plushenko a few years later, but the comparison made Brian laugh.
"Brian Boitano and I had ten years of head to head, but the biggest difference was that we actually liked each other, then and now! All through competing we were friends and we still work together all the time. I have done many shows with Brian, and Lea Ann will ask us to do a little something together, and I think the audience likes that."
When the rivalry and Brian's eligible career was over after Worlds in 1988, he co-wrote a book with Steve Milton called Orser – a skater's life. Absolute Skating managed to dig up a copy, and Brian had a hearty laugh when he saw it and was curious where we had found the old thing. A more interesting question was if he had plans to write another, he'd certainly have enough to write about.
"Maybe, when the time is right, maybe around the Vancouver Olympics. There will be so much hype about skating and I'll have a different perspective at that point. I'm going through some transitions right now trying to figure out what I will do next. I'm sort of winding down the actual skating part cause it gets harder and harder every year, I'm doing a lot of choreographing, but I'm also co-director of skating at the TCSCC. It's one of the biggest clubs in Canada and one of the most important clubs historically, and we're in the process of rebuilding. So they hired me and Tracy Wilson as a team to bring this club back on its feet again. So I'm sort of wearing a lot of different hats and have to figure out what I want to do!"
He may have been in the business for many years, but he's still in great demand and one of the busiest bodies around. The smile on his face says he wouldn't have it any other way.
"Every year I tell myself I have to slow down, but... my dance card gets full! I'm glad though that there's this much work and that I can still wear both hats, still skate in shows and put them together. It's twice as much work, but twice as much fun and I enjoy it. And I get paid twice. We can't get away from the bottom line... "
The bottom line for European skating fans is that we'll soon have the opportunity to see Brian in Antwerp again, an experience that'll certainly be worth whatever time and effort it'll take to get there.
For fun Brian was asked to choose between:
Coaching or choreographing?
"I love both, but I find coaching less stressful. With choreographing I put it all on myself. I always second guess, I don't think I'm going to be prepared, I don't think the music will be good enough; maybe I should be more creative with the steps¬Ö I always go through this, and then the show happens and I'm happy with it! But I have to test my process. I love both though, coaching and choreographing and I love skating in shows too."
CoP or 6.0?
"CoP"
Coke or Pepsi?
"Coke, of course!"
World Champion or Olympic Silver?
"Tough choice, hmmm¬Ö I'll have to go with World Champion."
Two triple Axels or one quad?
"The quad is a whole different level so I'll go with that, a quad!"
* * * * * * * * * * * * * *
For more information about the Antwerp shows, check out our article here, or go to http://www.proximusstarsonice.be

Coming soon on Absolute Skating:
A presentation of the 2006 Proximus Stars on Ice cast and a fabulous chance to win tickets and a meet and greet with your favorite skater.
* For watching the video be sure to select the smaller image for the best quality (this icon in the lower section of the player

)