Introducing the Drobiazko & Vanagas
Skating Champions European Tour
The Chemnitz show
Part I
By Magdalena Osborne
Photos © EMJO
The people in Chemnitz were the luckiest in all of Germany. At least on December first when the star studded cast arrived for the only tour stop in the country. But why Chemnitz one might ask? It's neither the biggest nor the most central place. True enough, but it has a solid skating history, not least thanks to megastar Katarina Witt. And the city is living it up again through the success of Aliona Savchenko and Robin Szolkowy.




The audience was enthusiastic and showed loud appreciation to all the numbers performed, and rightfully so, the show is truly a great skating experience. It begins on a funny note with Laurent Tobel (a former French champion) moving around the on-ice VIP tables cleaning. He is wearing shoes, stretching and yawning to finally come to rest on the ice. Sleeping on the job, are we?

The cast, all dressed in white, enter and stand as statues. Tobel wakes up, looks at them and pokes them, and one by one they come to life. Margarita and Povilas do a lift, Rory Burghart spins and there's all sort of acrobatics going on before the cast comes together in a circle to go into scratchspins. It's very fast and too hard to decide what to watch, and numbers like this makes you want to see the show again to be able to catch all the action.
After that great opening Tobel comes again, this time with one skate on a stick. He drives it around to test what all it can do and seems pleased with the result. Then the phantom (Povilas) enters to let everyone know they are under his spell: "I am the Lord and the King in this kingdom. Nobody will be able to oppose me!" He seems to be right as the cast act like puppets. But Christine (Valerie) argues with him; they're not puppets but free people able to think for themselves!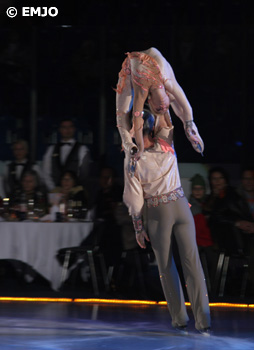 The first people to do so are Russian pair Elena Leonova & Andrei Khvalko. If you've never seen them in action you need to. Skating to mystic pop Lesiem, they bring pairskating to a whole new level with daredevil acrobatics. A truly amazing program and the response of the crowd was deafening.
The MC lady, who was new to the tour and given skates just minutes before the show, glides on the ice while introducing Ingo Steuer, who for most people don't need any introducing. He's warmly received by the audience. Tobel comes back, wearing skates this time along with an array of protective gear. He falls and discovers that it's easier to skate once the skateguards come offÂ… While he tries skating, Valerie comes on the ice. This girl has a lovely voice and she skates as well. The song is a tango and she sings and dances with Tobel who does some "Winter" footwork and then runs out to make room for Charlie Chaplin, a k a Stanick Jeanette. This is such a clever program combining great skating with lots of humor. There are also tricks with the cane, juggling with three balls and some flower magic. I'll never grow tired of his inventive spins; Stanick is a true entertainer and a joy to watch.
Rory Burghart is next wearingÂ… well, see for yourself. To Gnarls Barkley's "Crazy" she does no less than three back flips, very high Russian splits and moves with the grace and flexibility of a cat. Very impressive and the outfit makes her spins memorable.
The MC and Ingo are back on the ice telling the audience about Katarina Witt's success with Carmen. Many wanted to be like her, but no one has quite succeeded. However, there's a little 4-year old girl who'd like to tryÂ… In comes Tobel in a red Carmen outfit and it's just hilarious. He/she moves the hips, flaps the fan, does an Egyptian spin, a spiral and falls flat on the ice. Poor little girl! He/she goes into a very slow camel and there's more fan flapping and a visit to the on-ice audience. The next spin is so slow it results in another fall. The crowd is having a ball laughing and clapping and it continues as Chaplin returns and Carmen picks him up and carries him off the ice. This number is priceless!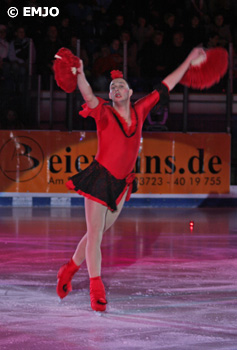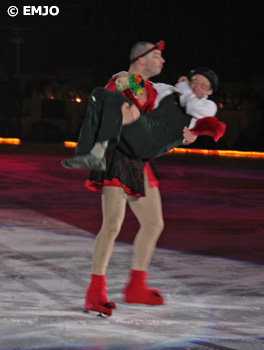 But the fun isn't over. Ice clowns and acrobats Armen Saakian & Akop Manoukian turn the ice into a boxing ring with Tobel/Carmen helping them to keep track of the rounds. Queen helps set the stage with "We will rock you". Between the fighting there's lots of silliness like the use of huge and heavy golden boxing gloves, and great acrobatic moves like a two man cartwheel.
Ingo Steuer returns to the ice to introduce the local stars. They won the gold at Cup of Russia and here they are, Aliona Savchenko and Robin Szolkowy! Needless to say the audience is very happy to see them and Aliona and Robin look pretty happy to be there. They perform their gala number from last season. It's rock and roll and it's fast and furious with lifts, throw jumps, s b s spins and some daring moves not allowed in competition. These two are really on their way to the top and they're wonderful to watch, what a show!

Already in Antwerp a few of weeks ago I saw and loved the new program by show organizers Margarita Drobiazko & Povilas Vanagas. This husband/wife team has skated together forever (at least through five Olympics) and they're better than ever. To Pink Floyd and Matrix music they present an intense and emotional story emphasized by the black leather costumes. Very original and worthy of their inventive repertoire.
Ever since Alexei Yagudin's win at the Salt Lake City Olympics, I've always wanted to see "Winter" live. Well, it turned out to be my lucky night. This program has already gone down in skating history as one of the all time greats and it unfolds right in front of my eyes. Slightly altered since 2002, but still. Many have tried to copy the footwork, but there's only one master. Thanks, Alexei, I'll never forget this moment! Of course the audience loves it too and calls him out for a footwork encore. The roaring applause is well deserved.
After all those emotions and nostalgia it's time for a break. The resurfacing of the ice is done quickly, and two Hyundai cars are brought out on the ice. Robin and Aliona get them, but the noise in the arena makes it hard to hear what's being said. Hyundai is the main sponsor of the show, and the cars are sure nice!

Act two starts with the return Valerie who stands on the ice singing. This time there's no competition between watching her and a skater which is nice. Stanick enters wearing something quite indescribable with no arms. He appears to be the road and the car all at once in this amazing piece of art and artistry. One arm at the time comes out and sticks are going in every direction. We will shortly bring you his own explanation of this very different program and I can't wait to hear it myself. It was one of those "you had to be there" experiences.
Leonova & Khvalko skate to a slow and beautiful Italian song. Whatever their music, they are always fascinating to watch. Elena is so flexible it's mind boggling and what they do is a mix of grace and danger. They are followed by Rory who dances up a storm to Donna Summer. The music really suits her moves and we once again get to see what all that tiny but oh so flexible body is capable of. She closes her number with another back flip and then the ice is taken over by Saakian & Manoukian who are in the army to "Captain Jack". Uniforms come off flashing yellow underwear in a funny act where they interact with the audience.
Tobel gets to do something a bit more serious than before, but he's still funny. He can jump, but under the Code of Points the judges wouldn't know what to make out of what he does. But it's sure fun to watch and it must have taken a great deal of skill and creativity to even dream up.
Another show high point is "the Pirates of the Caribbean". I have seen this program by Margarita and Povilas a few times before and I think I love it more every time. Who needs Johnny Depp when you can have beautiful skating, excitement, real fencing, romance and beauty all in one program! The audience loves it and demands an encore in which a sword is put on fire, a special effect a la Hollywood.
| | |
| --- | --- |
| The hula-hoop lady Irina Grigorian is amazing on TV, but live she is worthy of Las Vegas, which is incidentally where she lives. Wearing a sparkly bikini she has the audience eating out of her hands to Deborah Cox's "Absolutly not". This is part of what makes the show so great – the diversity of the performances, the music and the high quality of each act. Irina starts modestly with only two hula-hoops, but Stanick keeps bringing her more and more and we soon lose track of how many she has in motion. At one point she has hoops spinning in opposite directions around her arm and foot, and in four different places around her body. The crowd goes wild, especially towards the end of her act where she keeps a hoop set on fire spinning around her neck. Awesome! | |
Alexei makes another performance, this time as a fiery Flamenco dancer. His ability to turn any music or rhythm into a brilliant show act shouldn't surprise anyone anymore, but he never ceases to amaze. This number has everything: drama, jumps, dance, footwork, tricks – you name it, and is one of his contributions to the upcoming SOI tour. Fans attending are in for a treat. After another encore he leaves the ice making room for Aliona and Robin, whose performance to "Somewhere" from West Side Story is simply breathtaking. They are joined by Ingo who skates with them and even does a lift with Aliona. The lyrics of the song, "wir schaffen das alle zusammen" (together we can make it) was a political message, and the approval and support from the crowd is overwhelming; nothing should keep a winning team like this pair and their coach apart.
Although the closing song is "The show must go on", the show is over, at least in Chemnitz. The cast return wearing white, orange and black, and after two unforgettable hours of first class entertainment it's a worthy finale.

Ingo thanks everyone for coming and hopes to see them again next year. This reporter, along with the audience, hope the Chemnitz experience will turn into an annual tradition, carrying on the city's great skating legacy.

But for those of you who missed it, the Drobiazko & Vanagas tour isn't over! There are still shows to come in Lithuania and Estonia, details are found on the next page.