Coming up: The 2006 Proximus Stars on Ice in Antwerp
Photos © Absolute Skating

As soon as the skaters took the final bow after the 2005 shows, the main sponsors, Proximus, decided the shows would return a year later. Held at the Sportpaleis in Antwerp, Belgium, the event has become increasingly successful since the debut in 2003. Over 18.000 people attended last year, a success largely contributed to a first class cast and an efficient organization.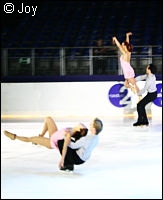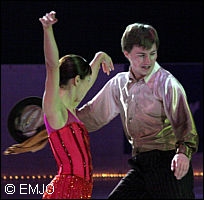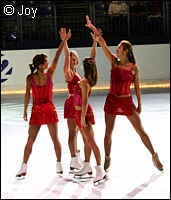 Skating legend Brian Orser pulled a heavy load in putting the skating part together and he was thrilled to come to Antwerp.
"I've been to Germany and Holland before, but this is my first time in Belgium!"
It was the first time for a lot of people, but not for the Absolute Skating crew. Photos and coverage from the shows have been brought to you since the first shows back in 2003. The cast has consisted of top skaters every year, as the International Management Group (IMG) is working hard to offer the European audience the best of the best in skating.
Ellen Dupont of the Brussels office was the Project Coordinator for the 2004 and 2005 shows.
She literally worked her tail off to make sure everyone did what they were supposed to. Putting a show together is a lot bigger than rounding up a great cast, but she wasn't totally unprepared for it.
"I did a lot of organizing in school, and I've studied organization. I really enjoyed making deals, negotiating, setting up the sponsorships, scheduling interviews, making reservations, working out the schedules etc. And I enjoyed working with Absolute Skating!"
But even a pro like Ellen learned a few things along the way, and although it wasn't funny at the time she can laugh about it today.
"Yes, the first year I was working very late and people got tired and irritated. The skaters were cranky because they didn't get their practice schedules until 3 am, we slipped them under the door to their hotel rooms, the choreographer was down because the cast kept changing to the last minute, and many of us only got a few hours of sleep. And then there was the trouble with the Zamboni... The second year everything went smoother, the concept was more finished, things were more prepared, the schedules came out on time, the skaters thought we were more calm as little details were worked out in advance. There was less hassle all around!"
Since last fall Ellen has moved on to new organizing challenges, but skating is now in her blood.

"I will miss working with the skaters and with you guys! I didn't know much about skating when I started so I had to learn. I was like dropped into the cultural bucket of skating, it was hard but fun and I will definitely miss it."
And we will miss her; Ellen became both a valued collaborator and a friend. Now Dries Mahieu is the new Project Coordinator at the IMG and the one who has to fill Ellen's shoes. After four years with the Walt Disney Film Distribution in Brussels, he also has experience organizing big events, like Disney concerts.

"I'm looking forward to learning about skating. I have seen shows like 'Disney on Ice' and 'Holiday on Ice', but the Proximus Stars on Ice was the first real gala show. Last year it was fascinating! It's really amazing what people can do on skates, jumping and all. The women's skating was gentle and beautiful, but my favourites were the men, especially Ilia Kulik, he had such power and aggression in his skating; it was intense, real passion to music. And the opening with all the skaters on the ice, together with the music and the lights, it was fantastic! I only watched it on DVD and I kept wondering if it was possible that it could be even better live."
Dries will be in for a treat this fall as the best skating indeed is experienced live. And he's confident he'll enjoy all the planning.
"The best part about organizing events is the excitement before, to put everything together and make it work and then the feeling of 'phew-it's-over' satisfaction afterwards, when it all came together and became a success."
And Dries assures us the IMG will do everything in their power to bring about the best show with the best Olympic skaters to blow the audience away.

Ice dancer Maurizio Margaglio and his partner Barbara Fusar Poli have skated in all the Antwerp shows. After the shows last year he commented:
"We understood that the first year was the first for everyone involved to put on such a big show. There was a lot of stress from the management, but now it's all much more organized and relaxed, everyone knows what to do. Of course that reflects on our skating."
Katia Gordeeva agreed.
"The organization is much better this year, and the ice is wonderful! The opening and closing is also very organized, Brian Orser is a good choreographer and once again the crowd was really good. They are always good in Antwerp, I like coming here."
And the audience liked her! Katia has also skated in all the shows, but when asked if she would come back for the 2006 shows she laughed.
"They haven't asked me yet, and I haven't asked me yet if I'll even be skating next year!"

Luckily we have since learned that she will keep skating. Choreographer Brian Orser was very happy to have her in the cast.
"I have worked with Ilia and Katia before, so I could rely on them to pick up the steps quickly. Some of the new kids... well, it was new to them but I could see they enjoyed doing it. They were happy and pretty keen to learn and I'm usually pretty patient with new ones, I want them to enjoy it and not feel awkward. And I keep everything fairly simple, I keep a general style. And in Antwerp I had some of the best skaters in the world so I was confident everyone would pick up the steps. For me, I had never really watched Kevin (van der Perren) skate, only on TV from Skate America and I thought 'he's pretty good', and then I saw him live and he's sensational, he should fare very well this year!"
Kevin thought the practices sessions were efficient and enjoyed working with Brian. Maurizio had worked with him before.
"It was in Canada and it was very nice to see him again, it's a privilege to work with such a skater. The group numbers came together easily which means the choreographer was doing a good job explaining what we should do."
The 2005 US pair champions 2005, Katie Orscher and Garrett Lucash were in Antwerp for the first time, and an enthusiastic Garrett related the experience:
"I always enjoyed coming to Europe for competitions. But you have that nervous edge when you're competing, and now we just got to come and enjoy the European experience and relax a bit before the show. I had time to walk down main street and there was a lot of good shopping, nice place!"
The two are sadly not skating together anymore, but their performances in Antwerp were loudly cheered by the crowd and they were the first pair skaters to participate in the shows.
The Absolute Skating crew is positive this years show will be equally successful as in the past and we will of course tell you all about it. Follow this great event from planning to show time with updates, reports, interviews and lots of photos. And don't miss the chance to win VIP-tickets to the show and other prizes, all coming up on Absolute Skating.
Saturday 18th of November 2006 at 7.30 pm
Sunday 19th of November 2006 at 3.00 pm
Visit the Proximus Stars on Ice website:
www.proximusstarsonice.be
Ticket information: (tickets are on sale now, but check the Absolute Skating message board for more details before ordering)
Price: € 15, € 23, € 30 (depending on the selected seating)
Reservations via Tele Ticket Service:
Belgium: 070 345 345
The Netherlands: 0900 45 000 45
Other Countries: +32 34 0000 34
Or via website www.teleticketservice.com

Next up:
"The new hope of Belgium – Ruben Blommaert"