PSOI 2006: From Mr. Sheffield to Mr. Shaggylicious, Extraordinary!
Part I
Text by Mireille Geurts & the 'AS Antwerp Crew'
Photos © Joy

The fourth annual edition of the Proximus Stars on Ice shows took place in Antwerp, Belgium on November 18th and 19th. The shows had been promoted with a post olympic theme, but aside having many Olympians performing, the theme did not really reflect back to the actual shows. What it did reflect was its extraordinary display of talent and diversity.
| | |
| --- | --- |
| | The show was set up like SOI shows mostly are, with an opening, cold spots, an additional groupnumber and a finale. The theme song of the main sponsors Proximus has always been cleverly worked into the program, and this year it was more creatively done than ever. Remixed it was integrated with group choreography and with a skater who also plays the piano. Could it get more exceptional than that? Imagine the dreamy notes of Wim Mertens' Proximus theme being played on the grand piano by Romain Gazave while most of the cast gathered around him. |
The music then turned into an energetic remix of the melody with Romain joining the other skaters in uniquely designed steps fitting the music. Fabulous!
| | |
| --- | --- |
| But it wasn't the only exceptional program displayed in this show. How about Mr. Kevin van der Perren to Tango de Roxanne? We've seen Kevin perform tangos before, but I dare say never with this much passion. There was intricate footwork and hydroblading and a nice scratchspin; we don't get too many of those in competitions anymore. The music and lyrics perfectly portrayed by Kevin, who seems to grow more and more into an artist each time we see him. Wearing his new short program costume, which oddly fits this program as well, the agony over his Roxanne practically jumped off his face. Exquisite! | |
| | |
| --- | --- |
| | Margarita Drobiazko and Povilas Vanagas' "Hey You" by Pink Floyd, was another exceptional, perhaps even edgy, program. The car sound at the beginning created a romantic rockballad atmosphere, and ended as energetic dance music. And the program looked just as different as music sounds. Margarita and Povilas have obviously spent a lot of time finding movements to fit the music, and they couldn't have done a more perfect job. There were exceptionally loud, well earned applause for this couple and their 'really must see' program. |
Of course the show started with a well rehearsed cast-opening, set to "The grand illusion" by Dennis DeYoung. Fitting lyrics welcomed the audience to the show (the illusion) to upbeat, energetic music. Energetic, a style we're starting to associate to choreographer Brian Orser, who manages to make everything so, even to slow music, by using short and explosive movements. Kevin jumped to the roaring of the audience, Irina did a lay back spin and all the couples showed different lifts. Brian and Jozef showed off their back flips simultaneously, it was great! The beat of the music and all the skaters dressed in warm colours really gave the audience a very walm welcome.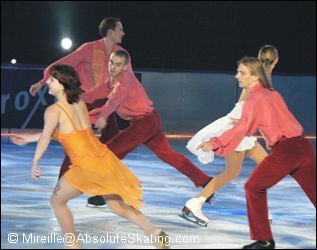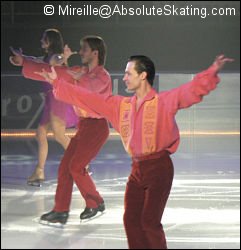 Energetic is also a good way to describe Irina Slutskaya's second performance to "You promise me" by Ingrid. This is a program figure skating fans have seen several times by now, but that never gets old. Irina herself is always so full of energy and combined with the joy she has in playing sexy, it's pure pleasure for the eye.
Jozef Sabovcik, who followed her performance, is also very energetic, not that that should come as a surprise to anyone. Skating to "DOA" from the Foo Fighters, he managed yet another awesome rockperformance, playing the air guitar and having so much fun you can't help but clap along. His Russian splits are about the highest we've ever seen and he still does double Axels.

Isabelle Pieman's second performance to CĂ©line Dion's "I am alive" proved that she certainly is alive. And she not only looked flashing, but also skated that way and she pulled it off well!
And speaking of the music in the second act, it should be mentioned that a dj presented it live. This is certainly a very nice idea, but he didn't say anything so we noticed no big difference. Not that that's necessarily a bad thing, and during the break and after the show it was a joy to hear some fun music playing. We even saw some people dancing between in the stands.
| | |
| --- | --- |
| Next to all this energy there was also room for something different, and with Brian Orser in the house you're sure to get that. Brian wasn't only the choreographer, but also a regular castmember. His first performance, "Night and Day" by Michael Bolton, was jazzy, yet romantic and enchanting even though his moves are still explosive, as mentioned above. Brian's been around for a while and his skating is pure quality with perfect edges and balance. His footwork is amazing and it was easy to tell that he still enjoys being out there. His costume and looks kinda reminded some of us of Mr. Sheffield (from the Nanny) but were also classified as real American, while Mr. Sheffield actually is BritishÂ… well let's just say all the good stuff in the show messed up our brains. | |
| | |
| --- | --- |
| | Tatiana Totmianina and Maxim Marinin's first program unfolded the story of Christine and the phantom (last year it was Drobiazko/Vanagas). Dressed in white they turned this powerful music into a program that was everything a skating fan could possibly want. The choreography was superb, the people beautiful and the skating divine. The audience was in awe over the high lifts and throw jumps and the applause afterwards were deafening. The enthusiastic audience left us wondering if Tatiana and Maxim didn't actually beat the loudness of applause Kevin got. But according to the applause meter it wasn't soÂ… Which might need an explanation. |
Above the dj there was an applause meter, measuring the volume of the applause each skater got, so one could see in the end who would 'win'. Considering the show was held in Belgium, everybody knew on beforehand who that would be, but isn't that part of the fun?
But back to the enchanting programs. Romain's own act also easily classified as such. Skating and playing the piano to Christina Aguilera's "Welcome" was simply mesmerizing. One AS crew member even saw flashes of Kurt Browning on the ice, which Romain took as a huge compliment and later got her a drink in the hotel barÂ… It was great to finally see him live and his act is certainly a refreshing ingredient in a show, especially for people who see lots of shows (like us), and we hope he will be invited back to Belgium.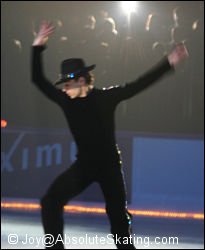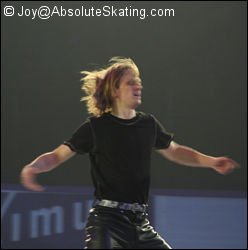 Someone we'd really like to see back in Belgium as well is Jozef. His skating is always great, but you really should see him live. He's not being called "Jumping Joe" for nothing, his jumps are so high and it looks so incredibly easy. His open Axel is amazing! By today's judging system it would be considered a failed jump, but coming from Jozef (and Brian) it's anything but failed, it's a piece of art about a meter high.. His first pogram, to "Don't stop Dancing" from Creed was extremely enjoyable, and Jozef, even though you said you aren't a "dancing Joe"Â…please don't ever stop dancing!