PSOI 2006: From Mr. Sheffield to Mr. Shaggylicious, Extraordinary!
Part II
Text by Mireille Geurts & the 'AS Antwerp Crew'
Photos © Joy

Belgium's own Ruben Blommaert skated his free program "Guerilla" by Rodriguez. Starting on very upbeat music, it later turned slower. His stepsequence was actually on a very subtle part of the melody, something we enjoyed very much. And he incorporated a small circle in the straightline sequence, very nice! Ruben is definetly developing his own style, and it's one we like very much.

Also from Belgium, Isabelle skated her first program to "Now we are free" by Enya from the movie Gladiator. Being tied up by a scarf at the beginning of her program, she slowly broke free. For some reason this song seems to ask for a choreography involving some bondage, not that we are complaining...
| | |
| --- | --- |
| Very enjoyable as well was Irina's "9 to 5" program. Irina is cute as a button and she shows that side of herself extremely well in this program. She literally seduced the audience with her charm, speed and technical elements. Her irresistible smile and flirting with the audience worked all the way. | |
Don't we all know Tatiana Navka's and Roman Kostomarov's program to Austin Powers that rocked the house in Dortmund at Worlds 2004? Seeing it again was a real treat and watching Tatiana and Roman having so much fun acting as Mr. Shaggylicious and his female spy was a joy to the eye. As was Kevin van der Perren (but isn't he always?) to "Lord of the Dance", a galaprogram that in some ways resembles a competitive one (and people were asking us if this was his new long program). It's not, but it sure could serve the purpose. Kevin had much fun skating to this music and even managed to pull off his signature triple-triple-triple in both shows. Impressive! From a good source we learned that Roman could do the stepsequence as wellÂ…
From impressive to expressive. Who could not call Margarita's and Povilas's "Pirates of the Caribbean" that? Even though it was already once skated in the Antwerp shows, this program was definetly worth a second showing. It has grown a lot in two years and Margarita and Povilas have grown with it. During the sword fight, we could swear they were actually trying to beat the other. The audience really enjoyed it, and so did we.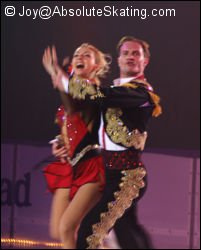 And if you mention expressive, who won't think of Tatiana's and Roman's Olympic winning freeskate "Carmen"? This is so unbelievably different from their Austin Powers program, and like with all skating, it came to life in front of our eyes much more than it ever could on TV. Tatiana and Roman played their parts with intensity and their double cantilever caused an explosion of applause. They also had the audience clap along with the most familiar part of the music. They certainly made sparks fly and it was lovely to see it up close (from the front row).
And speaking of love, especially two programs enamoured us. Brian Orser to "The story of my life" and "You and I" skated by Tatiana and Maxim. Brian just managed to sweep us away to a different life, his perhaps, as told by his favourite singer Neil Diamond. Somewhere halfway through, this program grabs you and won't let goÂ…not that we wanted it to. Simply beautiful.
| | |
| --- | --- |
| | And from the first note to the last Tatiana and Maxim had us under their spell. Mesmerized by the loving movements, it was so lyrical and beautiful we hardly have words to describe it. Suffice it to say we were swept away again and this was another program that could easily have competed for the highest rank on the applause meter. Both programs contained a fair amount of technical difficulties as well, but we didn't even notice or pay attention to it, and in my mind there could be no greater compliment. |
But it all had to end sometime and the show was closed with an eye-catching finale. "Lorelei" it was a mix of elegance by the ladies to classical music, and energetic fun by the entire cast, including young Ruben, something we appreciated very much.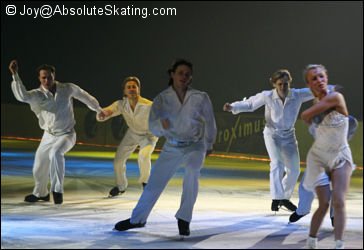 You can probably tell we're still in seventh heaven, but who can blame us? Once we called these shows ESOI (instead of PSOI) for being in Europe but from now on the E will stand for Extraordinary because of all the exceptional, energetic, enchanting, enjoyable, expressive and enamouring programs the IMG managed to put on the ice in Antwerp, with the help of the main sponsor Proximus. To both companies and of course, to all the skaters:
Thank you so much!