Carolina Costner and Tomas Verner on ice in Sweden
By Magdalena Osborne
Photos ┬ę EMJO
It happened again – the Malmö rink became the host for celebrity guests. The team from Oberstdorf had temporarily relocated to Sweden and EMJO and I just had to catch a piece of the action. I got to the rink first.
"There is no ice in Oberstdorf right now" Vlasta Koprivova explained in German. "We trained here before Worlds and it worked out very well, so we're back!"

Vlasta is the coach of Tomas Verner and she was warming up her frozen limbs in the lobby between ice sessions.

"The ice in the practice rink is very good, but it is so cold in there."

Indeed. The ten degree, half rainy Southern Swedish fall weather outside felt like a sunny beach in comparison. But the things we do to catch a glimpse of our favorite sport...

It was actually a good day for skating fans all over Europe. The Golden Skate Awards gala was broadcast on Eurosport, but Laura Costa, the team ballet instructor, cringed at the thought.
"That show was terrible for Carolina (Kostner)! She had just arrived from Canada and she didn't get any sleep on the plane. She skates much better now!"
I was looking forward to watching her practice when the Swedish champion Kristoffer Berntsson walked by dragging a huge suitcase. Since returning from Skate America he'd spent a couple of days in Malmö, but was now heading for Germany to skate in the Ingolstadt Media Markt gala.
"Daniel Weiss invited me. I suspect I wasn't his first choice, but that's ok, I'm happy for this opportunity."
Kristoffer wasn't quite as happy about his performance at Skate America but felt he'd done what he could considering the circumstances. The groin injury he sustained during summer camp had prevented him from practicing at full capacity.
"I was supposed to go to Finland (for the Finlandia Trophy) but it was too soon. And we changed my short program only a month ago. I was skating to Michael Jackson but now it's Amelie and The Triplets of Belleville."
Thanks to this wonderful invention called YouTube I'd seen the program and was blown away by the dynamic step sequence. The Swedish Nationals is only a month away and I can't wait to see the program live. Kristoffer had to leave to catch his flight, and put on a very cool striped hat. EMJO hadn't arrived yet so fans will have to stand by for a shot of Kristoffer and that hat.
The rink was every bit as cold as Vlasta had said, so while EMJO unpacked her camera gear I bundled up with all the sweaters and mittens I had brought – but was still freezing. A new skating season does take some getting used to. Carolina's Dvorak music was playing and we watched in awe as she ran through the moves of this new, action packed long program. The choreography is once again by Lori Nichol. Tomas also skated his new long program to music from the movie "Crouching tiger, hidden dragon". Quads, triple Axels - it's all in there, cleverly choreographed by Rostislav Sinitsyn. This was the last on-ice session for the day and we were then able to get a few moments with the guest skaters.

Tomas told us about his new short program from "Children of the revolution". It's gypsy inspired music, "it's fun and I like it. My coaches suggested the music and I said: ok, I want it!"
We didn't get to see this program on ice; instead we got a private showing of both programs performed to music on the floor in the lobby. Tomas has added new moves and intricate steps and we have no doubt he'll have another great season.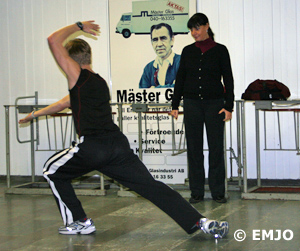 Tomas and Laura Costa
This year has started rather well for Tomas. He placed third at the Nebelhorn Trophy and won Finlandia. Two medals already, but they sure haven't gone to his head.
"It's all behind me now and I don't think about all the mistakes I did. I must stay positive and keep improving. I will do my job and hope it'll get better."
He referred to the upcoming Grand prix events where this year he was assigned Eric Bompard and the NHK trophy.

"I was hoping to go to Russia this year too, cause Cup of Russia was fun and it was a good competition. Now I'll go to France to face the world champion (Brian Joubert) and then to Japan to face the second guy (Daisuke Takahashi), so it'll be a tough season. But we trained well during the summer (at camp Ice Dome); the whole team got good work in and really improved. But I'm sure the other guys did too, so we'll meet at the GP and see who's better!"

That will be exciting to follow for sure, especially since Tomas is one of the AS skaters. He was pleased with his stay and opportunity to train in Sweden.
"The ice condition here is really good, I was surprised! The ice is good even compared to Oberstdorf, and there we have the best ice conditions in the world. Here we've trained both in the main rink and in the practice rink and I like the big one a little better because it's 30 x 60 size. The practice rink is a couple of meters smaller both ways. It's not much but it makes it hard to squeeze in step sequences and such. And the practice rink is pretty cold..."
Yes, we noticed that too but quickly forgot our frozen bones as Tomas continued:
"I like being here and I must say that Swedish people are so nice. I have stayed with two different families here and they are both great. And Kristoffer, he's a great guy!"
Flattery goes a long way, but of course we agreed and one of the families Tomas mentioned is Ela Magnusson's, the head coach at the Malmö Skating club. Tomas spoke very highly of her, and so did Carolina.
"Ela is a really nice lady and all the skaters here are so nice. We miss Lina (Johansson) a lot though! Last spring when we were here we stayed at her house and in the evening we'd eat popcorn and watch movies."

That sounds like fun and Lina is sorely missed by all of us. Carolina has all fond memories of Malmö, dating back to her first visit in 2003.

"It was at the European Championships. I skated for the first time with the best in Europe, well, in the world; Irina Slutskaya, Elena Sokolova... And then last season we had the opportunity to come here and train because Junior Worlds was held in Oberstdorf. It was a good change for us and Ela arranged it with perfect facilities; a dance studio just across the street, two rinks which gave us ice in the morning and ice in the afternoon and evening."
It was cold back then too, but Carolina isn't one to complain.
"Well, I have to say we're very spoiled in Oberstdorf but it's good to have a change sometimes. And I brought some really warm clothes this time. But and the condition isn't always the most important thing; what matters is that the atmosphere is good and it is."
An admirable attitude. And with all the time she's spent in Malmö one would hope that by now she'd have had the chance to look around, but she just laughed.
"When we came we said this time we have to do this and this and this, but in the evenings I'm so tired I just read my e-mail and go to sleep. But we all share a place so we have played some cards and board games. We have a good team spirit and that's very important."
The topic of our conversation switched to her new long program. Finding the right music is always a challenge.
"I had two choices and my coach and choreographer said I had one evening to decide. I said: I'll go to bed and sleep on it and when I wake up I'll feel which one I want. I did and I think it was the right choice."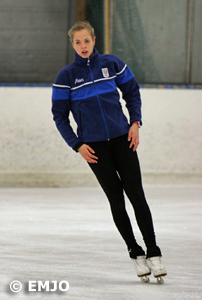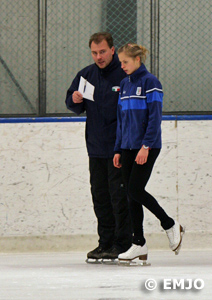 Carolina with her coach Michael Huth
We watched her skate this program and it's beautiful, but very intense with no chances to rest.
"The new judging system doesn't give us any chances to really rest, anywhere. The spins are not that easy anymore; you have to bend and layback and pull... But it makes the sport more interesting and it's what we train for. It gives us more strength and come March we'll be able to just run through our programs and it'll feel way easier than it does now."
In the meantime Carolina will compete at her two Grand prix events.
"I was a bit surprised that I got China and Japan, I thought, hmm, I have to go to Asia twice. It's a long trip but now I'm glad cause I'll have more time to prepare. And we get to see both countries and that's an opportunity one doesn't get so often. Tomas will compete in Japan too, we'll go together. It's always good to have him around; he's the positive one, the strength of our team."
And the two follow each other like twins, just sometimes with reversed results. Carolina started her season with a win at the Nebelhorn Trophy, followed by bronze at Finlandia. Now we'll have to wait and see what happens in Japan.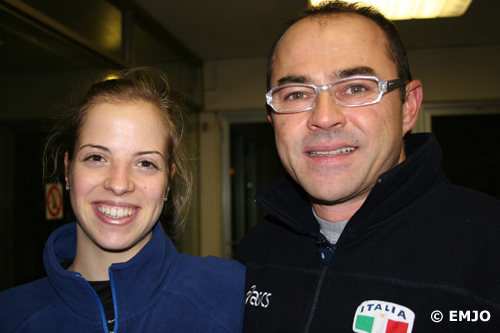 Carolina with the team physio coach Francesco Sinelli
Carolina closed with a message for all the skating fans in Sweden:
"We're looking forward to returning to Sweden for Worlds! Since we have to go so far for the GP it'll be really good to come here for Worlds."
And we can't wait to have them back! Now we wish them luck with all the competitions until then, and we certainly look forward to Worlds as well. But right now that's a long way off; the excitement of the new season has only just begun.