Kevin VDP's World Celebration; from Hawai to the Galaxy
by Titia Tolsma & Mireille Geurts
Photos © Absolute Skating
| | |
| --- | --- |
| May is not a month people associate with ice and ice skating, but that doesn't mean there is nothing going on in that cold world during. Last year in Belgium, Kevin van der Perren introduced us into his world of fantasy and his ability to create a story on ice. It turned out to be magic! To reminiscence, read here.And we found out that the show wasn´t yet completed before Kevin had most of the details for a whole new show for the following year planned. | |
Again, this May the new "Ice Fantillusion - World Celebration" show will be held at Kevin's home club KSC Liederkerke in Belgium. Because of last year's great success there will be 4 shows in one weekend this year. And it will even expand to the city of Hasselt for several more shows.
The preparations for this show started last fall, and in October Mireille and Titia from Absolute Skating got the chance to catch a glimpse of it.

Initially going to Belgium for whole other appointments and purposes that later fell through – no need to bore you with the details, nor of the traffic jams – the wonderful people at the ice rink in Liederkerke went out of their way to make the two girls feel welcome, it was heart warming.

| | |
| --- | --- |
| | Around noon Kevin arrived at the ice rink, and they got an opportunity to watch him practice. Not as a skater, but as a coach/choreographer. This was a very odd experience and not the role in which people are used to see him, but still it looked very natural. After the session they had a short catch up talk in which Kevin invited them to attend the practice held later that very day. The next day TV-crews would come to the rink to tape stuff for a promotion, and that's what they were going to practice for. Curious as they are, Mireille and Titia had to know more about the show. And once Kevin started talking, they got more excited by the minute! The story of "Ice Fantillusion - World Celebration" in short: |
One day an alien crash on the beautiful island of Hawaii. He is captured by the locals, including a little girl who wants him for a pet. The alien looks nice and sweet, but he is really an experimental animal from outer space, designed to destroy everything that comes in his way. In his time-machine he goes from place to place on earth.
His first journey brings him into the jungle where he meets a 4,5 meter long snake. Yikes!
He also meets a family of apes and the mother ape shows him her son; a human son. He has a girlfriend and when the alien settles in the village, he discovers that the ape family is ruining everything in the village. By nature, the little alien is very pleased!
Then he moves to Egypt and ends up in the love story of a poor boy who's in love with a princess. The princess is supposed to marry a prince, but will she?
In the meantime there are rumours going around in space. The creators of the alien want the little creature to return and a little army of space creatures head for earth to bring him back.
The alien has already moved on from Egypt to the underwater world where he sees the most beautiful water plants and animals and asks: Do mermaids really exist?
They do, and a little mermaid desperately wants to meet the humans on land as she's in love with a sailor. With the help of a witch, she trades her fen for legs and together with her fish-friends she tries to find her loveÂ…
Meanwhile, the army from space captures the alien. He has learned a lot on Earth, like how important family and friends are. He goes back to space, but not on his own. From every place he's visited, an earth friend comes along. The galaxy will never be the same!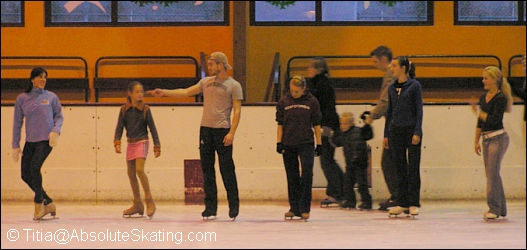 Kevin stopped talking leaving Mireille and Titia breathless. What a story, what a fantasy! Of course some details of this story may sound familiar to you, but when Kevin adds his own imagination to it, a completely new story is created.
Later that day, they attended the practice for the show and the TV promotion. And it truly was a celebration on ice! Next to a lot of club skaters from Liederkerke, there were some more familiar names like Jenna McCorkell, Ellen Mareels and Kaat van Daele. Taking pictures by the boards, Titia and Mireille enjoyed the fun on the ice.
Kaat & Jenna seem to have a natural chemistry, having fun and enjoying trying out moves together. Speaking of trying out moves, Kevin and Jenna tried to have Ellen do a backflip between them, which didn't go all that smoothly... But it was captured on camera and laughed at by all present, after which Titia gave Ellen some useful tips (Titia is a gymnast). And the pictures can surely serve well as a "see how it all got started" image.
A lot was being talked about and tried, as you can see in the pictures. Aside that the group seemed to connect perfectly, parts of what they were practicing already looked very professional.
The kids from the club seemed to quickly pick up what Kevin wanted from them, and if not he was patient enough to show them all the moves one more time (and one more...). He even took some time teaching them moves they didn't really need to learn for this choreo, but they wanted to learn after seeing him trying them out with Ellen and Jenna. He was willing to do anything!! Although... no that's not completely true. There's the part where the ladies had to shake their boobs, and he certainly refused doing the same…
After this fun practice the two Dutchies had to say goodbye, but not before they offered Kevin a photo book of his show from last year. He was very happy with it and started watching the pictures right away. And later every club member watched the photo book and each and every one of them thoroughly enjoyed it!
After the final goodbye, the girls got in the car and drove, northbound yet again. Now they can't wait to see the final production, can you?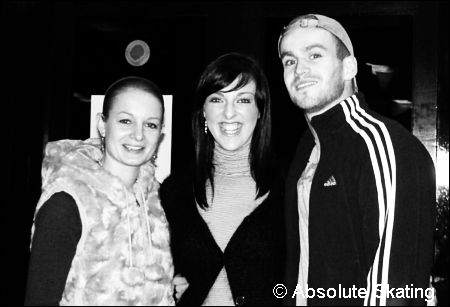 Additional info:
Tickets 15€ pp
May 12 & 13 Liederkerke, Belgium (hurry, almost sold out!)
May 19 & 20 Hasselt, Belgium
For more info & tickets email here