The untold stories of PSOI 2006
Part 1: Catfood, posing practice, Karl Lagerfeldt & sponsors
By Mireille Geurts & the AS-Antwerp Crew
Photos © Absolute Skating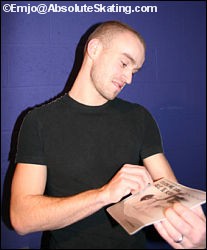 When we asked Kevin Van Der Perren to pose in front of our blue office wall for pictures to accompany the interview, he did in such a manner Titia blurted out it looked like a mugshot, only thing missing was a sign with his name. Mireille ran over to him with a mousepad saying "click me if you can" from a Felix catfood advertisement. Kevin posed with it before looking at it. When he did he broke into laughter and started an impromptu catfood commercial "buy Felix catfood, because it's so delicious and¬Ö yummy". Titia cracked up, choking on her drink, prompting Kevin to ask "Can you die somewhere else please?"
Wondering if the tentatively walking around Romain Gazave was curious whether the 2 girls sitting at the table were from AS, Mireille called out his name. A bright smile broke on his face  and a waterfall of French came out of his mouth. Ermm, our French is practically non-existent…English please?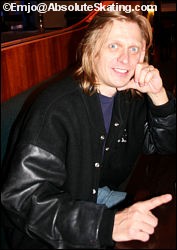 Jozef Sabovcik got called to our table by Romain, but he said he'd drink a beer first before he joined us "because he'd be funnier then". Brian Orser was sure we weren't able to keep it short with Jozef "he talks too much for that". Both statements were true, Jozef does talk a lot, and he was definetly funny, not sure that was because of the beer tho. Poor Brian and Romain, having to wait so long for their dinner companion… ¬†


What the heck are we talking about you wonder?? Oh, we just got lost in our memories. At this time of year, Absolute Skating usually brings you lots of reports on the Antwerp Proximus Stars on Ice shows. It's been a wonderful annual event and those of us who have been there have loved it. As you may have noticed, there was no 2007 edition as Proximus decided to stick to their usual policy, that four years of sponsoring was enough. Hopefully by next year the show will return with a new sponsor, but in the meantime, we, meaning the AS crew present last year, decided to share with you some exclusive behind the scenes stories and pictures.First a recap: Titia and Mireille were in place as early as Wednesday when the skaters arrived. Magdalena and Emjo joined up on Friday as the Antwerp Sportpaleis transformed into a rink. This left only Joy missing; she couldn't get there until Saturday afternoon, but she did attend part of the Wednesday evening practice. The actual shows took place on Saturday and Sunday and for those of you who missed our previous coverage, you can find the first days here, the show story here and the photo album here.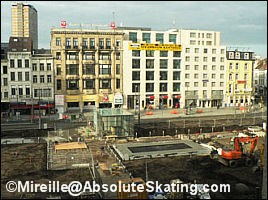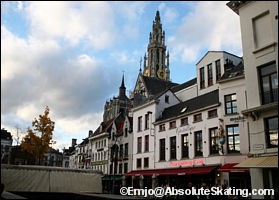 And now for the rest: The atmosphere at the PSOI shows in Antwerp has been good every year, but this time we noticed it being even more friendly and familiar.  When the train pulled into the trainstation we noticed that the square in front of it was less a mess than the years before and it was actually easier to walk to the hotel. By foot yes, on wheels was a completely different story.  Roads were under construction all over town and just when we thought we had reached the hotel because it was only 100m away and in plain sight, the road was suddenly blocked. After driving another few kilometers and encountered several blockages there were finally a way to get there.  
Entering the lobby of the Astrid Park Plaza Hotel made it realistic: PSOI had started! Dropping our bags on the hotel room floor felt like coming home, and it was time to get the show on the road.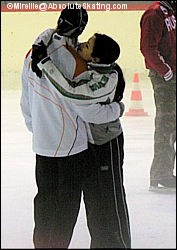 Road, yes… How familiar the practice rink at the outskirts of Antwerp may be to us and how much we felt at home there, it proved not so easy to find.  In our car, we were forced to go by tourist route, due to the road constructions and the GPS system wanting to send us to non-existing roads. The second time by taxi, we found ourselves giving the clueless cabdriver directions on how to get there, but once arrived we found good seats and prepared to camp out the entire day. The caretaker of the rink welcomed us and in a nice conversation mentioned they really enjoyed the stories and photos from last year. Wow, nice since we hadn't even mention we came from Absolute Skating. Getting recognized, huh?!
Watching the practice from a comfortable (and warm!) café is always nice. We particularly enjoyed Margarita Drobiazko and Povilas Vanagas "fight" each other so hard during their Pirates program, we were surprised NOT to see real blood. On the other hand, that would never happen since those two were always so sweet to each other, real lovebirds even. Awww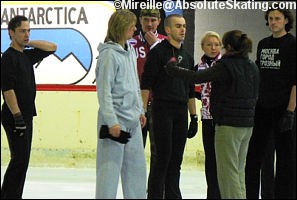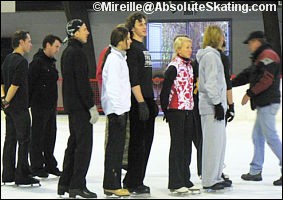 Hilarious that day was the Belgian TV crew present following the practices for a special in their program "De Rode Loper" and like we told in our live report, the group practicing for the ¬Ďpresenting pose' in the end.¬†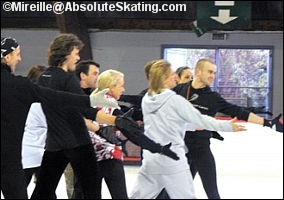 We were down on the ice level when that was happening and for some strange reason Kevin always tries to get out of our shot-range¬Öeven if that meant dressing up like Justin Timberlake. Just kidding, it was really cold down there.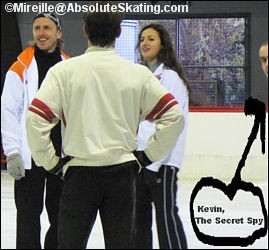 On Friday all the practices are held at the Sportpaleis where we met an old buddy of ours. Rivera Osvaldo works for the Icarus Security company, and we've met him every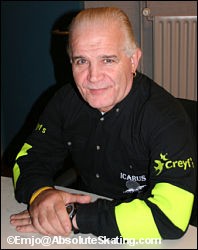 year. The first year we saw him in the security booth at the back entrance, we were all convinced he was Karl Lagerfeldt, the resemblance was striking! Rivera has always been nice and friendly to us and this time we took the opportunity to get to know him better. He told us he like his job as he enjoys all sports and likes to watch everything, especially cycling, but also skating. 

"Yes, skating... Katarina Witt!" 

He was obviously a big fan of hers, but he also remembered the Harding/Kerrigan incident. Hmmm, yeah, skating has gotten better advertising through the years.

The Sportpaleis is, in spite of its name, mainly used for concerts. Since it's a pretty big arena, it's always a tremendously impressive experience to walk into it. For some reason, without the audience and the proper ¬Ďdressings' not being ready yet (meaning the purple Proximus fabric draped over large portions of the arena, the skater's tunnel etc) it looks even bigger. However, no worries, the dressing was happening as we walked in and continued all day, making everything all nice and purple. Filling up the place with an audience wasn't a problem for the organizing IMG. The IMG Benelux office in Brussels handled all the sponsorships and the media, but the Executive Producer, Byron Allen, had come all the way from the US. He was pleased with how things were going.¬†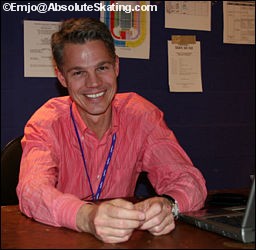 "They've done a great job here. This is the smoothest year in terms of getting it all together." 

There's a lot to get together. Byron is also the Producer of the US Stars on Ice tour, and he could make some interesting comparisons.  

"So much of what is done in Europe requires a great deal of sponsorship. In proportion to the overall income, sponsorship is a greater percentage of the overhead than in the US, or Japan where the ticket sales are able to cover more of the production cost. Europe isn't used to the touring properties that exist in the US. In Europe it's more concerts and theatres, in the US we're more going out to arenas for sporting events because we have them, 80-90 skating shows a year." 

The Antwerp shows have always had top skaters although Byron pointed out a special challenge in the recruiting.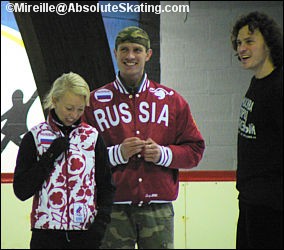 "This event has a history of being opposite to the Grand prix in Paris, so we've never had Brian Joubert. Meissner and Mao were in Paris, and so many of the top skaters who are IMG clients are competing there. As eligible skaters, competing should be their top priority during the season. We were lucky enough to get Emanuel [Sandhu] last year because he was already done with his GP events. But this time we were lucky to get two of the Torino gold medalists." 

He meant Totmianina/Marinin and Navka/Kostomarov and they were indeed a treat to have. For all not fortunate enough to having met Maxim Marinin, let us tell you that he is the definition of tall, dark and handsome. He's also a very deep thinker and knows a lot about philosophers and their theories about life and the human mind, and he's very nice! We were a bit puzzled about his participation though; he and partner Tatiana Totmianina have skated with Champions on Ice for years, and this was an IMG event. However, he just smiled at our concerns.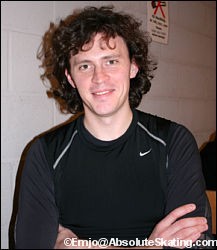 "The SOI and COI work mostly in the US. SOI has some affiliate shows, like here, and this is a good experience for us. We have lots of work preparing for the show. We tour professionally now so everything we do is for developing ourselves, so for us it's interesting to be here. We spent so much time and energy on getting the results we did; now we want to enjoy in a free way and not compete, just have fun."  

At the time, there was a lot of speculation going on whether he and Tatiana would return to competitions. Since they had already won everything, including Olympic gold, it boiled down to what more they wanted to accomplish. 

"That's the thing. Being an amateur is day by day very hard work and you have to ask yourself, what for? Why are you doing this? We won't compete again until we can answer that."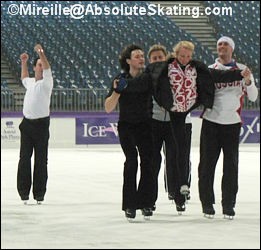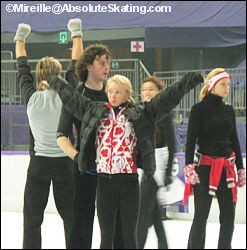 Moving on we ran into another friend from Iceworld.com; the company responsible for the ice floor the past 2 years. He explained it's about a depth of 8 cm's and can be built within a few hours. The surface was smaller this year than the previous one and he was a bit puzzled why, as he could just as easily lay down the Olympic sized one, but the organization requested otherwise. We were puzzled too; as it was our understanding that this would make it possible to leave all the seats up, instead of breaking away the first 6 rows and having to start up in the air a bit, leaving it less possible for the skaters to interact with the audience. Now there was a redundant space approximately the size of a highway, and as one of the skaters pointed out, they could have done a car show in between the boards and the first row of seats. A bit of a shame in our eyes, but it didn't make the shows any less awesome!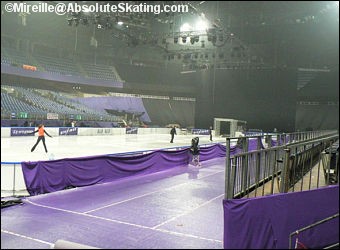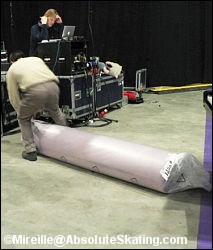 There was a small problem with the ice floor on Saturday morning though, the Zamboni crashed through one of the cooling elements. Iceworld rushed in and fixed the problem within an hour, not in the slightest interrupting the practice for the skaters, aside the fact that a traffic cone was placed in the affected area to remind the skaters to avoid it.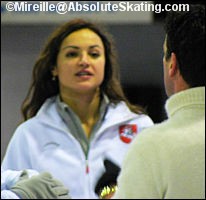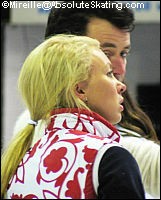 Iceworld.com has been laying ice floors all over the world, even in the strangest places. He was particularly excited about laying one for the "Gouden Kooi" the controversial new reality show running on Dutch television (some sort of permanent Big Brother). In the Netherlands figure skating has really picked up popularity since the start of "Dancing on ice"-like programs, just like in other countries. The things TV can do for our sport...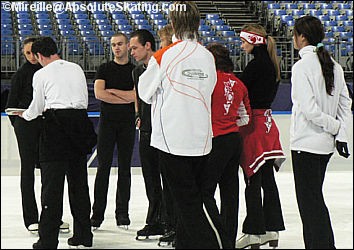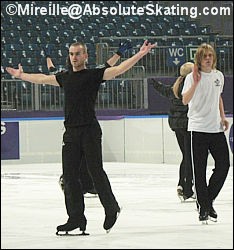 Part 2: Hugs, phones, (piano) lifts, wafles & sponsors