The untold stories of PSOI 2006
Part 2: Hugs, phones, (piano)lifts, wafles & sponsors
By Mireille Geurts & the AS-Antwerp Crew
Photos © Absolute Skating
Welcome back to Antwerp and part 2 of our "Behind the scenes" exclusive. On Friday the 'missing' skaters from the day before were present, so the whole group was together. Irina Slutskaya, who'd just arrived, had a hard time waking up and let Jozef carry her around the ice.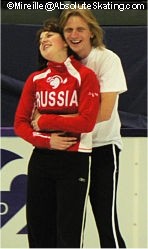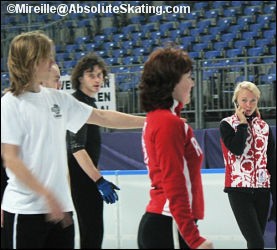 No, just kidding, but as you can see, she and Jozef get along very well and looked mighty cute together.
Irina and Tatiana Navka picked up very quickly on the choreography learned the days before, something that is really needed when you arrive later to practice for a show like this. All skaters were pretty on, and things moved along very quickly, although we were wondering how on earth Tatiana Totmianina was capable of learning the choreo as perfectly as she did while being on the phone the entire time.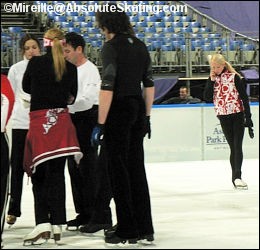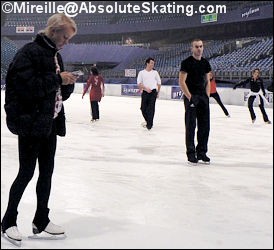 Not that it isn't a damn handy toy...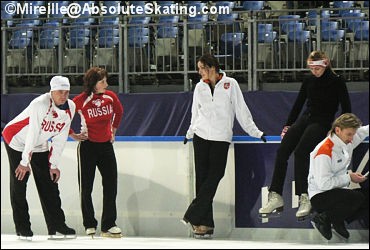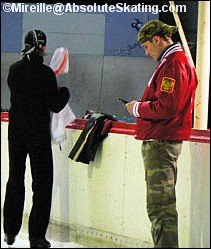 Tatiana Navka and Roman Kostomarov had to do a lift they had some problems with, but assisted by Povilas this turned into a perfect lift in the end and lead to some quite amusing moments for us and our cameras.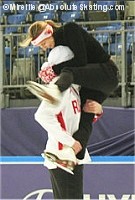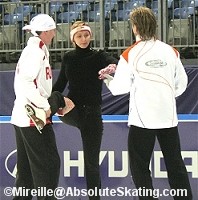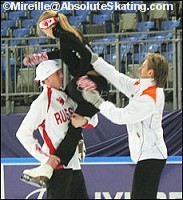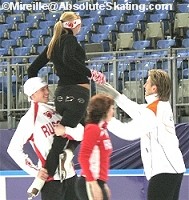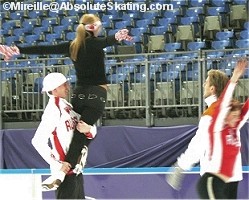 Practice days like these are long; there's lots of waiting and lots of constructing going on. One was the skater's tunnel; the covered entrance of the skaters to the ice. For us fans and frequent visitors of ice shows, it's such a standard item, but did you know it can take several hours to build it? And leave some pretty odd views as well, if you just glance over in that direction.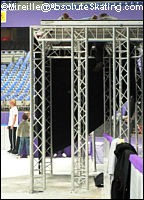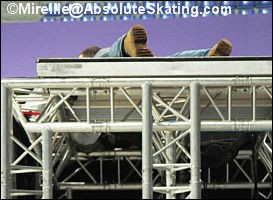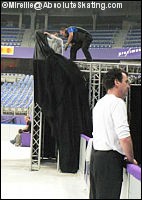 Waiting can do the strangest things to people and usually ends up with them getting playful on and off the ice, but hey, that's a heck of a lot better than getting bored to pieces, right?  Kevin had the very bright idea to suggest we steal some of the show lights stashed on a tray behind us, so he could use them for the shows at his home club. "They are only about four times our size combined, and they got plenty of them here anyway so this would not be noticed in the least... would it?" ;)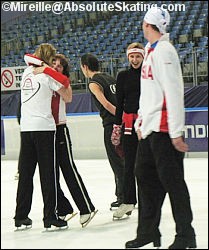 Jozef Sabovcik
- when not carrying Irina or bugging Tatiana N - was constantly playing the air guitar. An enjoyable sight and lead us to ask if he played the guitar for real too: 
"Yes I do actually a little bit! I wish I could play better than I do, I don't have enough time for that. Wish that I had started when I was really young, but it was difficult because I had to go to school and well you know, skate, so there was never much time left for anything else, but I have always been in love with the guitar, I can play on it a little bit, nothing that I would ever be satisfied with, because if I wanted to play like I want to play I would have to stop doing everything else and just play. You have to be dedicated to things, I am not happy with doing things halfway, it's either all or nothing, so right now I am kinda inbetween nothing and a little bit."

Like playing in the air...

"Yeah exactly yeah" He confirmed laughing.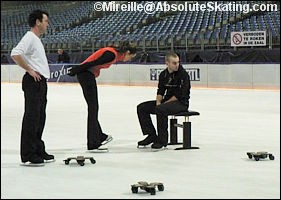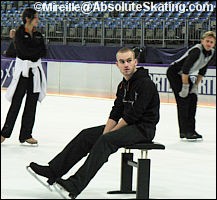 A bit of a problem was the practicing of the Proximus Theme music that Romain Gazave would play on the grand piano. Because the piano had to be put on the ice. Yeah, surprising concept eh? First they just pretended it was out there - just like the day before - but this time by adding the piano stool and the wheels the grand usually rolls on onto the ice.
After a while they decided to bring in the actual piano after all. That's the way it would be during the show so it had to be practiced anyway. Only, the wheels were taken off. Ever tried to carry a grand piano people? And lift it over the meter high boards? No?? Well, safe to say that wasn't working. Carrying it through the - not yet finished - skater's tunnel eventually worked, with some help from lots of other crew members. Next time, leave the wheels on?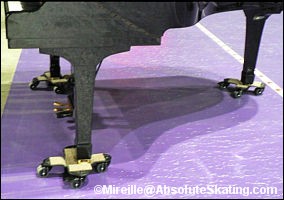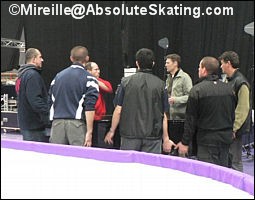 Oh and a grand piano on the ice? Great source of amusement to all...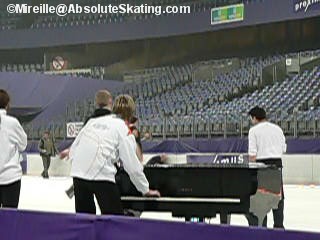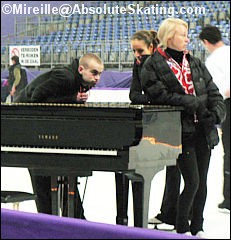 Romain
was a little worried about how that would go during the shows. 
"That's what actually scares me a bit, but the Proximus Act will be right after the intermission so it shouldn't be a problem to put it on then. For the other part, well I hope they can bring it on during Tatiana & Roman, that they can place it invisibly in the corner."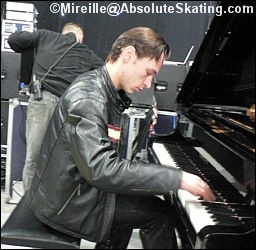 He was specifically asked for his special piano act and to combine it with the Proximus theme music. As eager as he was to skate there, he immediately said yes. He gets asked for many places because of his special skills. 

"It's true and I do like to do more tours like this but because it is a lot of arranging with the piano and all, a lot of organisors are scared of that. They think that it costs a lot but that actually depends, often there is an arrangement for it to be rented. It will cost then about 500-1000 euros for 5 days, so that is not too much. I bring pieces of rubber to be put on the pedals, so I can operate them with my skates on. Those can be attached to basically any piano. And to put it on the ice, I don't specifically have to bring something, you can just use some ¬Ďlayered carpet' - he explains that it has to be isolated so the piano won't be affected by the temperature changes too much -¬† but here we have the wheels."¬†

Asking about the ice quality he states:  

"It's excellent. The only problem is that the ice surface is so small, that is also why the piano is an additional problem, it takes up extra space. Thats why I was practicing with my Ipod on, because I have to mark the parts, adjust to the ice size." 

That's not all he did during practice besides just practicing, he skated over to us, asking if we remembered who his figure skating idol was. Of course we did, and he happened to be right there! So if we please, please could take a picture of them at the piano? Sure!!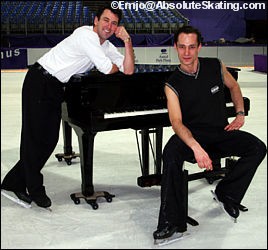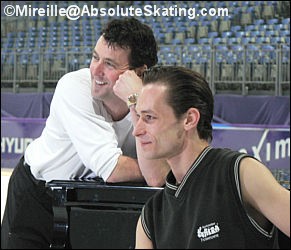 "This is great! I really like to skate with these people. Brian Orser was one of my old time favourite skaters, so it is magnificant to now be here and skate with him in the same program." 

He hasn't made up his mind yet if he's still looking up to him 

"No, it depends, yes I do, but he makes people so comfortable, it is so easy to perform with him...What can I say? He's very professional you can see that, but also really modest, really nice, easy to speak with. I was intimidated the first time I met him here, but we had been in contact before, because he sent me the remix of the Proximus theme, which I remixed also.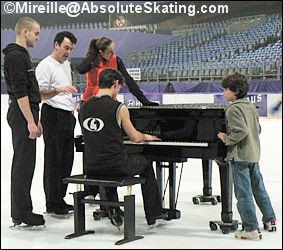 To practice for the groupnumbers is really fun for me, I can understand not all skaters like it, that they would prefer to arrive, do their numbers and leave, but I also think this is what makes a show special, unique, and what makes it interesting for the fans and audience. And they do have an amazing cast here, I must say."
His enthusiasm made us smile. We were wondering if he was a tad closer to his ultimate dream - an own Steinway piano - yet?

"No I am not, I will have to skate a lot more shows for that… " 

More  shows, we hope IMG heard that!!
Oh, and if you ever want to score a free drink from Romain, just mention his skating reminds you of Kurt Browning. Homerun!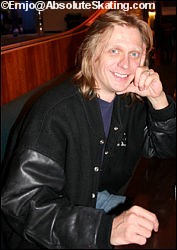 After long days of practicing, all the skaters return to the hotel. They eat, sit around in the lobby having fun, or relax in their hotel rooms, resting from practice. Or in our case, to eat, sit around in the lobby having fun, or resting in the hotel room from watching practice... and oh, yeah, trying to figure out how to get the Internet connection working, write reports, save and sort pictures, interviewing, etc. 

Titia and Mireille had to spend one night at another hotel due to no vacancy at the Astrid. Which they sulkingly did. Not that it really mattered though, you ran into Brian everywhere anyway! We did spend the evening at the Astrid. Hey, we felt at home there - and certainly not at the crappy substitute we'd arranged for ourselves - tho, cute staff ;)). We also had some business to attend to, namely to keep the skaters from eating their dinners by doing interviews. No, just kidding, Romain as well as Jozef offered themselves to us and Brian didn't mind waiting. Jozef did need another beer first,  as already explained in part 1, but so not needed, that man can keep you entertained for hours on end! Beer is not the only thing he likes tho.
"I always wanted to come here, ever since I was supposed to the first time and it didn't work out. I did try to get back here ever since, particularly with Ilia (Kulik -ed) since he is a good friend of mine and we always try to do a few shows together and this was one of them, but it never worked out for us. So now it did and I just saw him and I am like "I am finally able to go" and then he's can't because he's in rehearsels of Stars on Ice. He and Katia have been here every year and it's a great thing to be at. Besides, I love Belgian waffles!"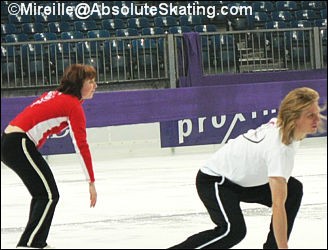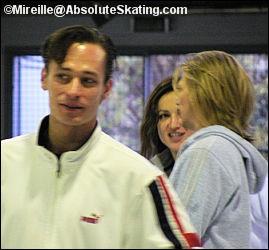 Ok so beer and waffles. Anything else? 

"I really like being there, with the guys it's perfect. Whenever Brian and I get together, I know him for 26 years now and we are still very good friends, I mean that is longer than most people are married!! I get along with the others as well, the figure skating world is pretty small. Wether you know each other or have met each other, unless someone really pisses you off, we all start out as friends. And I am an easy going guy, I try to get along with everybody, in the end we are all here for the same thing, to do a job, to entertain the audience. If we get along, I think the audience will feel that, because we'll do a better job. If we are fighting, they'll be able to tell and thanks to you they don't come…and well you know."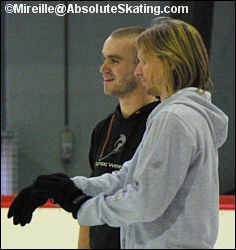 He would really like to come back to Belgium. 

"Absolutely. We all want to keep it going and hope it can get expanded, it's trying to find the right thing to do with figure skating, but it's all about sponsors, in the US and in Europe."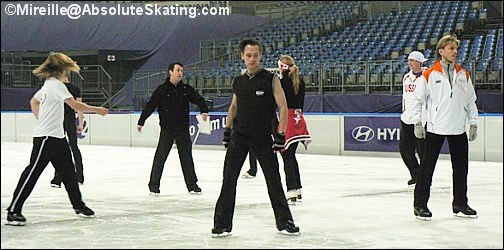 As proven by now, he couldn't have been more true. It IS all up to sponsors, how succesful a show may be. How thankful we are for Proximus to have brought the show to Belgium, how dissapointed we were when they decided not to continue. How thankful we are for Proximus to have brought the show to Belgium, how dissapointed we were when they decided not to continue, since it was now an established event. Sincerely wishing IMG will be able to find new ones, so this top event can be back in the Sportpaleis next year, where it belongs! Keep your fingers crossed like we do! 
Part 3: Breakfast buffets, sandwiches, after-midnight-interviews and hearts