And the winners are: Savchenko & Szolkowy!
By Magdalena Osborne
Photos ┬ę EMJO & Caroline Paré
Chemnitz, Germany, December 1st, 2006
| | |
| --- | --- |
| | The lights are dimmed and the audience in the Chemnitz Eishalle claps and cheers loudly to show their excitement and warm appreciation for pair skaters Aliona Savchenko and Robin Szolkowy. Chemnitz is their home base and this is the first ice gala held in the city in several years. The high point of the gala is when Ingo Steuer, the couple's coach and choreographer, joins them on the ice. All three of them skate together and Ingo and Aliona do some "tricks" proving that Ingo is far from finished with restoring the greatness of German pair skating. Judging by the audience's reception there's no doubt this pair and the coach are heroes. |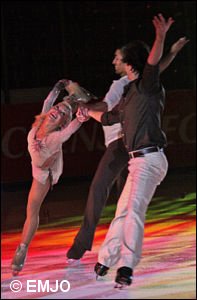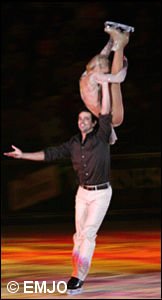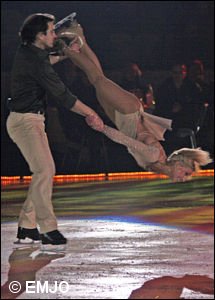 Warsaw, Poland, January 24th, 2007
| | |
| --- | --- |
| | The lights are bright and all eyes are on Aliona and Robin. The choreography is superb, the music and costumes match and the skaters look calm as they complete a near perfect version of their free program "The Mission". It's one of those times in pair skating where the people watching are afraid to breathe for fear of disrupting the magic. And this is pure magic. The crowd loves it and wave banners and posters. The judges love it too and the pair is awarded more than enough points to secure the victory and achieve a new personal best (the "old" PB was only since Nationals). A short while later Aliona and Robin beam from the top of the podium, the gold medals gleaming around their necks. |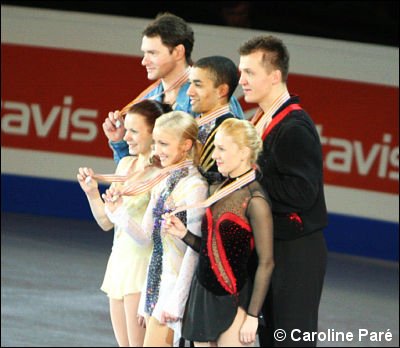 Few pair team-ups have been as successful as that of Aliona and Robin. In the four seasons they've skated together, they've brought German pair skating back to a level not seen since the mid nineties, when Mandy Wötzel and Ingo Steuer collected one European and World medal after another. And with Ingo as their coach the triumph now continues through Aliona and Robin. After having medaled at both Grand prix competitions (Cup of China and Cup of Russia) they earned silver in the final, and shortly thereafter secured another Nationals title, their fourth. When asked about their expectations before big competitions, Robin humbly stated: "As usual we try our best to get on the podium."
Whatever he means by "try", it sure works. The victory is sweet and so is, to some degree, the revenge.
| | |
| --- | --- |
| Both Aliona and Robin willingly credit their success to their coach. So much in fact that they never hesitated to stand by him during the allegations of his Stasi involvement, and even threatened to quit skating rather than letting another coach take his place. The issue isn't resolved yet, but Steuer was granted permission by the German federation to stay on, at least until the end of the season. | |
Maybe another medal will have been added by then, proving once again where Steuer's place is. Of course the whole story is a dark cloud, but Aliona and Robin have experienced hardships before. Like last year, when it didn't seem like Aliona's German citizenship would come through in time for them to represent Germany at the Olympics in Torino. It worked out in the end, but with only weeks to go before the competition where they placed sixth. They also placed sixth at Worlds, but all that was last season.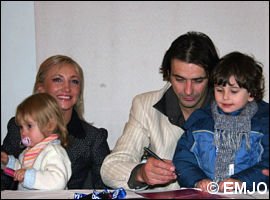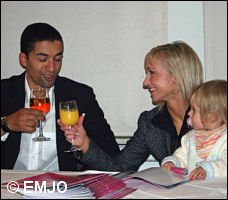 Things are different now and they are already ahead of their goals.
"Our goal is to win the big championships like Europeans. Maybe not this season, but next."
Those were Robin's words earlier in the season, and they certainly didn't have to wait until next year to achieve that goal.
Robin is a 27-year old, low key, patient guy who smiles a lot and speaks exceptional English. And he's upgraded the goal, and now seeks a spot on the podium at the upcoming World Championships in Tokyo.
Aliona, who turned 23 right before winning in Warsaw, was born in the Ukraine. Together with Stanislav Morozov (who placed 5th in Warsaw with Tatiana Volosozhar), she won Junior Worlds back in 2000. Three years later she moved to Germany to skate with Robin. But when listening to Aliona, Ingo and Robin speak; it's all in German and Robin explains:
"She studied some German in the Ukraine; she could say "yes" and "no" when she came. But we spoke German right from the beginning during practice sessions, of course we had to speak slowly… Soon she learned the skating terms and now she's getting better and better."
Which we heard on Eurosport when she and Robin were interviewed by the German reporter.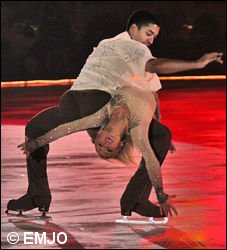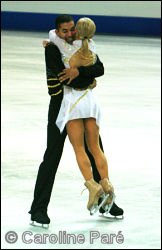 But has Robin learned any Russian?
"No, and I don't think I'll ever learn, it's a very hard language. But it's too bad; in the skating world everyone speaks Russian and French."
Well, maybe not everyone. English goes a long way, and the German speaking countries have many top skaters as well, so German is also a good skating language to know.
Like many skaters Robin started at an early age and has devoted most of his life to the sport. Until he was in his teens he skated singles and was inspired by the elite.
"I liked the Brians, Orser and Boitano. And Petrova / Tikhonov. They have skated for so many years and are still in the top."
The Brians are now in their forties and still going strong. Maybe we'll see Robin skating at age 40 as well.
"I hope so, it's my goal."
And he's known to reach those… But if the skating part shouldn't work out there's always coaching.
"I've tried it a little, but I don't really have the patience to teach kids. To work on single Axels every day… no. But maybe on a higher level, like Ingo."
Or become a judge or technical specialist…
"No, NO! But maybe a team leader or a member of the federation."
Well, whatever he decides to do down the road he will surely succeed. But before then we hope to see much more of him and Aliona being awarded gold medals after gold performances.