The annual Thanksgiving treat -
Stars on Ice in Lake Placid
By Magdalena Osborne
Photos ┬ę GO
November 24, 2007. Inside the Olympic arena people are buzzing with anticipation. The audience is anxiously awaiting the show to begin while the backstage crew and skaters attend to last minute details. This is it, this is what all the blood, sweat and tears have lead up to and nothing must go wrong.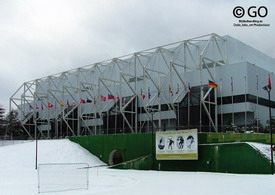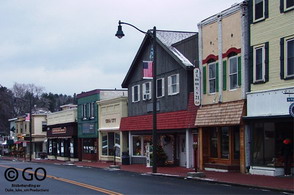 As tradition bids the grand opening happens in Lake Placid, NY, a city filled with people eager to enjoy winter sports. The ski season has started, but tonight the spotlight is on figure skating.
The skaters appear on the ice to "Turn Me Loose", and are introduced, one by one. The costumes are fabulous; the ladies sparkle in pretty silver dresses and all the men wear black with silver ties. There are lights, skater formations and individual elements – the show is on and the audience loves it.
The 2008 cast
| | |
| --- | --- |
| Sasha Cohen is the new leading lady, the new Star on Ice and she plays her part well. In the opening act she enters as the last of the skaters, wearing a bright red dress, "Simply Irresistible" as the music suggests. She enchants the crowd throughout the night in group numbers as well as in her solo programs. "Anytime, Anywhere" is beautiful, as is "Imagine" sung by Avril Lavigne. Sasha is given the opportunity to shine and to show off her flexibility. Her spins and spirals are breathtaking and deserve to be seen from coast to coast. | |
Marie-FranceDubreuil & Patrice Lauzon from Canada are one of the top dance teams in the business and a welcome addition to the Stars On Ice cast. With elegant and innovative lifts they are a joy to watch whether the music is on "Fire" or romantic like in Billy Joel's "She's Always a Woman". Dubreuil & Lauzon have had great success in competitions but prove themselves to be most entertaining in shows as well.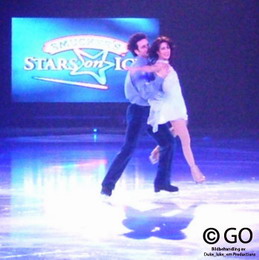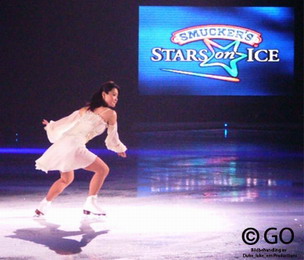 Beautiful Yuka Sato is a true ice princess. In the ballad "1000 Miles Away" sung by Jewel, Yuka, dressed in white, demonstrates her grace on ice. It's lovely and one forgets to breathe. In the second act she wears a bright red and orange dress that suits the much faster beat, and she masters it as well. Yuka won the World Championships back in 1994, but can still land a double Axel.
| | |
| --- | --- |
| | Todd Eldredge is no newcomer to the tour. This is his sixth year and he is as entertaining as ever. Performing to "Always Look on the Bright Side of Life" from the Monty Python musical Spamalot, Todd brings out the comedian within. His mimic alone is worth the ticket price. The whole number is hilarious, beginning with bad news on the answering machine and escalating from there to getting soaked, then always looking on the bright side of death while gliding belly up on the ice, and in the end losing his pants. The skating is a class act as well with tap dancing and huge Russian splits. The crowd cheers and loves every move which is true also in Todd's second program, a much calmer "Nights in White Satin". Of course he wears a white satin shirt for this very beautiful number. |
The Chinese pair skaters Xue Shen & Hongbo Zhao are new cast members and the IMG deserves a medal for inviting them. It's just too bad so many in the audience don't know to appreciate what they witness; I really hope that will change once the tour starts. Shen & Zhao are top of the line, pulling off difficult lifts and throw jumps, they have the technique and the artistry. In "Feeling Good" by Michael Buble' the beat is jazzy and fun, but in the second act the performance to Il Divo's "Caruso" is a fairytale dream.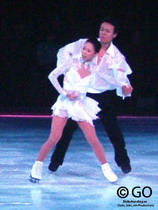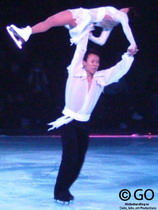 | | |
| --- | --- |
| Michael Weiss is the nice surprise of the evening. After his opening act; "Hero" by Enrique Iglesias, he doesn't have to justify his place among the stars anymore, at least not to me. The second program brings the Wild West to the ice and it's very entertaining. Overall Michael is a lot more fun to watch in shows than in competitions, and the audience really loves him. He gets an extra huge cheer for the backflips and the cool gliding on his heels, a move made possible by the Freedom blades. | |
Kyoko Ina & John Zimmerman are one (or two) of a kind. This pair keeps getting better every year and is such a joy to watch. Their programs are far out and simply thrilling! This time the audience is taken for a stroll down memory lane with an updated version of "Shine on you Crazy Diamond". The years with Stars On Ice have brought Ina & Zimmerman to a new and higher dimension. But most elements of their programs would not be allowed in competition, they are way too dangerous!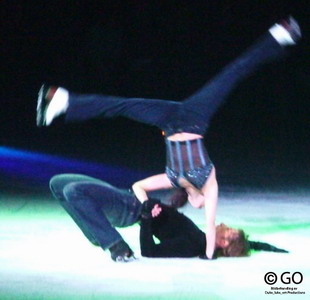 Jennifer Robinson has had a few years now to grow into her role as a show diva and she's done it very well. She skates and interacts with the audience with confidence and conviction, and can switch from strictly beautiful to serious comedienne at the blink of an eye. Her "Hit me with a Hot Note" is a very enjoyable piece, as are all the group numbers and transition acts she participates in.
| | |
| --- | --- |
| And last but certainly not least: Ilia Kulik! If I may offer one piece of advice to the readers of this article, it will be to grab every opportunity possible to watch this man live on the ice! "Inspiration" isn't just the name of a program; it's a description of, and by Ilia. At the beginning he is seen on the big screen and on the ice playing the keyboard. It turns out he composed the music himself. On a voiceover he also talks about looking within yourself for inspiration, and then he skates. This man is so talented! He has original moves and in his two cold spots he does it all; footwork, triple Axels, flying spins… he's a first class entertainer and dancer. The audience goes wild over his trademark move – the cantilever. | |
The 2008 show
is a fun filled adventure for the whole family. There's so much going on all the time it's sometimes hard to keep up, especially during the group numbers. There are also some highly entertaining acts where the cast members are as much actors and comedians as skaters. This shines through in little transition numbers, like where the cast "family" is presented just like the Brady bunch, featuring Todd as Alice. This would have made a great show of its own!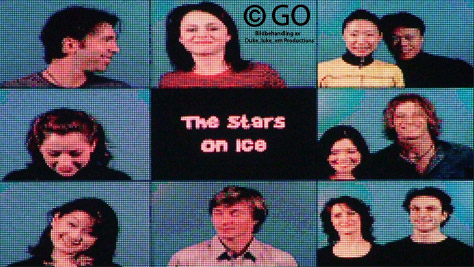 In "Entchantment", Sasha is dressed lika a ballerina and put on a pedestal by John, Patrice and Michael. She is lifted and twirled around and she dances, but not on skates. This was a great and very different number.
| | |
| --- | --- |
| The comedy tone is back in "Too Cool to Warm" which opens the second act. Michael has no patience with Jennifer's useless warm-up routine. He and Todd exchange death stares, the ice dancers command everybody to get out of their way, the Chinese are doing Tai chi in a corner and Sasha wonders if she left the iron on. All this is very funny and very enjoyable. | |
But my favorite group number is "Hard Steel is Back". Scott Hamilton appears on the big screen announcing that the rock group "Hard Steel" is reunited! Jennifer is Miss Salchow, the reporter who brings the news to the three little schoolgirl fans, wonderfully portrayed by Kyoko, Yuka and Xue. Axl Edge (John) is the band front runner but to me the best rocker in the bunch is Marie-France with a pink guitar. These guys have to be seen as no photos can do them justice. They must also be heard bringing the audience such 70ies nostalgia as Alice Cooper's "School's out" and the Sweets' "Ballroom blitz". Great music, great skating – what a show!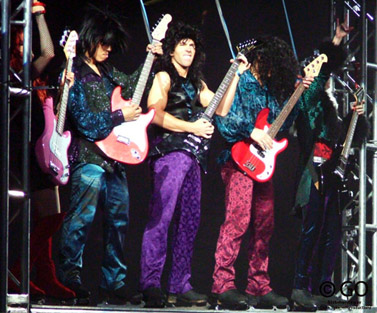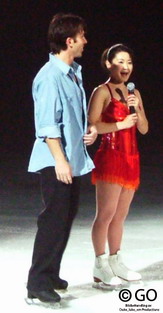 Being a skater anything can happen, as Michael experiences in one of the transition numbers. He's telling Yuka how much he'd do for his fans and she makes him give away his shirt. Lucky lady who got it!
The production
| | |
| --- | --- |
| | It requires months of preparations to put a huge production like this one together. The costumes alone are unbelievable; Jef Billings has outdone himself – again. There's color; both bright and subtle, sparkles, stripes, satin and leather to mix and match the various acts, and it all works. My special price goes to the cute and very fitting outfits created for the three little schoolgirls. Adorable! |
The music together with the skating is part of the Stars On Ice magic. It's a bit like attending a concert, only more varied. Most skaters have a chance to skate to two very different types of music, and they do it with ease. And among the different types of music something is likely to suit everyone in the audience.
| | |
| --- | --- |
| No show is complete without spectacular lighting and this year it's right on. The big screen is used a lot and it adds to the stories of the programs. The powerful effects of the formations of colors and patterns on the ice can't be fully appreciated when sitting close to the ice. On the other hand it's fun to be able to see the skater's faces… This very difficult dilemma is best solved by watching the show twice! | |
So there you have it, the 2008 edition of Stars On Ice, the great show initiated by Scott Hamilton back in 1986. Byron Allen of the IMG and show producer explains the tour name:
"When Scott started his tour it was test-marketed in five small US cities and got a very good response. But from the beginning we knew we wouldn't have Scott and Dorothy Hamill forever, so we didn't call it Scott Hamilton's tour, we called it Stars On Ice and knew we'd continue on after Scott retired. We obviously have, with Scott as producer in North America. We now do 40 shows in the US, 12 in Canada, and some in Korea and Japan."
Stars On Ice is known for recruiting the best skaters, usually Olympic and World medalists. But the group numbers set the show apart.
"The show as a whole is greater than all the individual talents together. So we've tried to gather a blend of skaters who aren't just great individual skaters but also work well in a group. And we've had a number of skaters through the years who have been phenomenal within the group concept."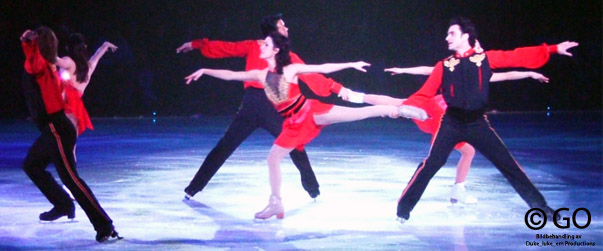 How much longer will there be Stars On Ice? No one knows, but I sure like Byron's attitude:
"Skating has a strong, solid background of fans, and from a corporate perspective it's still about as good a way to reach women in sport as there is."
The helpful security guy Tom Dunlap was also pleased with the show:

"Scott Hamilton is a very nice guy, I've met him personally. I used to work here part time as an usher and security. This is the third year now I do this, they invite me to come and it's not work, it's pleasure!"

Tom has Swedish ancestry and even spoke a few words of Swedish.

The way I see it there's only one problem with the show; it comes to an end too quickly. To "Make a Memory" by Bon Jovi the entire cast performs one last time and then takes the final bows.
It's over and all I want to do is watch the whole thing over again.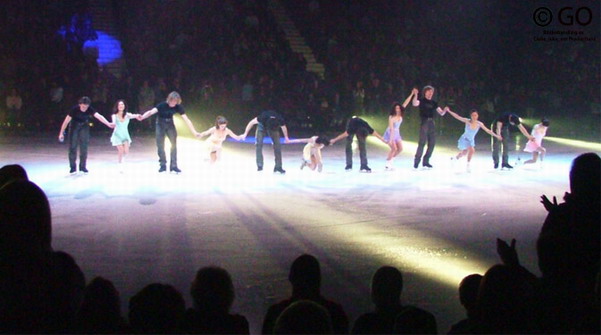 For a complete schedule of all the tour stops check the SOI website: