Kristoffer Berntsson: "It'll be a once in a lifetime experience"
By Magdalena Osborne
Photos ┬ę Emjo and Absolute Skating
He is referring to the upcoming World Chasmpionships where he'll perform in front of the home crowd in Göteborg, Sweden. The pressure is certainly on but he's no beginner, this will be his eighth Worlds.

He feels prepared and may never have been in better shape. Thanks to his success finishing ninth in Tokyo last season and receiving a standing ovation, he earned a second spot for the Swedish men this year. Many people depend on him to keep that second spot, but still, the biggest pressure is what he puts on himself.
-I very much want to succeed; I have both friends and family coming to watch me. I mean we're talking about Worlds, in Sweden! That doesn't happen very often!
No indeed, last time Sweden hosted Worlds was back in 1976, incidentally also in Göteborg.
People attending the competition this time can expect to see Kristoffer perform his short program to music from Amelie on Friday March 21st, and his free, disco inspired program the following day. And to top it off he'll also skate in the gala. Don't miss it!
Last fall Kristoffer had the opportunity to skate in the Media Markt gala in Ingolstadt, Germany.

It was great, really different from competitions, I loved it. It was a lot more relaxed and while all the skaters worked together on the group numbers we became quite close. At competitions people tend to keep more to themselves. And the audience was wonderful!

The gala was broadcast live on Eurosport which left no room for retakes.

We all knew it'd be live on TV, the time schedule was meticulous. We had to get on and off the ice at the exact moment and we practiced a lot with the singers. Everything had to work just right with the cameras.
Altogether it was a good experience and he's hoping for more offers, although competitions have kept him busy during the season. He competed at Skate America and Cup of Russia.
Things did not work well at Skate America. I had been injured and wasn't at my best. But it started out well in Russia, the 3Lz/3T was great and I felt I was heading for something good and would finally be able to show what I can do. But then I had problems with my costume, the suspender came off on one side. Well, those things happen.
The men's competition was fierce with such greats as Buttle, Weir and Lambiel, and in the end Kristoffer finished tenth.

They all skated really well. It was a good competition, but I want more, it can get even better!

It did get better. At the Swedish nationals he won his sixth senior title and earned a spot at Europeans in Zagreb, Croatia, along with Adrian Schultheiss. Europeans is a major competition and again, the pressure was on.

The audience was great; I felt their support all the way. My short program went well. I was very focused on my elements, what to do next and how to reach the audience. And I was able to!
The setback came afterwards and some people even booed the low component marks.
I don't know why they were so low, but they were still higher than the other guy's. I was in the lead with something like ten points. On the other hand it was my worst components in like four years, and it wasn't by far my worst skate in that time. Whatever I'm supposed to read into that...
My guess is starting in the wrong warm-up group but it still shouldn't make that much difference. After his own performance he didn't get to see much of the other skater's programs.
I watched the end of Tomas's performance. But there was the media thing so I wouldn't have been able to see much anyway. It was mainly the Finnish and Swedish papers that were interested in us (Swedes).

Expectations were high for the free skate and this time he was in the last warm-up group. But things didn't go as well as he'd hoped.

After the short program I felt I was in the position to do something good. Maybe that was the problem, I tried too hard. I couldn't see it through.

At least his components were higher, a comment that made him laugh.

Better late than never!

And he did place seventh which was his personal best at a European Championship.

True, but many didn't skate so well. I wasn't happy with my performance, really, I wasn't.
After the free program I was so disappointed I just wanted to leave.
That may be, but the event still turned out to be a milestone for the Swedish men. Adrian placed sixth, so both of them ended up in the top seven, a historic result for Sweden. The consequences are tree spots for Sweden at Europeans next year, which'll mean no battle among the three senior men, or? Kristoffer grinned.
Oh, we'll still battle. It's nationals first and we'll all want to win there. We're not going to relax!
Zerjon Abebe – from the dance floor to the ice
A portion of Kristoffer's progress in the last few years is credited his very creative choreographer; dancer/instructor/actor Zerjon Abebe. Of course one has to wonder how a street dancer ever got involved with figure skating. Zerjon burst into laughter.

I ask myself that question every day! I was working as a dance instructor when I was asked to choreograph for Team Surprise. And I thought you're kidding, right? Me and figure skating? I mean, I had tried skating but not figure skating. It was a challenge and I'm still in shock that things have gone so well.

For Kristoffer it started with fun and very different short programs and now includes his long program as well. Zerjon possesses a special gift, the magic touch and he's able to dream up some of the most creative moves.
Well, I focus on what hasn't been done before. I've slowly come to understand the world of figure skating and the things skaters usually to do. My field is break- and street dance and we have to come up with new stuff all the time. Creativity is very important and that part I've brought into his skating. I ask him what he wants and I tell him about my ideas; I like his programs to tell some sort of story.
The hard work creating a unique style for Kristoffer has paid off. He is now known for his programs and the ability he's developed for delivering them on the ice, down to the mimic.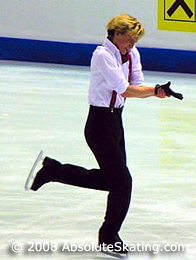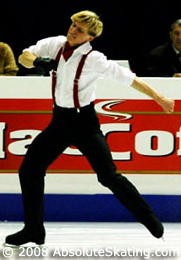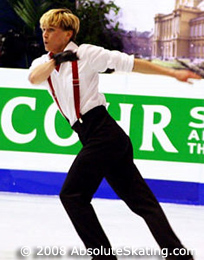 We have worked hard on this. New things can be frightening at first but we stuck it out and it worked! Now people expect him to come up with new things and that's getting harder all the time. But we're a good team, he's very open for new things and he's very fun to work with.
The music is an important part of the program and has to be chosen with care.
I usually start that process, at least finding the direction. From there we both start looking. But it's all teamwork; we play with things to see how they'll go. Choreographers who do everything themselves won't get far. I believe you have to find the spontaneous streak in the person you work with and playing games is a good way to do it.

Some choreographers watch other skaters to find inspiration. But that's just what Zerjon wants to get away from.

I have watched a little skating on TV, but not really for the purpose of comparing. If you do your own thing it'll rarely collide with someone else's way of thinking. But if I think something's already been done I ask Kristoffer about it. And if we suspect that someone's even been thinking along those lines we drop the idea. No one's going to say that he's doing things like so and so.
At the moment Kristoffer has to focus on Worlds, but soon it's time for the team to start planning the programs for next se ason.
I have no ideas yet. As a dancer I develop all the time and maybe I'll need to be around some people who will inspire me before I can help someone. But I watched Adrian skate at nationals and he's gotten better. That's good for Kristoffer; it puts positive pressure on him. It's never good when things are too easy, then people don't grow.
All work and a little play

And during his collaboration with Zerjon, Kristoffer has really grown. The shy kid is gone and a full blown skater and actor confidently takes the stage when he skates. And Kristoffer willingly acknowledges his buddy Zerjon's part.
Since he's so close by we can work on a regular bases with body language and mimic. When we make a new program we meet a lot and work together both on and off the ice. When the program is done it's more about fine tuning so we get together every now and then. And sometimes he teaches me dance, all depending on my training schedule. After the season ends there won't be as much ice and then we can train more together.
A mental trainer has also contributed.

Yes, he works with all the pieces I think will help and we'll continue working together. Before a competition you never know how things will go and that's why you get nervous. When I was a kid it was easier; sure I got nervous but things always worked out. Of course the level of difficulty was much lower then...

In the past Kristoffer received financial support from the Swedish Olympic Committee (SOK), but after Torino he was dropped from their program.

I was in it for a lot of years and received lots of support. Unfortunately I didn't reach the level they wanted me to, but thanks to them I'm where I'm at today. And now I'm in the "Sweden Göteborg on ice 2005-2008" project which is a joint venture between Göteborg & Co and the Swedish Figure Skating Association. They have for instance paid for my summer training.
Kristoffer has spent many summers in Oberstdorf at the Ice Dome camp and he'd like to return there.
The summer isn't planned yet but I like it in Oberstdorf. The question is who's going to pay. Maybe the SOK will start up something again for Vancouver and this time I've already qualified to participate, I placed in the top 8 at Europeans.
Kristoffer is determined to stay eligible at least until the Vancouver Olympics in 2010. Post Olympic plans however are not yet carved in stone.

It's too early to say. Maybe I'll do some touring, skate in shows and use what I've trained for most of my life. But coaching is not for me! I'd also like to use my schooling for something.

School, yes, cause on top of his skating career and all the training Kristoffer is also a part time university student.

I was accepted to the masterprogram so maybe in three years or so I'll be done.

He's a busy man and on rare occasions he even finds time for a bit of non-skating, non-school activities, like going to the movies.

Yeah, It's been a few weeks now but the last movie I saw was "The Diving Bell and the Butterfly" (original title "Le scaphandre et le papillon"). It was dark somehow, good but sad.
Our fingers are crossed for Kristoffer and his team. May Worlds in Göteborg be the best competition ever!