Adrian has no doubts
By Magdalena Osborne
Photos © Emjo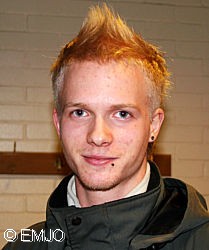 The past season was a great one for many Swedish skaters and Adrian Schultheiss is no exception. He placed 4th and 6th at his Junior Grand Prix events and got silver at Golden Spin and Nationals. A great beginning, but it got even better. At the European Championships in Croatia two phenomenal performances landed him in 6th place overall, an uncommon achievement by a Swedish man. But then few things are common about Adrian - and that's how he likes it.  

He spends a few days in Malmö together with the Swedish team training with Michael Huth, and we meet briefly over lunch. The food's not great but he shrugs it off; he's had worse in other places. We start off talking about Worlds in Göteborg; an altogether good experience for him.
"Yes, I'm very happy with how things turned out. To skate for a home crowd was a wonderful feeling. That kind of audience support was something I'll remember my whole life."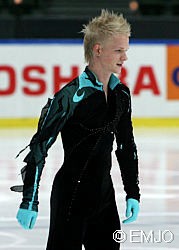 He will surely also remember doing so well that he and Kristoffer Berntsson earned a third spot for the Swedish men for next year. If Adrian stays injury free that'll mean a ticket to Los Angeles, something he won't mind. The climate in LA is warmer than in Göteborg and as much as Adrian spends hours on end on the ice, he prefers warmer temperatures so he won't have to freeze. 

Getting back to discussing Worlds, I ask if he ever anticipated Buttle winning.
"No, I had my money on Daisuke. He had looked so consistent and strong through the season. But in competitions anything can happen!"
Indeed, and Buttle won without a quad, something that hasn't happened at Worlds in many years.
"But he won fairly, he was the best! A quad shouldn't decide the whole competition; if you have one you win. But I do think the quad should be worth more points."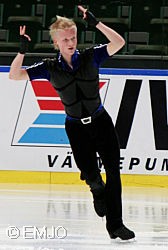 That would be fair since it's a difficult jump. Adrian knows cause he's been wanting a quad for a while.
"But I haven't practiced it lately, my old foot injury always acted up whenever I would try the quad. And if it starts hurting I can't jump at all, so... But I did some at the Worlds practice. Of course it has to work at the practises at home first. Right now I'm breaking in new boots and blades and it doesn't feel so good, so we'll see what happens. I had my last pair for two years and they were so nice and soft, these are hard as rock. But anyway, if things go as planned I'll add a quad to my new long program."
He's picked the music and describes it as very modern.
"I like that. I thought Dai's Swan Lake was super. I'm keeping the short program from last season."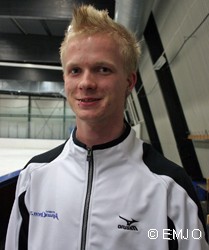 Japan Open
Something nice and unexpected that happened during April was the sudden invitation to be part of team Europe in the annual Japan Open.
"I only found out I was going about a week before the event. But it sounded great and I really wanted to go so I never hesitated."
Team Europe consisted of Stéphane Lambiel, Sarah Meier, Kiira Korpi and Adrian. They finished second (after Team Japan but before Team USA).
"But after the men we were ahead", Adrian says with a pleased grin.
The whole trip was a good experience even if it was short.
"It was my first time in Japan, but it was only for three days. The day we arrived we went straight to the hotel and then straight to the rink where we spent all day, and then back to the hotel. The next day we competed and then there was a gala."
A busy schedule in other words and not much time to look around. But on the last day something opened up.
"We had some time to check out some stores, but ended up in a district with nothing but electronics; cameras, lots of noise... it was a bit much. And I didn't buy anything. But we ate real Japanese food; it was a buffet with shrimp and sushi... totally ok!"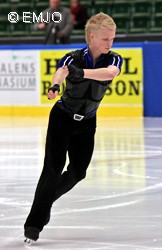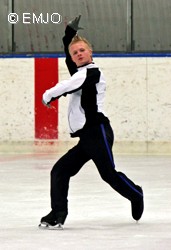 Spending only three days in Japan isn't even enough to get over the jetlag!
"No, but it was ok, I'd like to go there again."
That chance will come faster than he'd thought as he was assigned the NHK trophy. Go, Adrian! And competing in the senior Grand prix is something he's been looking forward to. The past season he's kept one foot in the junior camp and the other in the senior, but from next season all junior competitions will be a thing of the past. And he's very ready for the senior circuit. 

Adrian has a larger than life personality and a lot of confidence in what he can achieve. He knows he can medal someday at Worlds and even at the Olympics, he has no doubts. But talking to him there's no trace of cockiness because he knows that nothing comes for free and that effort and perseverance will decide where he'll end up. My guess is at the top.