Göteborg 2008: A fall, a piano fantasy and 8569 spectators
Göteborg - day One
By Titanilla Bod
Photos © Absolute Skating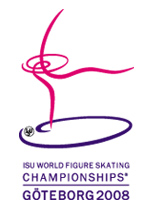 The fall (and rise?) of Tanith Belbin
After the withdrawal of Domnina/Shabalin many American fans took the gold medal of Belbin/Agosto for granted. However, the compulsories in Göteborg showed that in this sport you can take nothing for granted - a fall during the Argentine Tango might cost the American couple not only the gold, but any medal.
"I don't know what happened" Tanith said. "It's just a freak accident, it has never happened before."
Her partner, Benjamin Agosto wasn't too happy either:
"We're kind of bummed. It's a very good dance for us. We've been training very hard, feeling very confident. It happens, it's part of sport, you have to move on and deal with it."
Tanith tried to keep her optimism and find some positive things in the disappointing tango: "In the competition, it should make it easier. It's always easier to come back from behind, to skate with nothing to lose. I think we have absolutely nothing to lose in what happened here."
The ones who had to lose something were - after the fall of the favourites - the French. However, Isabelle Delobel and Olivier Schoenfelder dealt with the new situation perfectly. They didn't let themselves get distracted.
"We tried not to think about Belbin's fall, but to focus on ourselves. We learned about it when we arrived at the ice rink, but we focused on our own performance", Isabelle said.
The original dance will show if the Americans (currently in fifth place, behind Delobel/Schoenfelder, Virue/Moir, Khokhlova/Novitski and Faella/Scali) can strike back, if after a fall there is also a rise¬Ö

Göteborg goose bumps
Lights are off, the rink is preparing for the opening ceremony. You have to pay attention not to miss any stair while rushing back to your seat. Finally you're in your seat, and you look around. And then it HITS; the huge Scandinavium Arena is almost full. Thousand upon thousand eyes are watching eagerly every movement, thousand upon thousand hands are clapping after good landings. According to the official statistic there were 8569 spectators at the Pairs Short Program. You can't help geting goose bumps.

Zhang/Zhang: overcoming the pain
The Zhangs are tough; we've known it since the Torino Olympics, where she had a hard fall on the attempt of a throw quad Salchow but nevertheless finished the performance. They proved it again in Göteborg. Hao Zhang had surgery just eleven days before the competition (to remove furuncle on his leg).
"The surgery was very painful", he admitted after the short program. "But I will try to do my best to overcome this pain also in the free program."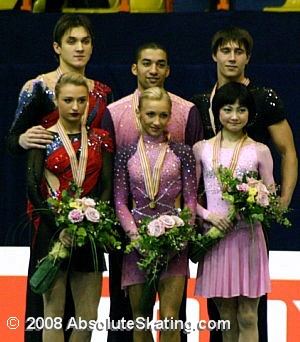 Skating to Piano fantasy they showed a skating fantasy: a flawless short program after which they took the lead, 2,36 points ahead of Savchenko/Szolkowy, the European Champions, who made a little mistake in their short program.
"We are not satisfied", Robin Szolkowy said, but no one should lose any sleep over it.
"We won't have any problems falling asleep. Actually it will be a short night as we have an early practice on Wednesday. Luckily, during the day we will have some time to relax and rest", Robin smiled.
The pairs free skating promises an interesting fight.