Göteborg 2008: 53 short programs, some heroes and new world champions
Göteborg - day Two
Text and Photos © Titanilla Bod
Watching 53 ladies short programs is tiresome even for the biggest fans of figure skating. In Göteborg many of them decided to watch only the later groups with the higher ranked skaters. However, this way they missed such exotic and cheerful performances as Melinda Wang from Chinese Taipei or Victoria Muniz from Puerto Rico. They also missed Ksenia Doronina from Russia, who, despite skating in an early group, managed to get into the top 24. So did the above mentioned Wang, but we were sorry for the Slovak Ivana Reitmeyerová, who finished 26th at her debut in a senior major competition.
The real show, of course, started in the afternoon and those who expected Europe to stand no chance for victory were wrong. Although both Mao Asada and Yukari Nakano skated well, in the lead it is Carolina Kostner of Italy.
"I feel quite honored to be in this position", the two-time European champion said. "I tell myself that there is always a first time, so I just try to stay calm and enjoy skating."
The gap between Kostner and Asada is really small: only 0,18 points. If there is something really likeable about the new scoring system, it is the tension built by the small gaps.
Asada knew what the problem with her score was.
"My jumps were good but my spins and spirals were not of high level, so I want to improve on that for the free skating", Asada said.
In third place is her compatriot, Yukari Nakano, who herself was surprised by her good result.
"Compared to other skaters I am quite small and my trainer always tells me to be very aggressive on the ice. I tried to keep that in mind", Nakano said with a smile.
Well, it seems it's worth listening to the coach's adviceÂ…Â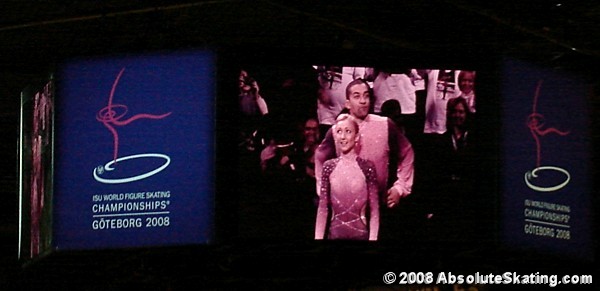 When a spin is like a jumpÂ…
When they finished, their face expression gave away their doubts. He was clenching his teeth, she was consoling him. Aliona Savchenko and Robin Szolkowy might have thought their gold medal was gone when Robin fell on the opening triple salchow.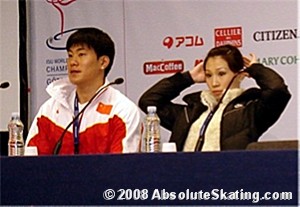 The tv-cameras were searching for the Zhangs, but Hao Zhang was better off backstage. He knew very well that despite the fall the German pair had a good free skate, full of difficult elements. And those difficult elements appeared as level fours in their score.
When the announcer read their total score, she just hugged him and maybe wiped away a tear. Eleven years after the victory of Ingo Steuer and Mandy Woetzel, Germany has world champions again. They are called Aliona Savchenko and Robin Szolkowy.
"I was quite surprised when I fell on the triple salchow", Robin admitted at the post-event press conference.

"At the first split second I thought: shit, there went our medal chance. But then I remembered that under the new scoring system you can catch up with the other elements, and a spin can be like a jumpÂ…"
Aliona thought the same so they fought until the end.
"I knew that we had to continue and then we would see. I didn't think it was over, my thought was we have to fight."
So they did and as a reward they could taste how it feels to be world champions. Robin summed it up shortly:
"It is a perfect feeling. We achieved what we have dreamt about."Â 


The crowd needs heroes
During the performance of Maria Mukhortova and Maxim Trankov, he all of a sudden stopped. He went to the boards, got some medical help (in this case meaning shredding the sleeve of his expensive costume) and then they continued. The crowd needs heroes so during the rest of their program there was constant clapping.
"Two months ago during European Championships he had an inflammation of the lymph system in his right arm", the pairs' coach, Oleg Vasiliev explained. "This morning the condition started to worsen. He just did not know how to skate with that. When the doctor cut open his costume, he could get blood circulation in his hand going again."
Maria and Maxim finished seventh. 

Jessica Dubé and Bryce Davison are also kind of heroes. All the skating fans remember their horrifying accident in the Four Continents Championship in 2007, when he cut her face with his blade during a side by side camel spin. Jessica underwent surgery immediately and returned back to ice really quickly. This season they've had no health or injury problems and the results are showing it; great placements in the Grand Prix, and, at the end of the season, a bronze medal from the World Championships.
"Our goal was to make the top five", said Jessica, who can now watch the accident without any emotions.
"We have watched it many times. Sometimes I watch it on my own, too, but it doesn't do anything to me anymore."
Well, they will surely watch their Göteborg free skate a few times too, but with better feelings. Her partner, Bryce Davison admitted that it was hard to stay focused during such a free skate.
"I was talking a lot during the program, just not to get too excited. Our coach told us to skate from the heart but keep our heads cold – and I think we have fully accomplished that."