Göteborg 2008: Noise explosion in the Scandinavium ~ Buttle in the lead and
La Marseillaise
Göteborg - day Four
Text and Photos ┬ę Titanilla Bod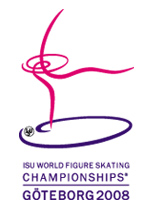 Swedish screams
The Scandinavium Arena was about to explode when Kristoffer Berntsson and Adrian Schultheiss entered the ice to warm up for the men's short program. "You can dream about it, but it was really unbelievable. The audience was really loud, and the sound of them on the ice was incredible. Of course my heart was pounding a little extra when I went out on the ice, but I think I managed to keep my body in control and I am pleased with the program and my performance." said Kristoffer who had some minor mistakes in his short program and is currently in 11 th place.
Adrian Schultheiss admitted it was hard for him to cope with his nervousness: "I've never been so nervous in a competition before!" However, he had a decent short program and is in 13 th place.
Jooooo!
The almost full Scandinavium Arena continued screaming during the best skaters' performances. The reigning European champion Tomáš Verner had a flawless short program with a great footwork sequence and after he finished, he shouted his joy out loud to the world: Jooooo! [something like Yesss! in Czech] "It was more difficult than what I expected. I have a responsibility to European figure skating!" Tomáš (currently 4 th) said.
Stephane Lambiel couldn't manage his triple axel, and placed just behind the Czech skater.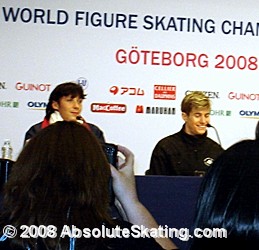 Johnny Weir, on the other hand, had a great short program. No wonder that he was excited after it: "I feel fantastic. I'm so happy with my performance. I hope I can continue to feel this comfortable on the ice in the long program." Weir is waiting the long program in second place – in the lead is the Canadian, Jeffrey Buttle. "I have been practicing hard and training well so I went out there knowing that all the hard training is over and I was just going to enjoy myself and have a good skate and I am glad that I did" Buttle commented on his performance.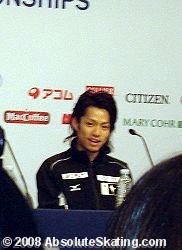 The holder of the world record, Daisuke Takahashi couldn't perform his fascinating hip-hop short program flawlessly to the rearranged Swan Lake music. "The performance was not bad, but I missed the Axel. I don't know what happened but I was nervous today", Daisuke explained.
Music violation
The 2007 world champion Brian Joubert is only sixth after the short program. Although he did a flawless quad toe-triple toe combination and triple Axel, he fell on the Lutz. However, the crowd loved his energetic fast footwork. "I felt great on the ice and I'm more happy than disappointed", Brian told us backstage. "I lost my balance before the Lutz, that's why I fell" he explained.
A deduction for the fall was understandable, but Joubert had another point deducted for music violation, as the referee considered the voices in his short program music to contain lyrics. Not only the fans of Joubert found it upsetting – the Frenchman has used this piece of music for the whole season without any deduction…

Triumphal piano lesson
If the French were upset about the deduction, they could calm down inthe free dance, which ended with a French triumph. Isabelle Delobel and Olivier Schoenfelder, skating together for unbelievable 18 years, won their first World's medal, and it was the gold. Although their free dance to the soundtrack of the movie Piano Lesson, which also included some signing language, was ranked only second (first were Umbrellas of Cherbourg, skated by Tessa Virtue and Scott Moir), they won the event overall. "The word happy isn't enough to describe how we feel" the emotional Isabelle said. When I asked what they felt during the French national anthem, Olivier answered with a big smile: "That's my favourite part of the competition!" Then he added seriously: "When you hear it you know you did your job. It was a very happy La Marseillaise for us."