Göteborg 2008: A first class entertainment gala
Göteborg - day Six
Photos by EMJO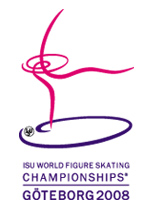 The Worlds gala in Göteborg was sold out many weeks before the actual competition, but every now and then more seats became available giving opportunists a chance to lay their hands on those much desired tickets. This was a good thing for me and Emjo since we'd been out of luck getting accreditations for the week.
The gala is for many the high point of a competition. Even those not particularly interested in figure skating can attend and enjoy both the technical and artistic splendor of the sport. While some galas are rather bland this one was spectacular.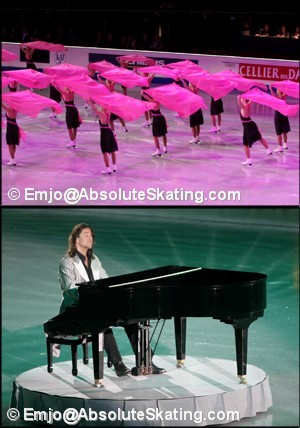 At the beginning all the participants were introduced and spotlighted. Along with the medalists and those in 4th and 5th place, the three members of the Swedish world team each performed a solo number.
The fantastic synchro Team Surprise let the audience have a taste of their long program.
Lina Johansson and Viktoria Helgesson's younger sister Joshi assured the world that there's as much hope for the Swedish ladies as for the men. And the world famous pianist Robert Wells let his fingers work the grand piano, which magically moved around on the ice like a float.
All these components together with the colored show lights and the wide range of musical genres represented, offered a complete package for those in attendance. And they in turn showed their excitement and appreciation by clapping and cheering, sometimes so loudly it was deafening.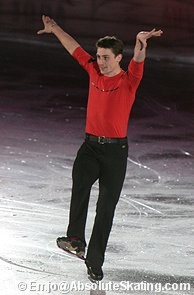 All the Swedes were, surprise, highly applauded, but it was also clear that many girls had Brian Joubert, Stéphane Lambiel and Johnny Weir as their favorite heartthrobs. Joubert only had to show his face when the thunder like noise broke out. He started skating with a big grin on his face and delivered some fast and furious footwork. Brian is always a joy to watch and the crowd couldn't get enough. Stéphane went into a 59 rotations spin that brought the house down, and bronze medalist Johnny Weir (picture below) performed a ballet like program to Josh Groban's "Ave Maria" and finished with a fast scratch spin. The program was classy, elegant and absolutely beautiful and the audience loved it. I found myself wishing it would never end. Other serious crowd pleasers were Carolina Kostner and the gold winning pair Savchenko/Szolkowy. They skated a very emotional and romantic program to a Chris de Burgh song.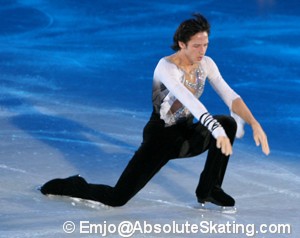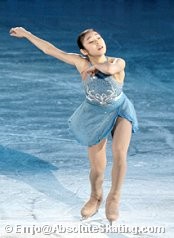 The gala gives the skaters the opportunity to show how versatile they can be. Normally wild boys like Adrian Schultheiss and Daisuke Takahashi skated to soft, classical music. We're not so used to seeing them that way but they did it very well. And a real switch from last year's perky "I'm just a girl", and a personal favorite of mine was Yu-Na Kim's interpretation of Mandy Moore's "Only hope". Beautiful girl, beautiful song and a beautiful skate. The French ice dance winners Delobel/Schoenfelder also performed to a lovely ballad, "Pour aller plus haut" by Tina Arena. Skating doesn't get much better than that although Jeff Buttle also gave a powerful performance and reminded everyone why he was the men's winner.
The grand finale brought Robert Wells back out playing his fantastic "Nut rocker". One by one the skaters and Team Surprise joined in and made formations. Synchro skating is not as easy as it looks and this was a spectacular sight.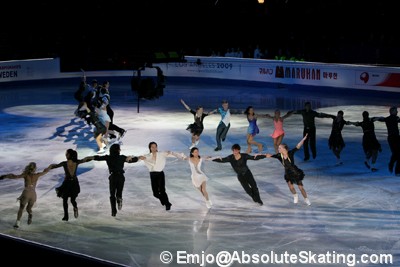 If there was a down side to this gala it was the absence of encores from the gold medalists. Maybe there wasn't enough time since the event was televised live on several channels and probably had a strict timetable to keep. But regardless, the gala was a wonderful experience for the entire audience and a worthy end of the great 2008 World Championships.
See you next year in Los Angeles!