Rostelecom Cup 2009 - Day 2
Moscow, Russia
By Maria Bagdasarova
Photos © Ivan Daniliuk
The second day of the Rostelecom Cup started off with triumphant victory for the overnight leader Evgeni Plushenko of Russia. The 2006 Olympic champion delivered a convincing performance of his free program to Tango Amore by Edvin Marton featuring a confident quadruple toe loop – triple toe loop combination, two triple axels and four more triples to earn 157.95 (81.15/76.80) points in the segment and overall score of 240.65 points.
"I'm happy about the free skating today, especially about the combination with a quadruple jump. But there's definitely room for improvement. I have to work on steps and spins. My performance tonight involved lots of improvisation; I tried to remind the judges who I am. I took away a lot of connecting moves today. I feel it's just too early to show all the choreography I'm capable of," Plushenko explained.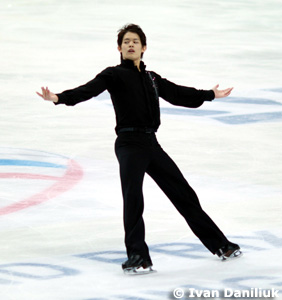 Takahiko Kozuka from Japan maintained the level shown in the short program to clinch the silver medal. The 2006 Junior World Champion kicked off his free skating with a stumble on the quadruple toe loop attempt which was called under-rotated to continue with a triple axel - triple toe loop combination (the second jump did not get credit from the Technical Panel), triple lutz – double toe loop – double loop combination and five more triples including a second triple axel. The Four Continents bronze medallist showed off his strong basic skills in original transition moves and level three step sequences scoring 139.63 (70.43/69.20) in the free skating and 215.13 points overall. "I skated fairly well. I did everything as planned except for the quad toe loop," Kozuka commented at the post-event press conference.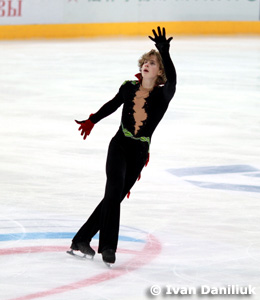 Artem Borodulin of Russia managed to edge out the 2008 World Bronze medallist Johnny Weir for bronze, which is his maiden senior medal. The 2008 Junior World silver medallist delivered a nearly flawless performance to Tango de Roxanne and Assassin's Tango (129.48 TSC/ 201.55 overall), featuring a triple axel – triple toe loop combination, a triple flip and a four more triples. Borodulin's only major mistake came when he under-rotated and two-footed his second triple axel. "I'm overwhelmed. I had a phenomenal skate in the short program yesterday. Today I missed only the second axel and I feel great to come third in such a field," Borodulin commented.
In the Ice Dance competition Meryl Davis/Charlie White of the USA won the gold medal with a convincing and powerful performance of their "Phantom of the Opera" free dance. Reigning Four Continents champions completed level four lifts, a sequence of twizzles and dance spin. Their diagonal and circular step sequences were graded a level three. The US National Champions earned 101.02 (49.90/51.12) points for their free program and an overall score of 201.10 points. "We're happy about our performance today, we've reached a better comfortable level in this program since the Nebelhorn Trophy, but we need to work on our step sequences which got only a level three today," Davis and While said.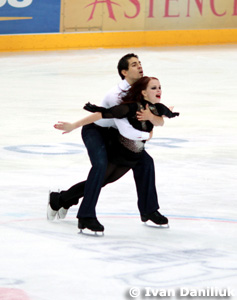 Anna Cappellini and Luca Lanotte took the silver with an addiction-themed routine to the soundtrack of Requiem for a Dream. The couple from Italy who in the summer left their longtime coach Roberto Pellizzola to seek the tutelage of Muriel Zazoui and Romain Haguenauer in French Lyon, executed confident level four lifts and a dance spin, however their step sequences got only level two and one. The 2007 Skate Canada silver medallists scored 83.26 points for the free dance and 168.57 overall. "We are very happy with our work over the summer and today's performance, but we definitely have to work a lot on our levels. We skated the free dance much better at the practice and we hope to bring it to the competition. We feel that this program has a lot of potential," Cappellini and Lanotte commented.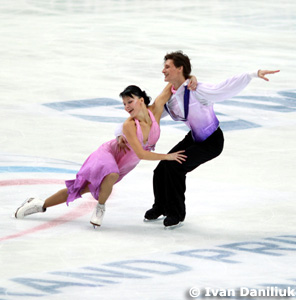 The bronze medal went to Ekaterina Rubleva and Ivan Shefer of Russia who delivered a clean performance of their free dance to Une Vie d'Amour by Charles Aznavour and Mireille Mathieu to get 82.07 points in the segment and 163.32 overall. The Rostelecom Cup bronze is the first Grand Prix medal for the couple from Moscow who after finishing fifth at Trophee Eric Bompard a week ago are now in the lead in the Grand Prix standings. "We're really happy about winning our first Grand Prix medal. But this competition was harder for us compared to Paris, because we felt more responsibly skating at home especially as the top-ranked Russian couple at the event," Rubleva said.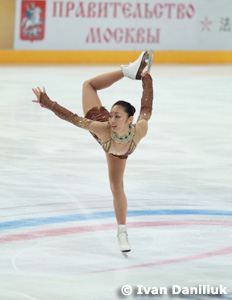 Miki Ando of Japan captured the gold in the Ladies' event with a solid skate of her Cleopatra free program. The 2007 World Champion landed five clean triples including the opening triple lutz – double loop combination. Ando also attempted a double axel – triple toe loop combination, but fell on the second jump. "I'm pleased with the result, but not happy about my skate today. I missed some jumps and didn't have the speed for a long program again," Ando said at the post event press conference.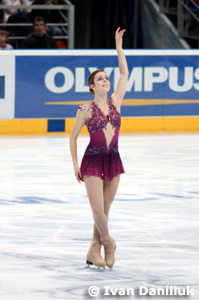 Ashley Wagner of the USA managed to climb from fifth place to win a silver medal. Skating to Polovetsian Dances by Alexander Borodin, the two time World Junior bronze medallist landed four clean triple jumps, under-rotated a triple flip in sequence with a double axel and executed solid spins and step sequences. "I'm very pleased with my program, but the quality and some levels could be a little bit better," Wagner told the press.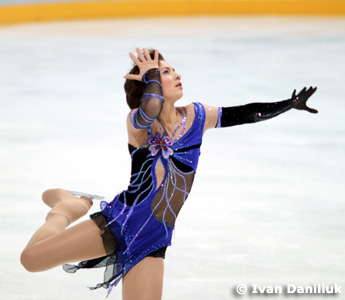 Alena Leonova of Russia moved up a spot to clinch the bronze – her first in the senior circuit. The reigning World Junior champion delivered an entertaining and crowd-pleasing performance to the soundtrack from Chicago. Leonova kicked off her free program with a step out on a triple toe loop which was planned to be in a combination with another triple toe loop, but managed to keep her composure and landed the triple lutz – double toe loop combination, a triple salchow- double toe loop – double loop combination and two triple flips, one of which in combination with a double toe loop. "I still can't believe what happened. But I guess if I'm sitting here at the press conference I have really won a medal," Leonova confessed.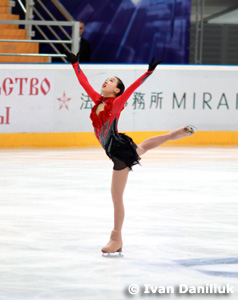 The 2008 World Champion Mao Asada of Japan finished only fifth. Asada who this season attempts a difficult triple axel – double toe loop combination in her short program and two triple axels in the free skate, could not cope with her nerves and did not manage to land one in both her performances. In her "Bells of Moscow" free skate to Prelude No. 3 op. 2 by Sergei Rachmaninov she fell on her under-rotated first attempt of that difficult element, popped the second one and managed to land only two clean triple jumps.
In the Pairs' event Qing Pang/Jian Tong of China captured the gold, Yuko Kavaguti/Alexander Smirnov from Russia took the silver medal while Keauna McLaughlin/Rockne Brubaker settled for the bronze.