EC 2009: Joubert – not flawless but golden
Helsinki - Day Three
By Titanilla Bod
Photos ┬ę Absolute Skating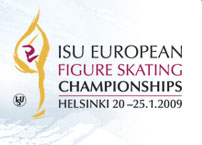 Back to the 20's, 30's and 40's
Thanks to ice dancing we had kind of a time travel in the Hartwall Arena in Helsinki. The theme of the original dance was the music of the 20's, 30's and the 40's, so we heard lots of jazz, swing and sometimes foxtrot.

Jana Khokhlova and Sergei Novitski, the Russian couple who took the lead after the compulsories, were excellent in this part of the competition as well.
"We did all our elements clean and got a high component score, so we are very pleased", Khokhlova said. Novitski added: "We were in the lead, but it doesn't mean much. Let's say we learned from our experience from Worlds last year."
As Oksana Domnina and Maxim Shabalin withdrew due to Shabalin's knee injury, many people think Khokhlova and Novitski can take the gold for granted. But Novitski doesn't think so: "Yesterday someone told us that the first place hasn't been reserved for us and this person is absolutely right. We'll have to fight for it, and there are no weak competitors here."
While the Russians can earn their first European gold tonight, the other two couples in the medal position are fighting for their first medal.
"Of course it is exciting," John Kerr (currently 3rd) admitted. "But it also means added pressure. I'm looking forward to the free dance."
Federica Faiella and Massimo Scali, who are in second place after the originals, agreed: "It was exciting to get our first silver small medal. The pressure is higher being in the medal position. However, the hardest part was the Finnstep and after that everyone got more relaxed," Scali explained.

The third title for Brian Joubert
Brian Joubert came to Helsinki for his third European title and made a big step towards it with a flawless short program. Tomas Verner, on the other side, wanted to defend his title – but he was too nervous in the long program. He singled the salchow, the axel and the lutz, had some other mistakes on the quad toe… This soon put him out of the competition, however, other contenders appeared. Yannick Ponsero skated a flawless program, which included a clean quad toe-loop and he was in the lead for a long time. The audience loved the other Frenchman, Alban Preubert's performance, too, and wasn't satisfied with his quite low marks. Samuel Contesti, representing Italy, presented a cheerful and enjoyable program to western theme and stole the show. Kevin van der Perren also skated clean and he had tears in his eyes when he finished his program.
The main contender for gold, Brian Joubert skated his brand new long program to the Matrix Reloaded, and Requiem for a Dream soundtrack. His quad toe-loop was shaky, he fell on the triple lutz and had some mistakes even in the footwork sequence, however, he kept on fighting and in the end earned enough points to get his third European gold medal.
"I know it wasn't good", Joubert immediately admitted at the press conference. "We created this program only three weeks ago and one week prior to the competition I still wasn't able to land quad jumps. I wasn't 100% ready now, but I won and nothing else matters. And I will be ready for the World championships."