Nebelhorn Trophy: Epilogue
By Reut Golinsky
Photos © Mireille Geurts & Joy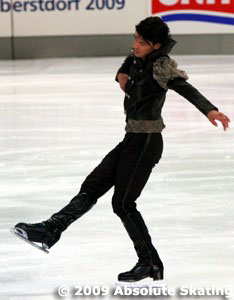 As with any good book, within its epilogue we learn what happened to the heroes who were introduced at the beginning. Let's try to do the same and follow the "heroes" of our introduction article. What happened to them? Were the expectations met? Can we say that this Nebelhorn story had happy end after all?
Men
Anticipated by so many, Lambiel's comeback can be called fulfilled and even more. It was not only a formal comeback to the competitions, with all the paper work concerned, with his name reappearing in the lists of the competitors in "SUI", the abbreviation of his country. He had a good lead both in short and long programs and surpassed second place by more than 25 points overall. But the most important things is not in marks, and even not in 4T-2T-2T or the 3F-3T combinations he showed in his long. The most important thing was that it was a return of the Stephane Lambiel we knew and loved, and missed for few seasons, not only the last one after his retirement. It was a comeback of Lambiel-fighter, who proved that his intentions for the coming season are serious. This story can't be called a happy ending yet, because everything is just beginning, but the start was good and we'll follow impatiently to see how it continues.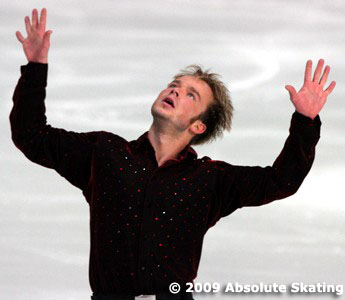 Another comeback was not so loud and maybe didn't attract so much attention of the fans and the international press. Resultwise it appears less impressive, but overcoming injury filled years, it can still be called a success. Stefan Lindemann sees it this way too:
"I think that this comeback was very good, I'm very happy to be back. I think after two years of not skating in competition, it was very good. I was very nervous at the beginning, but then I enjoyed it". He was placed 8th in short, long and overall and he succeeded to qualify his country for Olympics.
Michal Březina said during the press-conference that now he has a whole set of medals from the Nebelhorn Trophy. But as his medal this time was bronze, I suppose, you can deduce yourself, whether this competition was more or less successful for him than before. Frenchman Yannick Ponsero started with a disastrous short and though in long program he was much better and placed fourth, overall he didn't get enough to be in gala.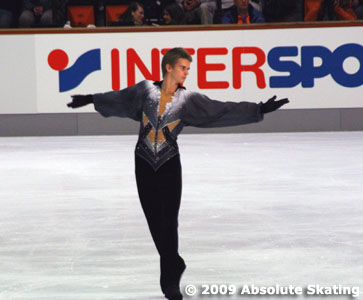 Two skaters, who surprisingly finished high enough to perform in gala, were Ivan Tretiakov of Russia and Viktor Pfeifer, who also succeeded to qualify Austria for the Olympic Games in Vancouver. Ivan, who's first performance in Oberstdorf, a year ago, was so insignificant to him, that he couldn't recall which place under 10th he was exactly, was fifth in short and jumped to second in free and overall, getting a higher technical score for his free than the two-time World champion from Switzerland and all this when he skated last in his group, right after Lambiel - not the most pleasant order to skate. Way to go, Ivan!
Ladies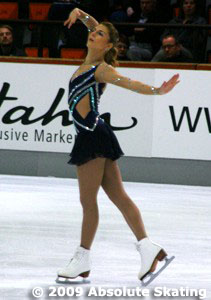 Reigning U.S. Champion Alissa Czisny has now won this event twice consecutively. This is definitely a good start of this important season. Kiira Korpi got silver, as a nice present for her 21st birthday. Both these ladies will need to overcome a serious rivalry in their national teams, so starting the season with places on the podium can be seen as a good omen.
Júlia Sebestyén ended in 4th, just missing the podium, but she accomplished the most important goal of this competition for her: she got her country Olympic berth. Another one who won her country a spot was bronze medalist from China, Yan Liu.
Israeli Tamar Katz, AS skater, placed 12th but she was 7th among those who need to qualify and it's good enough. So Israel has already qualified in ladies event, now Tamar needs to qualify herself according to the rules her federation defined for her.
Pairs
No big surprises on the podium. German pair Savchenko/Szolkowy won gold, their training mates from Ukraine, Volosozhar/Morozov, got silver. Both pairs' performances were not flawless but it was not bad for such an early time in the season and they both said during the press-conference that this competition was just a primary test for them and now they know what they need to improve upon. Canadians Langlois & Hay were really glad with their result and bronze medals. This was their first competition since the summer of 2008 and they were just glad to be back on the ice. They were less pleased that they were not told about the time being changed for the prize ceremony, and missed it. They got their medals and goblets later, during the gala, without red carpets and officials, but with lots of applause.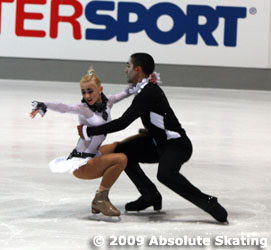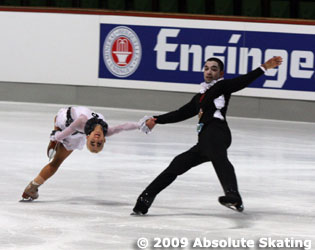 Swiss youngsters, coached by Steuer, showed a really good result, placing fifth. And they not only qualified their country, but also fulfilled the requirements of Swiss Olympic Committee. So Anais and Antoine can add already Vancouver to the itinerary.
2008 Junior World Champions from Russia, Ksenia Krasilnikova and Konstantin Bezmaternikh, unfortunately had to withdraw.
Ice Dance
Meryl Davis and Charlie White were in lead through all the competition and finished with mesmerizing free to "Phantom of the Opera". They received a standing ovation and earned 200.46 points.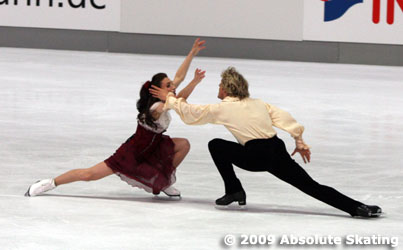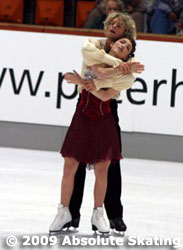 Israeli siblings Zaretski were second on each of three segments and chose for this Olympic season Jewish themes both for original and free dances. "We meant to go to the Finlandia Trophy first," they said. "But we are not disappointed that we are here instead. We love this place; it's calm, beautiful, fresh air, cows. And also every time we come here, we medal".
Katherine Copely and Deividas Stagniunas of Lithuiania, training mates of American pair at the Arctic Figure Skating Club in Canton, were fourth in compulsory dance, but improved in original and free dances and finished third on the podium with 162.02 points.
Finally a lucky competition for Hungarian National champions NĂłra Hoffmann and Maxim Zavozin: they earned a place in Vancouver, placing 7 th with 148.43 points. Hopefully a good start will lead to good season for them.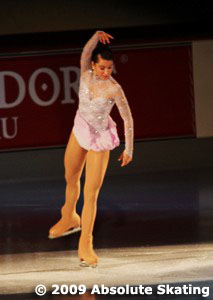 Gala
The event was finished by a beautiful gala, where the first five places of each discipline performed their exhibition programs. The most impressive program, the one which received a standing ovation, was Lambiel's "Ne me quitte pas". "This program is about staying healthy on the ice and showing you what I like. It's more about my passion and about not having to quit the passion because of my health," he explained.
He wasn't only serious though, ladies winner Alissa got such awesome spins and got great response to that during the gala, so at the closing they held their own little spinning competition. Both spun around for quite a long time, she gave it a real good try but had to hand the crown to the Swiss champion anyway and he in turn gave her a big bow.
Statistics
The countries for which this qualifying event had a definite happy ending, because they got Olympic spots:
- Austria, Finland, Germany, North Korea, Romania, and Switzerland in men;
- Switzerland, Estonia, Italy, and Poland in pairs;
- Austria, Belgium, China, Hungary, Slovenia and Spain (and, probably Israel) in ladies;
- China, the Czech Republic, Estonia, Georgia, and Hungary in dance.
More reports and interviews will come soon. Stay tuned!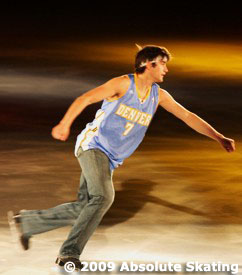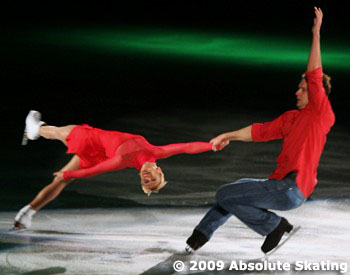 Ryan Bradley (USA) and Tatiana Volosozhar/Stanislav Morozov (UKR)