Nebelhorn Trophy 2009: Let the season begin!
By Reut Golinsky
Photos © Reut Golinsky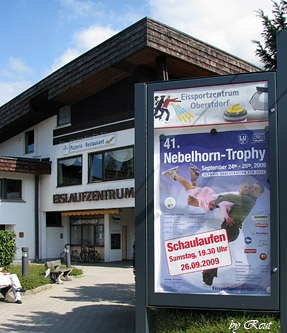 To be more precise the season has already begun, a month ago in Budapest with the first Junior Grand Prix event. But being the first international senior-level competition of the Olympic season and also the qualification event for the Games, Nebelhorn Trophy gets lots of attention and excitement from the figure skating community and definitely may be called the kick off event of the season 2009/10.
The Nebelhorn Trophy is one of the oldest international figure skating competitions that is still in existence within the International Skating Union. Created in 1963 as an international Dance event, it moved to an international competition for Juniors and finally in 1969 was established in the format of today. This year is the 41st edition of this event. In recent years, Nebelhorn Trophy has also been used by the ISU for different experiments: the switch from the "best of majority" ordinal system to the "one-by-one" method (1997); an initial test of the ISU Judging System which was then under development (2002); the first competition where CoP was used for the official results (2003); a trial of using separate panels of judges for technical elements and program components (2006).
Figure skaters from all over the world will compete from September 24 to 27 in the Oberstdorf ice center, trying to grasp the last chance, given to all those nations that didn't qualify a spot at the 2009 ISU World Figure Skating Championships last March. In addition few top skaters, whose countries already qualified a spot or several spots for the Olympic Winter Games, will use the Trophy as a preparation event of the season, trying also to gain points toward their World Standings. Their results won't affect the qualifying process.
Also in Oberstdorf, on Saturday, September 26th, there will be the draw for the panel of Judges for the Olympic Games 2010.
Men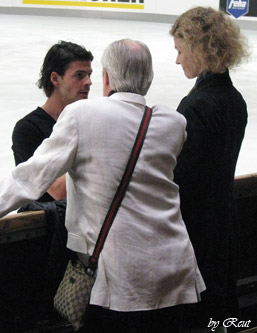 The highlight of the men's event is going to be, of course, the comeback of 8-time Swiss and two-time World champion Stephane Lambiel, who retired in the autumn of 2008 due to an adductor injury, but the pain became "manageable" and on July 25 he announced he wanted another try for Olympics. As Jamal Othman, who represented Switzerland during World championships in LA, didn't finish high enough, Stephane will need to get an Olympic spot for his country. Apart from winning one of the first six spots at the Trophy, he'll also have to obtain at least 195 points to qualify for the Olympic team himself, as this is the Swiss Olympic Committee criteria. Considering that his personal best is 239.10 (and 211.88 was his last score in competitions, at Worlds 2008 in Gothenburg, where he was already injured and obviously not at his best) this shouldn't be a big problem for him. "In three weeks I have my first competition, the Nebelhorn Trophy. I'm extremely nervous about it," he confessed to his fans in his journal few weeks ago, "but it's a great feeling and I'm very excited. I'm looking forward to this big step. Hopefully I will gain the Olympic spot for Switzerland".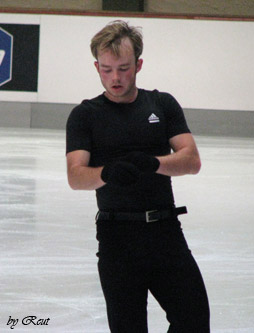 Another comeback in the men's field we are going to see will be (no, not Plushenko) 2003 World bronze medalist Stefan Lindemann from Germany. He missed season 2007/08 due to a groin surgery. "I actually planned my comeback for the past season, but it didn't happen due to new injury problems and illness. I fell sick just before German Nationals and was in bed with a cold and high temperature," - he wrote on his site about the season 2008/09. The whole season was not lucky, as after that he slipped while jogging and hurt the groin again, the rehab took from mid January to end of February so his "season was over before it even had started". But "right now everything is going really well. Last week I was able to perform a clean short program during a test skate. There still is a lot of work left as I have to fight end of September for a spot for Germany at the Olympic Games".
Swiss and German skaters have a long history of defeats and wins over each other, when twice (Worlds 2004 and Euros 2005) Lambiel missed the podium by only one place, while Lindemann won bronze. Do we have an intrigue here of what's going to be a result, when they both come just now from injuries and this is the "home ground" for one of them?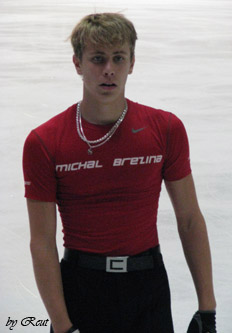 Or, taking into consideration the most recent results, let's say of the last 3-4 years, the outcome is rather obvious? Well, with figure skating you actually never know, and everything is possible.
Among other skaters who will try to win the Fritz-Geiger-Memorial Trophy are French National Champion and NHK bronze medalist Yannick Ponsero, who finished fourth in the recent Master's event in Orleans, and 2009 World Junior silver medallist from Czech Republic Michal Březina, the winner of Nebelhorn Trophy 2007. Michal revealed to "Brno Metropolitan" a few months ago that he can already do quadruple salchow as well as toe loop in his practices. "Michal should be proud of his great certainty in jumps, his triple axel is phenomenal. Now he has to work especially on presentation and refine his personality," said Věra Tauchmanová, a chairwoman of the Czech figure skating association.
Their rival from North America will be 2008 Skate Canada silver medalist Ryan Bradley.
Ladies
Two European medallists will be present in Oberstdorf: Júlia Sebestyén (bronze 2003, gold 2004) and Kiira Korpi (bronze 2007).
Eight-time national champion Júlia Sebestyén had a disappointing season, placing 8th in Helsinki during European championships and missing World championships in Los Angeles due to injury. Bianka Pádár, who competed for Hungary, finished 39th in the short program, didn't qualify for the free skate, and Hungary didn't get a spot. So Júlia will need to start this season with gaining an Olympic spot for her country and herself. She competed already in Oberstdorf two years ago and was fifth then.
Golden medallist at the Nationals (for the first time in her career), but only fifth in European championships held in her home country last year, where she was defeated by two of her compatriots, Kiira Korpi wasn't able to come to the Worlds in LA.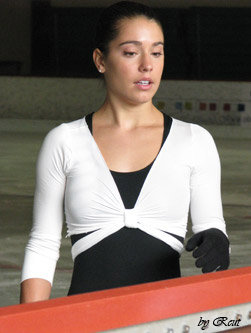 The Finnish team is really strong in the ladies' field and they have only two spots for Olympics, with Susanna Pöykiö and Laura Lepistö, recent European medallists (bronze and gold respectively) aiming to get to the Olympic team too, it will be a tough competition for "entry tickets", so any additional competition "practice" may help. In general Korpi will have a busy schedule in the first half of this autumn: Nebelhorn Trophy, a couple of weeks after that Finlandia Trophy, a week later her first Grand Prix assignment in Paris, and two weeks after that Cup of China, her second Grand Prix event. "The season ought to go fast once it starts, it's going to be an exciting season because of the Olympics, my priority goal... When we were three weeks in Vancouver during summer, we got to see the competition venues ourselves; then my eyes opened and I knew I wanted to be there", she said in her August interview to the MTV3.
Among the the guests coming to Europe from other continents will be U.S. Champion Alissa Czisny, who won this event last year. She had ups and downs during the last season and she'll need, later in the season, to win in a serious rivalry to get to Vancouver.
Pairs
Two-time World Champions Aliona Savchenko and Robin Szolkowy will obviously be the leaders of the pairs' competition. But their training mates Tatiana Volosozhar and Stanislav Morozov of the Ukraine could possibly be a threat if they perform at their best. Last year, at Nebelhorn Trophy 2008, they took bronze, but at least silver this year is not out of their reach. Both pairs assured their places for Olympic games and will use this event, held not far from their training base in Chemnitz, to show their new programs to the public and judges. The third pair, also coached by Ingo Steuer, young Anais Morand and Antoine Dorsaz from Switzerland will try to fight for an Olympic spot - they missed by one place and only 3 points to British pair Kemp/King in Los Angeles. And they'll still need to accomplish Swiss Olympic Committee criteria, same way as their countryfolk Lambiel and Meier.
From Canada we will see Anabelle Langlois and Cody Hay, 2008 Canadian pairs champions. Last season the team missed their Grand Prix assignments - Skate Canada and NHK Trophy, as a result of the injury Langlois sustained during summer practice, and they had to withdraw from Canadian Nationals later in the season too. 2007 American Champions Brooke Castile and Benjamin Okolski return injury free too. "Injuries kept us off the ice for most of the 2008-09 season so we're happy to be back to skating. We finished fifth at the U.S. Championships and are excited to get back on international ice at Nebelhorn Trophy in September", they announced on their official site. This pair won Nebelhorn Trophy 2006. Four-time British pair Champions Stacey Kemp and David King will try to continue this season the same way they started it, winning Cup of Warsaw at the end of August. 2008 Junior World Champions Ksenia Krasilnikova and Konstantin Bezmaternikh of Russia will try to fight for a medal too.
Ice Dance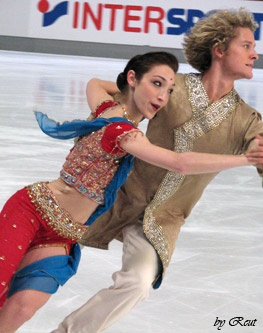 US National champions Davis/White will lead the ice dance competition. "We just decided that it would be a good idea to get in an early competition. And Nebelhorn fit into our schedule," quotes White's words "Detroit Free Press". The "secret weapon" of Meryl and Charlie will be a traditional folk dance from India, inspired by the idea of candle dance, where dancers hold lit candles in their palms. "I thought it would be beautiful for Meryl to depict love by holding an imaginary candle throughout the sequence," noted in the interview for icenetwork.com Anuja Rajendra, founder of BollyFit, Fitness through (Indian) Dance, who helped to American team. "Her movements have to make the audience believe that she is holding a real candle that's a symbol of her love, all of this while ice dancing."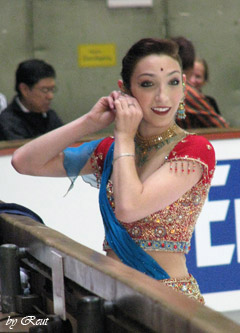 British Chrissy Chitwood and Mark Hanretty will use the Nebelhorn as an additional opportunity to check their programs in front of the judges and the crowd. They skated recently, at the beginning of September, into second place behind Sinead and John Kerr in a national competition staged in Sheffield, the city where they live, train and also teach skating for children. In the interview for "The star" Chrissy told: "We're really thrilled to have got second in our first event of the season. There's space for one more couple to represent Great Britain in 2010 and we're determined for it to be us. We need to make sure we get a good score at the British Championships in November in Sheffield, which is when you qualify for the Olympics, but we're off to a good start."
Reigning Hungarian National champions Nóra Hoffmann and Maxim Zavozin will try, same as their compatriot Júlia Sebestyén, to earn a spot. This new couple (till 2007 Nóra skated with Attila Elek) had their international debut at the Europeans in Helsinki last year. Unfortunately they were forced to withdraw after Original Dance due to Maxim's high fever on the day of the competition. But the misfortune didn't stop in Finland: during the preparation for the Worlds Nóra fell, hit her head and broke a skull bone, they were not able to skate in Los Angeles. For a short period of time, Nóra lost her balance and couldn't hear anything. She had a very long healing period, but according to the recent interview from Junior Grand Prix event in Budapest she is 100% back on ice. For this season's OD they decided to introduce to the audience the joyful Hungarian Csárdás. Hopefully all the bad luck is behind them and they'll be able to fulfill their dream to present in Vancouver their country and that beautiful dance.
German siblings Hermanns will be present at this, home competition for them, too. "As the first competition of this season, just like in the last few years, we chose the Nebelhorn Trophy. In the last two years, it was good for us to always start the competitive season early in order to receive feedback for the remaining season," wrote Carolina and Daniel in their online journal.
Spectators in the Oberstdorf ice center (and the readers of our coverage here on Absolute Skating) can look forward to an interesting competition at a high-level with some prominent names of National and World champions among the participants. So we just want to wish all the skaters good luck, all of us to enjoy and… off we go!