Nebelhorn Trophy 2009: numbers, pictures and facts.
By Reut Golinsky
Photos © Reut Golinsky
Numbers
46 ISU Members are competing for a spot at this qualifying competition.
6 Men, 6 Ladies, 5 Ice Dance couples and 4 Pairs teams can still qualify for a spot for their country.
Two 30x60m sized ice-rinks with 1600 and 600 spectator seats.
This is 41st edition of this event.
Glossary
Oberstdorf - skiing and hiking town in southwest Germany, center of Oberallgau region. Has about 10000 inhabitants and more then twice of beds available for guests.
Nebelhorn - a nearby mountain, over 2200 m, the competition is named after.
NHT - three-letters abbreviated name of Nebelhorn Trophy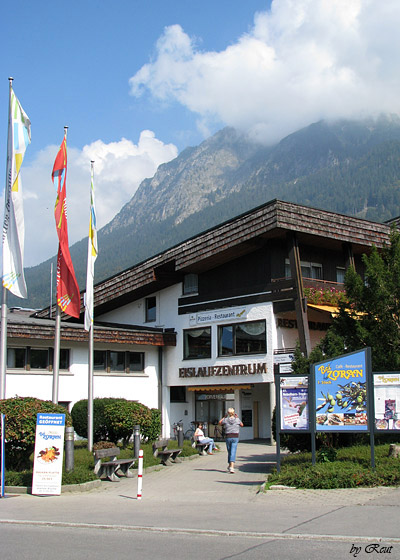 National Training Center for Figure skating in Oberstdorf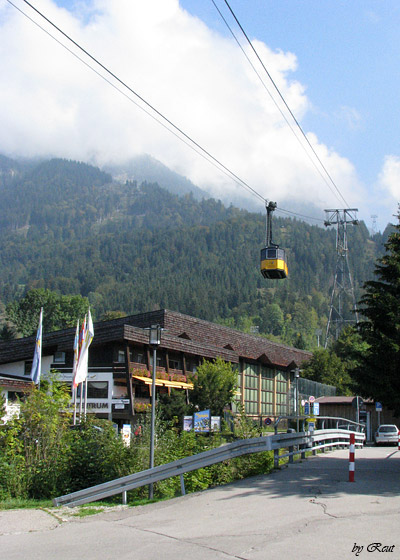 Cable-railway to Nebelhorn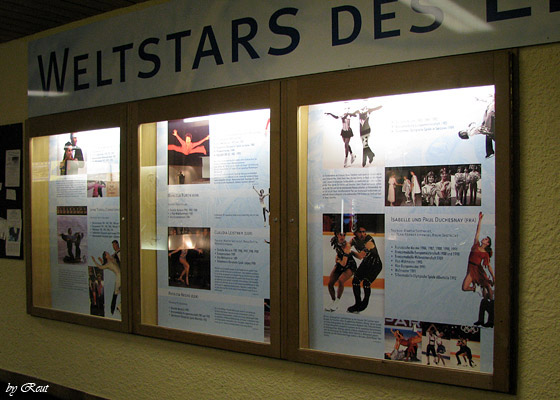 Famous skaters who competed and trained here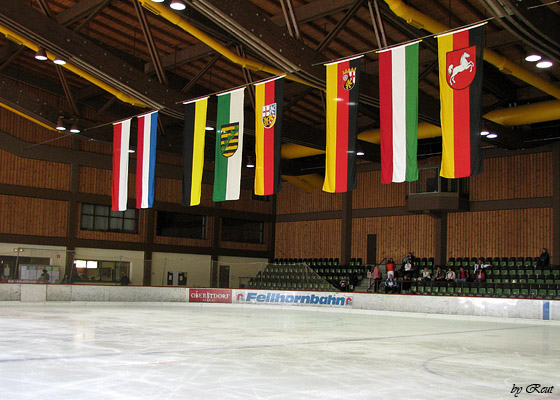 Practice rink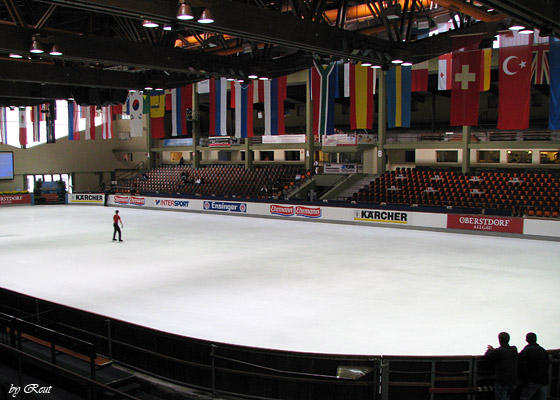 Main rink
Statistics
Men
http://www.isuresults.com/events/cat00006778.htm
Based on the results of the World Championship 24 spots were divided between 14 countries: Japan (3), USA (3), Canada (2), Czech Republic (2), France (2), Italy (2), Kazakhstan (2), Russia (2), Belgium (1), Poland (1), Slovenia (1), Spain (1), Sweden (1), Ukraine (1).
Meaning that following participants' results won't influence the six spots to be defined in the coming few days: Akio SASAKI (JPN), Ryan BRADLEY (USA), Joey RUSSELL (CAN), Michal BREZINA (CZE), Yannick PONSERO (FRA), Ivan TRETIAKOV (RUS), Gregor URBAS (SLO), Anton KOVALEVSKI (UKR).
AS skaters: Stephane Lambiel, Stefan Lindeman, Ryan Bradley
Ladies
http://www.isuresults.com/events/cat00006779.htm
Following 15 countries assured spots for Olympic games already in Los Angeles: Japan (3), Canada (2), Finland (2), Georgia (2), Korea (2), Russia (2), Switzerland (2), USA (2), Estonia (1), Germany (1), Great Britain (1), Italy (1), Poland (1), Slovakia (1), Turkey (1).
This means that Kiira KORPI(FIN), Alissa CZISNY(USA), Elena GLEBOVA(EST), Sarah HECKEN(GER), Katharina HACKER (GER), Laura KEAN(GBR), Teodora POSTIC(SLO) will participate in the competition to gain experience and points toward their World Standings, but their results won't count for the six qualification spots.
Note: There might be more spots available at the Nebelhorn Trophy if one of the federations listed above releases some of their spots. For example, if Georgian or Swiss federation decides to use only one of two spots they have, this will make seven (or even eight) spots available in ladies' field.
AS skaters: Tamar Katz, Julia Sebestyen
Pairs
http://www.isuresults.com/events/cat00006780.htm
8 countries which, thanks to their pair skaters, don't need to worry about spots in Vancouver: China (3), Russia (3), Canada (2), Germany (2), Ukraine (2), USA (2), France (1), Great Britain (1).
Following skaters won't participate in assignments of the remaining four spots: Ksenia KRASILNIKOVA / Konstantin BEZMATERNIKH (RUS), Anabelle LANGLOIS / Cody HAY (CAN), Nicole GURNY / Martin LIEBERS (GER), Maylin HAUSCH / Daniel WENDE (GER), Aliona SAVCHENKO / Robin SZOLKOWY (GER), Tatiana VOLOSOZHAR / Stanislav MOROZOV (UKR), Brooke CASTILE / Benjamin OKOLSKI (USA), Stacey KEMP / David KING (GBR)
Ice Dance
http://www.isuresults.com/events/cat00006781.htm
19 spots were divided in Los Angeles between the ice dancers of 11 countries in the following way: Russia (3), USA (3), Canada (2), France (2), Great Britain (2), Italy (2), Germany (1), Israel (1), Japan (1), Lithuania (1), Ukraine (1).
So that Ekaterina RIAZANOVA / Ilia TKACHENKO (RUS), Meryl DAVIS / Charlie WHITE (USA), Christina CHITWOOD / Mark HANRETTY (GBR), Isabella PAJARDI / Stefano CARUSO (ITA), Carolina HERMANN / Daniel HERMANN (GER), Alexandra ZARETSKI / Roman ZARETSKI (ISR), Katherine COPELY / Deividas STAGNIUNAS (LTU) won't need to be under the pressure to get a spot for Olympics and their results won't be counted for five spots to be distributed at this competition.
But enough with statistics and dry facts. "Time to do this competing thing", as CharlieAWhite wrote on his Twitter :)