Pressrelease: One Step Closer - an Aids benefit
NYC - MARCH 13, 2010
A skating exhibition to benefit the prevention and treatment of HIV/AIDS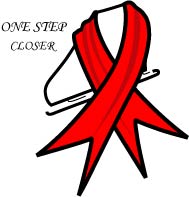 The idea came to me (Tim David) on May 31, 2009 after a rehearsal for the end of year North Jersey FSC exhibition. I wanted to use my resources and talent and knowledge as a skating director and executive assistant for 9 years. I wanted to make a difference. I knew a lot of benefits shows already happened and were on the works, Breast cancer & Muscular Dystrophy, shows such as Stand up for Life, Skate for Life, and Skate for Hope. So I decided that I wanted to do an aids benefit. I knew this was not an easy project to tackle. But I was determined that day to make it happen. I phoned my General Manager at the rink and have set the day and date that afternoon for Saturday March 13, 2010.

Now, title of the show…. I previously helped my friend Aaron Gillespie with the title of his show when he had his epiphany that night for Stand up for Life. I also loved Destiny Child's song, Stand up for Life and thought it was very fitting for the show. Now to come up with my own title and theme song…. My partner/husband Brian Mancuso had come up with One Step Closer. He believes that every benefit and funds go to the research for the cure, we are one step closer. Perfect, I thought.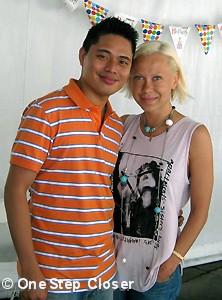 The theme song hasn't hit me yet, so I decided to search for aids foundations and the cast of skaters. The aids foundation that One Step Closer benefit will raise money for is the Aids Resource Foundation for Children. Their mission, "Meeting the needs of children and families living with HIV/AIDS." I looked through their services and was touched by the good deeds that they do. I called them up and expressed my interest.

While I was waiting for the foundation to agree on collaborating with me on this benefit I started looking for skaters.

I asked my former coach, friend, and mentor US Open competitor Heidi Vanderhoof, and close friends 1999 US Juvenile champion Aaron Gillespie, 2006 North Atlantic Regional champion Michael Quadrino, 2001 US Juvenile Brady Chin and 1996 & 1997 US National Senior Ladies competitor Alizah Allen to skate, and all happily agreed. I then contacted other friends and Facebook friends; Nicholas LaRoche, Melissa Bulanhagui, Valentina Marchei, Rory Flack-Burghart, Kylie Duarte and Colin Grafton, and Scott Smith and In addition to the cast I also have skating champions such as Ann Patrice McDonough and Oksana Baiul. I also have other skaters who will let me know around November whether they can skate and attend the benefit on March. Performing also are the Figure Skating in Harlem synchro team.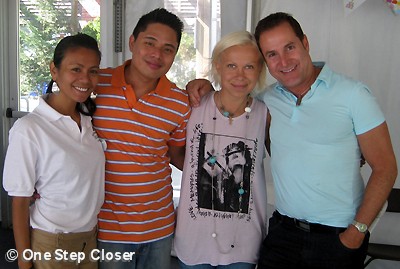 Serving as my honorary guests I have Sharon Cohen-Founder of Figure Skating in Harlem, Figure Skating Fashion Designer Tania Bass, 2-time Swiss national figure skating champion, former European & World competitor, 2-time Professional Bronze medalist, Guinness World Record holder Lucinda Ruh. Within my board of directors I have US Adult National competitor Thom Mullins and US pairs legend Tai Babilonia. Helping me making this show a success I also have my partner/husband Brian Mancuso serving as my executive director and close friend Karen Malanum as my associate producer event coordinator. The logo of One Step Closer is designed by my close friend and New York City Fashion Designer Potenciano Adobas.

The event is being held at Central Park's Lasker Skating Rink where I serve as their Figure Skating Director. It is a two rink outdoor facility located at 110th Street Central Park North. Tickets will be available online on Monday, August 3, 2009.
The official website of the event is www.onestepclosernyc.org